Exploring Wrecks in Thunder Bay National Marine Sanctuary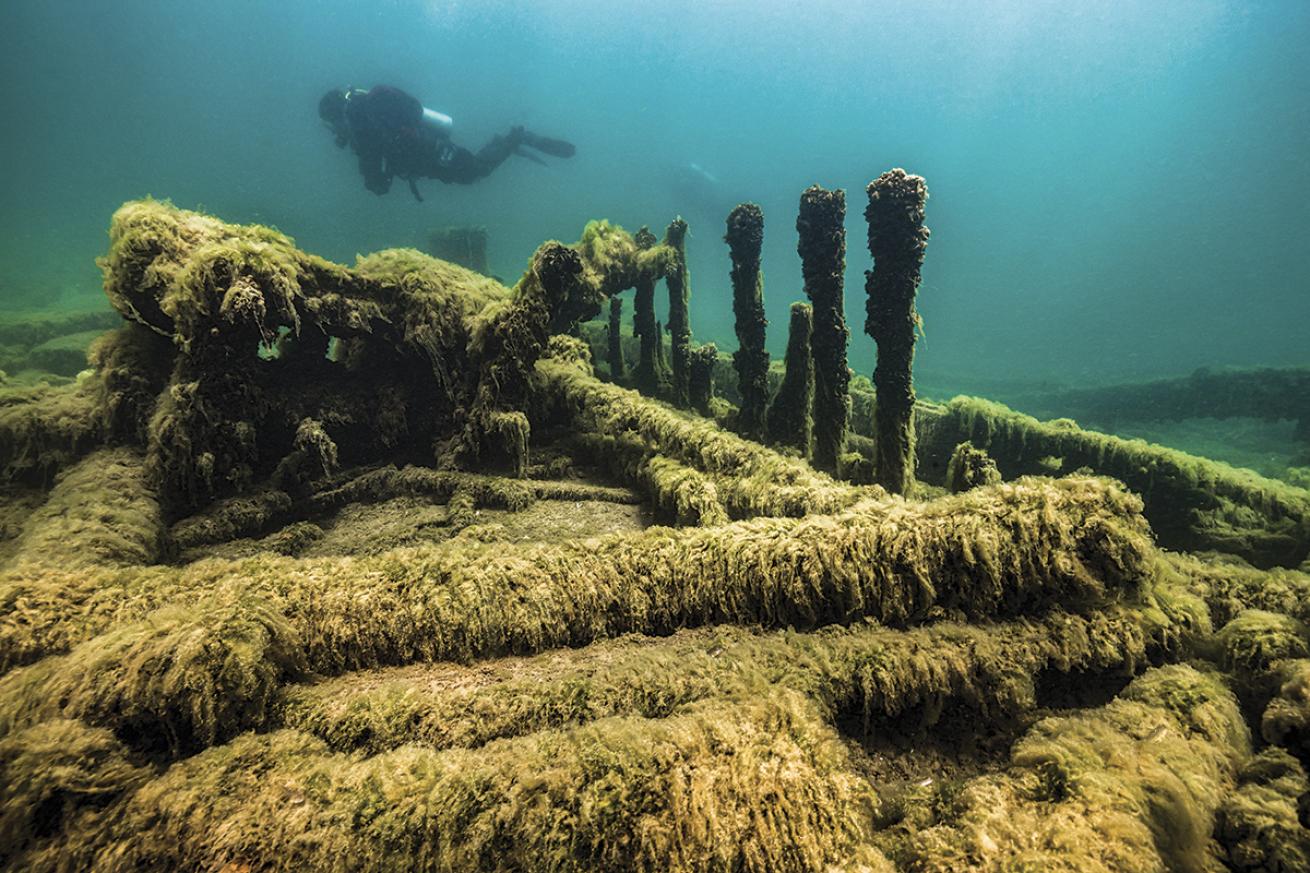 The wreck of the William P. Rend can be observed on a dive or glass-bottom-boat tour.

Jennifer Idol
Scuba Diving the Shipwrecks of Thunder Bay
Meander along Lake Huron's coastline from Detroit to Alpena, Michigan—four hours by car—where tourists can outnumber locals but it still doesn't feel crowded. The six lighthouses within Thunder Bay National Marine Sanctuary are a necessary navigational tool for the treacherous waters of Shipwreck Alley, a destination for recreational and technical wreck diving defined by maritime heritage.
If You Have One Day
About 100 wrecks lie in Thunder Bay, with many resting in shallow water above the thermocline. Because the schooner Portland rests at 6 feet and is accessible by shore, it makes a great introduction to understand ship structure while sorting out gear in warm water. Parts of the wooden steamer Joseph S. Fay are visible from shore at 40 Mile Point Lighthouse. The rest of the wreck is accessible as a shore dive directly out from the point to 17 feet. The whole family will thoroughly enjoy the Great Lakes Maritime Heritage Center, which features models, artifacts and interactive experiences.
If You Have Two Days
Book a morning charter to dive the ­William P. Rend, one of the largest freighters navigated the Great Lakes, which was later converted to a tow barge. ­Loaded with limestone, the ship sank in 1917 in shallow water just beyond the Alpena Lighthouse. Head back to protected waters in the bay to dive the Shamrock. Note the ship's exposed bow and the propeller that reflects its name. After early-morning dives, there's plenty of time to book a glass-bottom-boat tour for a new perspective on the Rend and observe the relief from above. Enjoy warm comfort food, local beers and hot coffee downtown at Fresh Palate.
If You Have Three Days
Advanced divers should head to the E.B. Allen in good weather because it sits outside the protected bay at 100 feet. Though the masts are broken, the hull is intact and sits upright. If you want to decompress on a shallower wreck, dive the schooner barge Bay City, another sailing vessel, or the Montana, a wooden steam barge in 63 feet. NOAA moorings mark every wreck for safe descent and preservation of the wreckage. Then visit the lighthouses, especially the Old and New Presque Isle, before heading to dinner. Delight your senses with healthy food from As You Wish Gourmet Eatery.
Need To Know
When to Go Charters run May through September, but shore access in the spring and fall remains open.
Dive Conditions Shallow dives in the summer reach 63ºF but can dip to 48ºF below the thermocline.
Operators Learn to dive, rent equipment and book charters through Great Lakes Divers (greatlakesdivers.com).