The Exposure Gear Divers Should Know About in 2022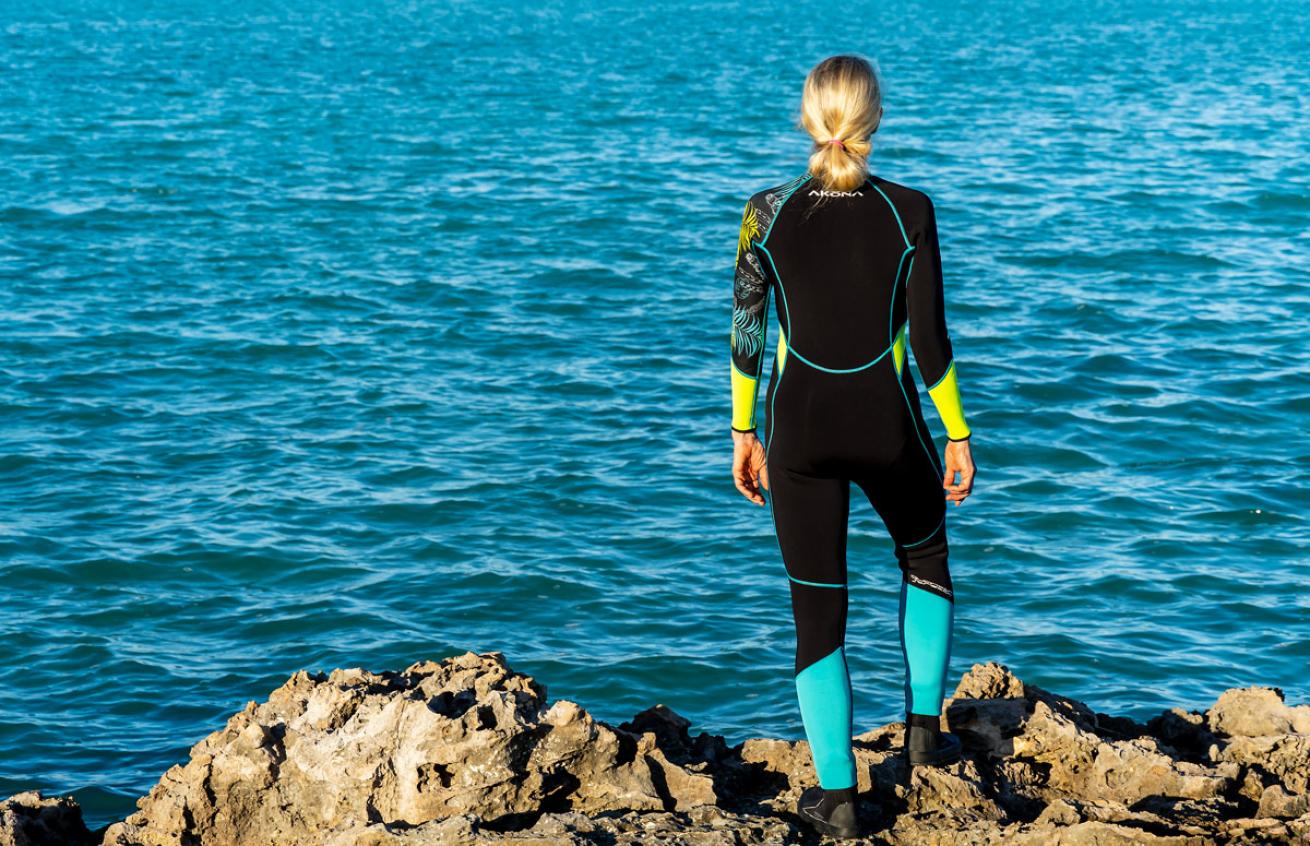 A diver looks out at the ocean in an Akona Tropic wetsuit.

Akona
Testing Wetsuits and Drysuits
Test procedures for wetsuits, drysuits and other exposure gear are designed to gauge how well each product does its job of providing comfortable, insulating protection. Wetsuits are rated in seven categories, including fit/comfort, range of motion and how warm the suit keeps a diver relative to other suits in the test. Drysuits are tested for those same actors as well as six others, including valve placement/operation and buoyancy/altitude control.
Most suit testing is conducted in two phases. The first phase is in freshwater springs with water temperature at a constant 62 degrees Fahrenheit (22 degrees C). The second is in ocean water above or below that temperature, depending on the level of the suit being tested (such as 3 mm versus 5 mm wetsuits).
Drysuit testing is typically conducted in freshwater springs. (While it's true that drysuits are often used in much colder conditions, a drysuit's primary purpose is, of course, keeping a diver dry.)
We also evaluate each suit for the materials used, such as comfort and warmth of lining, and ability of patches to resist wear and abrasion. We also evaluate material used for factors including durability and flexibility, as well as construction methods.
For ScubaLab gear reviews, visit our ScubaLab hub.
Wetsuits
Akona 3/2 Tropic Front Zip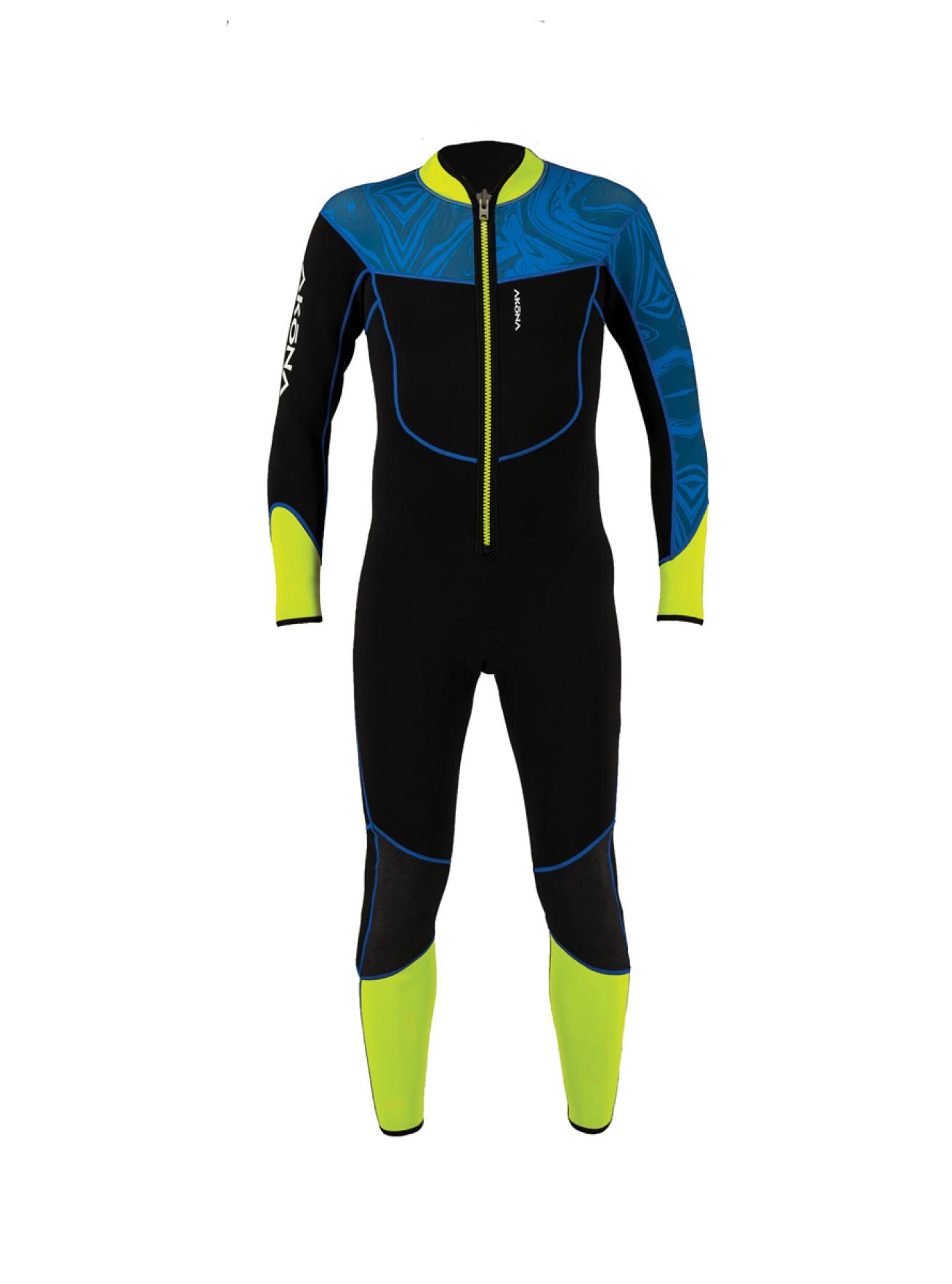 Lightweight warm-water suit offering great comfort and flexibility.

Jon Whittle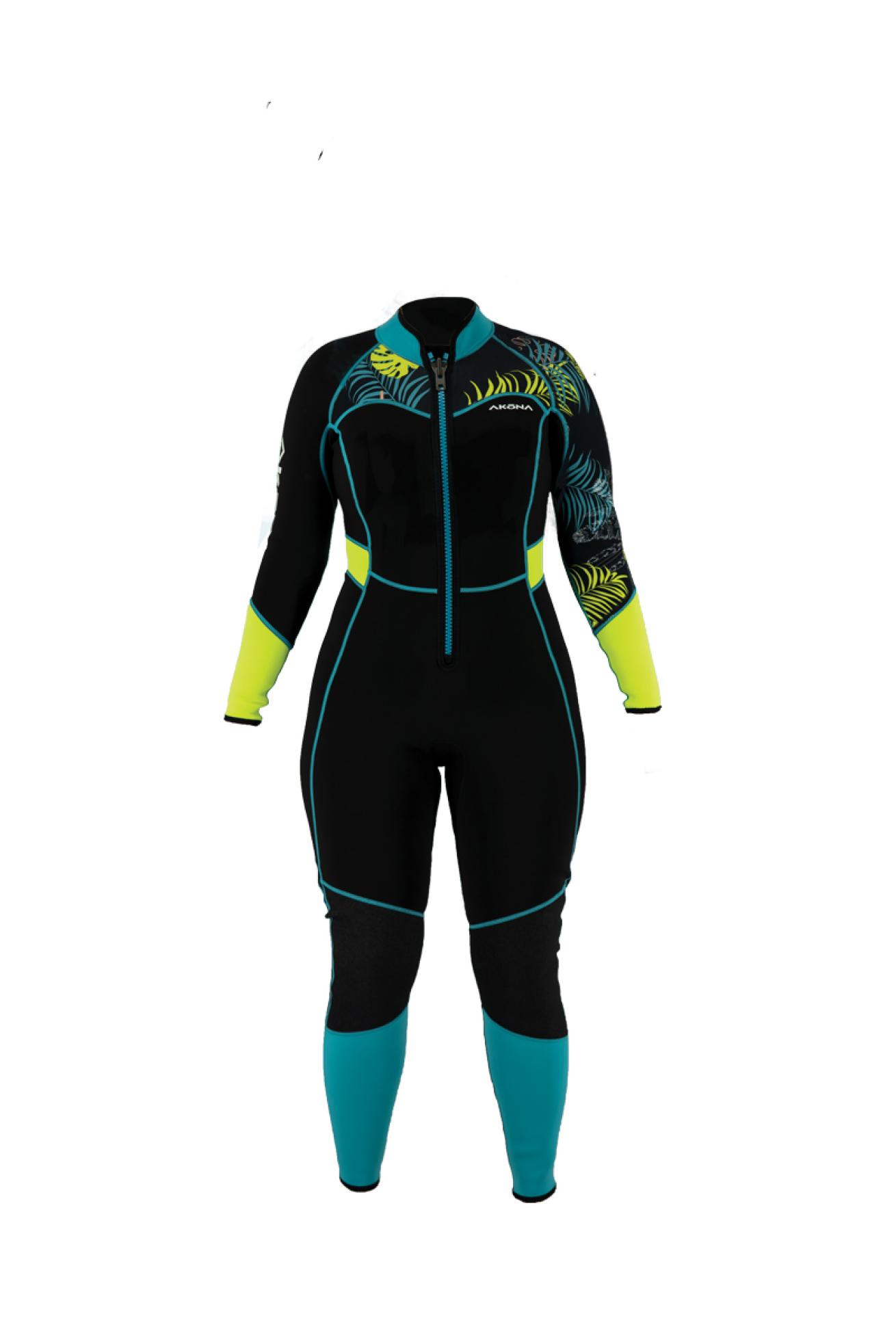 Women's Akona 3/2 Tropic Front Zip wetsuit.

Akona
This colorful shorty or fullsuit provides plenty of exposure protection for a warm-water getaway. Three and 2 mm Quantum Stretch neoprene increases flexibility with a natural range of motion. An extended front zipper makes donning and doffing easy. Seams are glued and blind-stitched for durability. Available in six women's and nine men's sizes.
MSRP $253 (fullsuit), $190 (shorty) | akona.com
IST Sports PuriGuard Wetsuits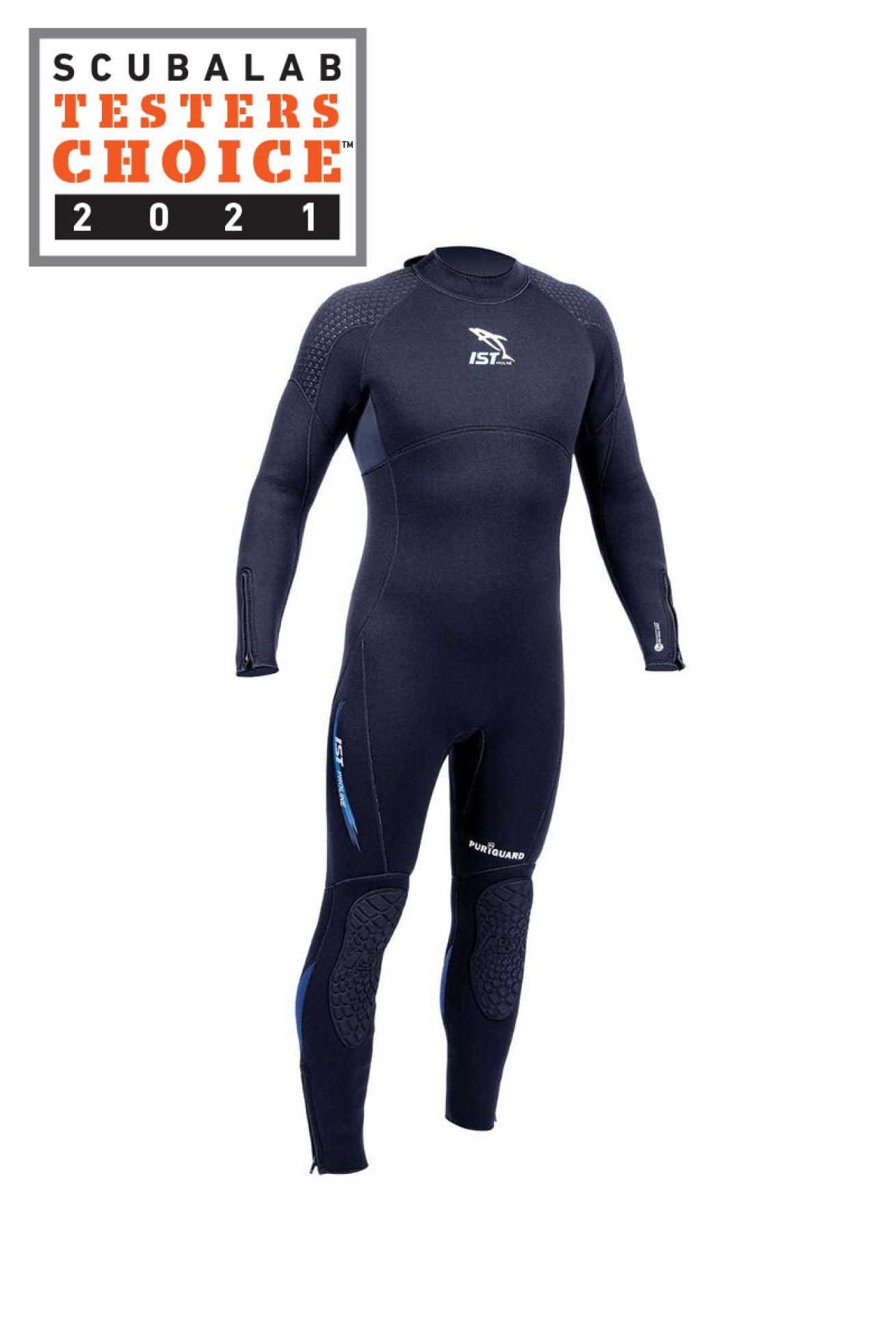 Zinc-treated fabric lining provides protection and peace of mind.

Jon Whittle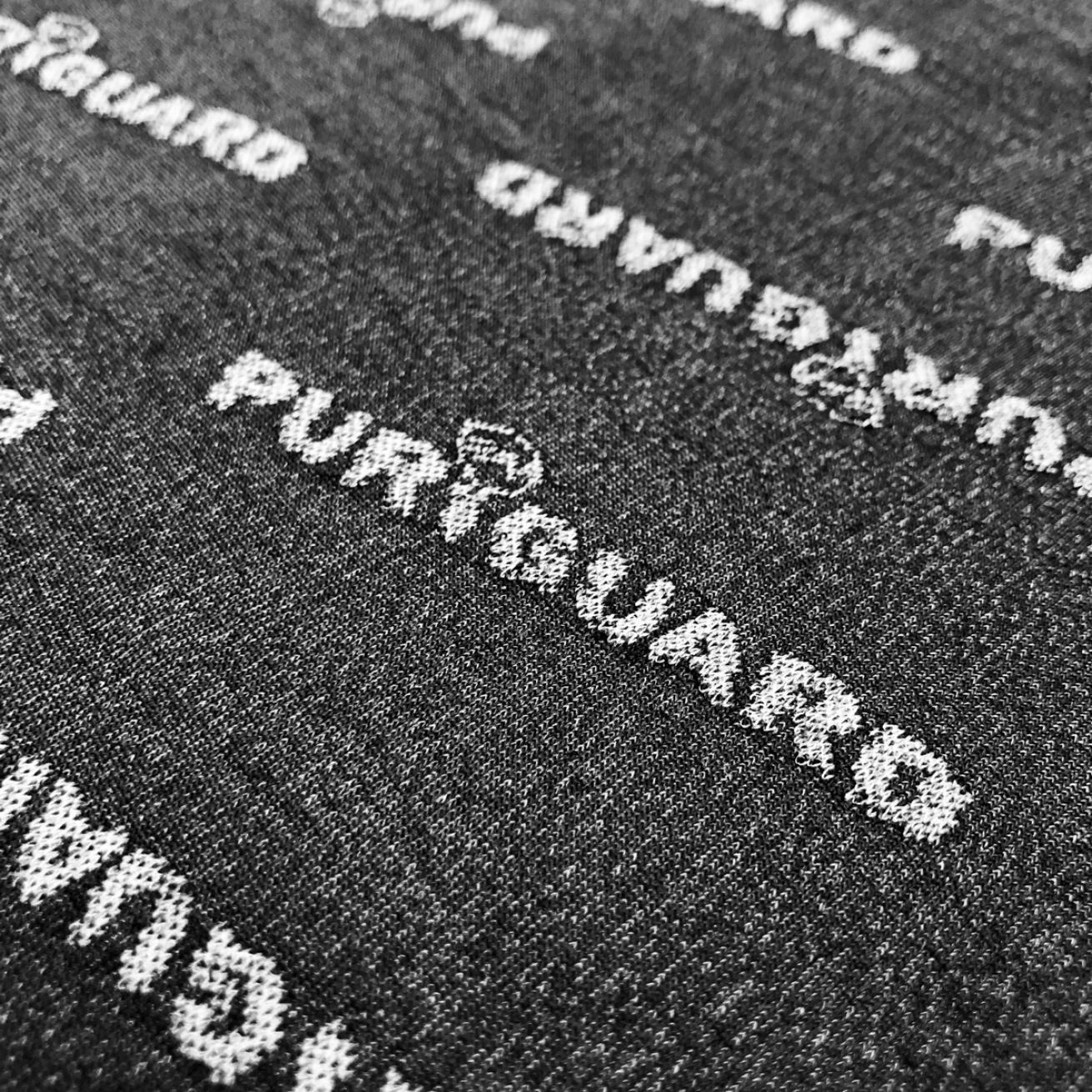 A closer look at the PuriGuard zinc-treated fabric lining.

Jon Whittle
These updated wetsuits have a new antibacterial PuriGuard lining that uses zinc-treated fabric to destroy bacteria. It protects divers from bacteria in the water and eliminates odor. The soft and smooth material makes for easy donning and doffing. PuriGuard shorties, hoods and other exposure gear are also available.
Dealer pricing | istdivingsystem.com
Seac Komoda Flex 3 MM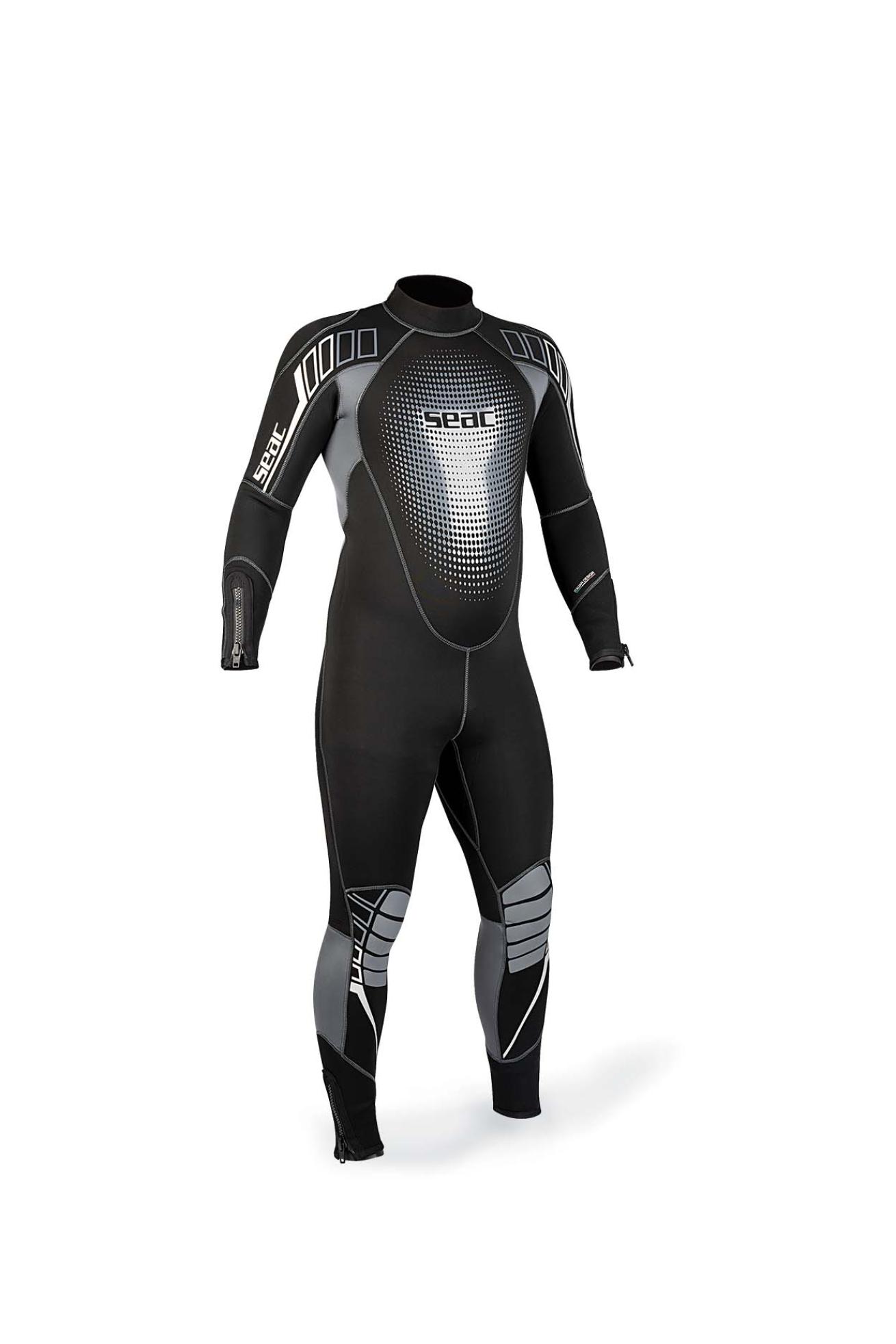 Full-featured steamer with top materials and construction.

Jon Whittle
The Komoda is built with high-stretch, double-lined neoprene for flexibility and warmth. It features a Water Barrier system with overlapping smooth-skin flaps along the zipper. Aqua-stop closures at wrist and ankles use a double-cone seal to retain body heat and resist flushing; scratch-resistant knee pads add durability.
MSRP $359 | seacsub.com
Seac Space 5 MM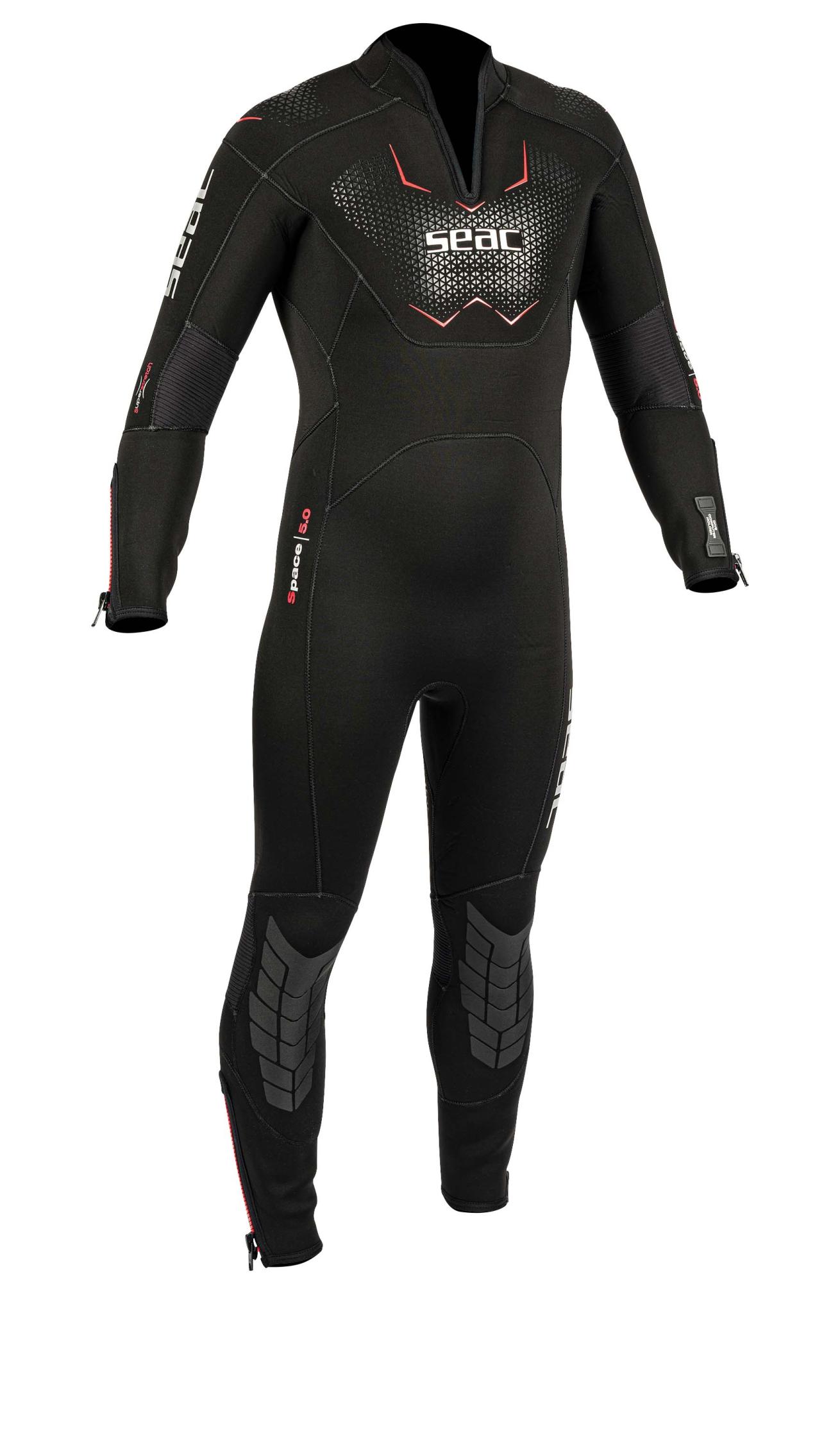 Available in 10 men's sizes and nine women's sizes.

Jon Whittle
Made with ultra-elastic neoprene, the Space suit is highly flexible and easy to don and doff. The suit has double-cone, smooth-skin closures at the wrists and ankles, and it also has zippers at the wrists, ankles and neck. Panels at the elbows and knees prevent binding, and an instrument retainer secures your computer. It is available in 10 men's sizes and nine women's sizes.
MSRP $469 | seacsub.com
Waterproof W5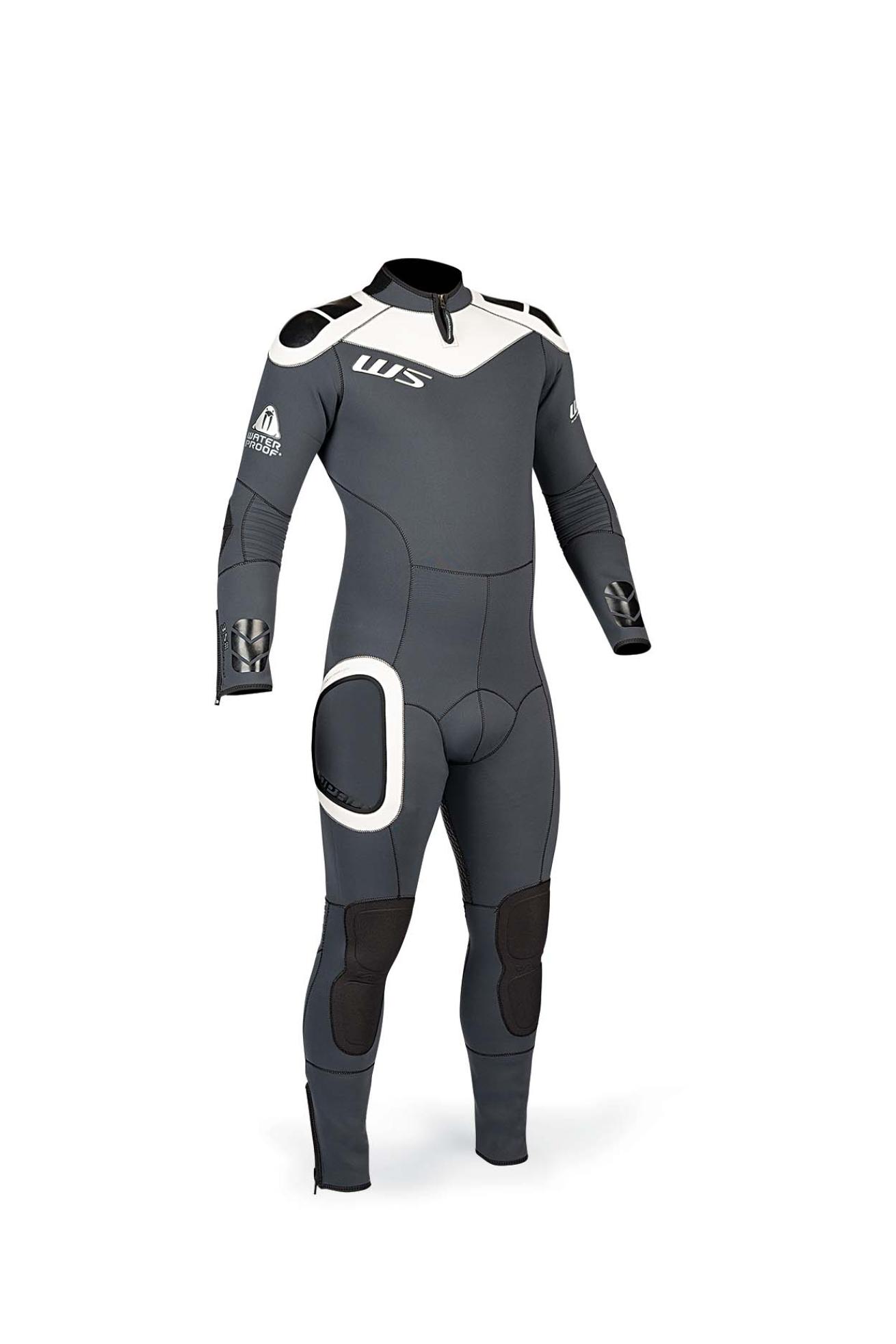 Artfully constructed docking station on the thigh for an expandable pocket.

Jon Whittle
Made of 3.5 mm neoprene, the W5 is exceptionally soft, flexible and compression-resistant. Flow guards at the arms and legs minimize water flushing and maximize warmth. Additional features include DuraTex reinforcements at the knees and elbows, a comfort zipper to relieve stress on the surface, and a mounting point for an optional thigh pocket.
MSRP $475 | waterproof-usa.com
Waterproof W7
Warm, flexible suit with high-end extras.

Jon Whittle
Available in gender-specific sizing, the flexible W7 provides a comfortable high-performance fit and a natural range of motion. Double seals at the wrists and ankles feature zippers to aid in donning and doffing. An internal lining enhances warmth and comfort. The suit has instrument retainer straps on each wrist and two zippered thigh pockets.
MSRP $519 (5mm), $569 (7mm) | waterproof-usa.com
Drysuit
Seac WarmDry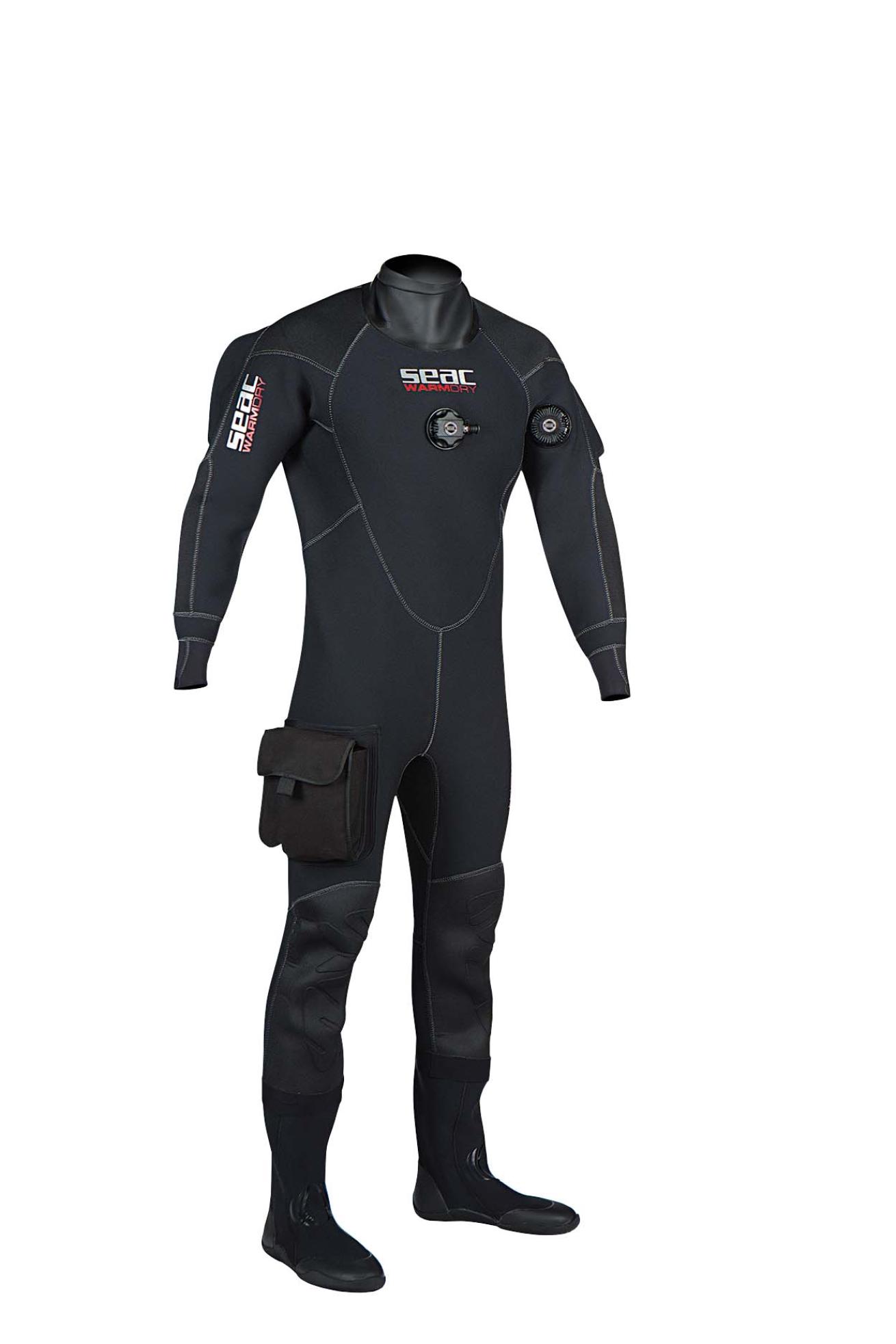 Semi-rigid boots can be turned inside-out for quicker drying.

Jon Whittle
Constructed of high-density 4 mm neoprene, the WarmDry is available in 11 men's and nine women's sizes. The suit has a rugged rear-shoulder metal zipper with a protective flap and semi-rigid boots. It has a comfortable smooth-skin neck seal, neoprene Aqua-stop closures at the wrists, built-in suspenders and a thigh-mounted pocket.
MSRP $1,049 | seacsub.com
Shorty
Scubapro Sport Shorty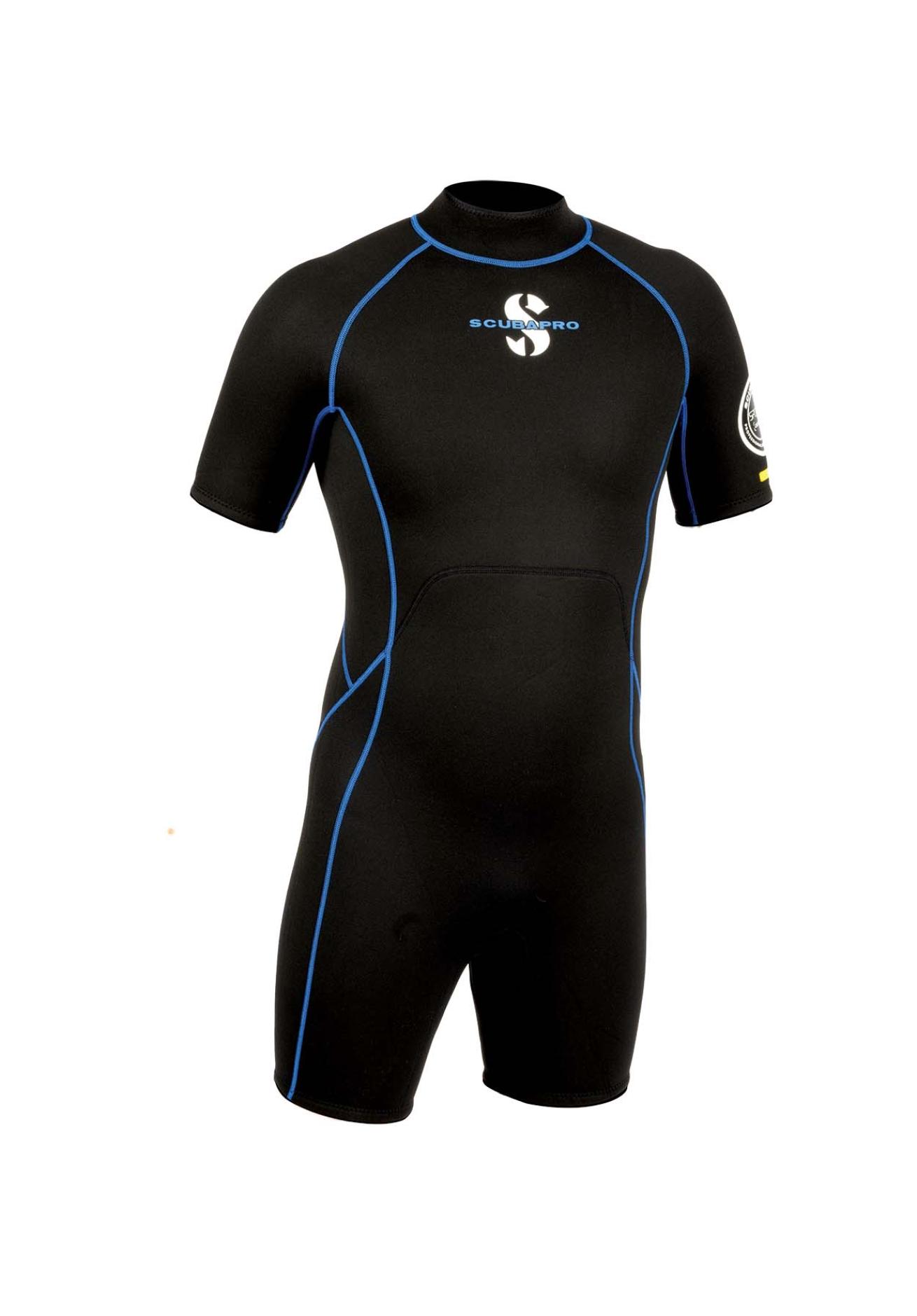 Minimal flat-locked seams and panels for maximum flexibility and comfort.

Jon Whittle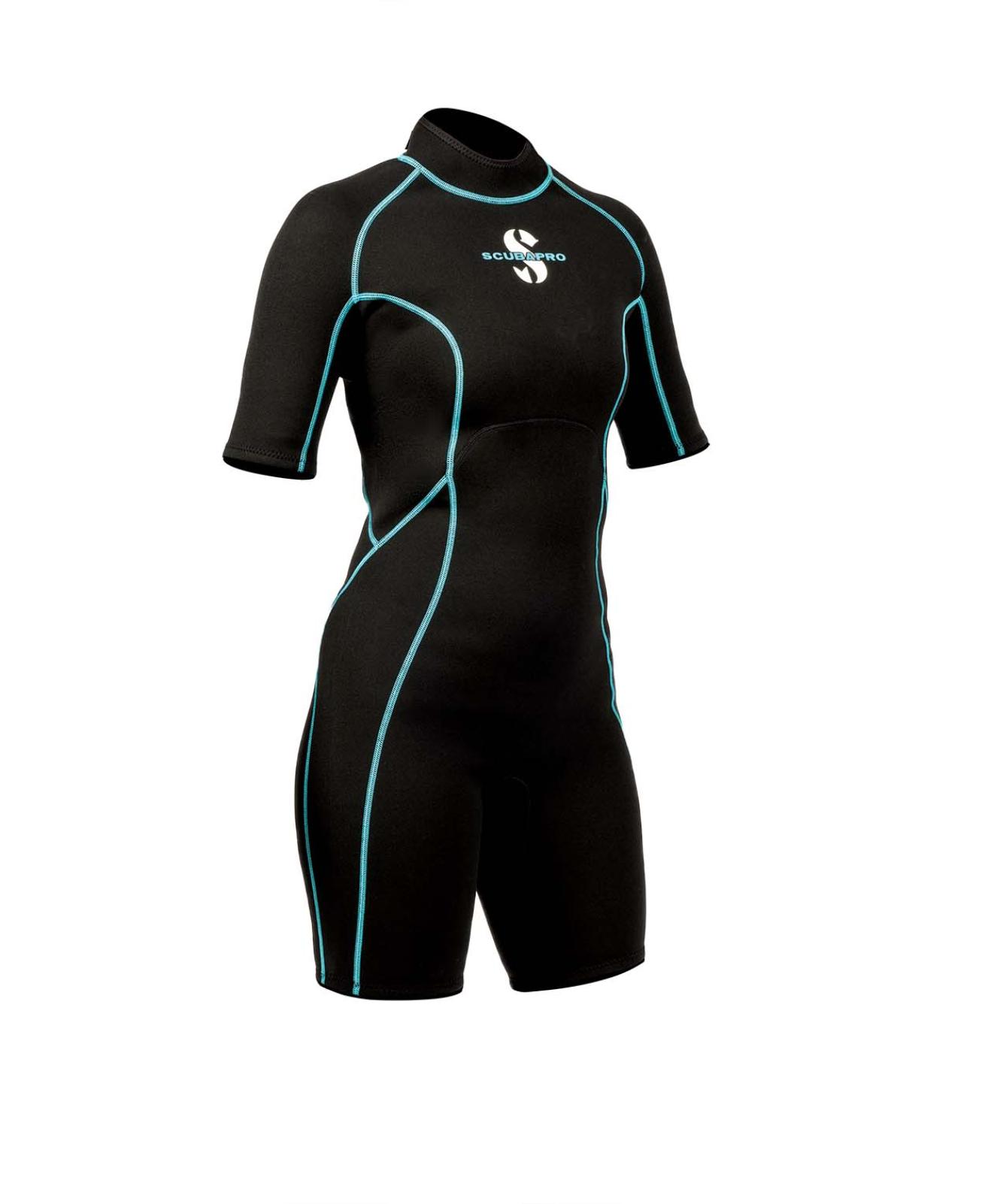 Women's Scubapro Sport Shorty.

Jon Whittle
Constructed of 2 mm limestone-based X-foam neoprene, this shorty is perfect for warm-water diving and snorkeling. Designed with a triathlon cut, it has wide panels covering the underarm and back for increased range of motion. The suit has a two-sided polyester lining for comfort, and a vertical-cut rear zipper.
MSRP $122 | scubapro.com
Accessories
Akona Antigua and Bahama Gloves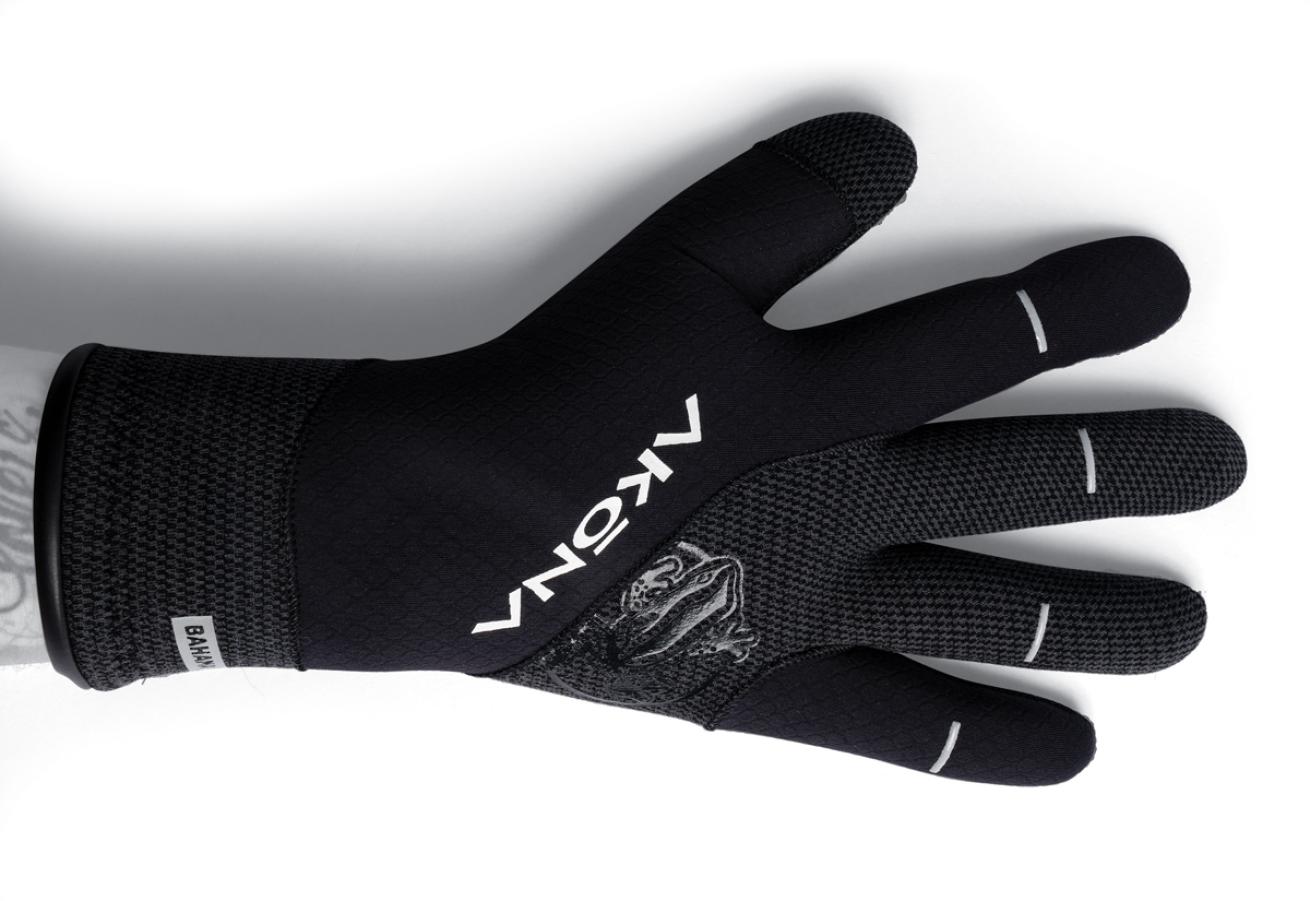 Akona Bahama Gloves: Touch-sensitive design allows for touchscreen use without removing gloves.

Akona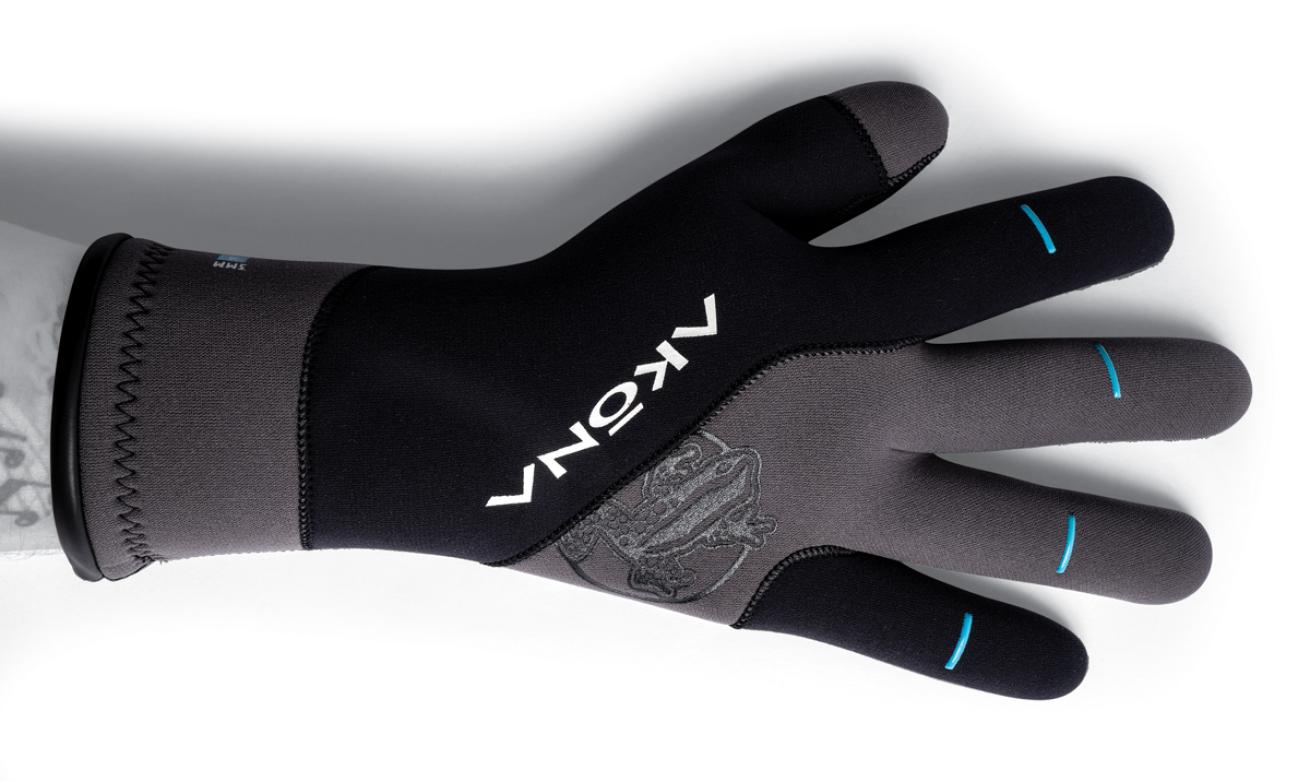 Akona Antigua Bahama Gloves.

Akona
The Antigua is made of Flexible Stretch neoprene and glued, blind-stitched seams. Pre-bent fingers enhance dexterity and comfort, and smooth-skin cuffs make donning and doffing easy. Polyurethane embossing along the palm and fingers provides a sure grip. The Bahama shares the same basic features except it is constructed with Quantum Stretch neoprene for flexibility and for use with touchscreens.
MSRP Antigua $51 (3 mm), $58 (5 mm); Bahama $64 (3 mm), $71 (5 mm) | akona.com
IST Sports 5 MM Titanium Boots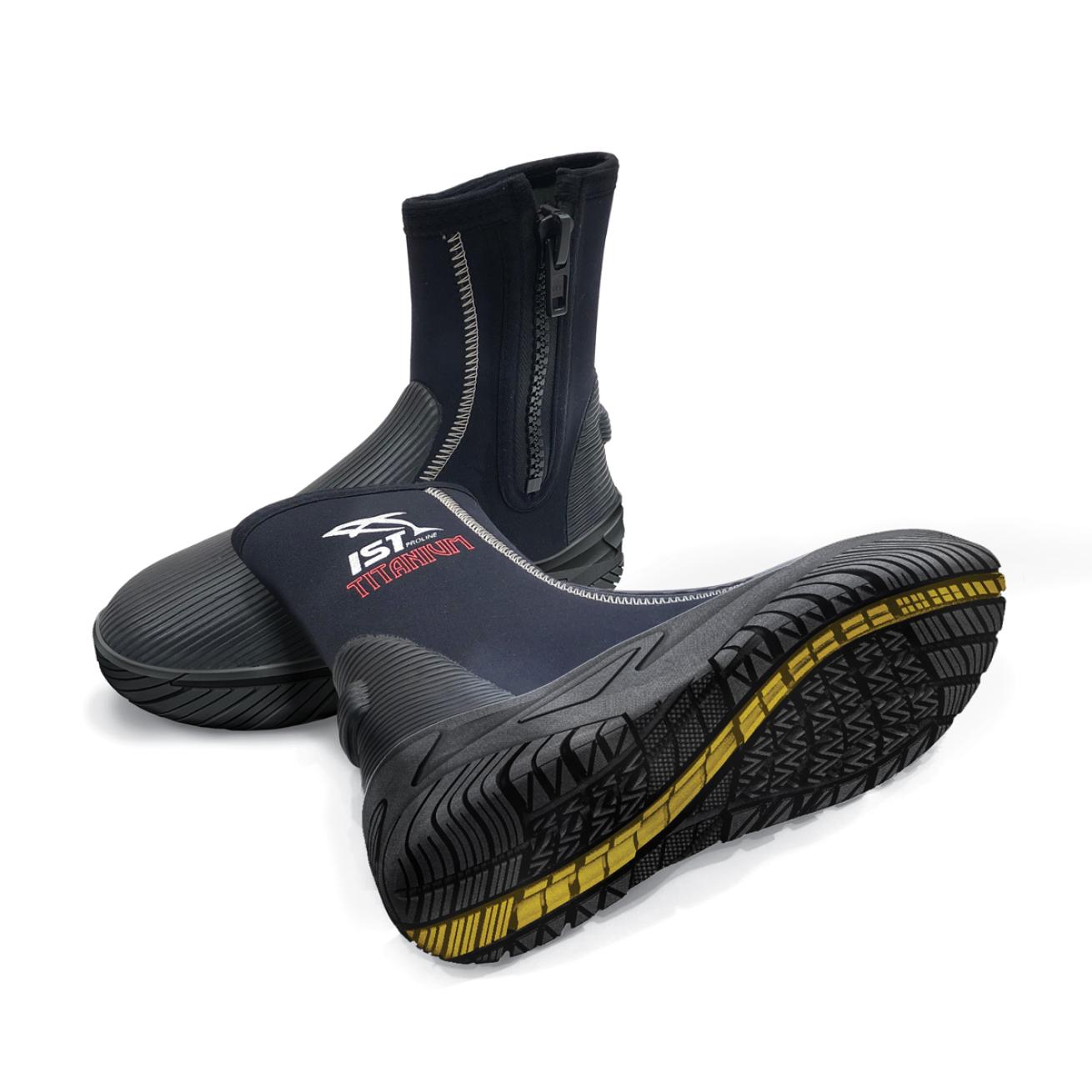 Warm, sturdy dive boots available in sizes 4-13.

IST Sports
Crafted from durable 5 mm titanium with a comfortable spandex lining, these boots provide supreme warmth and protection. Seams are blind-stitched and double-glued to keep water out and increase durability. YKK zippers feature an inner gusset to prevent water seepage during finning and capture warmth. Molded sneaker soles and toe caps protect feet on rough and uneven terrain, and heel caps provide built-in fin strap cleats.
Dealer pricing | istdivingsystem.com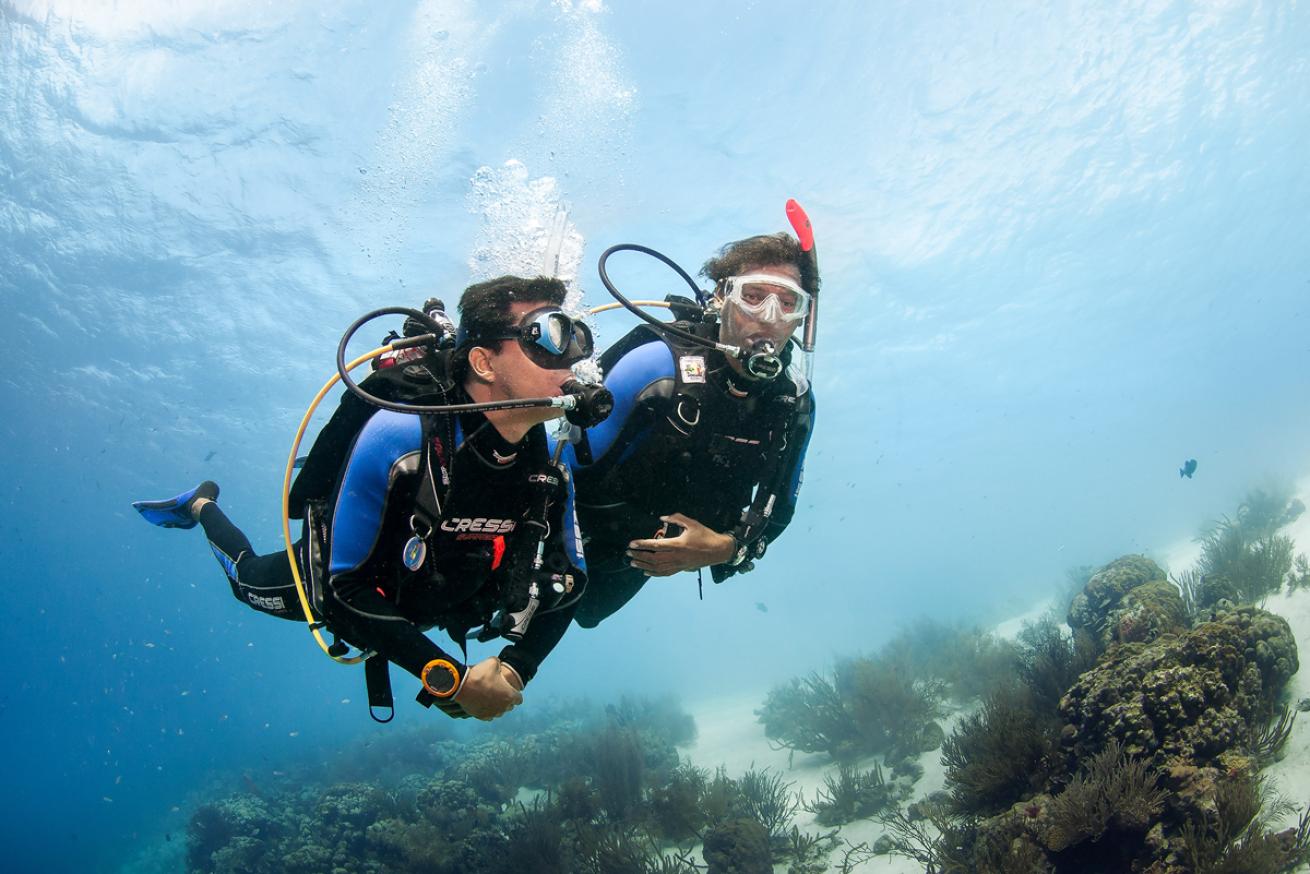 Two divers enjoy an ocean dive in their exposure suits.

Scuba Diving Magazine
General Exposure Suit Comfort Zones
85°F (29 C) and Above: Dive skin or 1 mm to 2 mm shorty
80 to 84°F (26-28 C): 2 mm shorty or 1 mm to 2 mm wetsuit
73 to 79°F (22-25 C): 3 mm or 5 mm wetsuit
66 to 72°F (18–21 C): 5 mm to 7 mm wetsuit
50 to 65°F (10–17 C): 7 mm wetsuit to 8/7 mm semidry suit
Below 50°F (Below 10 C): 8/7 mm semidry suit or drysuit