Five Adriatic Sea Shipwrecks to Dive in Montenegro
The rising popularity of wreck diving in the Adriatic Sea has centered on Croatia, but divers would do well to cast their eyes south. Montenegro, one of the six countries with an Adriatic shoreline, has a slew of storied wrecks and a growing dedication to sharing its submerged history with divers.
The University of Montenegro and several partners recently announced its WRECKS4ALL project, which will bring wreck exploration topside with nine AR and VR tours and an underwater heritage trail map of the Eastern Adriatic. When the project is complete this December, travelers will be able to experience the wrecks in Kotor at the Faculty of Maritime Studies' Laboratory of Maritime Archaeology.
Divers, however, don't have to wait to take part in the fun—here are five incredible wrecks the project is digitizing that you can dive today.
1. Dague
This French WWI destroyer went down in February 1915 when it hit an Austro-Hungarian mine. Water rushed into the Dauge's engine room, pulling the ship bow-first under the waves and claiming the lives of 39 crew members. Survivors swam to a nearby breakwater or were rescued by another destroyer that rushed to the scene. Portions of the ship were relocated to Cape Volujica near the harbor reservoirs in the early 1970s to accommodate a port expansion. Today, three pieces—including the command bridge and turbines—rest between 50 and 60 feet in easy and clear diving conditions. Divers can find cannon shells and ammunition in the surrounding benthic sand.
2. Golešnica 91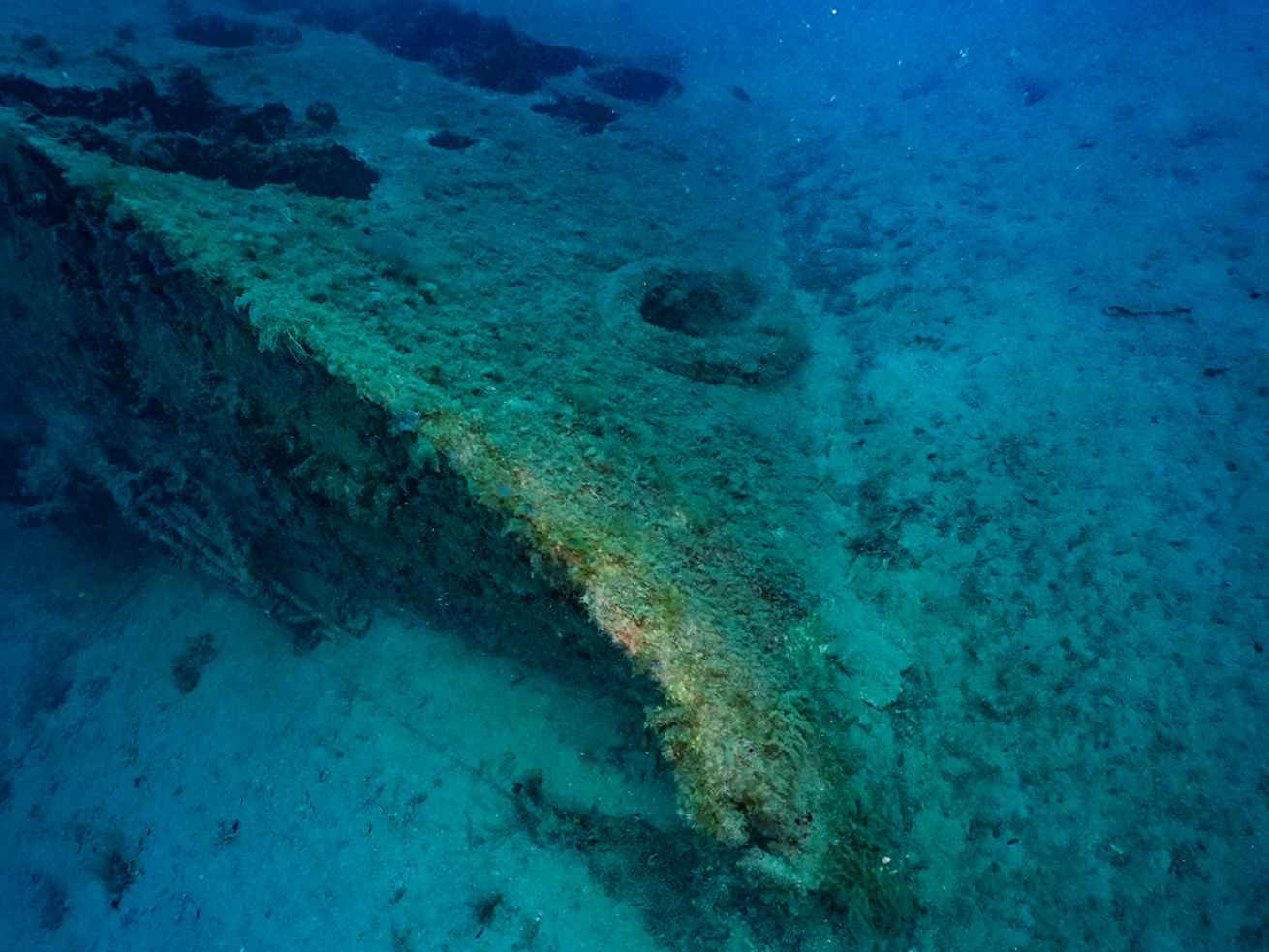 The bow of the Golešnica.

D.Kovacevic, LabMA/WRECKS4ALL
One of a series of torpedo boats built between 1913 and 1914, this wreck is a part of both WWI and WWII history. Used by the Royal Yugoslav Navy in the first world war under the name T1, it was rechristened the Golesnica and used again by Yugoslavia throughout WWII. The Italian Navy seized her in 1941, using her in operations along the Dalmatian coast before decommissioning the ship in 1951 and sinking it in 1955 for target practice near Boka Kotorska. This 189-foot wreck found her final resting place on a sandy substrate nearly 115 deep, tilting toward port in good diving conditions.
3. Bigovica Bay's Remnants of Antiquity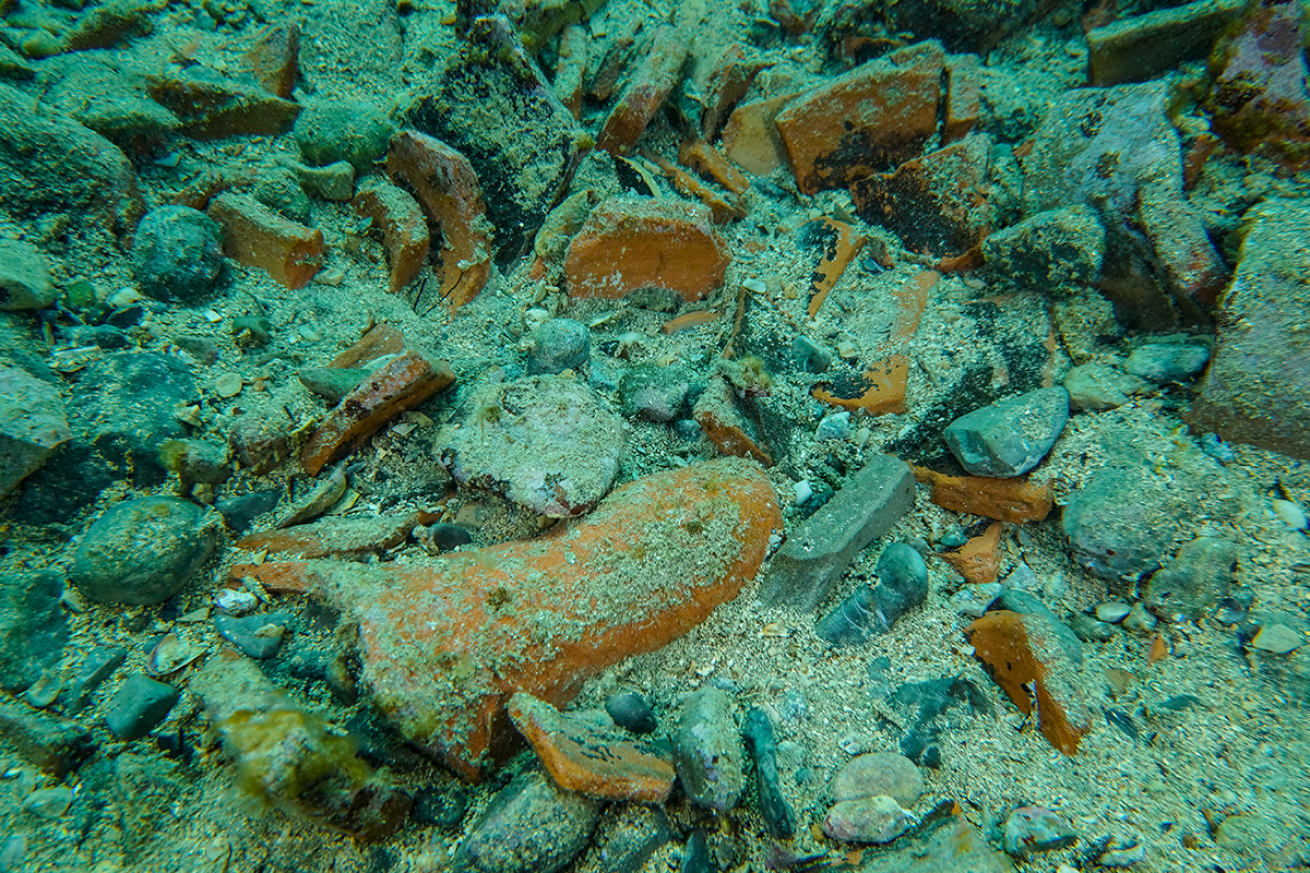 Amphorea sherda and a handle poke out of the bottom of the bay.

D.Kovacevic, LabMA/WRECKS4ALL
Fragments of amphora and other ceramics are scattered between 13 and 72 feet in Bigovica Bay, a small cove just south of the Port of Bar. These archaeological treasures date from the 4th century BC to the 17th century AD, indicating the cove was used as a shipping port for centuries. These fragments are largely centered in the bay's south and southeastern regions. Divers can also expect to see two Roman-era anchors, Mediterranean fish and sponges.
4. SS Tihany
Fish flock to the Tihany's encrusted stern.

D.Kovacevic, LabMA/WRECKS4ALL
Deep divers will revel in the luscious remnants of the SS Tihany, a 1907 cargo steamer named for Hungary's Tihany Peninsula. A navigation error caused her to run aground in between Cape Arza and Cape Veslo on February 12, 1917 while transporting coal. The crew attempted to stop the sinking by jettisoning as much cargo as they could while a support vessel towed Tihany, but ultimately abandoned ship with no casualties.
The steamer sank nearly 150 feet in Boka Kotorska Bay, near Mamula Island, where she rests today on her keel slightly to the right. Identifiable sights on the nearly 150-foot wreck include a telegraph on the command bridge, the remains of a ship's toilet, two bow anchors, a cargo winch, steering equipment, and auxiliary anchors. Encrusted with sponges and home to numerous fishes, seeing all of Tihaney can take several dives.
5. Supermarine Spitfire MK IX Trop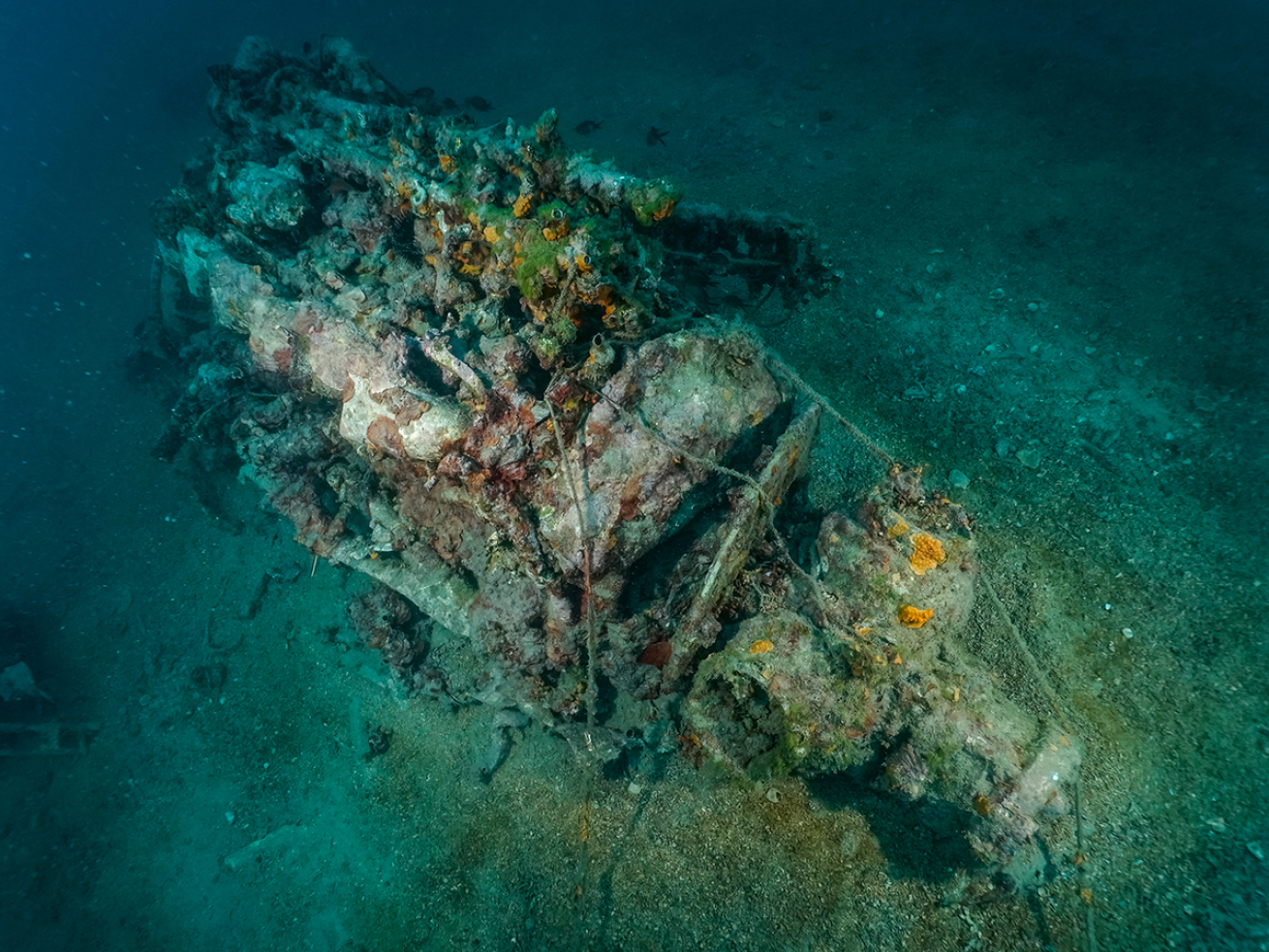 The Spitfire's engine remains clearly visible.

D.Kovacevic, LabMA/WRECKS4ALL
WWII German forces took down the British Supermarine Spitfire MK IX trop plane in March of 1944 during an attack in Boka Kotorska Bay. The aircraft careened out of the sky near Cape Kabala, where it broke into several pieces upon impact. The pilot survived by parachuting from the plane, but was captured by German forces in the water and taken to Zelenika. Today, the Supermarine Spitfire rests about 105 feet deep in challenging dive conditions. Its Rolls Royce Merlin engine is still visible, as well as the plane's tail, cockpit and electrical and hydraulic installations.
Dive Operators in Montenegro
---