World's Deepest Shipwreck Discovered in the Philippine Sea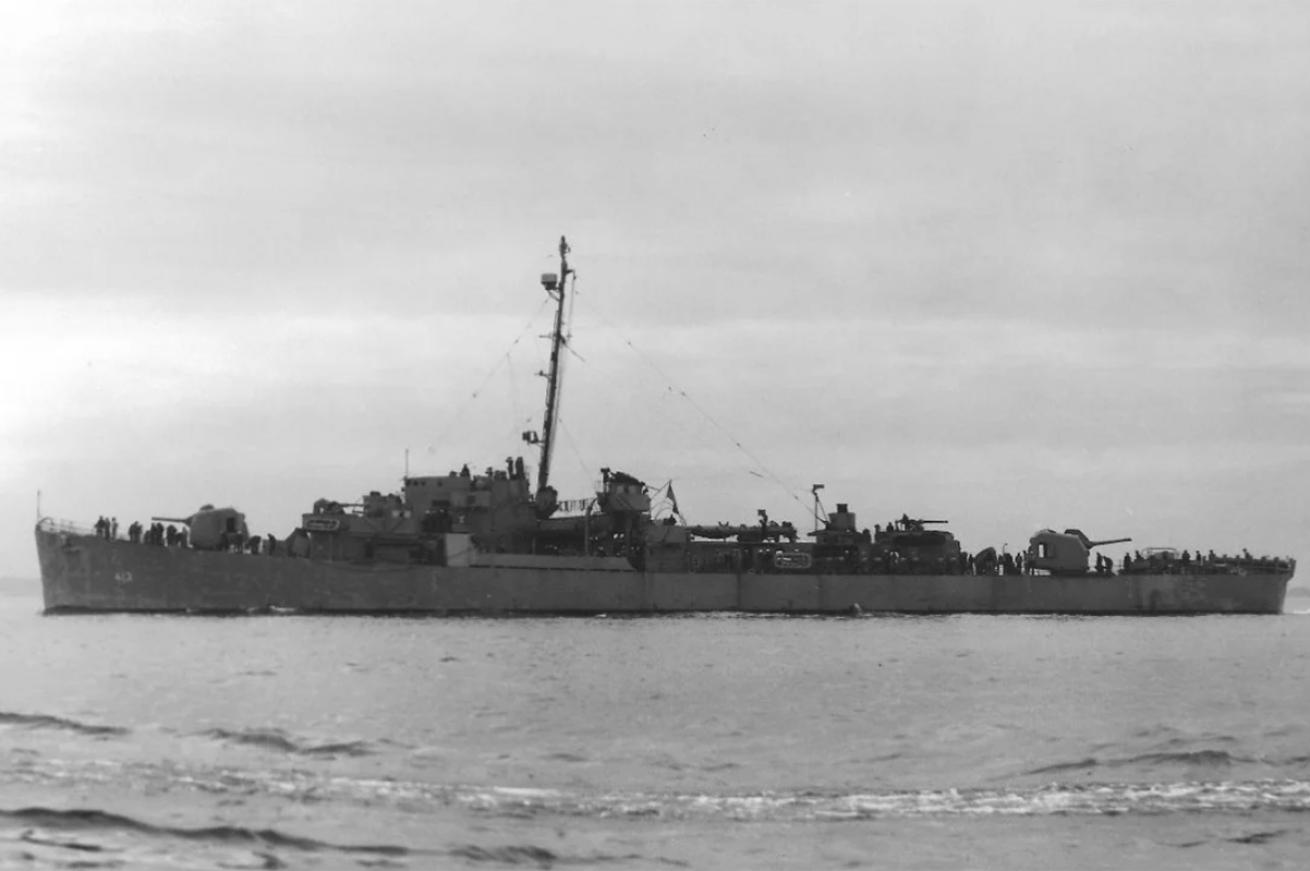 An archival image of the USS Roberts.

Robert F. Sumrall / U.S. Naval History and Heritage Command Photograph
The wreck of a U.S. Navy destroyer escort was recently discovered off the coast of the Philippines. Known as the "Sammy B," the USS Samuel B. Roberts is the deepest wreck in the world to be discovered, its explorers said.
Before its sinking, the Navy destroyer escort battled a superior Japanese fleet in the largest oceanic battle of World War II. Some reports say the destroyer escort disabled a Japanese heavy cruiser with a torpedo and damaged another in the Battle of Samar in Oct. 1944. When it ran out of ammunition, it was hit by a battleship and sank. Of 224 crewmembers, 89 died.
This battle was the final phase of the Battle of Leyte, in which the Imperial Japanese Navy lost the most ships during the war. Critically, during these, the Japanese also failed to push U.S. forces from Leyte.
In June, the USS Roberts was discovered broken into two pieces on a slope 22,916 feet deep in the Philippine Sea. This makes it the deepest wreck ever discovered in the world.
The previous record-holder, the USS Johnston, is 1,400 feet shallower. That wreck was discovered last year by American explorer Victor Vescovo, the founder of Caladan Oceanic Expeditions. Vescovo, a former Navy commander, was also the lead on this latest discovery.
---
---
"It was an extraordinary honor to locate this incredibly famous ship, and by doing so have the chance to retell her story of heroism and duty to those who may not know of the ship and her crew's sacrifice," said Vescovo.
USS Roberts' captain Lieutenant Commander Robert Copeland said: "This site is a hallowed war grave and serves to remind all Americans of the great cost born by previous generations for the freedom we take for granted today." He described the "highest honor" he feels having led men who displayed immense courage against overwhelming odds, from which survival could not be expected.
Expedition ship team leader Kelvin Murray described the mission as a "solid combination of historical detective work and cutting edge, innovation technology." Murray's team is well-versed in technical solutions deployed in the hadal zone–the deepest areas of the ocean. Still, he emphasized, a "certain amount of luck helps in finding deep ocean shipwrecks."
Caladan will donate all data related to the dive, including sonar maps, videos and images, to the U.S. Navy. Next, the company plans to explore the Mariana Trench over four dives at the Challenger Deep.
---