Five Dream Destinations for Scuba Photographers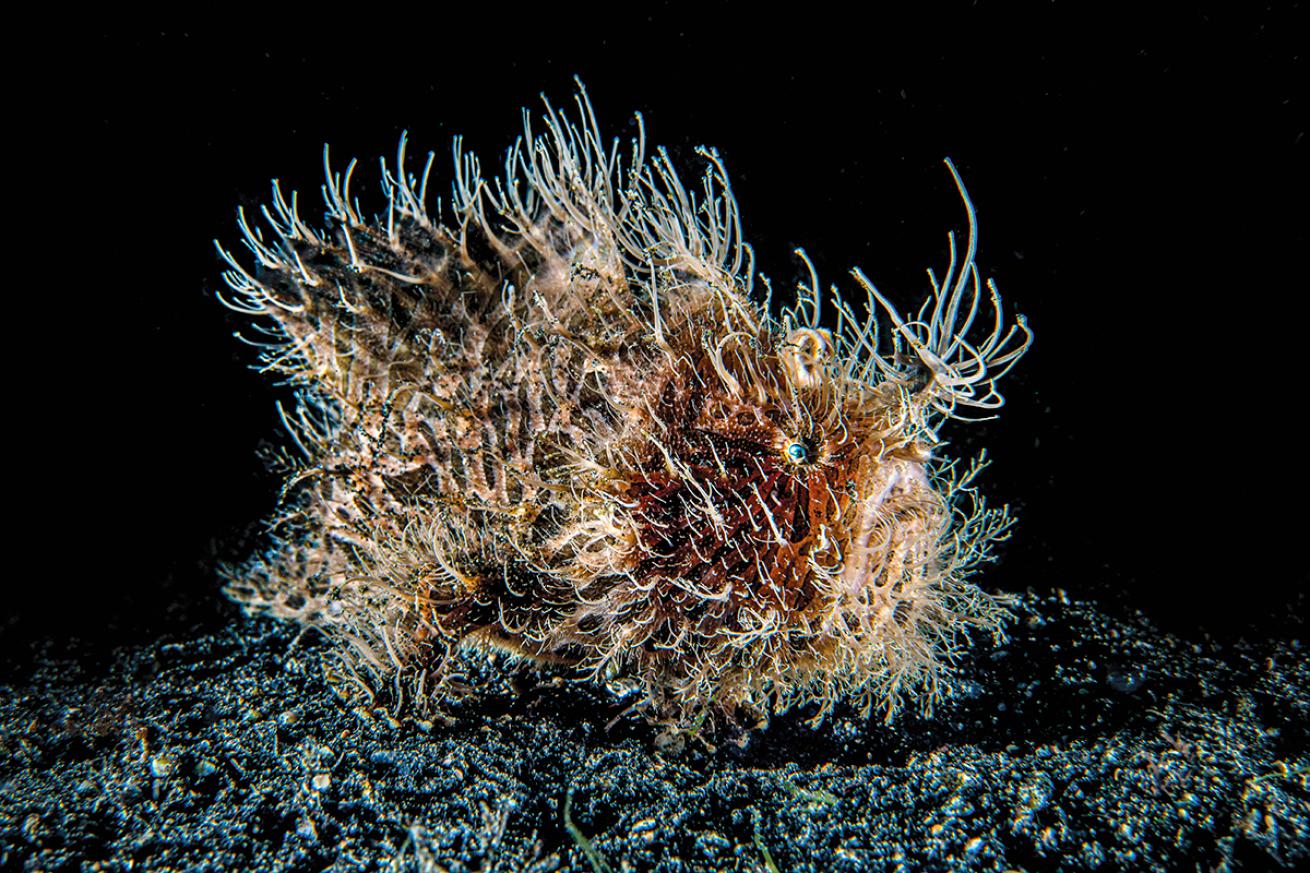 Do you prefer macro or wide-angle photography? The best destination for your next dive trip depends on what type of photos you want to take.

Alex Mustard
Few things have made me value my dive trips more than our recent inability to travel. But like many people, I have been busy making plans; here I share five places I am aching to get back to, with tips on how to get the most out of each photographically.
Wide-Angle Wonders
1. Raja Ampat is a remote Indonesian archipelago off the western tip of New Guinea. It's tough to reach from almost anywhere, but the hours of travel are quickly forgotten when you drop into these vibrant seas. This is the heart of coral reef biodiversity; equally impressive is the density of life. Hard corals, sea fans and sponges cram every inch, and the water column seethes with fish. It has attractions big and small, from mantas, sharks and turtles to the highest density of pygmy seahorses I've experienced, but the shots that best tell the story of Raja are reef scenics, packed with as many different species as possible. Typically, when you shoot wide angle, simple compositions are the most eye-catching; here they don't do justice to the location, so I challenge myself to capture busier pictures, when the action peaks. Raja is also a great location for split-level photography, with lush forest growing directly above sumptuous shallow corals. Sun isn't guaranteed, so wait for the best conditions and then spend time snorkeling in the shallows for these images.
2. Galapagos is high on most divers' wish lists, but the challenging diving isn't for everyone. Yet this is one of the richest spots in the ocean, where four ocean currents meet, supercharging the food chain. Whale sharks and hammerheads steal the headlines, but sea lions, turtles, dolphins, mantas, eagle rays and many other shark species are just as attractive to our lenses. There are even endemics like the marine iguana. With these it's best to dive midmorning, when they've had the chance to warm up and most will be in the water. (They are often in murky shallows, so flash is not your friend, unless you really enjoy cleaning backscatter!) Iguanas can be nervous when swimming, but give them space to settle and start feeding and they are easy to approach. The downside of Galapagos is that the ocean is rarely calm, with fierce currents and often large swell. It can also be cold and murky. As a photographer this means being adaptable. A zoom lens is a must; if very strong currents are predicted, consider going strobeless and shooting available-light and black-and-white images, rather than struggling with a large camera system.
3. The Egyptian Red Sea is my favorite wide-angle location, famed for clear water, cloud-free desert skies and top-drawer scenery. Reefs here grow spectacularly, dropping precipitously from a foot or so below the surface. The simpler mix of corals and fish here reduces their color palette, making them especially photogenic against the royal-blue waters. The region is also famous for big animals like oceanic whitetip sharks, friendly Napoleon wrasse, reliable bottlenose and spinner dolphins, and dugongs. This is also a great location for shipwrecks, which look spectacular shot with a fisheye without strobes. This is a seasonal sea, best visited between May and November. Reef scenics in the Red Sea are all about the anthias, incredibly numerous and larger than other locations. The trick to strong images is to catch these orange fish in neat arrangements.
Macro Meccas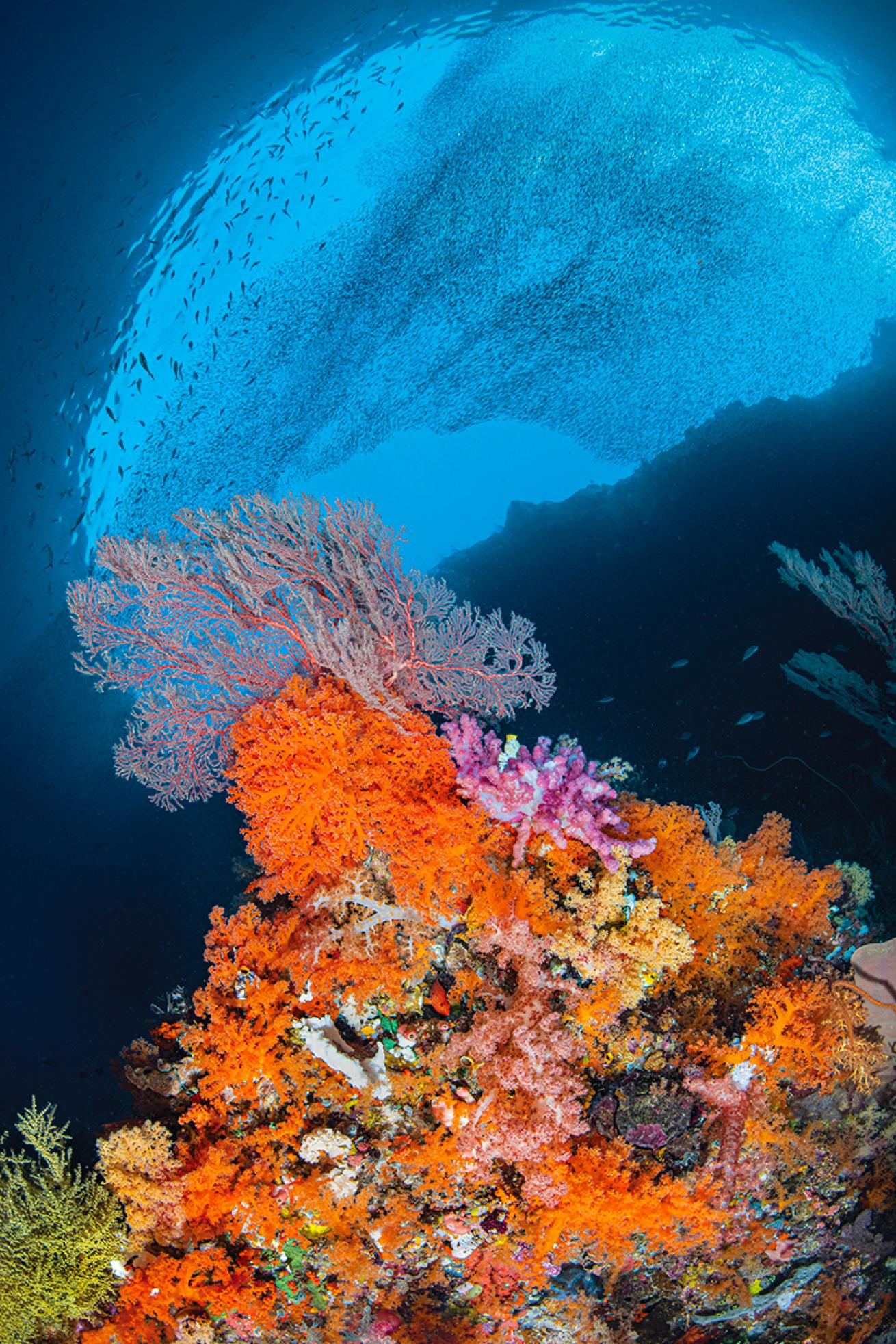 Wide-angle photos can capture the beauty of a chaotic reef.

Alex Mustard
4. Dauin is a peaceful beachfront village on the island of Negros in the Philippines that combines a friendly vacation vibe with rich macro diving. With 7,000 islands, Philippine geography takes some studying. The Dauin area, also known as Dumaguete, combines its famed coastal muck diving with classic reef diving around Apo Island. Diving is great year-round, but I particularly like the spring months, when critter sightings go stratospheric. This area is famed for frogfish, nudibranchs, seahorses and cephalopods—in short, most divers' muck-diving favorites. Frogfish are all about faces, so allow these to dominate your compositions. I like shooting froggies with a single strobe, to highlight their bumpy texture. Seahorses are known for their shape; try to show this off in your pictures. They are famously shy subjects, so be patient and wait for eye contact.
5. Lembeh Strait in North Sulawesi, Indonesia, needs no introduction to macro lovers— it's the spot that made muck diving famous. These days it has additional appeal, attracting even more photographers keen on blackwater and bonfire dives. The attraction here is the preposterous number of bizarre animals; if there's a downside to too many subjects, it's that it can turn underwater photographers into stamp collectors. Instead we should invest our time in capturing really special shots, whether the subject is rare or common. The other photographic challenge is showcasing these amazing animals without highlighting the gritty, black-sand seabed. The solution is to focus on compositional angles, camera settings or lighting solutions that hide.
---