From Shipwrecks to Sharks: Five of the Best Dive Sites in the British Virgin Islands
Perhaps best known as an idyllic sailing destination, the British Virgin Islands (BVI) is also a great spot for divers looking to experience a little bit of everything. From world-famous wreck dives to more relaxed reef dives with diverse marine life, and crystal-clear waters, you're bound to find something to delight in.
If you have some extra time to enjoy the pace of life here, grab a bottle of rum from Callwood, one of the Caribbean's oldest distilleries, meander the gorgeous green hills of Tortola, and enjoy exploring the Baths on Virgin Gorda.
After 10 days spent diving (and sightseeing) with BVI Aggressor, these are my favorite spots: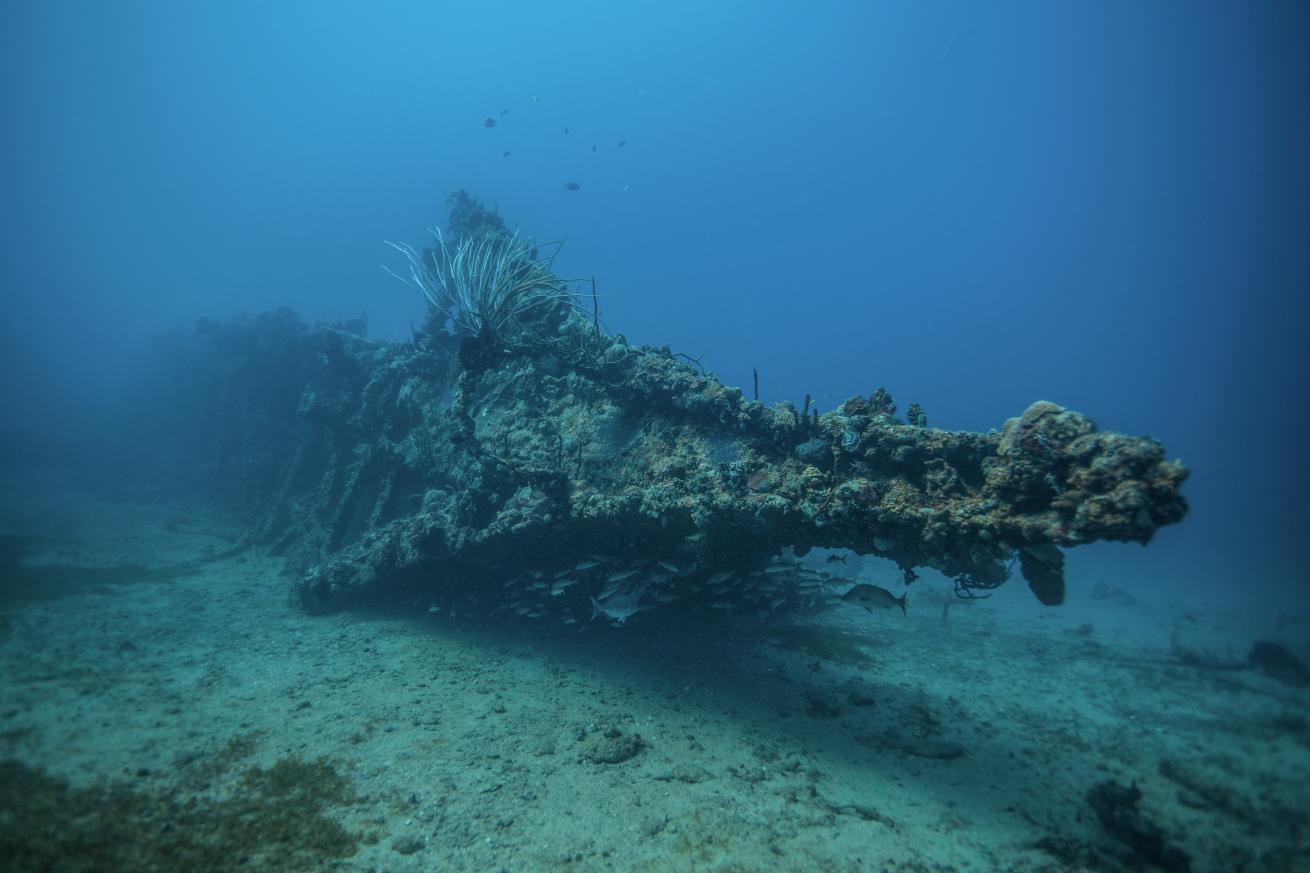 The RMS Rhone is still a magnificent dive site with multiple distinct sections and even a couple of swim throughs.

Shutterstock.com/Michael BVI
1. RMS Rhone Wreck
You'd think that after diving RMS Rhone three times I'd be done with it. Not so. This is still one of my favorite sites in BVI. It's steeped in history, full of little puzzles any wreck detective would love (find the last porthole!), and a marine sanctuary packed with life. Make sure you dive it both at night and during the day as the marine life is completely different.
Sunk during a hurricane in 1867, this Royal Mail Steam Packet Company ship now lies on the ocean floor at the tip of Salt Island. Broken up into four major sections, it's not entirely clear what caused the most damage: the initial sinking, subsequent hurricanes, salvage hardhat divers, or the Royal Navy—either way, rumors abound. Regardless of its shattered remains, it's still an iconic dive and well worth repeating—a dive for the bow, one for the stern, and one to experience after dark when it comes alive with life; basket stars and blood worms, salps and squid.
Related Reading: Diving RMS Rhone in the Shadow of a Storm
2. Kodiak Queen Wreck
Steeped in almost as much history as RMS Rhone, though not as old, Kodiak Queen is a former Navy fuel barge and one of only five ships that survived the 1941 attack on Pearl Harbor. After whiling away time in Alaska refitted as a commercial fishing vessel, Kodiak Queen finally ended up in a BVI junkyard. It was here that Richard Branson's photographer, Owen Buggy, found it, and where the idea to create both an artificial reef and an art installation was born.
Once an 80-foot-long sculpture of a Kraken had been built—made to look like it was attacking the ship—the Kodiak Queen was towed out to sea, not far from Virgin Gorda, and scuttled. As with many shallow wrecks in this area, the art installation was slightly damaged when Category 5 Hurricane Irma hit the region. Still, it is a spectacular dive and a place you can go to spot some of the largest stingrays I have ever seen, both in the and below the wreck and on deck.
Related Reading: Dive Hacks: Tips for Wreck Diving
This is another site I'd highly recommend doing at night, largely because it feels so incredibly eerie. Peer inside the ship (and maybe even venture in) and you'll see all manner of strange sights: telephones sitting on desks, graffitied walls, and so much more. I won't give it all away. As with any penetration diving, be cautious.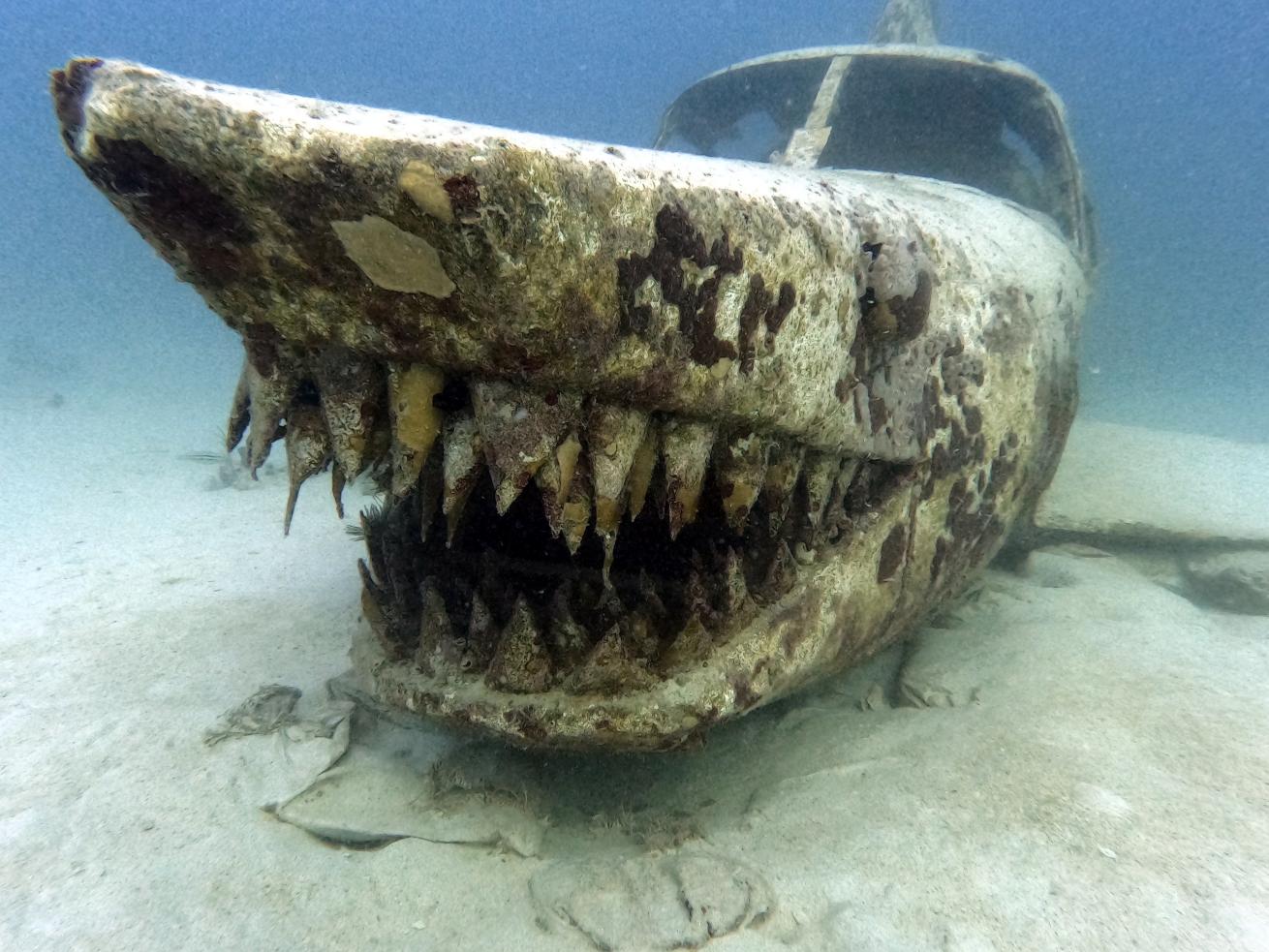 These cleverly crafted art installations are a veritable sanctuary for marine life and even occasionally real sharks!

Candice Landau
3. Coral Gardens (AKA: Sharkplaneo)
Stepping away from big shipwrecks for a second, Coral Gardens is another memorable dive. This site consists of three purpose-sunk airplanes, or rather, art installations. While the structures still resemble airplanes, they definitely also look like the animals they're supposed to mimic: a bull shark, a hammerhead and a nurse shark. Glass windows removed, each plane is a haven for schooling fish and sometimes even sharks. They're just big enough for a single diver to fit inside and pose for a photograph, though do be careful, doors and windows are small and rusting—you don't want to get stuck!
Related Reading: 10 Reasons Divers Love the British Virgin Islands
Once you've had your fill of airplanes designed to look like sharks, you'll be able to explore the nearby reef. The whole site is roughly 40 to 50 feet deep so you'll have plenty of underwater time to explore slowly. Look out for some huge eels when you get near the reef.
4. Spyglass Wall
While many people will argue The Indians is a favorite reef dive in BVI (think pinnacles), when given the choice, I'd pick Spyglass Wall any day. I do love wall diving though so take it with a grain of salt unless you too are an aficionado of all things sheer.
Related Reading: The Best Destinations for Wall Diving in 2023
While Spyglass Wall isn't a wall in the traditional sense, it's pretty darn close—a cliff-like structure covered with anemones and sea fans, brain coral and tube sponges.
Located just north of Norman Island, the site draws its name from the island's aptly named Spyglass Hill, used as a vantage point for pirates on the hunt for treasure-bearing fleets! More of that delicious pirate-ey history we all love.
Whether you spend most of your time at the base of the wall looking out across a meadow of seagrass or flirting along the edges exploring the many nooks and crannies, you're bound to find something to hold your attention. And, like many of the other sites, give this one a chance at night if you can. Squid are common here as are writhing basket stars and jawfish—if you don't scare them with fast movements.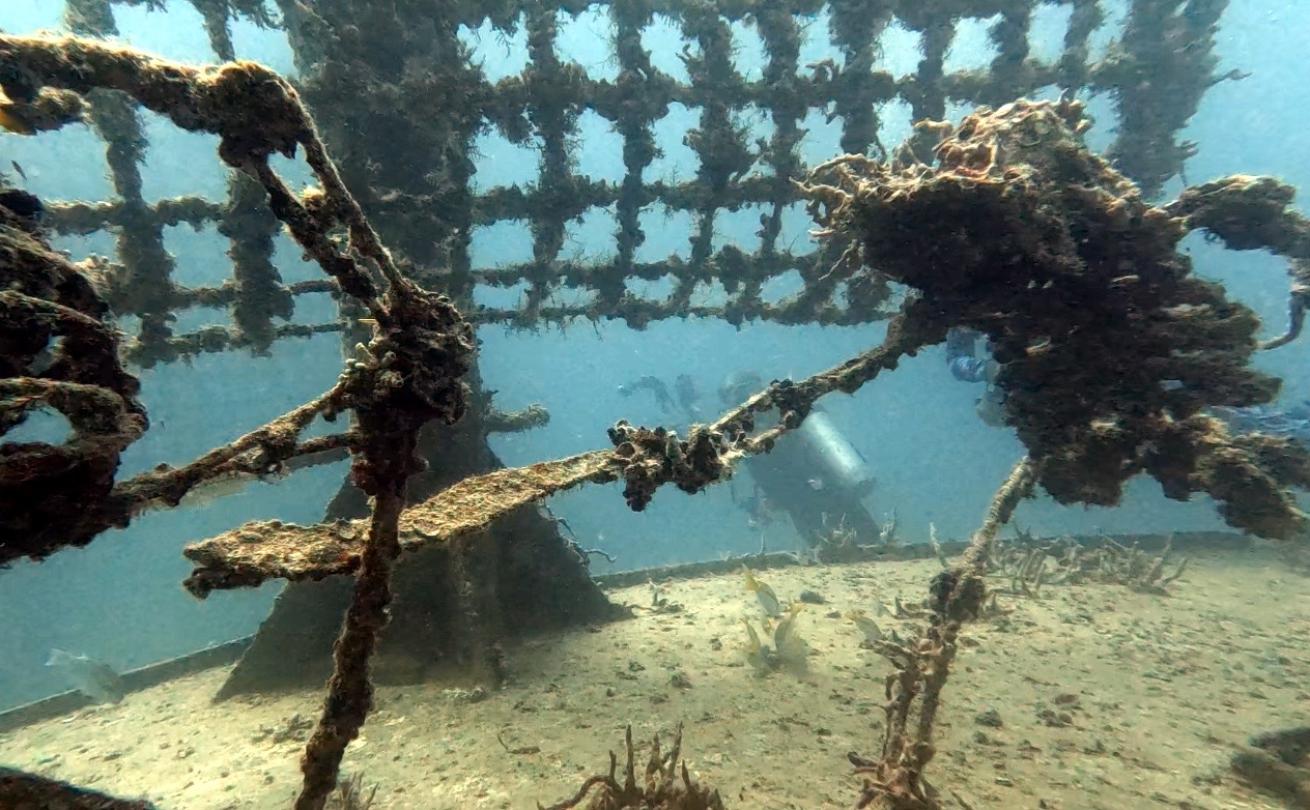 The skeleton crew fighting aboard the Willy T wreck.

Candice Landau
5. Willy T Wreck
I am not typically a fan of wholly human-crafted dive sites but this one is wild and absolutely has to make a list of the top five sites in the British Virgin Islands—it's incredibly detailed too with plenty of knick-knacks to keep even the most serious diver entertained.
As with the shark airplanes at Coral Gardens at Kodiak Queen's Kraken, Beyond the Reef—the nonprofit responsible for these art installations—has gone above and beyond yet again.
So, what is the Willy T? Why, it's a pirate ship of course, equipped with pirate skeletons going about their duties none the wiser to the fact that they're naught but rebar bones! As you descend along a huge net sail encrusted with corals, bryozoans, and all manner of macro life, be sure to check out the crow's nest, usually hiding a few wary fish.
Related Reading: Divers Reinvent Wreck Diving in the British Virgin Islands with Pirates and Shark-Planeo
On deck you'll find the captain and his spyglass as well as whatever critters have made their home in his beard, a few lackeys swabbing the deck, and a few more disreputables either sitting at the bar or playing a game of cards. You'll even have an opportunity to walk the plank or explore rooms below the deck, perhaps encountering a few more pirate skeletons. Be careful though, they may just enlist you!
Bring a camera and your best poses as this site is sure to be a favorite. And, if you're not sure what to pack, don't forget to check out our liveaboard packing list.
---