Getting Altitude Dive Certified in Guatemala's Lake Atitlan
"Santa Cruz? Alguien para Santa Cruz?"
Hearing the call for my stop, I climb through the overpacked boat of women adorned in colorful textiles and elaborate hair braids. I excuse myself in Spanish, and the well-natured responses come in the soft clicks of Tz'utujil—one of the many Mayan languages still spoken in Guatemala. The driver extends a hand to help me out of the water taxi that services the eleven towns dotted around Central America's highest and deepest lake—Lake Atitlan.
Formed 84,000 years ago when the supervolcano Los Chocoyos erupted and blew ash as far as Florida and Ecuador, Lake Atitlan is now home to three towering volcanoes, steep caldera walls perfect for cliff jumping, and mysterious sunken Mayan towns dating back to the Early Preclassic Period.
It's also one of the only places in the world where you can become an altitude diver in a wetsuit instead of a drysuit.
One-Day Altitude Dive Course on Lake Atitlan
Armed with a cup of coffee and a typical Guatemalan breakfast of eggs, fried plantains, fluffy tortillas and the house salsa picante, I listen as the dive instructor explains the day ahead. Through two theory sessions and two dives, I'll learn:
What sets high altitude diving apart from diving at or near sea level.
How to adjust my dive plan to account for the reduced surface pressure at high altitude on both a dive computer and using the RDP table.
How to handle any problems or emergencies that may occur while diving at altitude.
In the first theory session, my instructor teaches me about high altitude's effect on buoyancy and gauges, going in-depth on the physics and quizzing me throughout to check my comprehension. Once we've reviewed the steps for safe dive planning at altitude, my instructor and I climb aboard the tiny dive boat with our captain to head to the first dive site: Agua Caliente.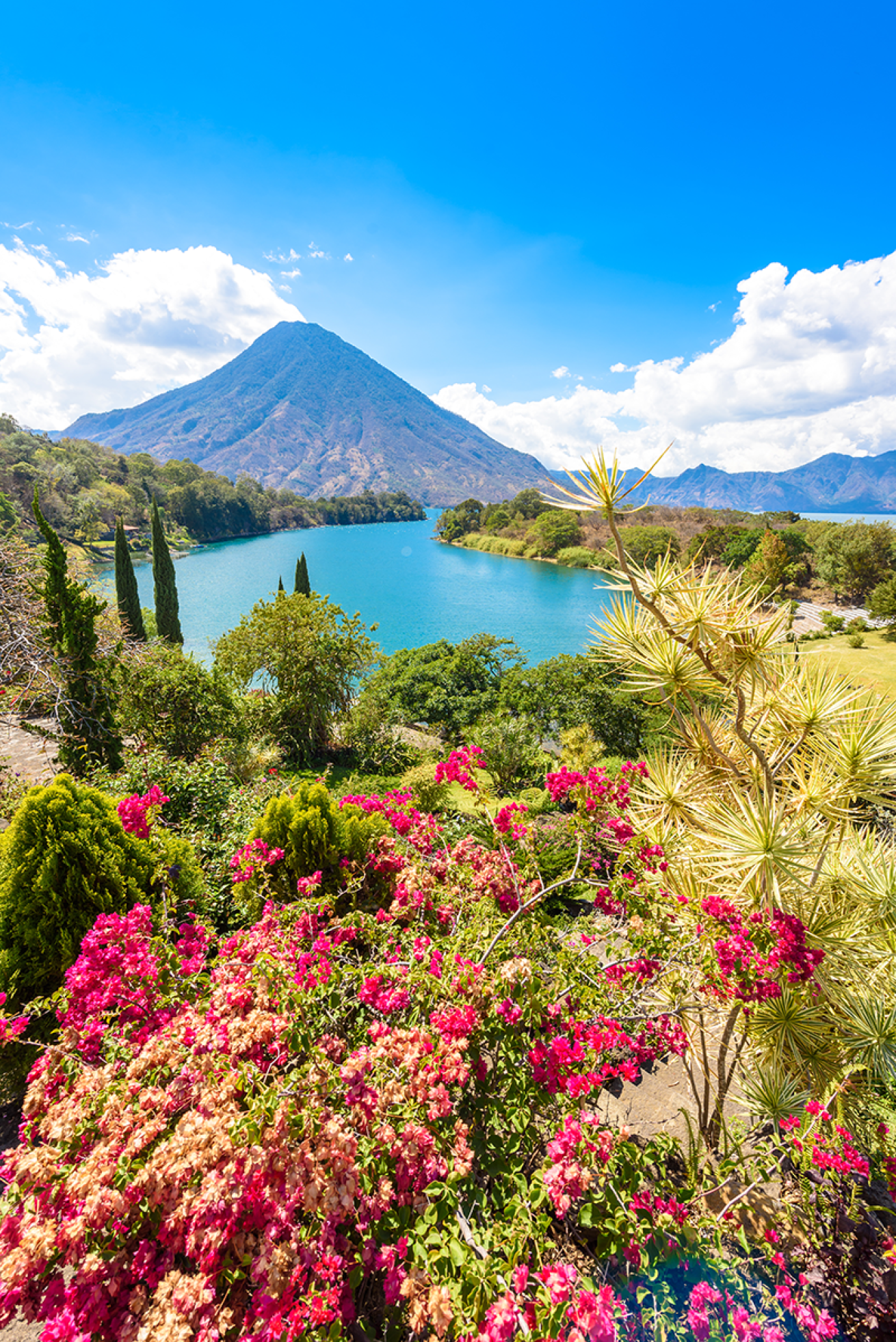 Volcano San Pedro peers over Lake Atitlan in the highlands of Guatemala.

Shutterstock.com/Simon Dannhauer
We descend while swimming along a giant volcanic fissure in the rock. When we reach 60 feet, my instructor signals for me to nestle my hands into the mud—it's hot to the touch! So much so that we can cook an egg while we relax at the volcanic vent. Swarms of tiny fish surround us; Agua Caliente is known for having the highest density of fish of any dive site on the lake.
We surface and climb back into the boat, which motors back to the dive shop for a surface interval and my second theory session. My instructor helps me practice converting the times using the RDP for high altitude. After a while, I've got the hang of it, and it's time for my assessment before the second dive.
The sun has completely risen by now, making me sweat in my wetsuit on the boat ride to the second dive site—Arthur Kennedys. Our captain stops next to a grandiose lake house and I fall back into the mercifully cool 68°F water and begin descending alongside an incomprehensibly massive rock wall.
We swim alongside imposing cliffs, gnarled overhangs, and volcanic boulders with sheer drop-offs into the blue abyss. After we surface and head back to the dive shop, I'm mesmerized by the reflection of the three remaining volcanoes on the lake's surface.
From then on, each time I glimpse the sparkling waves from Lake Atitlan's shore, I think about what could be down there that's still undiscovered. After all, a Guatemalan diver stumbled upon sunken Mayan ruins just 26 years ago.
Need to Know
When To Go: You can dive year-round on Lake Atitlan, though December through April provides the best visibility due to low rains.
Getting There: Guatemala City is the nearest airport to Lake Atitlan. Once you arrive, hire a taxi or take a shuttle to Panajachel, the main hub along the lake. From there, a lancha ride to Santa Cruz costs 10 Quetzales, a little over $1 USD.
Operator: ATi Divers operates out of La Iguana Perdida Hostel & Restaurant and is the only dive shop on the lake. The Altitude Specialty Course takes one day and costs $115 for the theory sessions, two dives and equipment rental.
Accommodations: Staying at La Iguana Perdida is the easiest and most convenient choice. Choose from dorm beds, private rooms, and private cabins.
Altitude Considerations: Driving over the crater's rim to leave the lake puts you at risk for decompression sickness (DCS). It's important to note you must stay on the lake for at least 24 hours after diving.
---