The Best Drysuits for Scuba Diving Reviewed by ScubaLab
Our test divers tried out ten new neoprene drysuits. We conducted multiple test dives of each suit at Devil's Den Prehistoric Spring in central Florida in 72°F fresh water. Our testing focused on evaluating factors that determine how well a suit performed its central role of keeping a diver dry, and what level of comfort, stability, control and convenience the suit provided.
How We Test
(Click here to jump to the reviews.)
Test divers rated suits in the following categories:
Ease of donning: Whether the suit provides sufficient access to get in the suit without excessive delay or trouble; whether it's possible to don the suit without assistance.
Fit/comfort/range of motion above surface: Whether the suit fits properly while allowing full range of motion before entering the water.
Range of motion submerged: Whether the suit permits unrestricted movement once submerged
Comfort/effectiveness of seals: Whether neck and wrist seals efficiently and comfortably block water entry.
Buoyancy/trim/ attitude control: Whether the suit allows the diver to maintain full control of depth and position in the water.
Boot comfort/security: Whether the boots provide comfort and support for swimming and walking.
Inflator valve: Whether the inflator is easy to access and operate Exhaust valve: Whether the exhaust is easy to reach and operate in such a way that the diver can control venting gas from the suit.
Air movement: Whether the suit allows the diver to maintain control over air in the suit, particularly during changes in depth or attitude.
Drag/streamlining: Whether the suit maintains a streamlined profile in the water that reduces drag
Overall fit/comfort at depth: Whether the suit provides sufficient comfort for extended periods.
Pockets/accessory features: Whether the suit has features such as cargo or internal pockets, and how they perform
Ease of doffing: Whether the suit can be taken off without time or trouble, and whether it can be doffed without assistance.
Test divers used similar undergarments with each suit to gauge thermal qualities as well as overall fit, cut and sizing. ScubaLab staff also evaluated suits for construction and materials, focusing on quality of manufacture and the suitability and durability of materials used.
Seasoft Ti 3000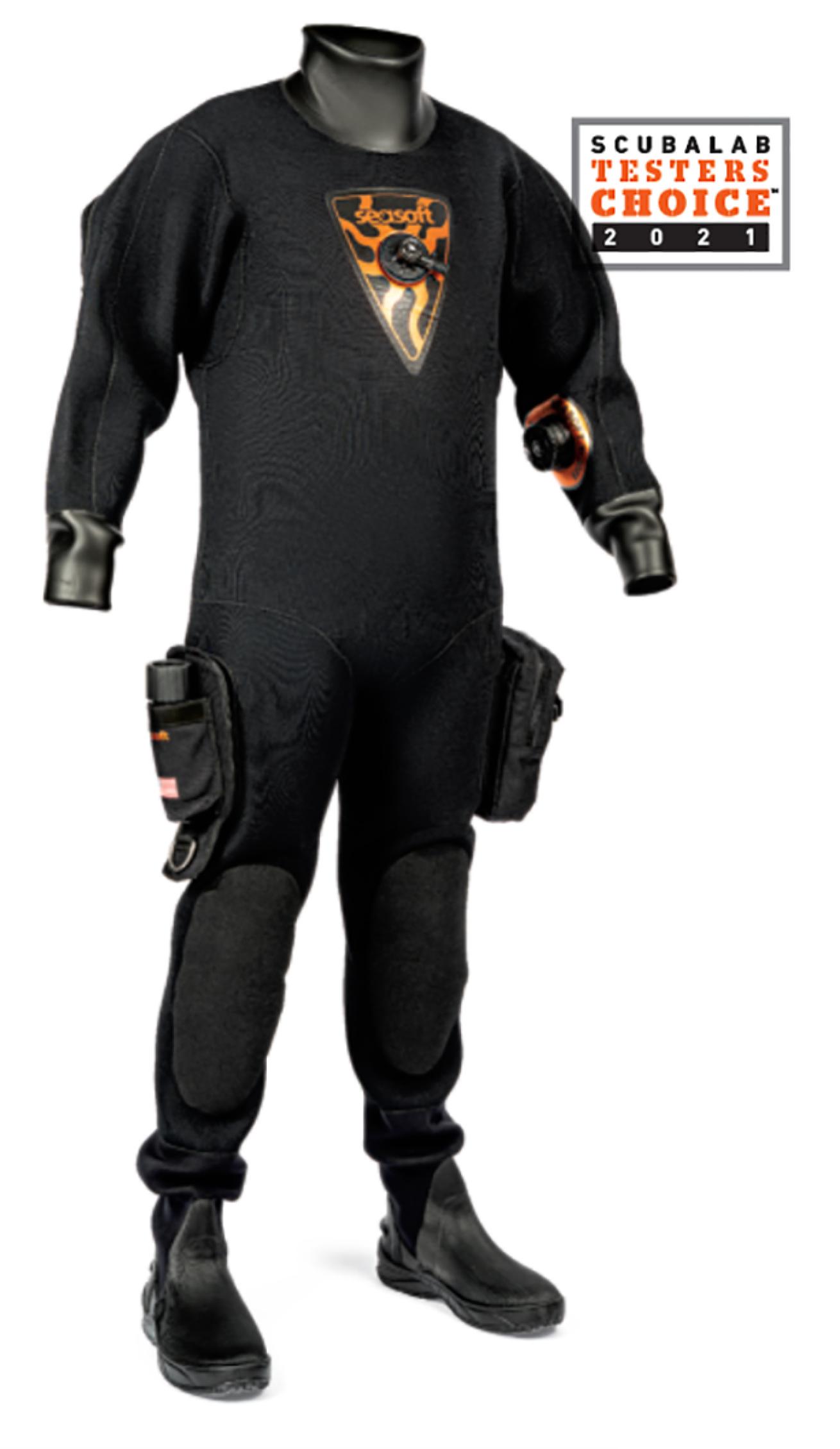 3.5 mm compressed neoprene with titanium lining, abrasion-resistant exterior, plastic rear-shoulder zip, neoprene seals, integrated boots.

MSRP: $2,399.99
Contact: seasoftscuba.com
Sizes: 8 men's, 8 women's, and custom

Jon Whittle
The Ti 3000 comes with custom-fit seals, boots, and arm and leg lengths. It fits snugly as a 5 mm wetsuit, but with a bit of extra space allowing for thicker undergarments. The long rear-shoulder zipper glides so smoothly that it can be operated by the wearer if they're flexible enough. Smooth-skin seals at the neck and wrists are comfortable but must be carefully rolled over to ensure they are watertight. In the water, the suit earned top scores for range of motion and overall comfort, and was rated very good for buoyancy and attitude control. Air movement was rated good, though testers felt ankle straps would have helped control gas movement to the boots (which seemed slightly large for our suit size). The forearm-mounted exhaust valve proved easy to reach and operate, taking the only excellent score of any suit tested in that category. Testers also appreciated the suit's removable pockets, which mount with hook-and-loop panels. A favorite of test divers, the Ti 3000 is our Testers Choice for neoprene drysuits.
Aqua Lung Blizzard Pro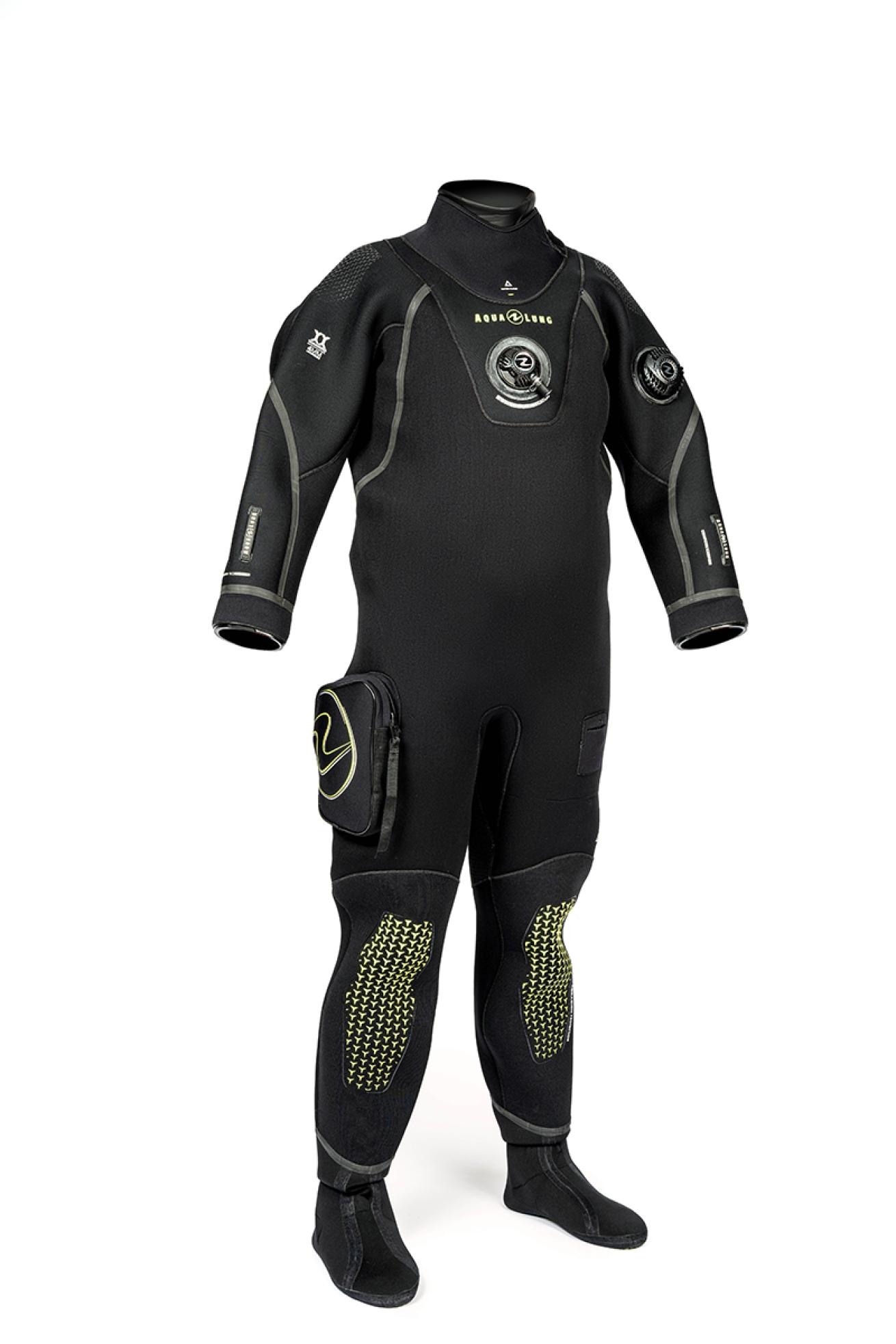 4 mm compressed neoprene with taped interior seams, metal rear-shoulder zip, neoprene socks.

MRSP: $1,699
Contact: aqualung.com
Sizes: 7 men's, 7 women's

Jon Whittle
The Blizzard Pro has a fair amount of stretch, which translated into very good scores for comfort, range of motion and donning and doffing. In the water, the suit displayed solid performance, earning very good scores for air movement, along with buoyancy and attitude control. "Really easy to control, hover and trim out," one tester commented. Though the suit had a tendency to bulge a bit in the shoulders, it still scored very good for streamlining and drag. The suit is outfitted with a neoprene neck seal and replaceable silicone wrist seals, which scored very good for comfort and effectiveness, although some testers found that the wrist-seal rings rested uncomfortably on their forearm. Testers were fans of the suit's suspenders, which feature a small pocket and a mesh back pad. "Terrific harness. Comfortable and secure," one diver noted.
Bare Sport Sentry Tech Dry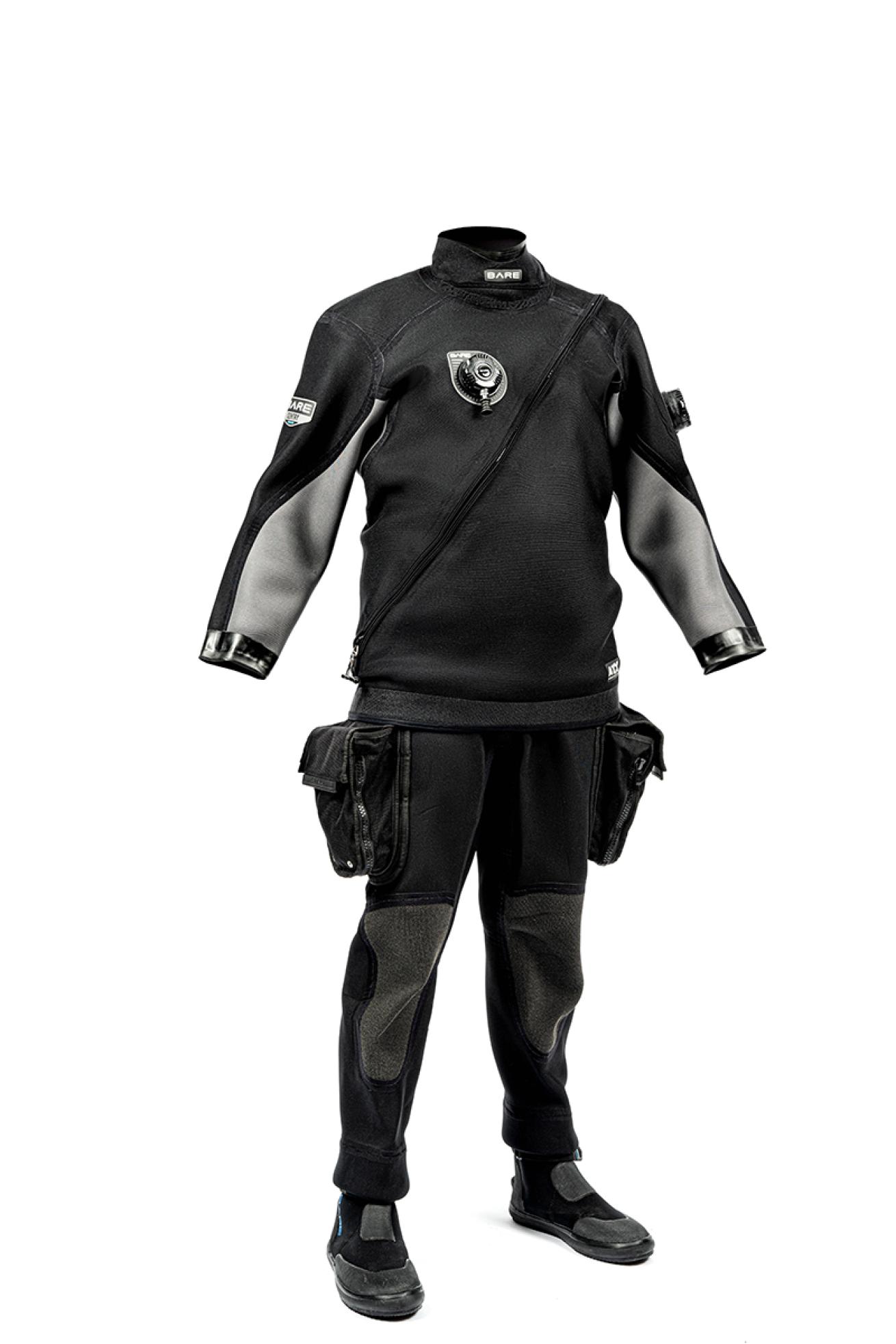 2 mm high-density neoprene, double-glued and heat taped, plastic diagonal front-zip, latex neck and wrist seals, integrated boots.

MSRP: $2,699.95–$3,249.95
Contact: baresports.com
Sizes: 20 men's

Jon Whittle
Although the diagonal zip and telescoping torso give it the look of a trilam suit, the Sentry Tech is made from high-density Yamamoto neoprene with a toughened outer layer. While not as elastic as some, the Sentry's no-stitch design with double-glued, heat-taped seams makes it quite flexible, earning a very good score for range of motion and comfort. "Easy movement, all directions," noted one tester. The front zipper allows solo donning and doffing, though testers noted a bit of squirming to ease the suit over shoulders. The boots are rugged and comfortable, and the thigh pockets expand from big to huge. Though not as streamlined as more wetsuitlike models, the expedition-worthy Sentry Tech didn't really get a chance to flex its muscles in our mild test conditions. As one tester noted, "I'd like this suit better in more challenging conditions."
Cressi Desert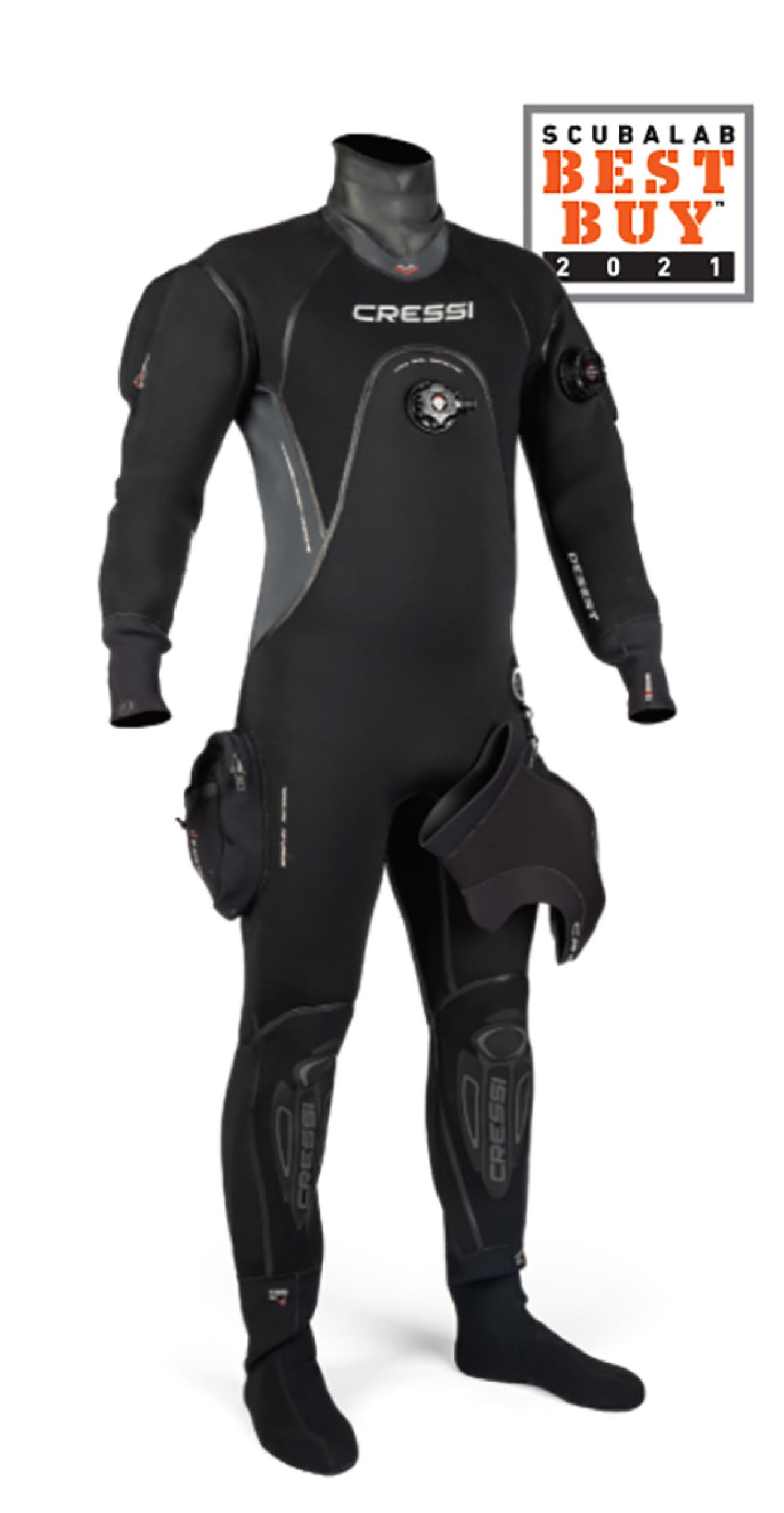 7 mm to 4 mm compressed neoprene with liquid-sealed seams, metal rear-shoulder zip, neoprene seals, neoprene socks.

MSRP: $1,299.95
Contact: cressi.com
Sizes: 5 men's, 5 women's

Jon Whittle
Noticeably lighter than other suits, the Desert offered a trim fit and impressive range of motion. "Flexible—like a wetsuit with an inflator," is how one tester described it. The suit tied top score for fit, comfort and range of motion at the surface, and scored excellent for co fort at depth. The close fit helped it earn an excellent score for streamlining, despite the floppy thigh-mounted pocket. Ultra-elastic neoprene seals were easy to don and doff, and although testers reported a bit of weeping at the wrists, they scored very good for effectiveness and comfort. Air movement was rat- ed excellent, tying the top score. The fit leaves little room for thick undergarments, but fits the bill for divers looking for dry comfort in cooler waters. A favorite of test divers that offers above-average performance for below-average price, the Desert is our Best Buy.
Fourth Element Hydra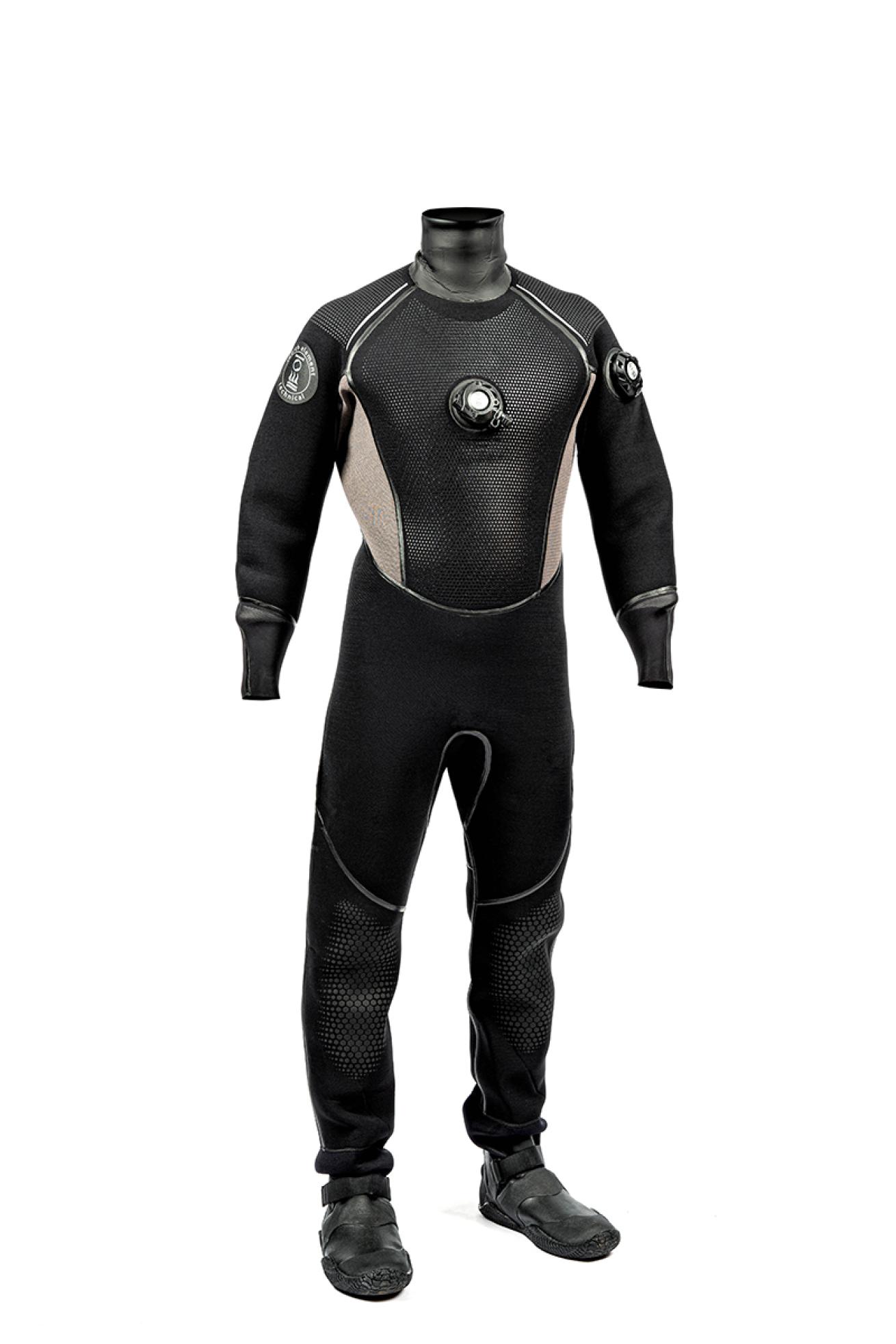 4 mm high-density neoprene, blind-stitched, taped and plastic-coated seams, plastic rear- shoulder zip, neoprene seals, integrated boots.

MSRP: $1,399
Contact: fourthelement.com
Sizes: 10 men's, 12 women's

Jon Whittle
The Hydra is made of 7 mm neoprene compressed to 4 mm, with abrasion-resistant laminates on high-wear areas. The dense material and close fit—snug enough that it does without suspenders—prompted a gripe or two from testers about its heft on the shoulders when topside. Once submerged, the Hydra was in its element, with the fit and materials aiding in precise, predictable response that earned it an excellent score for control. As one tester noted, "Great comfort and control." Seals were rated among the best for comfort and dryness, as were the boots, with removable, arch-supporting inserts. Testers also gave very good marks for its inflator, with a precise rocker switch, and its exhaust, which has a sliding adjustment as well as a push-button control. Well-made and capable, the Hydra was a top contender in our test.
Pinnacle Aquatics Tahoe
High-density neoprene, glued seams, plastic horizontal chest zip, choice of seal and boot type.

MSRP: $1,299.95 (standard)
Contact: pinnacleaquatics.com
Sizes: 14 men's

Jon Whittle
The design-your-own Tahoe comes standard with a neoprene neck seal and latex wrist seals, but you can pick from a choice of seals and boots, and select the exhaust location. We tested it with a neoprene neck seal, silicone wrist seals with oval rings, suspenders and soft boots. The suit is made using panels with beveled edges that are heavily glued to form a smooth interior seam. The front zip makes it possible to don solo, though close-fitting shoulders required plenty of squirming. The payoff for the trim fit was a very streamlined feel in the water that earned it an excellent score for reduced drag and tester comments including "wouldn't be afraid to dive this in strong current." The seals were effective and comfortable, though the wrist rings sometimes rubbed, making us think we might choose the optional round rings.
ScubaPro Everdry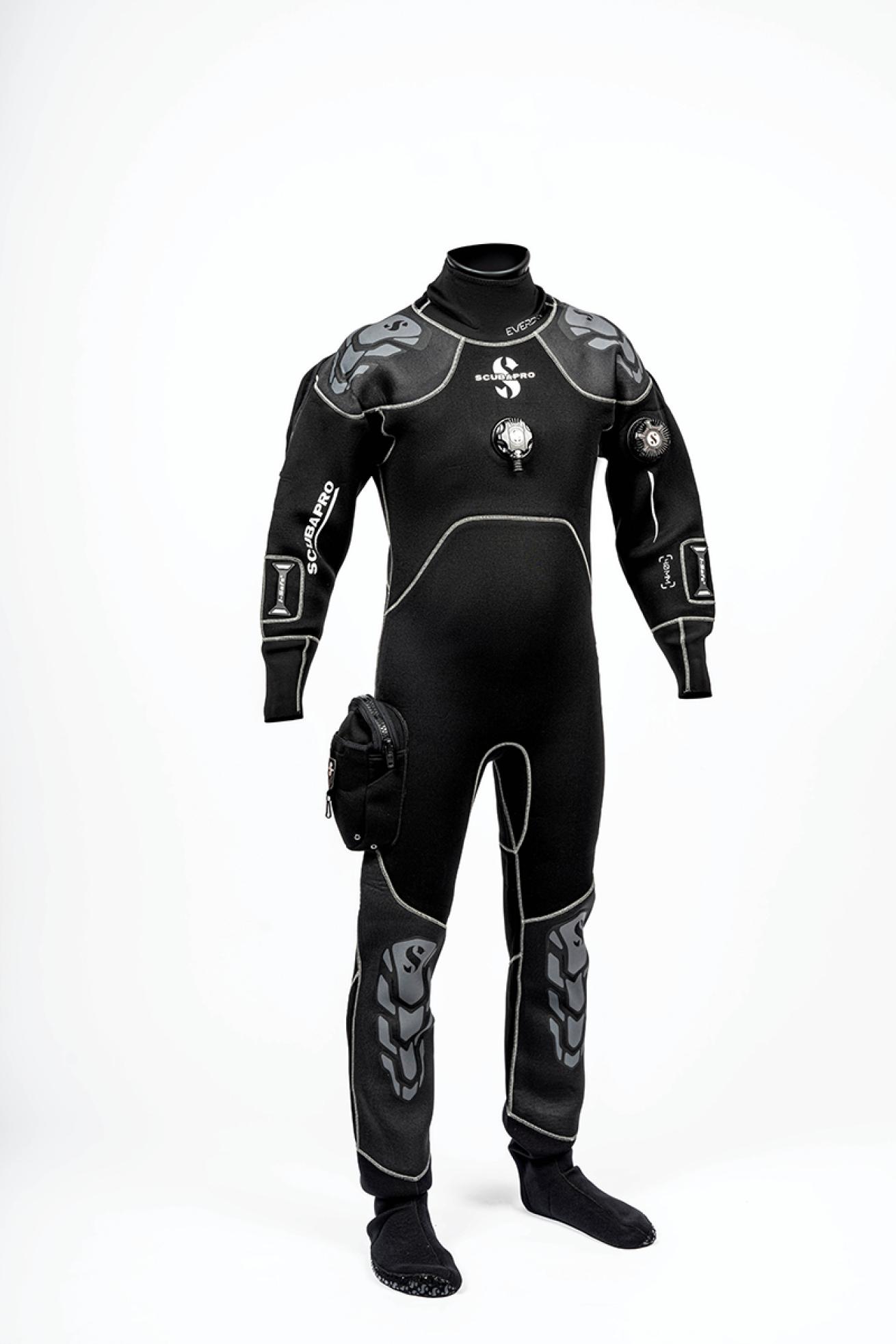 4 mm high-density neoprene, double-thread blind-stitched seams, metal rear shoulder- to-shoulder zip, neoprene seals and socks.

MSRP: $1,299
Contact: scubapro.com
Sizes: 10 men's, 6 women's

Jon Whittle
What stood out about the Everdry was the level of control it offered. It scored excellent for air movement and very good for attitude and buoyancy control, likely helped by its snug, wetsuitlike fit. "Suit did exactly what I wanted and was easy to maintain any position, like it knew what I wanted it to do," one tester commented. Seals were rated very good for comfort, though testers reported some seeping at the wrists. With a plush lining, the Everdry scored excellent for overall comfort underwater. On the surface, the score dropped to just very good due to the more pronounced effect of the shoulder zipper, which was more noticeable when reaching forward. The soft neoprene socks are plush and warm, without prominent seams or bunching. They're trim enough to fit under standard wetsuit boots and can be turned inside-out for easy drying.
SEAC Warmdry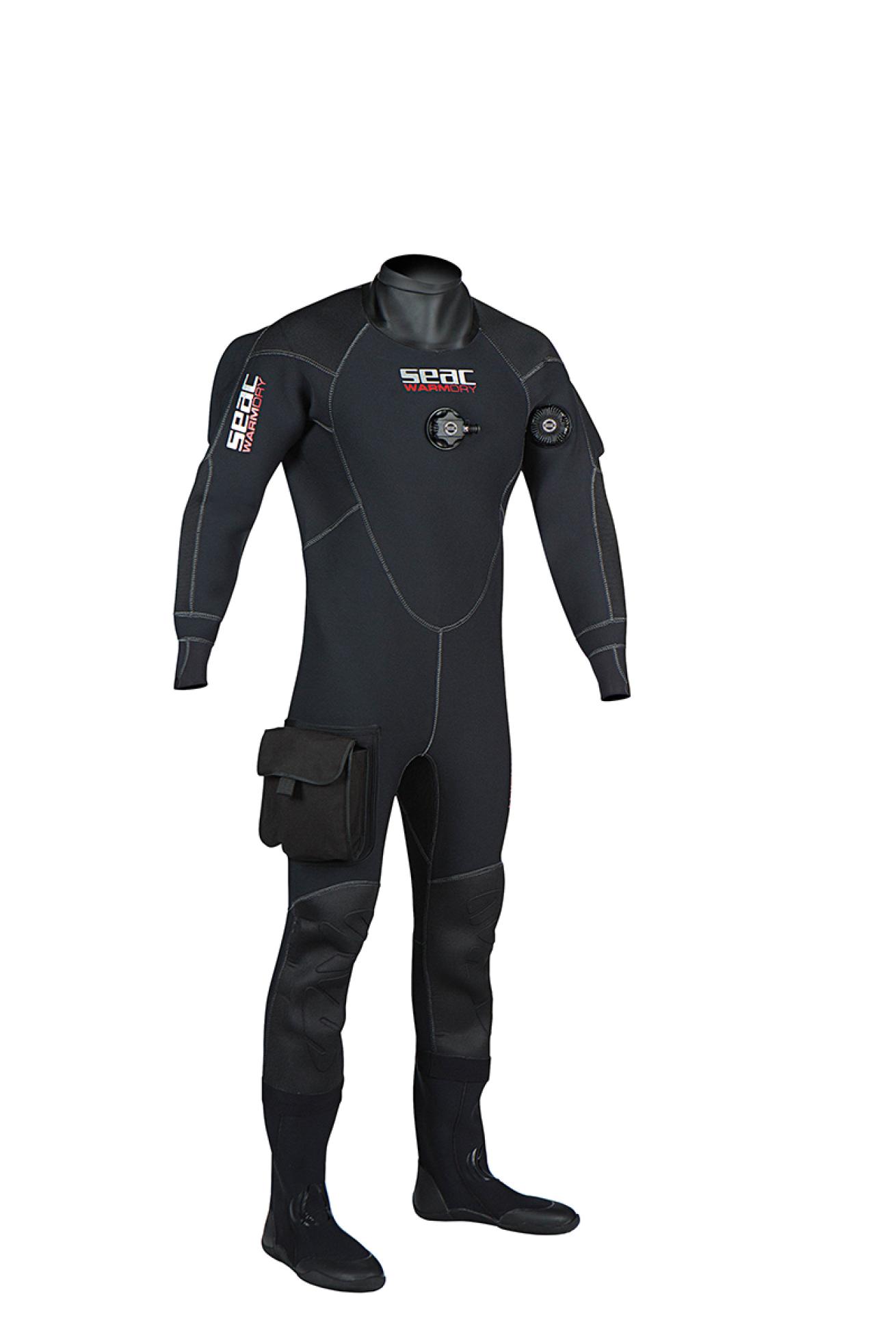 4 mm high density neoprene, metal rear-shoulder zip, neoprene seals, integrated boots.

MSRP: $999
Contact: seacsub.com
Sizes: 11 men's, 9 women's

Jon Whittle
A close fit and high-stretch neoprene put the WarmDry on the wetsuitlike end of the range among test suits. The rear-shoulder zip— among the stiffer to operate—ruled out self-donning, but the wide opening and smooth nylon lining made for otherwise easy entry and exit. Constructed using external blind stitching with neoprene tape on internal seams, the suit has integrated suspenders that we mostly used to hold up the half-donned suit when topside. The integrated boots are thin enough in the soles to make traversing rough ground or gravel uncomfortable; on the plus side, they can be turned inside-out to dry, and fit easily inside our wetsuit fins. Testers rated the WarmDry very good for buoyancy control and air management, with the snug fit and well-placed inflator and exhaust making it simple to control air movement in the suit.
Waterproof D10 Pro ISS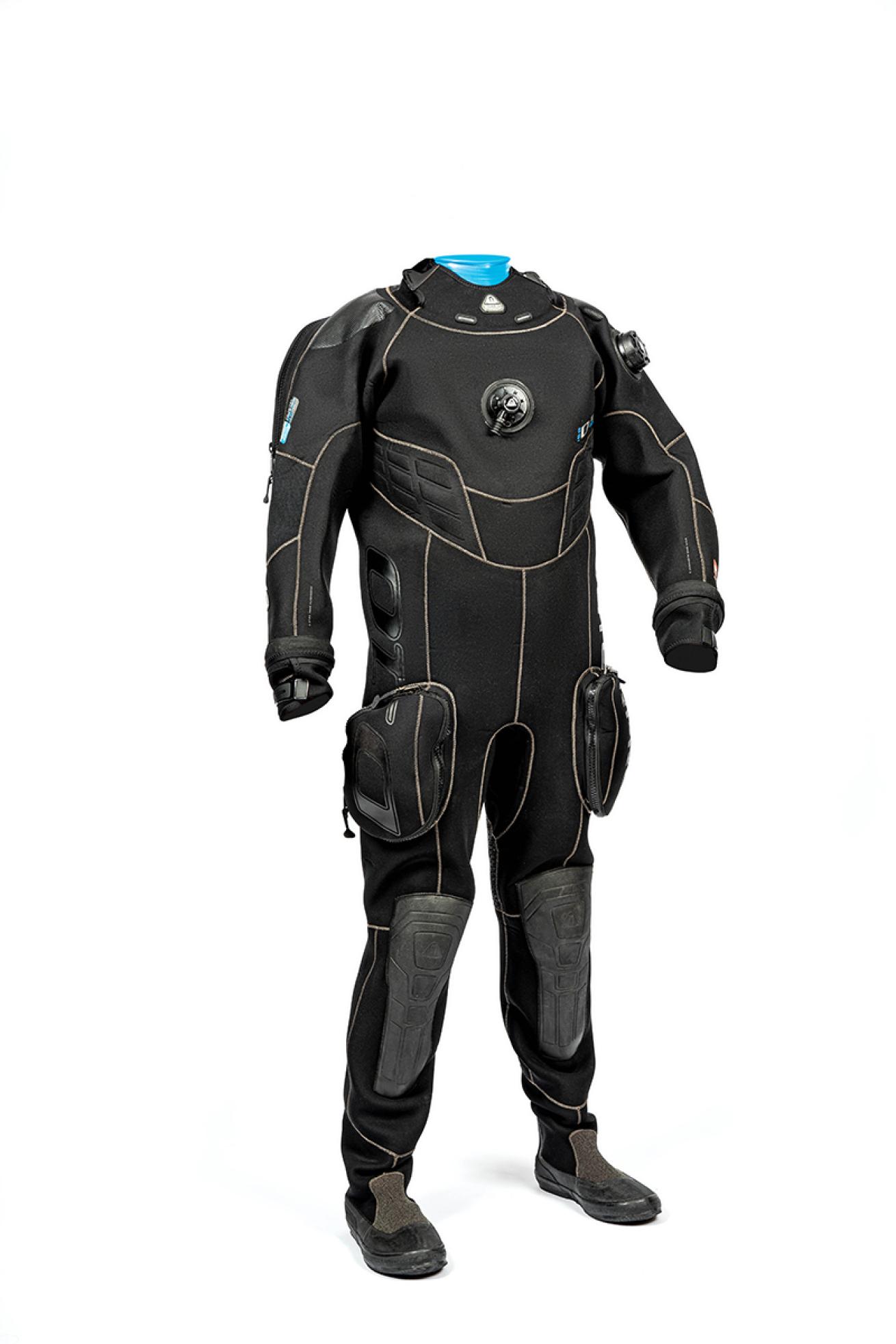 3.5 mm high-density neoprene with abrasion-resistant lining, metal rear-shoulder zip, replaceable silicone seals, integrated boots.

MSRP: $1,999.95
Contact: waterproof-usa.com
Sizes: 7 men's, 5 women's

Jon Whittle
This expedition-ready suit uses tough materials and construction that may have been overkill in our 72-degree test venue but would have been right at home in the Arctic. The roomy interior is ideal for thick undergarments and makes it a breeze to get in and out of the suit. Padded shoulders, Kevlar-reinforced boots and rubber shin guards can make the suit feel a bit stiff, but it was rated good for range of motion. "Fit feels heavy and stiff—like high-quality body armor," is how one tester described it. The D10 is outfitted with replaceable silicone seals that scored very good for comfort and dryness. Polyurethane embossing on the seat provides a no-slip grip that, as one tester put it, "won't slide an inch, even on an iceberg." For a robust suit, it was surprisingly streamlined in the water, earning a very good score for low drag.
CHECK OUT DIVE
While not fully tested, we did have a chance to dive it.
ScubaPro, Exodry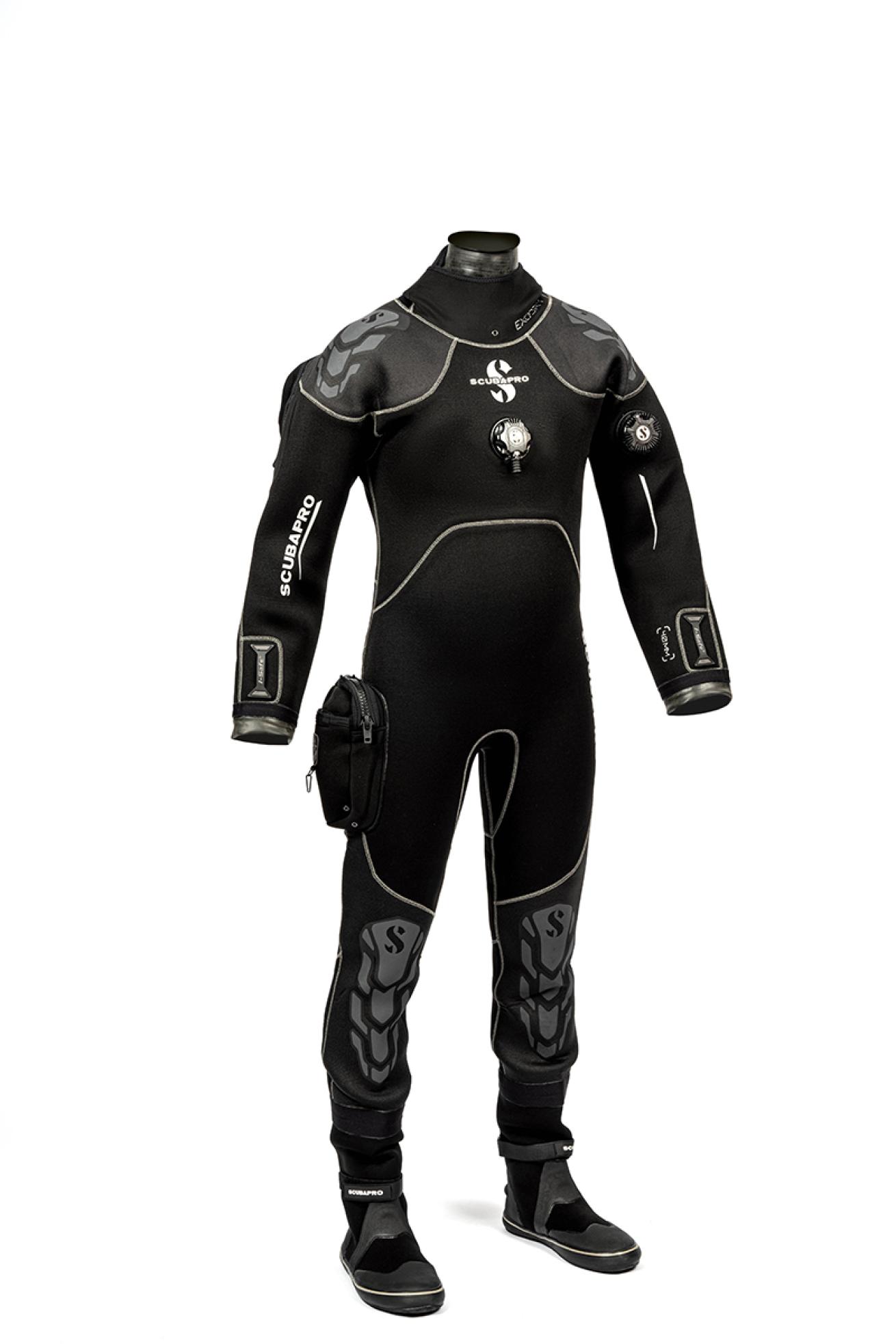 4 mm high-density neoprene, metal rear shoulder-to-shoulder zip, latex neck and wrist seals, integrated boots.

MSRP: $1,349
Contact: scubapro.com
Sizes: 6 men's, 4 women's

Jon Whittle
Though similar to the Everdry, the Exodry has latex seals and hard boots. We weren't able to get needed sizes to conduct full testing, but we were able to give it a try in the water. With a plush lining, it offers enough built-in insulation to dive comfortably in moderate conditions without long undergarments and has a cut that can easily fit heavier undergarments. A neoprene cowl with Velcro adjustments provides welcome thermal protection around the latex neck seal, and lower arms have effective instrument-retaining straps. Built-in suspenders keep the suit comfortably in place, and upgraded boots add improved support and fin-strap retainers. Air management was no-fuss and solid, with the suit easy to control in horizontal or vertical attitude.
---
ASK ROGER
Q: Why didn't you test the drysuits in colder conditions?
A: Our focus has been to evaluate drysuits in terms of their performance in keeping divers dry, comfortable and in control of buoyancy. This is partly due to cost and practical issues (our budget and deadlines don't accommodate polar expeditions). More importantly, perceptions of "warm" and "cold," as we've noted in wetsuit testing, vary tremendously from diver to diver, whereas "wet" and "dry" aren't so subjective. That said, our moderate test conditions using very light undergarments tended to favor suits with wetsuitlike flexibility and comfort, rather than more expedition-oriented suits such as the Waterproof D10 Pro ISS or Bare Sentry Tech Dry.
---
Up Your Sleeve
Just as important as the type of exhaust valve is its location, because it determines how easy it is to reach for adjustment and the best position in the water for releasing gas from the suit. While the suit's design, especially zipper placement, plays a role in where the exhaust can and can't be located, the suits in our test showed a range of placements from high to low and forward to back. Even small differences in location made a relatively big difference in the best position for exhausting gas. At the same time, how well each worked also depended on the fit of the suit and flexibility of the material (and the diver). While there's no real "best" location, a favorite in our test was the forearm position of the SeaSoft Ti 3000, which required a slightly different attitude in the water but was supremely easy to reach and adjust.
---
Zipper Wars
A favorite topic of drysuit divers is metal versus plastic zippers, with each having its advocates. Metal zippers, like that on the Scubapro Ever-dry, close the sides of the waterproof seal. Robust but stiffer to operate than plastic, rear-shoulder placement of metal zips is common because it's comfortable and avoids sharp bends in the zipper.
Plastic zippers like the one on the Pinnacle Tahoe close the lips of the sealing surfaces together. Low-profile and easy to slide, they're less bulky than metal.
Even among plastic zippers, you'll find variety, such as the TIZIP SuperSeal that's standard on the SeaSoft Ti 3000. It has slightly smaller teeth than most, with sealing surfaces above and below the zipper coil—in other words, inside and out—which helps keep debris out of the zipper.
As for which is best, we'll just note that how you treat it is likely as important as construction. Keep the zipper as straight as possible when operating, and pull slowly and steadily. Clean and lubricate it as the manufacturer recommends, and store the suit in a way that doesn't sharply bend or twist the zipper track.
---