A Guide to Scuba Diving in the Forgotten Islands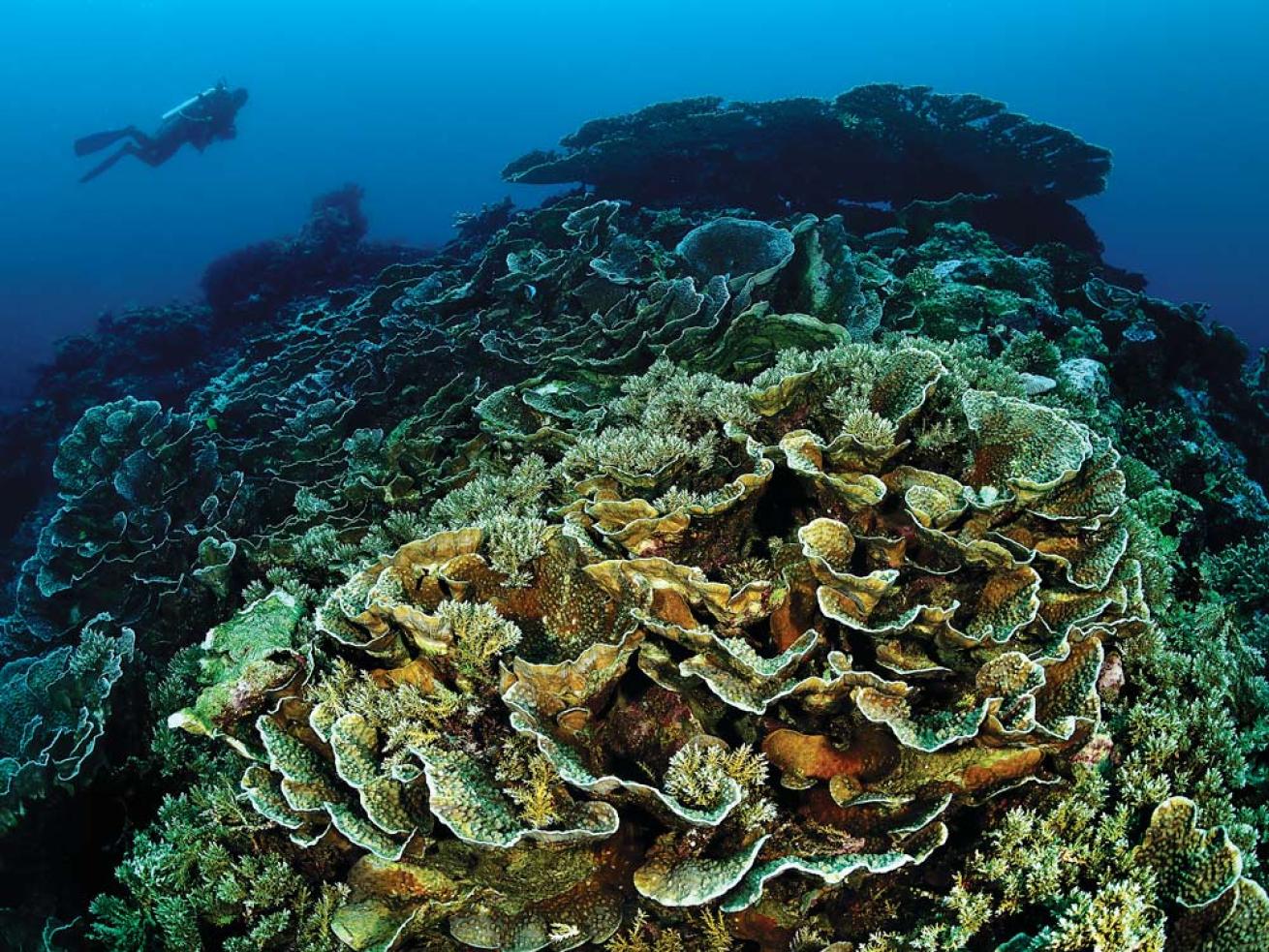 A colony of cup coral in the Banda Sea

Damien Mauric
Explore the Guide to Indonesia
The southeast Moluccas, or Maluku Tenggara — known to ­divers as the Forgotten Islands — encompasses a more than 600-mile-long archipelago between the Banda and Arafura seas. This easternmost arc of the Banda Sea has had little contact with the rest of Indonesia and, in the past few years, has been explored primarily by divers.
The unique region has two parallel lines of islands — the inner arc volcanic in origin and the outer mostly coralline limestone. Collectively, the arcs make up the bio-geographic transitional region between southeast Asia and Australia/New Guinea known as Wallacea. This natural transition zone marks a frontier defined by clear and fecund equatorial seas.
At the top of the arc is the Maluku region, or Ambon, where you get all the rare and intriguing critters you can handle: Rhinopias, frogfish, mimic octopuses and much more. As you trace the perimeter arc heading south, the island groups proffer diverse topography and a stunning variety of coral terrain with patch reefs, terraced coral gardens, seamounts, wall dives and sheer drop-offs covered in soft corals, sea fans and huge barrel sponges.
Many sites straddle the transition between shallow reef and the ocean, providing passing encounters with large pelagic schools of barracuda, jacks, mackerels and snapper. When cool upwellings rise to the shallows, schooling scalloped hammerheads, mantas, mobulas and whale sharks become more common. Depending on the season, visitors can be treated to sightings of migrating whale and dolphin species topside, and occasionally below the surface too.
---
Scuba Diving Conditions
Water temp
Water temperatures generally range from 81 to 86ºF
Visibility
At times, visibility can reach upwards of 100 feet
Season
The Banda Sea is enormous, mostly open ocean, and without many harbors and sheltered bays; the better months to cross are September to November and April to May, when the sea is usually calm
---
Signature Diving Sites in the Forgotten Islands
Manuk Island
Dive beneath the surface, and dozens of sea snakes glide through open water and reef almost everywhere you look. Only a handful of sites dots the island's black-sand bottom, punctuated with beautiful coral ridges and drop-offs. The active geothermal vents could be what lures the snakes to the area.
Nila Island
Close to the island are two atolls, Dusborgh and Nils Desperandum (or "Don't Despair"). Both are accessible only by ­liveaboard; due to the lack of ­protected anchorage, they ­remain ­relatively unexplored. September to ­November is the best chance for calm seas that can reveal spectacular sponge- and ­sea-fan-encrusted walls, with the ultimate highlight being possible sightings of big schools of scalloped hammerheads.
Damar Island
Close to the big island of ­Damar, the small islands of Nusleur and Terbang are surrounded by ­untouched beaches. These stunning remote islands host ­pristine hard-coral reefs enlivened by swarms of anthias, batfish, ­fusiliers and numerous turtles.
---