Hot Spring Diving at Utah's Homestead Crater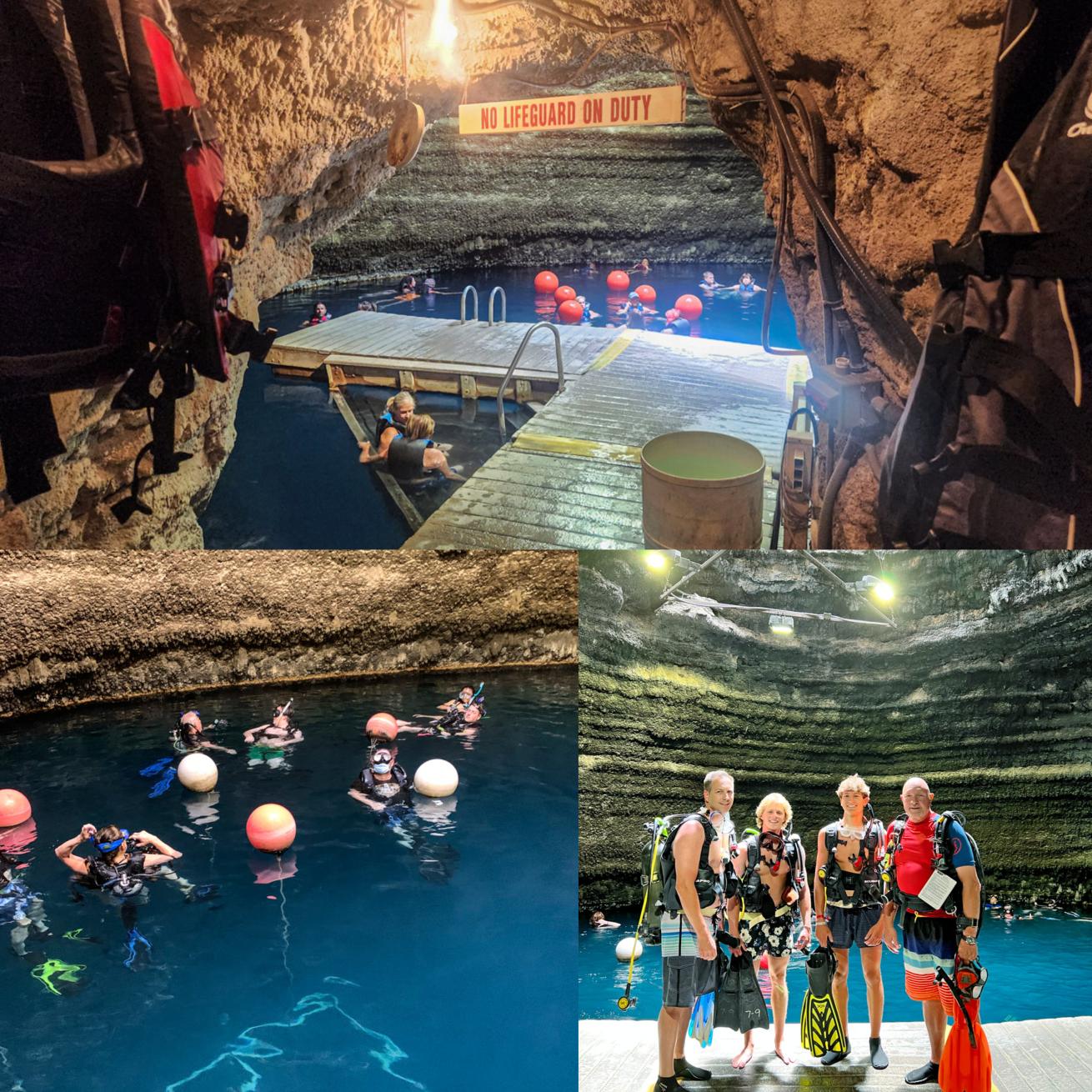 Homestead Crater is popular among locals for year-round warm-water diving. Divers can gaze skyward from a floating dock at the circular limestone tunnel shaped by ancient mineral deposits over thousands of years.

Terry Drea
"Utah is more famous for local dives than it gets credit for," says Dave Mohowski, owner and course director at Dive Utah in Holladay, Utah, about diving in his backyard. "The beauty of the crater is that we can dive it year-round."
Upon entering, you might wonder if divers are plunging into a hole in the ground created by an asteroid—in actuality, Homestead Crater is a natural hot spring fed by water boiling upward from 2 miles inside the earth. The crater's entrance greets visitors with layers upon molded layers—55 feet—of curved limestone. The resort and dive shop sharing its namesake are located just south of Park City, allowing locals to experience comfortable dive conditions in the landlocked western United States. Dive Utah, an operator with shops in Holladay and Ogden, dives Homestead Crater almost every other weekend.
"Through spring and summer, people used to go to cold, dark lakes to get certified before we opened the crater," says Craig Simons, general manager of Homestead Crater. Having a 94-degree body of water means diving is more accessible, and it's helped foster a thriving community in an area traditionally known for snow sports and hiking the mountains and desert.
Homestead Crater is a mellow dive site—no strong currents or rough waves to be found here. Rocky limestone shapes the bumpy depths, which can usually be seen in relative clarity. In addition to divers, visitors include swimmers, snorkelers and people who just want to soak in nature's Jacuzzi—or even do yoga on paddleboards. It's among "a number of hotspring-fed lakes that allow for year-round diving" in Utah, says Mohowski.
"Naturally, during the winter it is great because it is 94 degrees and not covered in snow and ice! The summer is nice because there is more direct sunlight streaming into the crater and midday dives are beautiful."
Access to the crater is granted via tickets purchased through the surrounding 110-room Homestead Resort, which includes an 18-hole golf course.
Related Reading: How to Scuba Dive Island Rock in Port Orford, Oregon
Beneath the surface, the dive experience is serene: No major wildlife sightings can be found here amid the quiet and warmth, but the lack of diversions makes for a focused, calming dive. Divers descend to three underwater platforms, one of which is movable. The cavernous space is large enough to fit several groups of six to eight divers, with any extra room dedicated to guests who prefer to soak or swim.
Simons' family has operated Homestead Resort in Midway since 1996. The comfort of the water temperatures and predictability of the conditions attract divers from throughout Utah and Colorado—Simons estimates that 12 to 15 dive centers perform open-water certifications at the crater each year. "It's a good transition from the crater to the ocean because you're able to focus on diving skills as opposed to worrying about a wetsuit and any other distractions," he says. "We have a continual flow of water, about 100 gallons a minute. So the water stays clear and clean."
Reservations are required to visit Homestead Crater. Full gear rentals are available on site. The crater's busiest season is from January through March, Simons says.
It's special for the local dive community's small clubs to have such a reliable backyard dive site. There aren't many places on Earth where one can scuba dive and ski in the same day, but the crater is one of them! Simons hopes access to Homestead Crater will incite multigenerational interest in diving for years to come. "When you see a sport where you can have three generations in the water…I think that's the future of a lot of these youth programs," he says. "As we produce these divers and have these trips going, it's not only affecting the local community but the international community."
Related Reading: Diving the Cuyuna Mine Pits in Minnesota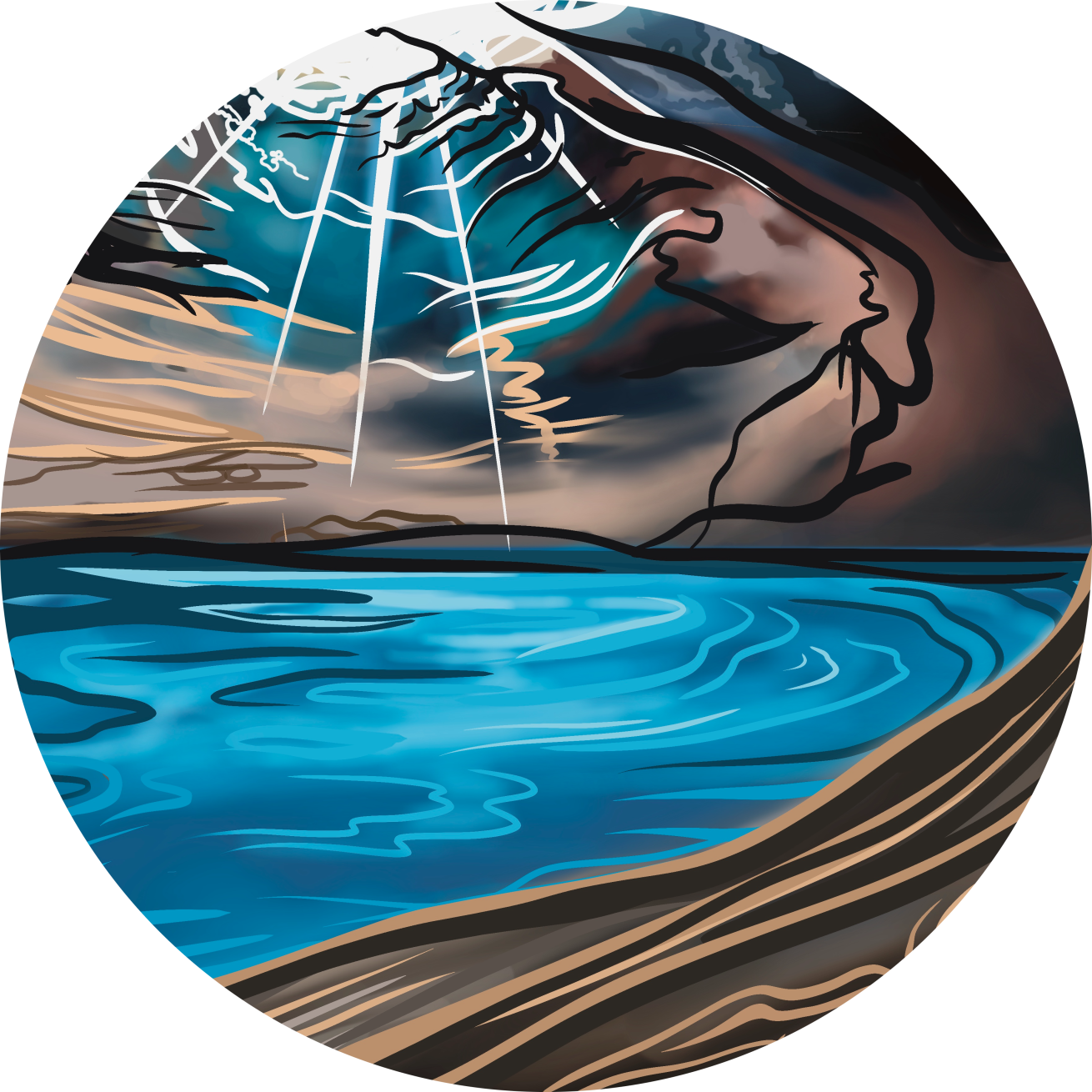 Limestone forms when sedimentary matter like calcium carbonate compresses over long periods of time.

Cassidy Vincent
Site Spotlight
Divers may be the only visible marine life specimens floating in Homestead Crater, but the surrounding architecture reveals another story altogether. The ancient layered limestone formations that make up the walls swirl and stack together, building upward beneath the surface before finally meeting the sky.
Limestone forms when sedimentary matter like calcium carbonate compresses over long periods of time. Fossilized shells are often determined to be the basis of limestone deposits. Most scuba divers and paddleboard yoga participants may not realize they are in the company of such interesting rocks, but there's a reason Simons fondly calls Homestead Crater a "10,000-year-old yoga studio!"
Need To Know
Conditions
Water temperature is 94 degrees year-round, and viz is consistently clear.
How to Visit
Email [email protected] to reserve a spot.
When to Visit
Homestead Crater is divable year-round. "Of course, it does get a bit warm during August and September when the air and water temp get close to each other," Mohowski, of Dive Utah, says. He adds that reservations fill quickly in winter, so plan ahead for diving on a weekend or weekday afternoon.
What to Bring
There's no need for a wetsuit. Most divers simply wear a swimsuit. Simons' advice for those traveling to dive: "In summer, bring golf clubs. In winter, bring skis!"
Local Resources
Utah Crater utahcrater.com
Dive Utah diveutah.com
---