How a Scuba Diving Liveaboard Changed the Rest of My Life
In 2015, a liveaboard trip convinced me to leave my job, sell my house and begin anew – all without a plan and all within less than a month.
Spontaneous, yes. Reckless, maybe. But the story of how the seas saved me is one of my most cherished memories.
When this story begins, I am a successful Los Angeles lawyer. I am also an overworked Los Angeles lawyer. I follow all the rules and do everything I "should" — except be happy. I am stressed out, strung out, burnt out and in desperate need of a way out. I cry often.
This is my life. I worked so hard to achieve this, I tell myself. Adulting isn't supposed to be fun.
Then came the email. As I sat at the office trudging through a monster contract at 3 A.M., my inbox pinged: "Come dive the Galapagos! Sea what you've been missing," beckoned the diving instructor from my local certification course three years before. Something deep inside of me took over. "I'm in," I replied without stopping to consider a thing.
Letting Go…
It's a few months later and I am on the bow of a boat in the middle of a turquoise sea. In the dead of night, I face the dark ocean head-on and fling my arms wide to take in the warm breeze, the salty air and the splashes of dolphins riding the wave along the Humboldt Explorer's bow.
Bioluminescent glimmers mirror the shimmering stars up above. Shooting stars blaze across the sky, and the faint orange glow of a volcano can be seen in the distance. I feel one with all of it. And I cry, again, but this time from joy, from feeling so alive and so embraced by this incredible place.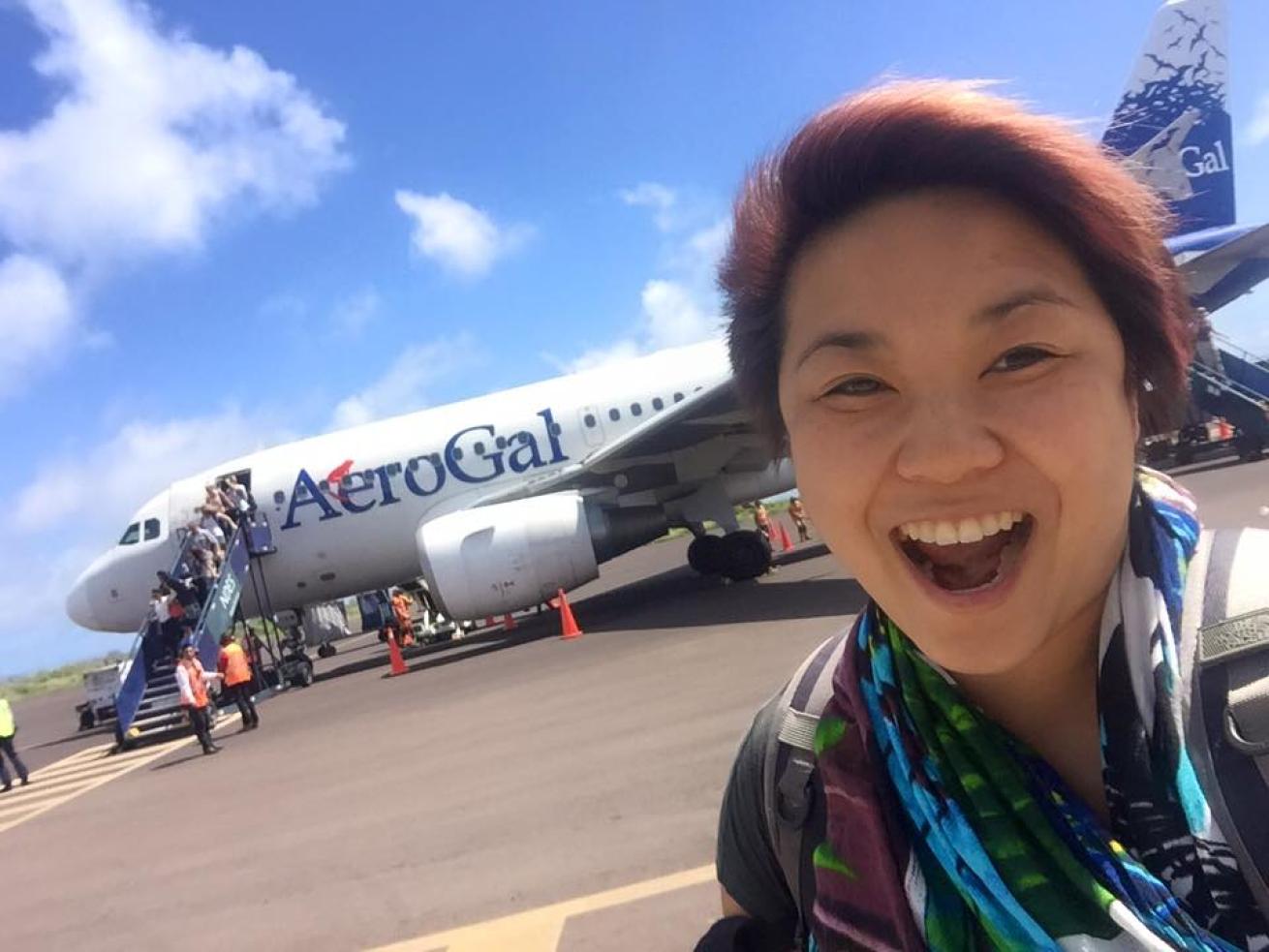 Landing at San Cristobal de Olmedo International Airport on a small hopper plane, this was my "OMG I'm on another continent/new place/traveling" face. Clearly excited to be in the Galapagos!

Tiffany Duong/Ocean Rebels
In this moment, something primordial shifted in me. It felt like someone was cutting veins into my hardened soul, and like lifeblood was starting to flow again. I didn't understand it, and I didn't fight it. My dried husk began to peel away, exposing a wild, beating heart.
"Pure magic," I wrote in my journal. "There has to be magic in these waters, too. I wonder what's down there...."
The Galapagos is an advanced dive destination. I arrived with just 18 dives and a shiny new Advanced Open Water certification card in hand. So there were a lot of firsts: first liveaboard, first international diving, first time doing more than three dives in a day. This trip was also my first dive with sharks (hammerheads!), first time using nitrox, and first drift dive.
That last one, my first drift dive ever, is when I began to learn about letting go.
I descended into a 3-knot current on the second day of the trip. Scared, I hovered near the bottom and clung to a rock until my fingers cramped. The group kept drifting away, leaving me behind in their bubbles. Now I had a new reason to worry — being left behind. But releasing my tight hold, relinquishing control, was too scary.
If I stay here, I will die at the bottom of this foreign ocean, all alone, I thought as the group got ever fainter.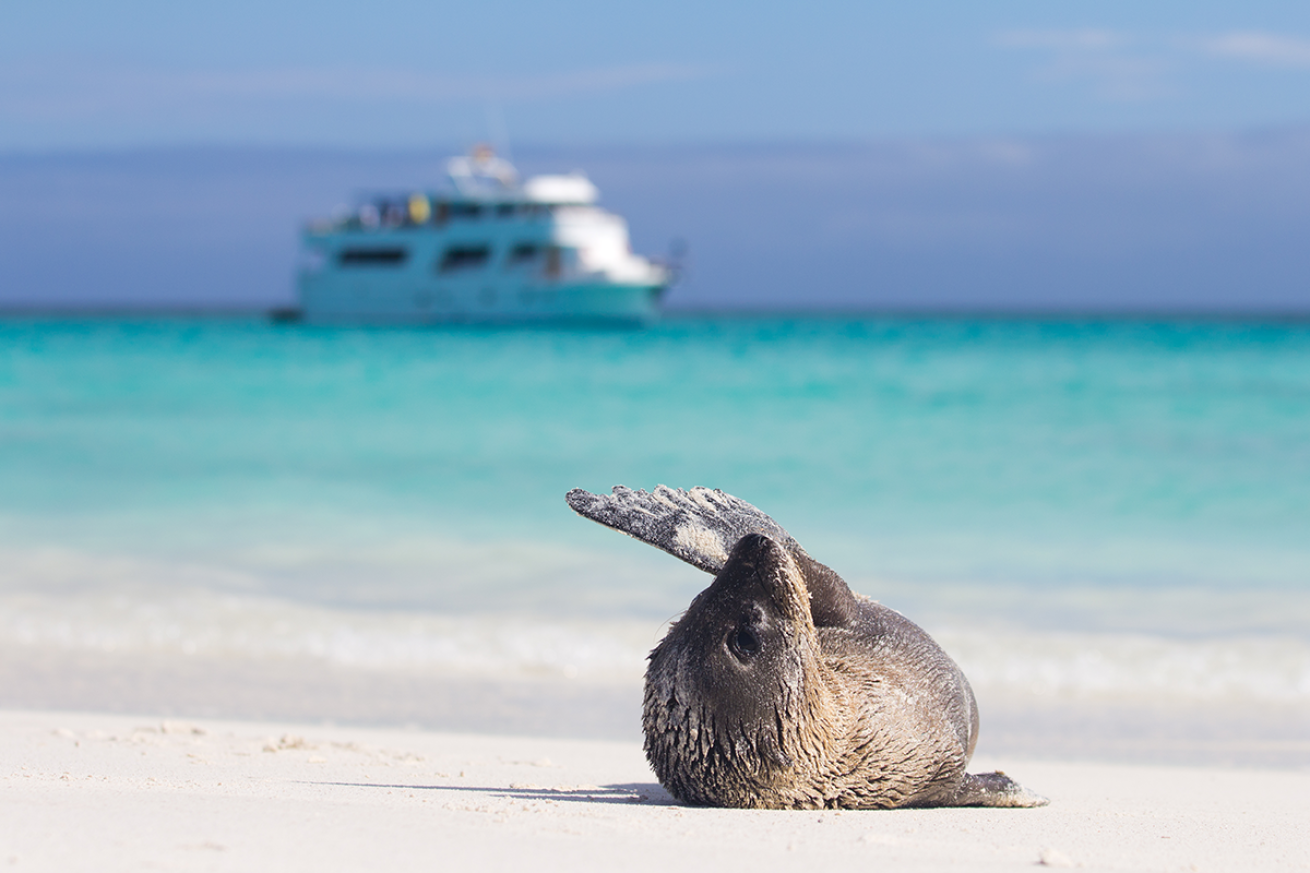 A baby sea lion basks in the sun on the Galapagos Islands.

Brendan van Son
When I couldn't fight it anymore, I screamed a little into my regulator, opened my fingers, and let the ocean take me.
Whoosh! The water lifted me up. I stopped worrying about where I would end up. I stopped worrying about anything at all. Exhilaration and joy rushed through me. I imagined myself surfing that underwater current like the turtles in Finding Nemo.
As we ascended "in the blue," I tried to believe that the boat would somehow find us. And it did.
I emerged from that dive triumphant, with a newfound trust in the ocean and in myself. The freedom was intoxicating.
The scribbles in my dive log for that day say things like "Can't fight the current! It will take you no matter what!" and "Just gotta let go and have fun" right next to drawings of me as the surfing Nemo turtles.
I instinctually knew then and there I had to let go of the rocks in my life – my job, my city, my home, my identity – and learn to go with the flow. I didn't know where it would take me, but, for the first time in my life, I was eager to find out.
… And Moving On
The rest of the trip passed in a blissful mix of hot tub nights, laughing with new friends and incredible diving. Every night, I slept on the top deck underneath the stars. Each second spent with that sea, in that place, gave me back more of myself – pieces that I hadn't realized I'd lost, bits I'd thought were gone forever. I couldn't bear to not be in constant communion with the ocean.
This is better than life. This changed everything. What if I don't fly home? I wondered.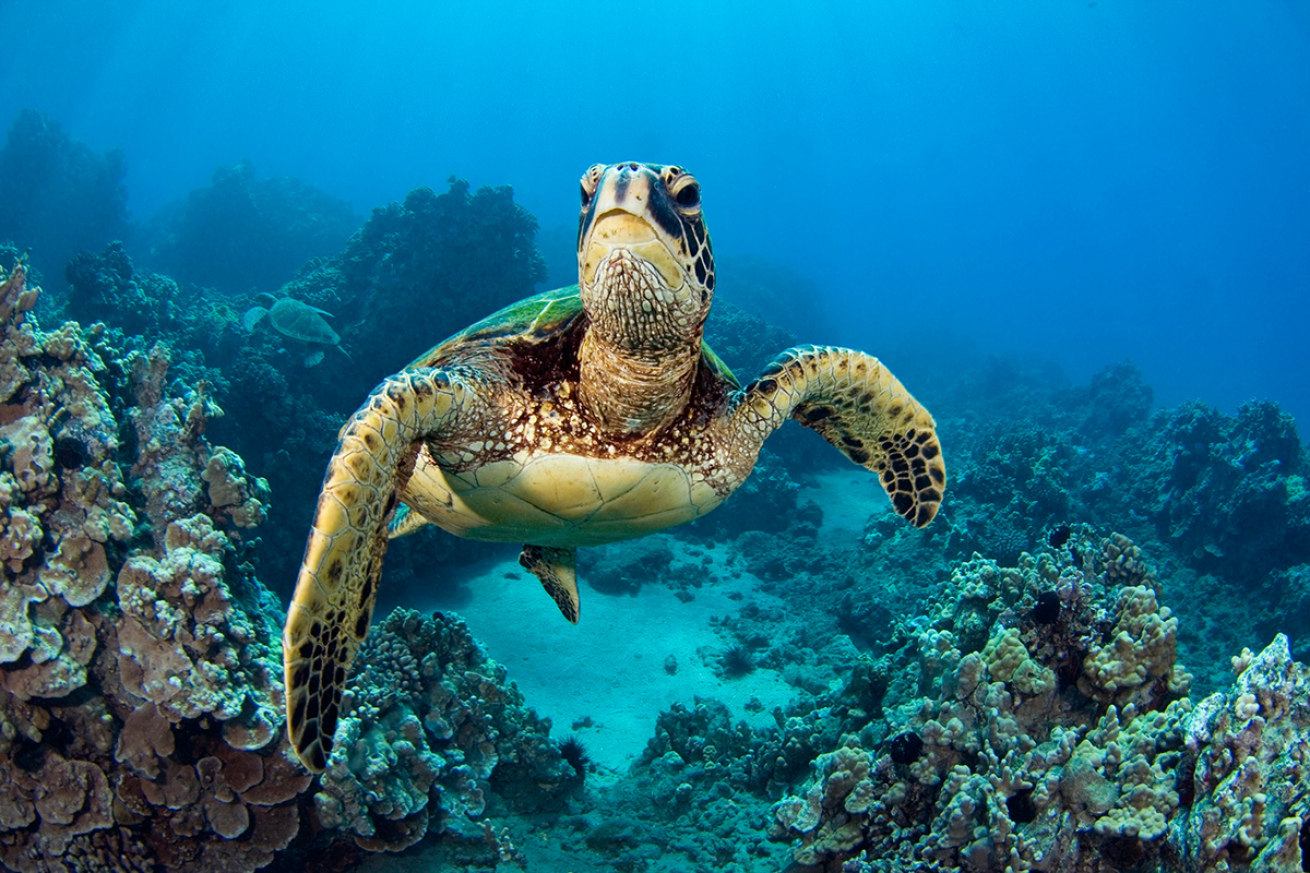 A sea turtle swims through a Galapagos reef.

Laverne Nash
Most people who feel pulled by life moments like these don't actually take action. But I couldn't be part of the majority. Not anymore.
And so, even though I did get on the plane, I vowed upon touchdown that nothing would ever be the same. I needed to live the happiness that I'd felt on the bow that first night.
In the following weeks, I quit my entire life, my entire self. I gave my notice at work and decided to sell my house, to travel, to dive and to take a chance on my one wild and daring life. In the almost seven years and 300 dives since, I've found my calling in ocean advocacy and storytelling, and a new home in anti-Los Angeles: the Florida Keys. I can trace a straight trajectory to my entire new life, my entire new self, to that moment I let go of that rock and flew boldly into the blue. And in the blue I've remained ever since – saving the oceans that saved me so many years ago.
---
Are you ready to step up, help save the ocean, and #LiveUnfiltered at the same time? Sign up for a PADI Open Water Diver course now.
---