How to Be a Diver Without Getting Wet
With coronavirus in every headline and adjusting travel plans across the world, some divers are uncertain how to stay engaged with the sport they love.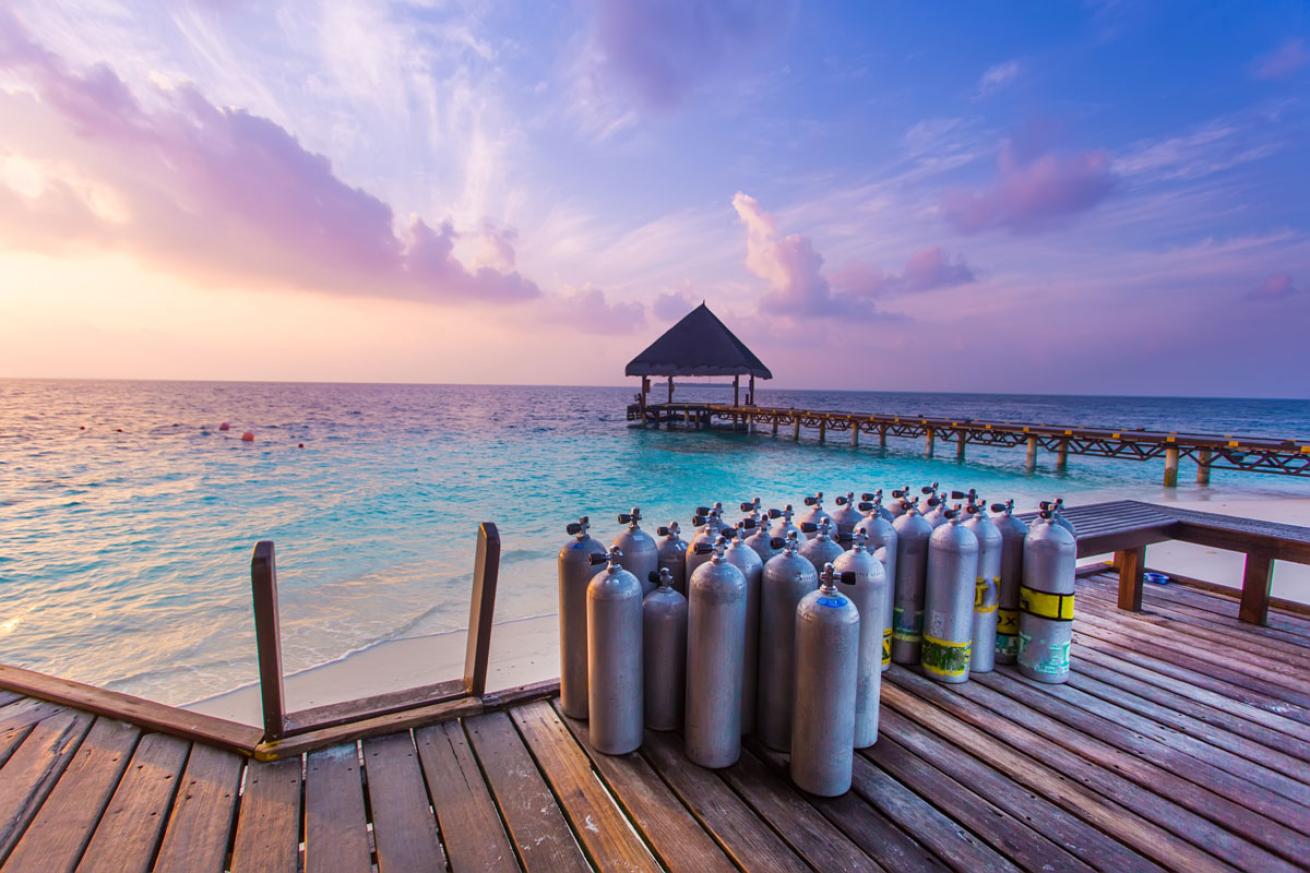 Just because you can't travel right now doesn't mean you can't stay involved with the diving community.

TDway/Shutterstock.com
This isn't the first time (or unfortunately the last) that global events interfere with exploring the world, connecting with communities, and preserving the ocean. Hurricanes can upend islands and reefs, and tsunamis can wash away beachside communities. Or maybe something in your own life gets in the way of your plans — a family illness keeps you close to home or job loss strains your budget.
But when times get tough, divers get going. You don't become a member of this global community of adventurers without grit and passion. Here's how to channel your adoration for the underwater world no matter what.
1. Start your next dive certification.
Diving is a team sport, but you don't need a buddy to start your next cert. Many of PADI's Certification courses start online and are 25% off right now, making it a prime time to sign up and knock out your eLearning. You can purchase courses online or through your local dive shop.
2. Research your local dive sites so you're reading to jump in at a moment's notice.
It's not necessary to jet across the world to log quality water time. Quarries, rivers and lakes nearby are accessible, fun options that can provide a new experience if you don't live seaside, and and provide the easiest way to get wet quickly when shelter-in-place and other restrictions are lifted. Quarries often have quirky obstacle courses or purpose-sunk oddities (like Frito Lay trucks or swing sets), and rivers may have wildlife you've never encountered. Plus, these local watering holes often have local devotees diving there frequently, offering unique culture and traditions (think underwater pumpkin carving).
If you are unfamiliar with sites close to home, Scuba Diving has site profiles for individual states like Kentucky, Wyoming, Georgia, and Rhode Island for stay-cation inspiration. You can also call your local dive shop to ask where they do certification dives or where their instructors like diving on their days off.
3. Purchase a gift card for your favorite dive resort or local dive shop to use later.
Falling reservations can stress resorts and dive providers' ability to weather hard times. If you know there's a shop, resort or agency you want to use in the future where tourists or locals can't visit right now, consider purchasing a gift card for yourself to use later. It gives them capital now, and you can apply it to your bill later.
4. Get your gear serviced.
Keeping gear in safe, working condition is vital for divers at any time, even if some of us break into a sweat at the idea of losing access to our gear for a few days (or weeks). If you know you're not hitting the water for a while, it's the perfect time to drop your gear off for its annual servicing. You won't miss it, and your local shop will appreciate the business.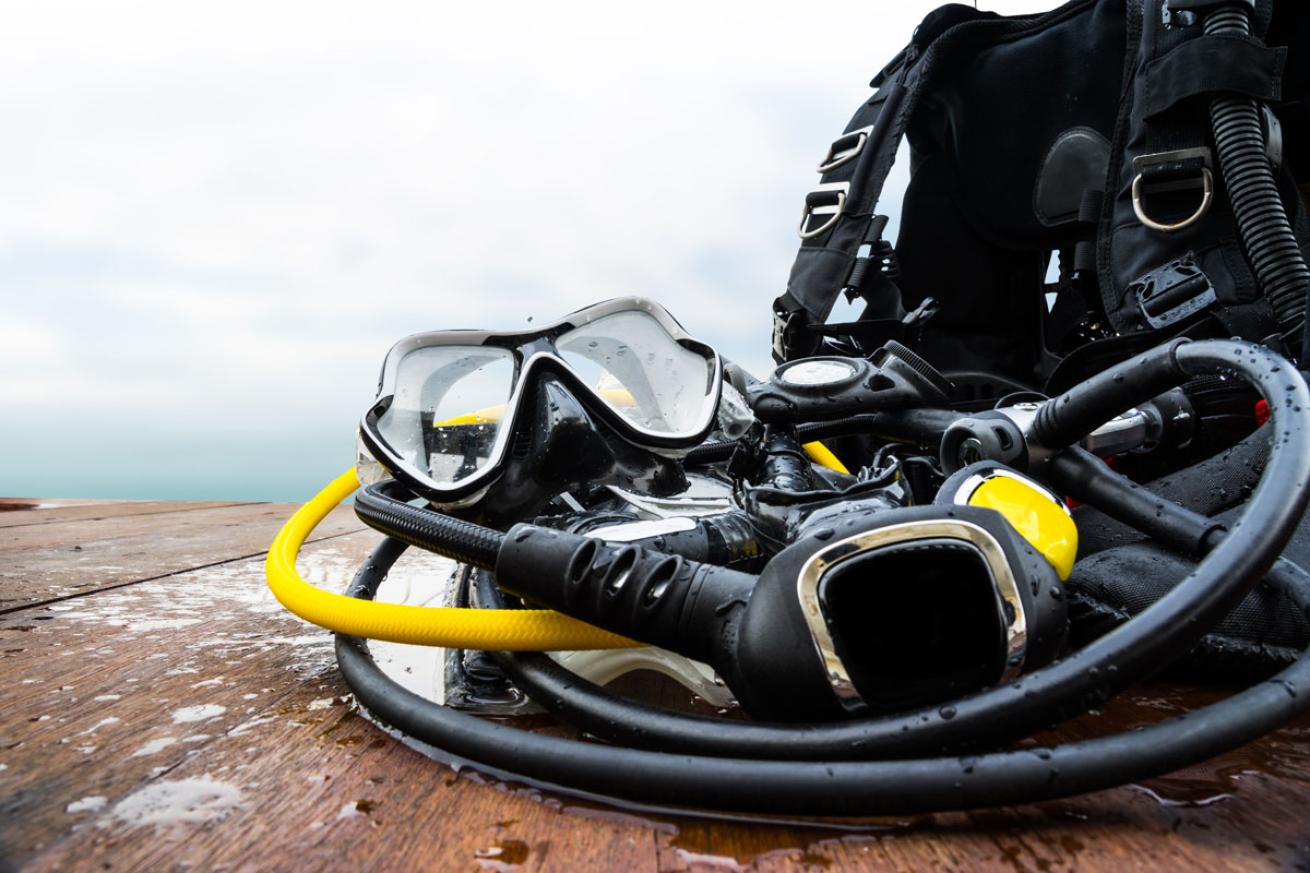 Have gear? Get it serviced! Need gear? Now is a great time to buy and help support your local dive shop.

Prextimize/Shutterstock.com
5. Purchase new gear.
When you're on a budget, it can be hard to pick between a trip and a toy. If life leaves you landlocked, that can free space in your budget to splurge on the latest and greatest gear you've eyed for months. Many dive shops are in the process of upgrading or creating an online store so you can do this from home, and others are launching curbside pickup. And with your extra time around the house, you can research the latest and greatest gear at /scubalab, where we've already vetted and rated everything for you.
6. Donate to conservation and scuba nonprofits.
Want to conserve the ocean, support shipwreck research, or aid soldiers in overcoming PTSD through coral gardening? Times like these are perfect to extend a helping hand to make sure the dive community is always there for our oceans and each other.
7. Connect with other divers in online scuba groups.
Keep building your scuba community — the more buddies the better! Scuba Diving magazine offers an online community for diving gear-heads; our sister publication Sport Diver has one for scuba travel tips. PADI also has several online dive communities, whether you're new to diving, want to scour for future travel ideas, or meet divers around the globe.
8. Edit those underwater photos growing algae on your hard drive.
All divers are guilty of it — we take more photos on a dive than we could ever use. (After all, you never know what frame will be the one.) While it's great to never miss a moment, it can leave you overwhelmed with images once you're topside.
If you can't strap on your dive computer, boot up your laptop and sort through those neglected collections. It's a great chance to go down memory lane, and you never know what lost treasures are lurking among the gigabytes.
Want to brush up your skills in the process? Check out Scuba Diving's photography articles for the latest tips and tricks on editing underwater photos.
9. Stay up to date with how the industry is adapting to coronavirus.
To help the dive community stay up to date with what's going on around the globe, Scuba Diving has launched a COVID-19 blog. This is where you can turn for the latest updates and press releases from resorts and dive authorities worldwide, so you're always up to date and diving safely.
10. Promote ocean conservation
Want to reduce single-use plastics, stop mako shark finning, or adopt a dive site? Then get involved with ongoing awareness and lobbying efforts going on at Project Aware, which is supported in part by PADI. You can also use this time to research who your local, regional and state representatives are so you can reach out to encourage adoption of pro-conservation policies! Representatives accept emails, calls, and letters from constituents, all of which you can do from home.