How to Dive the Blue Heron Bridge in Palm Beach County, Florida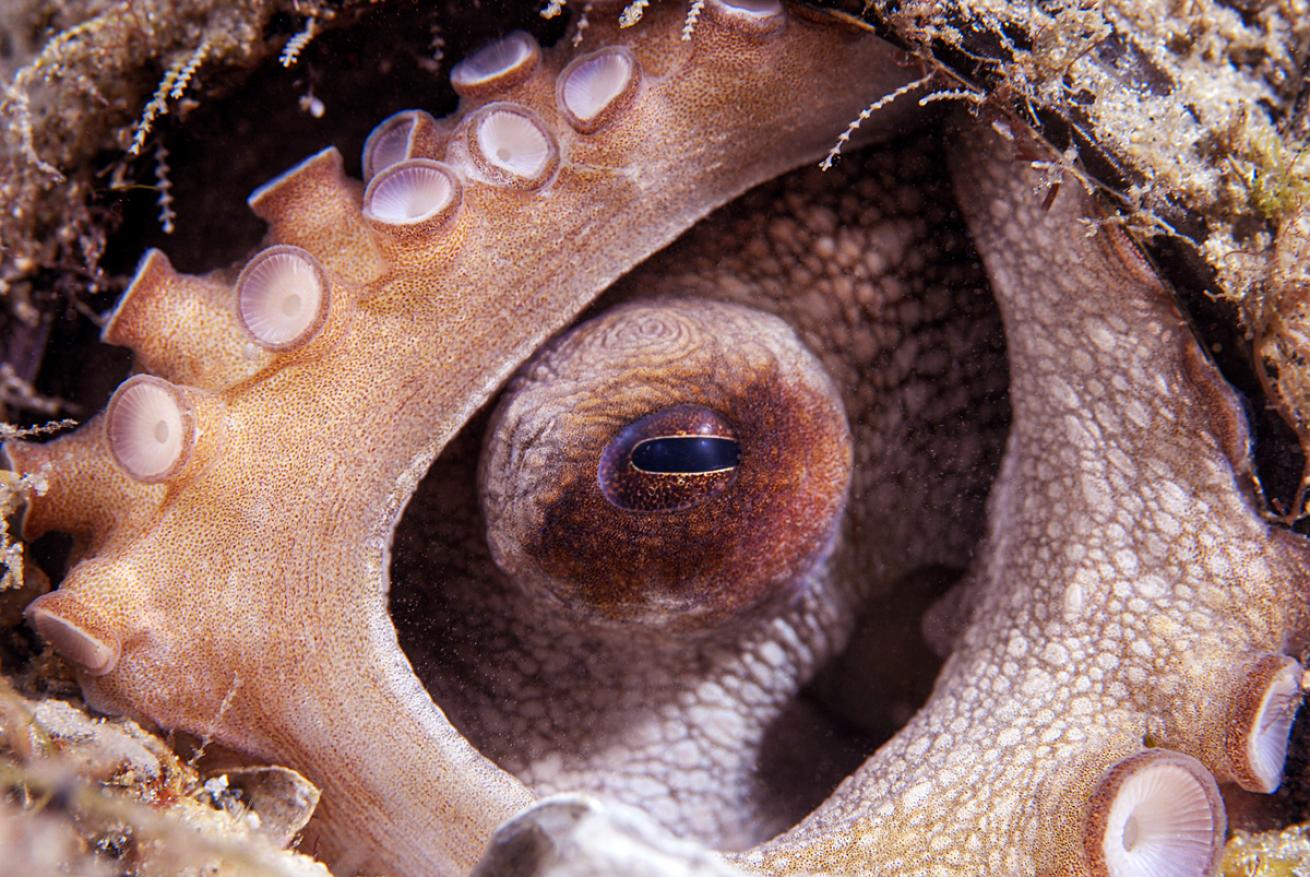 Seeking out critters such as octopuses hiding in the muck

SUZAN MELDONIAN
You never know what you'll see at the BHB! In fact, you will probably see more species in one dive than you have in the last year," marvels Suzan Meldonian, a South Florida-based photojournalist, author and former Sea Hero whose backyard diving includes Blue Heron Bridge, located just north of West Palm Beach.
Also fondly known as BHB, or simply the bridge, Blue Heron Bridge is a shallow shore dive—max depth about 20 feet—on the southern end of Phil Foster Park in the Lake Worth Lagoon. The park area and artificial reef are sheltered, creating more predictable dive conditions than the open Atlantic. An astounding volume of life and activity thrive beneath the surface, drawing divers from afar to experience this special place, as well as locals who visit over and over.
Given all the action, it makes sense that Meldonian says BHB is "an underwater macro photographer's paradise, with over 100 species of nudibranchs, octopuses, dragonets…the list goes on."
"This dive site is so special because it's unlike the reefs we have offshore here in South Florida," explains Nikole Heath, director of marketing at Force-E Scuba Centers. She says the mix of sand and silt on the seafloor creates a haven for creatures big and small. "It seems we have 'seasons' of critter encounters," she continues. "In the spring last year, we had a famous 'octomom' with eggs, and during the winter months you might even have a manatee swim by."
"My favorite thing [about BHB] is being able to observe behaviors," says Shana Phelan, owner of Pura Vida Divers on Singer Island. "At other sites, you can't stay down as long, or you have to cover a lot of distance." Phelan says divers "get the chance to actually sit and watch to see what animals are doing: frogfish mating, octopuses hunting, dragonets flashing fins."
Related Reading: How Intelligent Are Octopuses? Your Octopus Questions, Answered.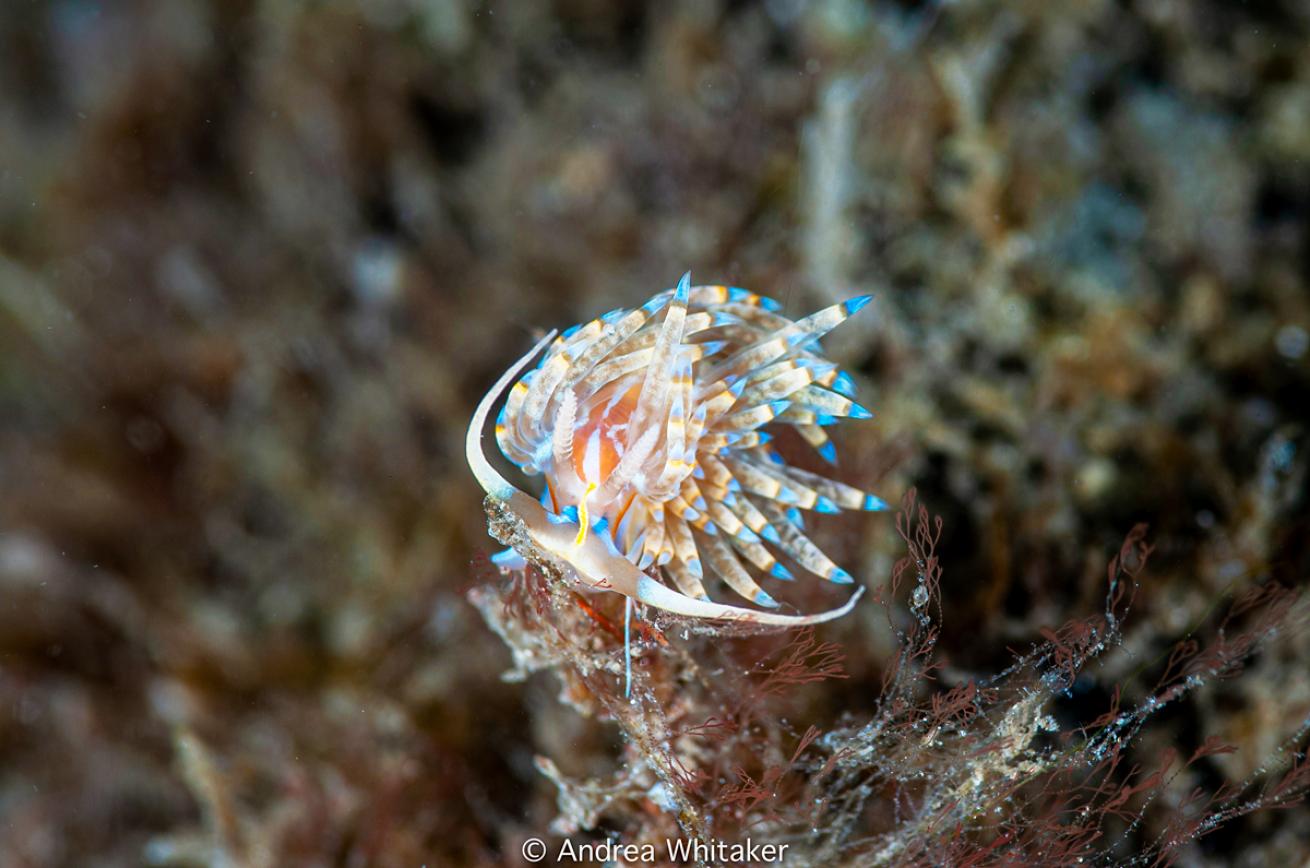 Shallow waters around Blue Heron Bridge

PURA VIDA DIVERS / ANDREA WHITAKER
Phelan, another former Sea Hero, is an administrator of the Blue Heron Bridge Dive Club group on Facebook, where divers post regular updates on conditions and share images of wildlife encounters. She says the site emanates "a different vibe" thanks to the active community surrounding it, making it stand out from the rest of Florida's dive scene.
"Our local community are active divers, they're passionate divers," Phelan says. "Our intention is not only to dive the site but be good stewards of it." The community is very protective of BHB, Phelan explains. Pura Vida even teaches a PADI distinctive specialty course on Blue Heron Bridge, educating divers about their responsibility to this unique treasure.
In addition to writing the BHB Companion, a guide to diving the site, Meldonian has long documented the rejuvenation of marine life under the bridge thanks to local divers who worked to preserve its special ecosystem and protect it from aquarium harvesting. As a result of their efforts, BHB has gained a great deal of worldwide attention in recent years—with some visitors timing their trips to discover the site after sundown.
"Night dives present a whole different cast of characters," Meldonian says. "Octopuses are night hunters, and closer to sunset time, you may be able to see dragonets and other critters' spawning events, like sea stars, crabs and mantis shrimp as they release their eggs into the water column."
Site Spotlight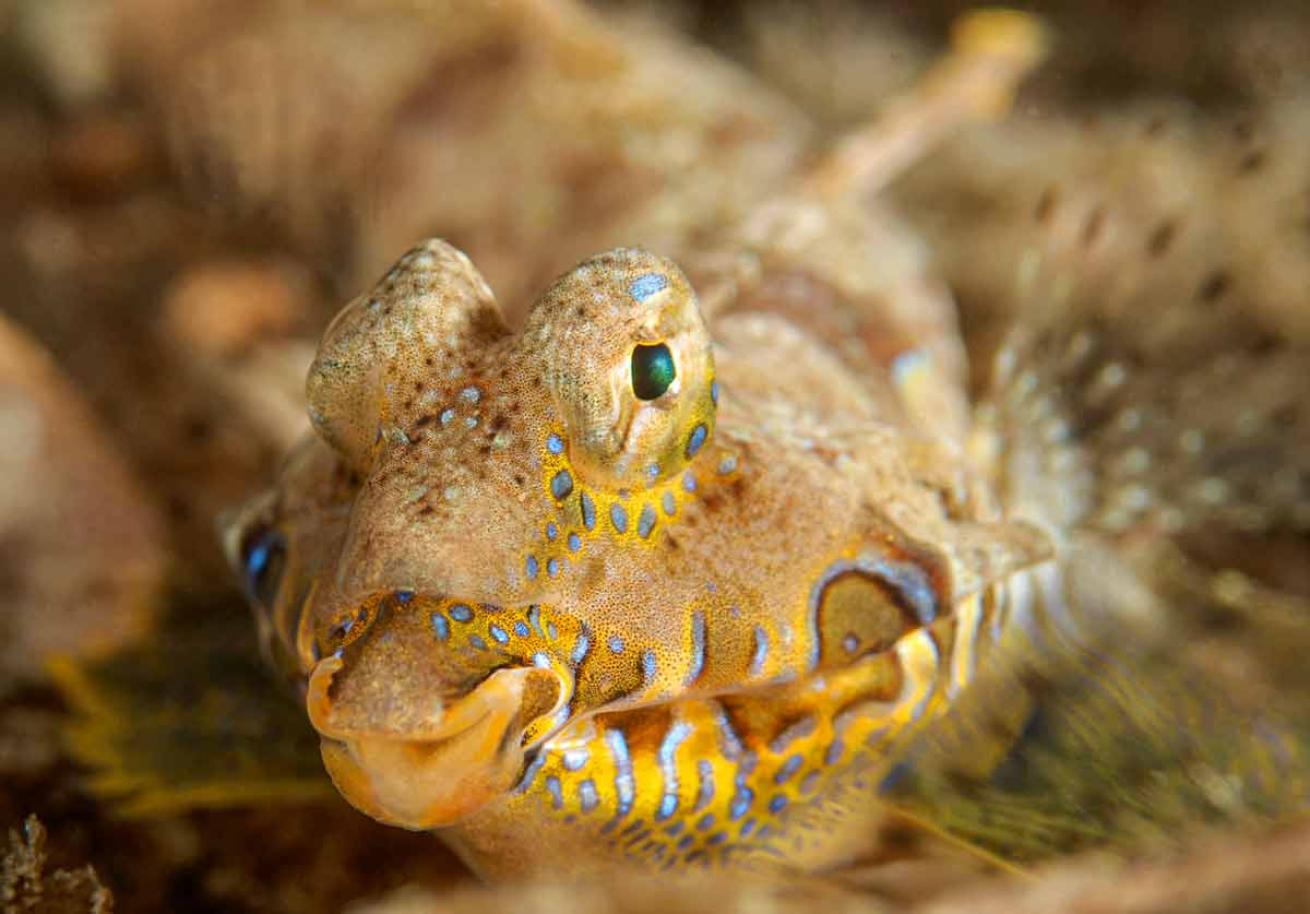 You could spend up to two hours on a single dive in the sheltered, shallow waters around Blue Heron Bridge seeking out critters such as nudibranchs hiding in the muck.

SUZAN MELDONIAN
"The beauty of Blue Heron Bridge is that it is actually a nursery for many creatures," says site expert Suzan Meldonian. Among those are dragonets, a classification of over 100 fish species that includes the genus Callionymus and the genus Synchiropus. These scaleless, muck-burrowing fish are found around the world, but only a few species inhabit shallow depths like those at BHB. Most "little dragons" are less than 4 inches in length, but they can reach up to 12 inches. Flashy males raise their fins up to show off toward their more muted potential female mates. Local divers have recorded lancer dragonets (Callionymus bairdi) displaying behaviors such as lying camouflaged against the seabed or cozying up with a mate.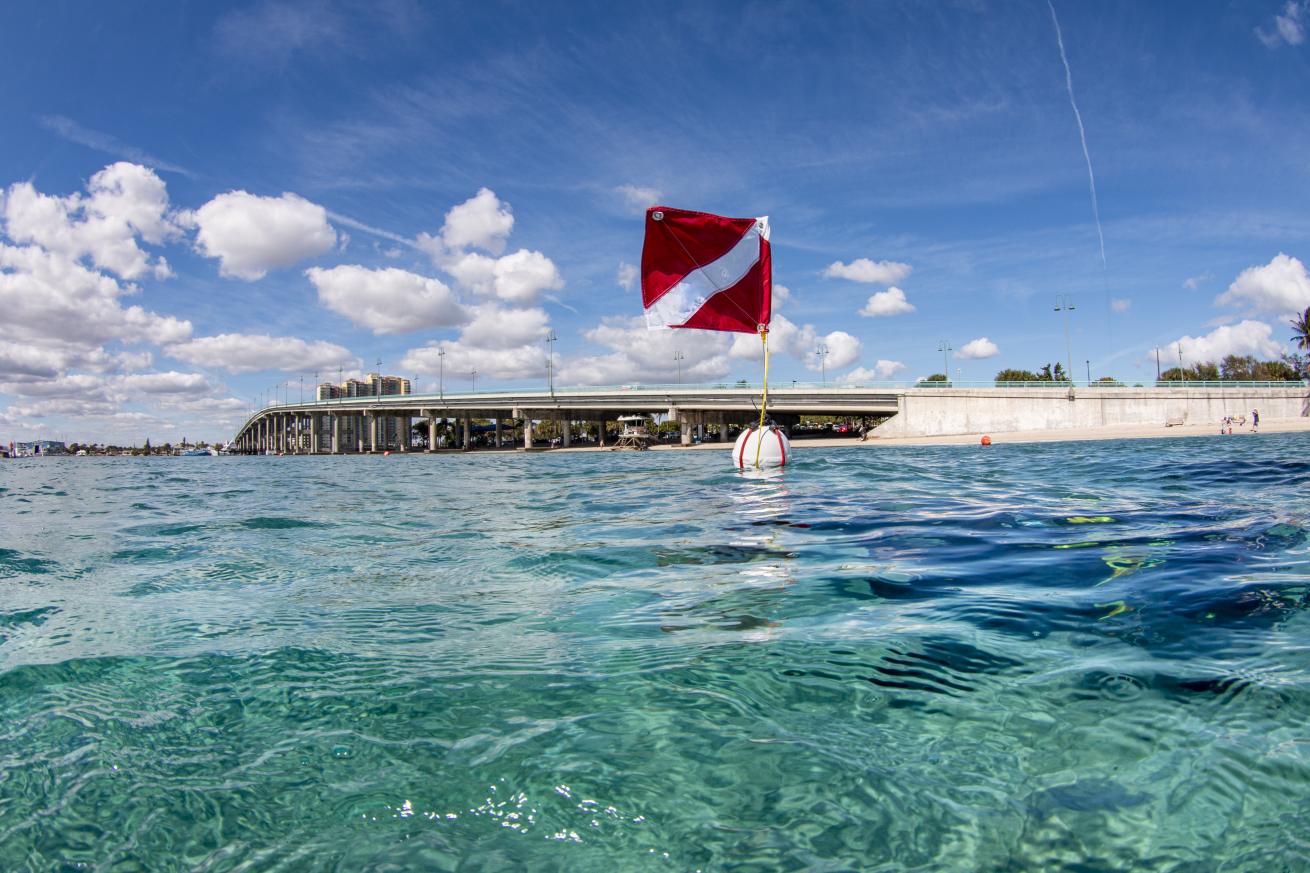 A view of the Blue Heron Bridge from the surface.

PURA VIDA DIVERS / ZACH NOLAN
An open-water certification would suffice for day diving at BHB, but both Pura Vida Divers and Force-E Scuba Centers prefer divers take either an advanced open-water certification or night diving specialty before heading out at night. Diving the bridge is free, but permits and parking passes are required for night dives. Night divers are required to bring tank lights in addition to the dive flag and float ball required for all BHB dives given the site's proximity to boat traffic in the nearby channel. Thanks to Florida's diving-friendly climate, BHB is a dive site that offers year-round opportunities for fun underwater encounters.
NEED TO KNOW
Conditions: The warm Florida waters around Blue Heron Bridge are "usually very calm," says Pura Vida's Shana Phelan. Viz varies with the seasons, and offshore rain can affect water levels and clarity. For the latest conditions, it's best to contact a local dive shop.
How to Dive It: Dive at slack tide for ideal visibility. Maximize bottom time by entering an hour before high tide. Parking is free, but limited on weekends, so get there early.
What to Bring: Wear a rash guard for exposure protection in summer. In winter, when temps dip to the mid-70s, you'll find locals in 5 mm wetsuits. Dive flags are required by law and available for rental. Don't forget a waterproof container for car keys!
Local PADI Dive Shops: Pura Vida Divers puravidadivers.com Force-E Scuba Centers force-e.com
---