How to Dive Channel Islands National Park
Weather conditions can change on a whim, which means any Channel Islands dive trip comes with some degree of uncertainty. That's why it's extra important to plan for what you can control. Here's a step-by-step guide to make sure you set the odds of a successful trip in your favor.
1. Make Reservations
Because you need to have already booked a ferry ticket before reserving a campsite, you'll want to plan your ferry ride and your campsites concurrently. Look at the ferry schedule (islandpackers.com) at the same time as the campsite reservation calendar to make sure they line up.
Campsites on every island can be booked through the National Park Service (recreation.gov). Prices range from $10 to $40 a night, but most are $15. Wind shelters are provided at Santa Rosa and Santa Cruz. All campsites have a picnic table and fox box.
Ferries don't run to every island every day. You can book your ride on Island Packers' website, but if you are planning to visit multiple islands, or if you have a complex itinerary, we strongly suggest calling Island Packers and having one of their associates help you with the logistics.
2. Consider When You Will Be Traveling
The best time to visit the islands is between June and October. Late fall and winter conditions can be variable, with large swells and high winds. During springtime the islands are bursting with wildflowers, island fox pups and spectacular pinniped- and bird-watching opportunities.
Summer and early fall bring blue and humpback whales, pinniped pupping and excellent diving conditions. No matter when you visit, make sure you check the swell and weather conditions for the area before your trip to avoid dangerous currents and unfavorable conditions. Play it safe—help on the islands is far away and there is no lifeguard on duty.
3. Plan Your Fluids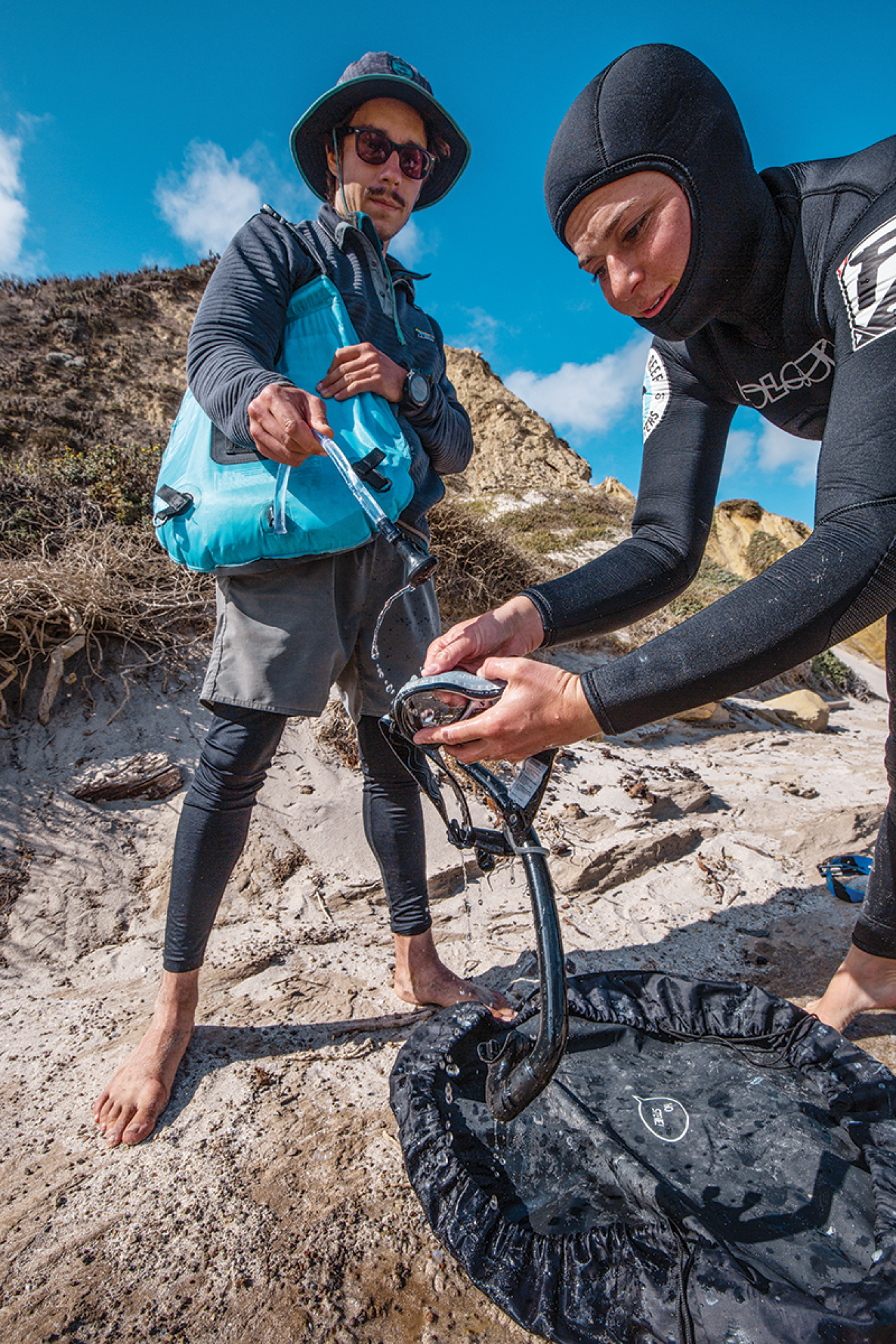 Freedivers rinse gear on San Miguel Island with a portable solar shower.

Michael Langhans
Santa Cruz and Santa Rosa have access to drinking water. San Miguel, Santa Barbara and Anacapa do not. On the islands without water, you must bring in 100 percent of the fresh water you use. Plan your water carefully to ensure you have enough to drink, as well as extra to wash gear and cook with.
If you plan to travel between December and May, be prepared for weather delays that can affect your ferry pickup time. Bring extra water and food in case there are delays.
4. Pack Light
Make sure all of your gear weighs in at 60 pounds or less in total. Campers staying more than two nights get to bring an additional 10 pounds of food per additional night. Use a luggage scale to make sure you're within the weight limit before you head to the ferry. No one bag can weigh more than 45 pounds. The weight limit does not include water. Make sure your dive gear is secured; consider carrying weight belts on your person instead of putting them below deck. Remove all water and fuel before weighing in, and keep it separate for the ride. If you arrive with these items packed, you will have to dig them out at the dock.
5. Learn the Rules
If you plan to fish for dinner, look up all regulations ahead of time. Service on the islands is patchy to nonexistent, so you can't rely on your smartphone to look up catch or possession limits, or to correctly identify species.
You'll need to buy a sport fishing license with an Ocean Enhancement stamp on the California Department of Fish and Wildlife website before you can fish in the park. If you will be catching lobster, you'll need to bring a lobster catch report card. Each island has specific protected areas where fishing is not allowed. Check MPA maps before you go to make sure you're in the right spot to fish. Complete regulations can be found at wildlife.ca.gov.
Related: A Diver's Guide to Fishing and Foraging in Channel Islands National Park
Remember to pack out everything—including trash—that you packed in when camping on the islands.
Need to Know
Conditions: Diving is possible year-round, but the best conditions are found late summer through winter. Keep in mind late-fall and winter wind and swells can derail diving plans. Water temps range from the high 40s to 70 degrees in summer. Visibility ranges from 10 to 100 feet, but most days will be in the 30- to 40-foot range. Currents are common and can be strong. Look for kelp that is standing tall. Kelp that is leaning over indicates a current.
Equipment: Most local scuba divers opt for a 7 mm suit with a hood and gloves, or a drysuit; freedivers use a 5 or 7 mm suit with a hood.
Getting There: You can reach the Channel Islands via ferry, or hire a commercial or private charter. Island Packers (islandpackers.com) provides ferry transportation from Ventura on the mainland to all five of the national park islands. (At time of publication, service to Santa Barbara is temporarily unavailable.)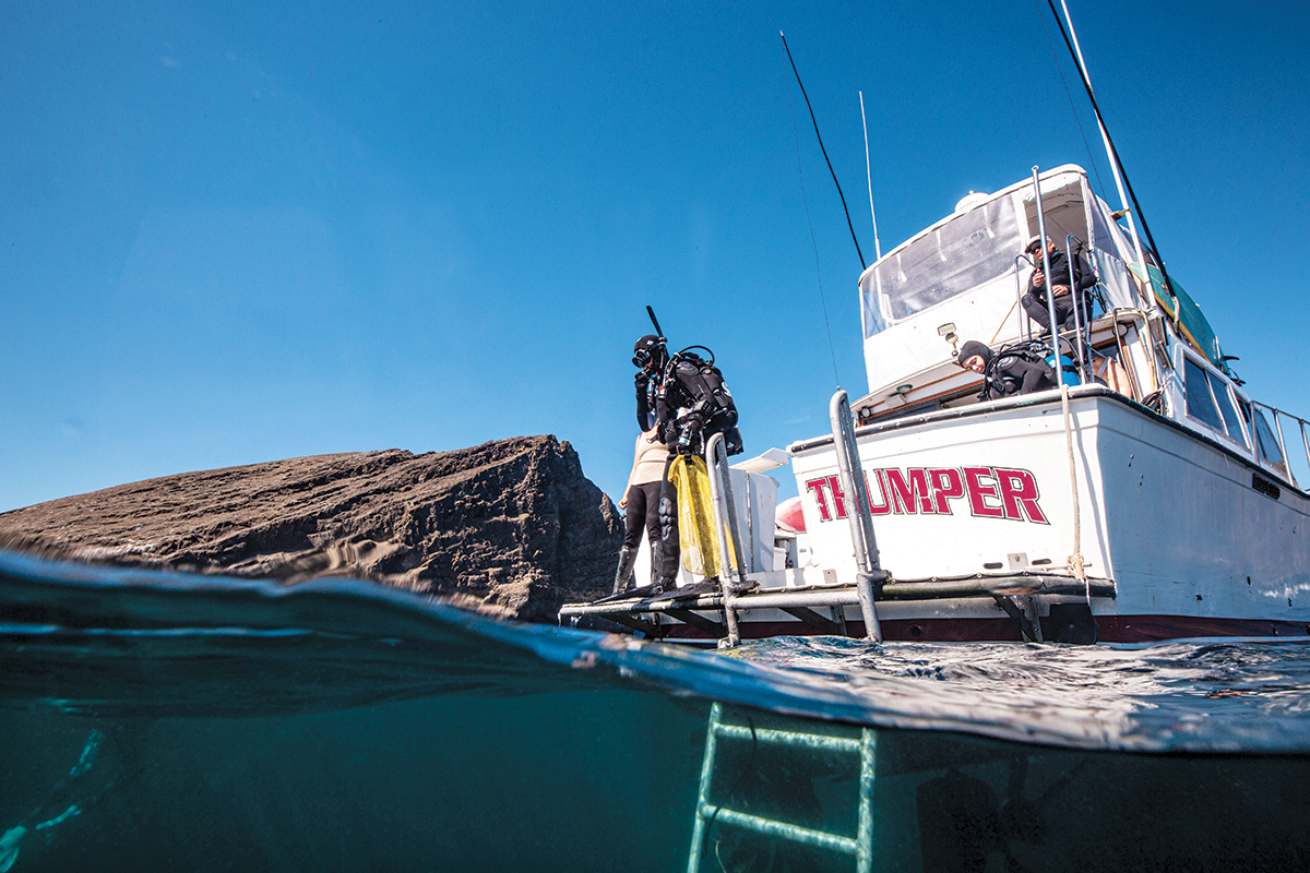 A diver prepares to giant stride off the Tuna Thumper, a private charter available for Channel Islands trip.

Michael Langhans
Riders are limited to 60 pounds of luggage a person—not including water—and oversize gear must be pre-approved, so this transportation is more realistic for freediving than scuba. Round-trip fares for adult campers range from $84 to $120, depending on your destination. Day trips are available from $63.
Scuba divers can book day trips aboard Spectre (spectreboat.com) for $159, not including gear rentals, for three dives at either Anacapa or Santa Cruz depending on conditions. Divers set on visiting a specific island can contact Captain Jedidiah Beck for private charters out of Ventura, which start at $1,000 (dragonfishcruise.com). Santa Barbara is typically an overnight trip; Tuna Thumper has bunks and a kitchenette.
What to Bring
Backcountry diving requires more planning than a liveaboard or dive resort. In addition to well-stocked save-a-dive and first-aid kits, here are some things you'll want to pack that you might not need for your average dive trip.
Charging packs or extra batteries
Backup flashlights
Extra water for rinsing gear
Seasickness medication if you're prone to motion sickness
Gamebag
Bungee cords
Garbage bag or other waterproof bag for protection on skiff
Solar shower
Large drybag
Gear patch kit
Collapsible bucket
Leave-in conditioner
Waterproof case for phone
Wetsuit cleaner
Multi-tool for camping and fixing gear in the field
---
---