The Magical World of Blackwater Scuba Diving
A late-night giant stride into open ocean, thousands of feet deep. A short descent to hang motionless midwater, tethered to a boat by a rope, waiting for planktonic creatures to float by on the currents. But for divers and photographers who want a new and exciting experience, black-water diving offers the chance to see marine life that you won't find on the reef.
"One comment we hear over and over from our tethered divers is, 'I can't help thinking that we're bait,'" says Jeff Leicher, owner of Jack's Diving Locker in Kona, Hawaii, which pioneered black-water diving with its Pelagic Magic dive experience. "I say, 'Yep, like a worm on a hook. Try not to think about that. We've never caught anything.'"
The concept behind black-water diving is simple. It's a night dive in deep open ocean where divers simply hang out under the boat to see what floats by. "We generally leave just before dark to a GPS mark we know is more than 2,000 meters [6,500 feet] deep, where we suspend two bright lights on a rope," says Paul Collins, who leads Unique Dive Expeditions for Sam's Tours in Palau. "The divers descend to their tethers, so they're safely secured, and then we wait to see what wonders the ocean will present to us." Marine life that divers see on black-water dives rarely tops an inch or two in size because these dives are all about discovering the rarely seen world of planktonic creatures—many of them fish or other animals in their larval, or juvenile, phase of life—that ride ocean currents.
"We usually see jellyfish, larval-stage fish, squid, salps and many other weird and wonderful creatures," Collins says. "I've done this dive hundreds of times, and we've only seen sharks once, and just for a few seconds."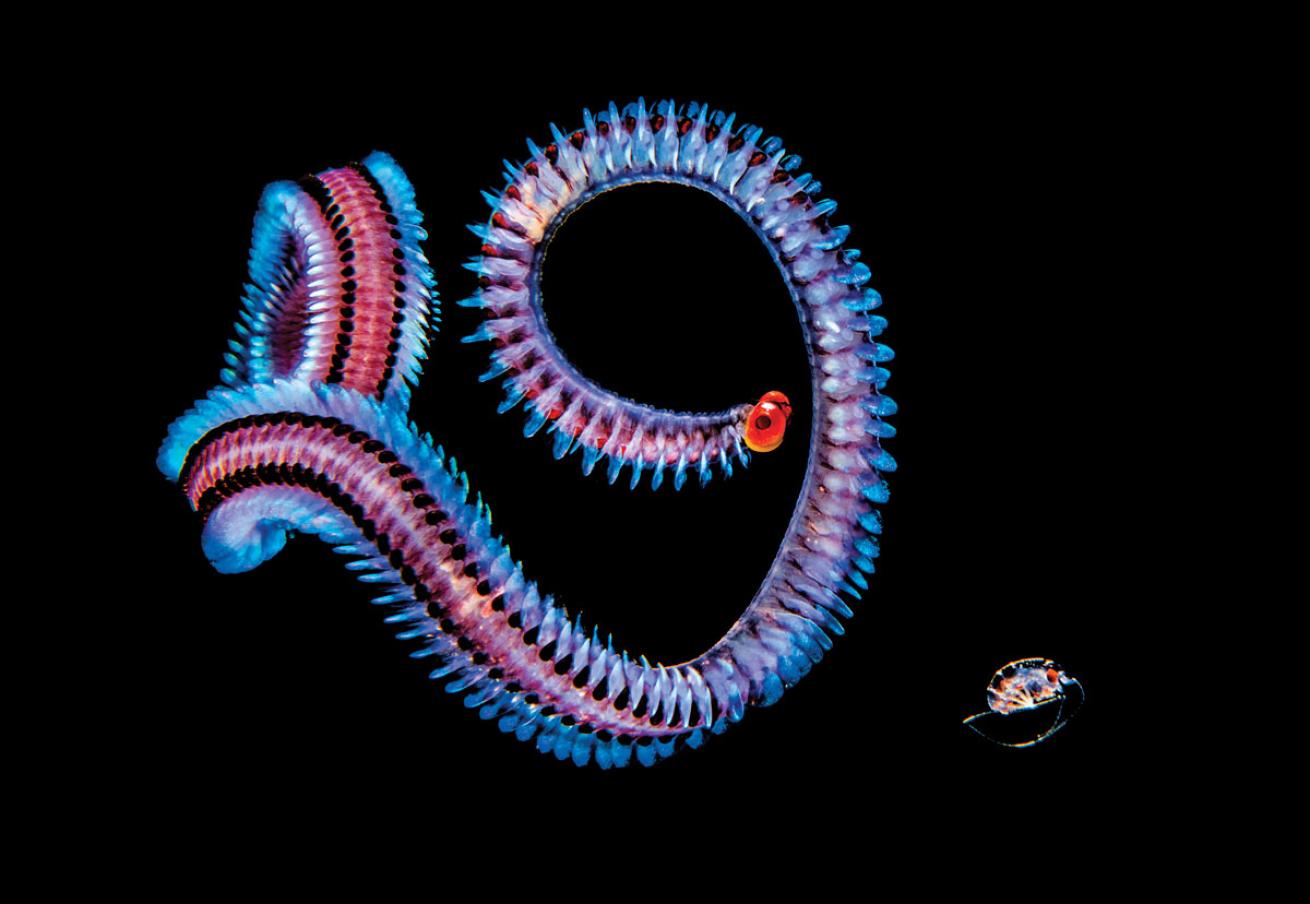 A worm, most likely from the Alciopidae family, seen off the island of Tahiti.

Fabien Michenet
The lights hanging in the dark water are the key to spotting these tiny creatures. They attract microscopic zooplankton like moths to a porch light, which in turn draws in miniature open ocean predators like jellyfish and squid. "I saw a squid bite the head off another squid once," Leicher says. "When I picked up the remaining piece, it was warm."
Leicher says that one of his most memorable experiences was being surrounded by a school of thousands of juvenile mola mola. Collins' favorite encounters include seeing paper nautiluses, along with pelagic octopuses, and a salp that stretched more than 10 feet long.
Black-water dives don't require advanced diving skills—the hardest part of the dive is dropping down in the dark. Once they make their descent, divers stay tethered to the boat, so there's little risk of getting lost or descending deeper than about 50 feet. "It can be a little disorienting the first time," Collins says. "The key skills that divers need are feeling comfortable in the dark and not seeing a bottom or reef structure."
Black-water dives are also mostly solitary experiences, even though there are other divers and a guide in the water nearby. "Not much communication goes on between buddies, or even with the divemaster once you're down," Leicher says. "Each diver has their own descent line, so in a way it's very easy, but each diver should be confident and competent with the basic skills of diving."
---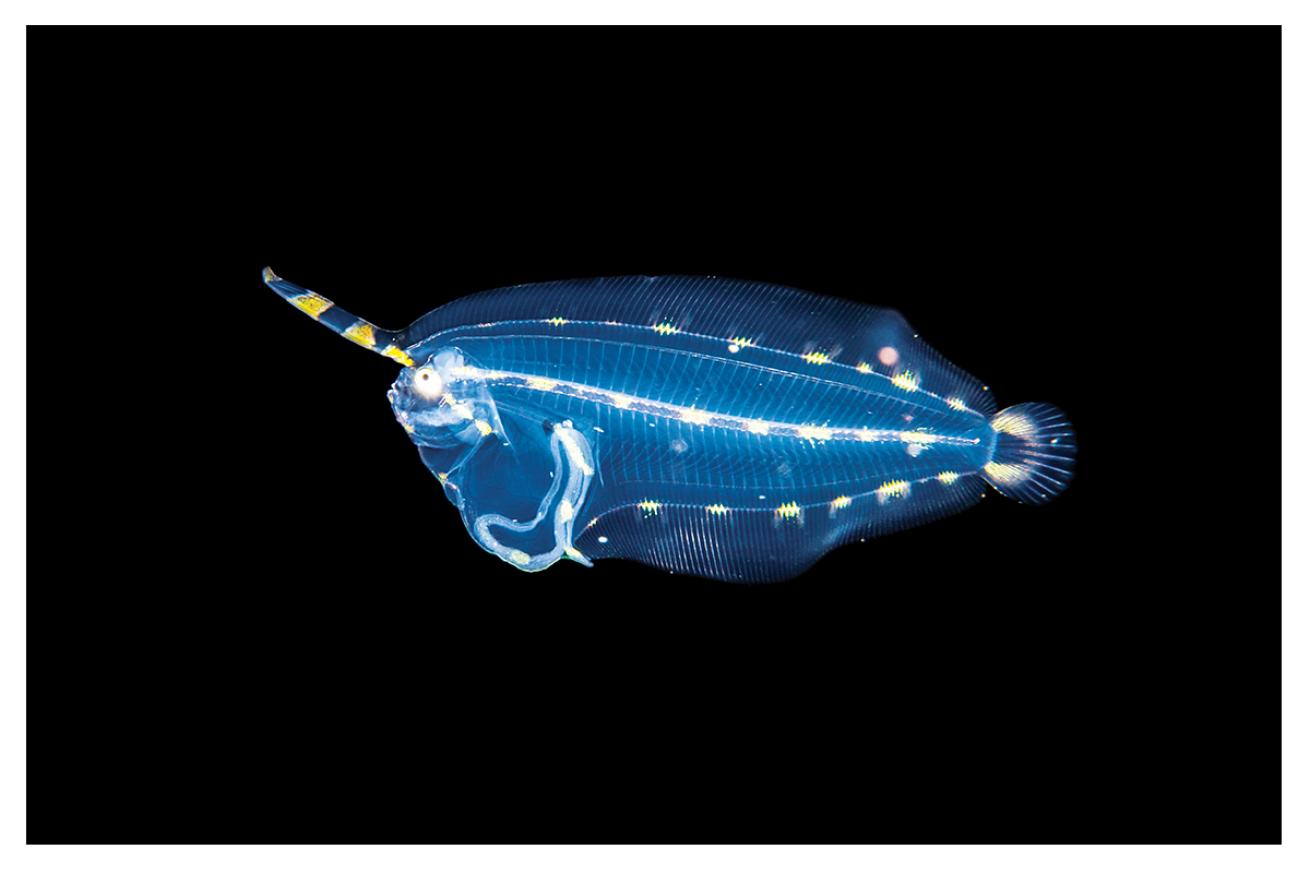 A larval flounder in West Palm Beach, Florida.

Chris Gug
WEST PALM BEACH, FLORIDA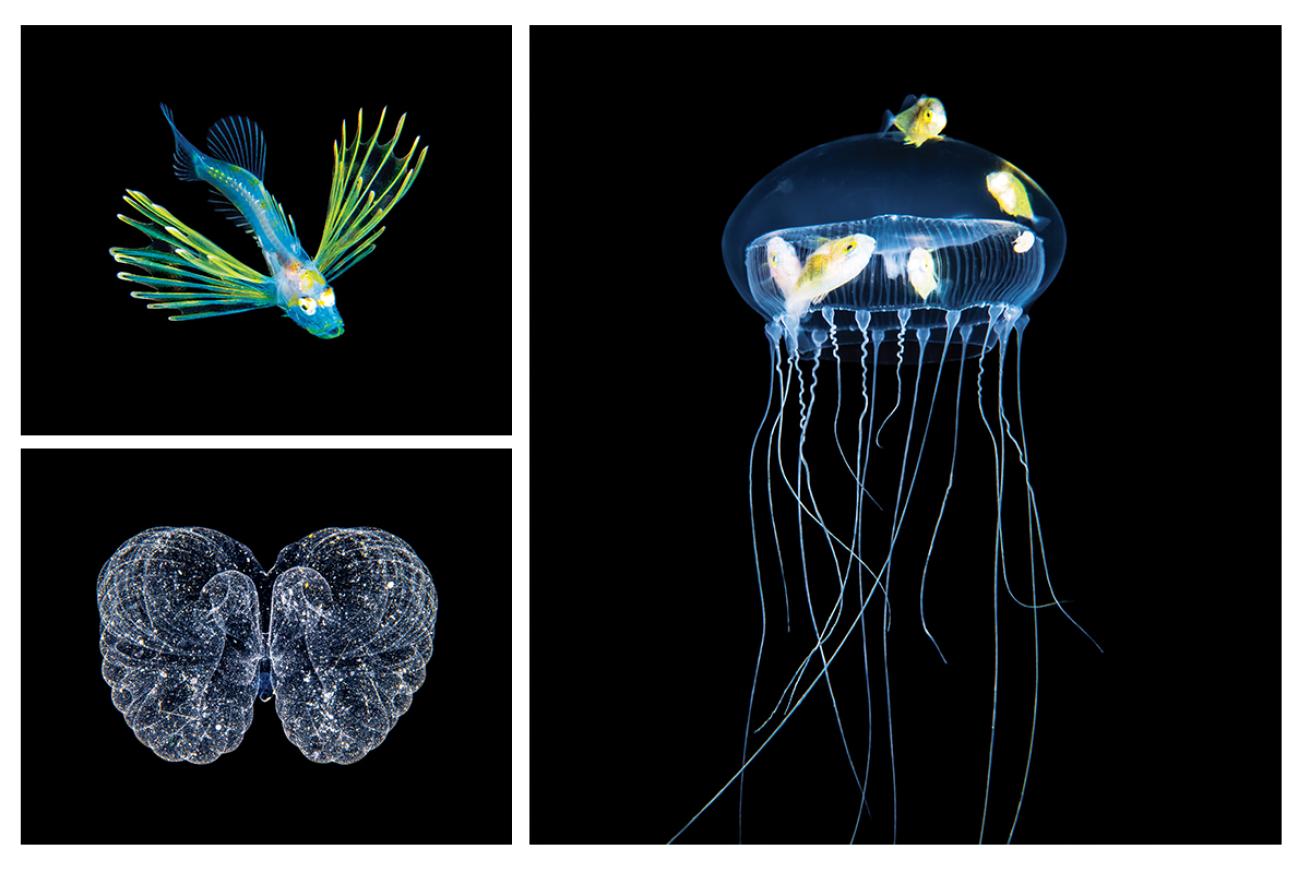 A tadpole-shaped larvacean tunicate (bottom left), a larval lionfish (top right) and a jack larvae riding inside of a jellyfish.

Chris Gug
With no sense of up or down, the larval tube anemone tends to drift aimlessly, making a photo of its tentacles a challenge. The pressure wave from your body or bubbles easily disturbs it, causing it to retract the tentacles, leaving you with a pale white blob. As larvae, flounder (above) resemble normal fish in the sense that they possess one eye on each side of the head. It's only upon settling on the seafloor that one eye migrates to the other side. Once I tracked down this tadpole- shaped larvacean tunicate, I realized that what I was calling "lungs" was a geometrically symmetrical web of mucus used for catching food. —CHRIS GUG
DIVERS GUIDE
Average Water Temp 75° to 84°
What to Wear 3mm to 5mm wetsuit with hood
Average Viz 100 feet
When to Go Year-round
More Info puravidadivers.com
---
KONA, HAWAII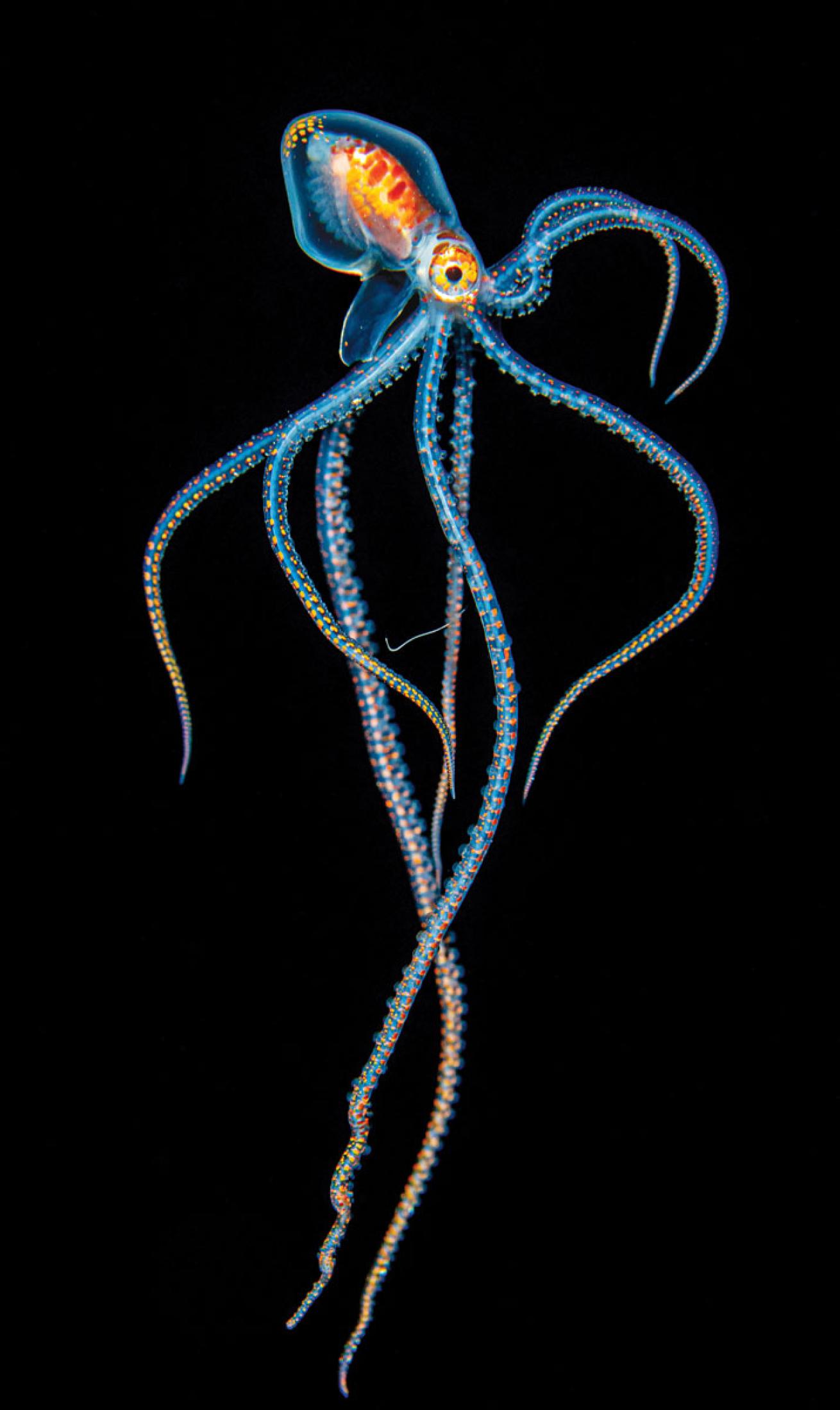 Jeff Milisen
Black-water diving is a lot like a muck dive without the muck. The bounty of food at the surface of the open ocean serves as a nursery for many of the reef dwellers for which Kona, Hawaii, is famous. This paralarval octopus is in the awkward adolescent period of its life. It has just grown into its long arms, but it hasn't quite settled into the ideal habitat to put them to use. The result—a comical yet beautifully uncoordinated dance—is far from the megafauna-fueled adrenaline fest that many people expect on a black-water dive. —JEFF MILISEN
DIVERS GUIDE
Average Water Temp Mid-70s to low 80s
What to Wear 3mm to 5mm wetsuit
Average Viz 100-plus feet
When to Go April-June peak season
More Info konahonudivers.com; jacksdivinglocker.com
---
Explore amazing Hawaiian dive vacations HERE.
---
ANILAO, PHILIPPINES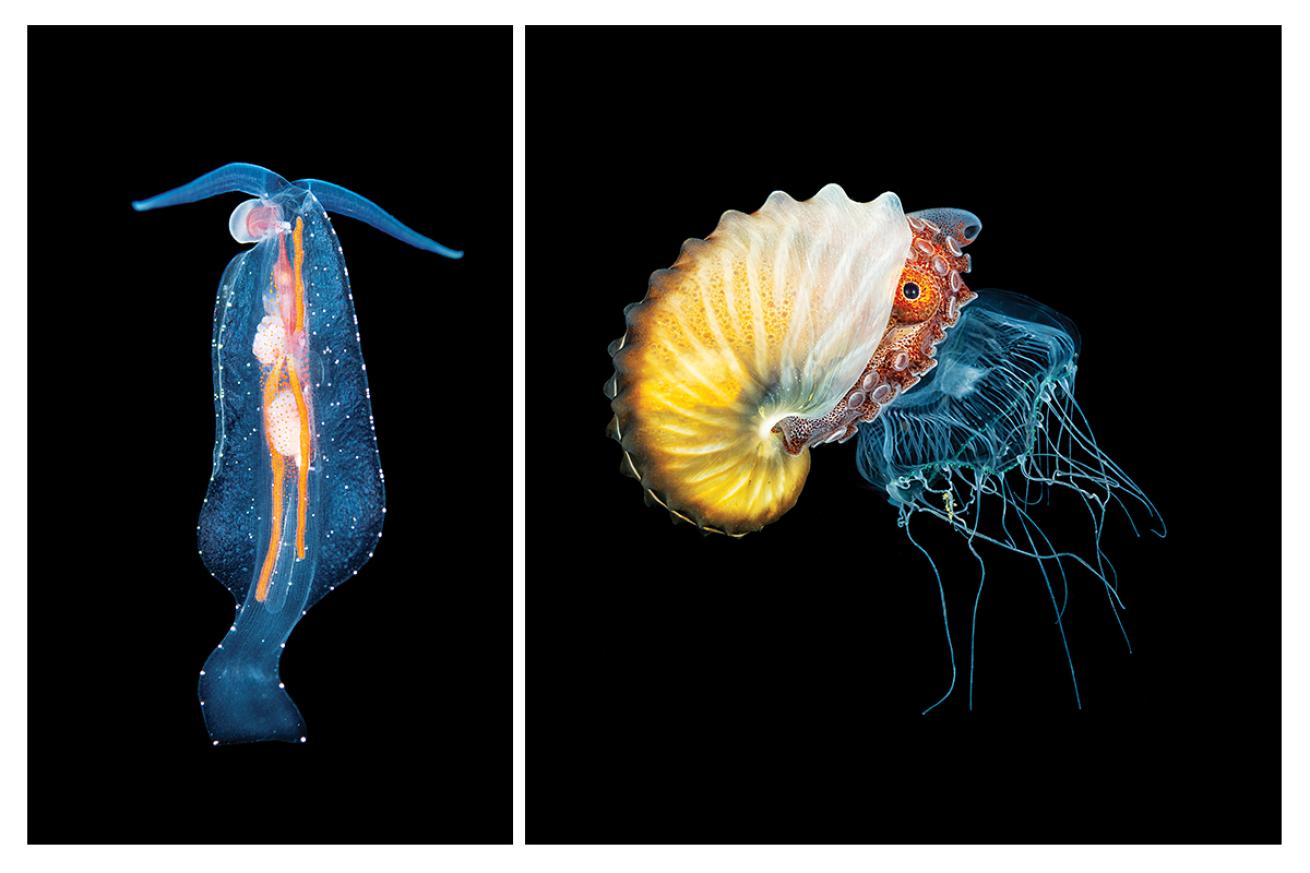 The female paper nautilus (right) is actually a pelagic octopus.

Alex Tyrrell
Blackwater photography is addictive; you never know what you will encounter. This female paper nautilus, Argonauta hians, is actually a pelagic octopus. It can move extremely fast, making it potentially hard to shoot. Some I had to follow to 120 feet, trying to keep up; others I got to spend 10-plus minutes with. The greatest challenges of black-water photography are locating subjects, framing and focusing on small critters in open water, and even just keeping track of the subject while shooting, as they can vanish into the darkness as you remove your eye from the viewfinder to review your shots! —ALEX TYRRELL
DIVERS GUIDE
Average Water Temp Mid-70s to low 80s
What to Wear 3mm to 5mm wetsuit and hood
Average Viz 50 to 80 feet
When to Go December-May peak season
More Info divecbr.com
---
PALAU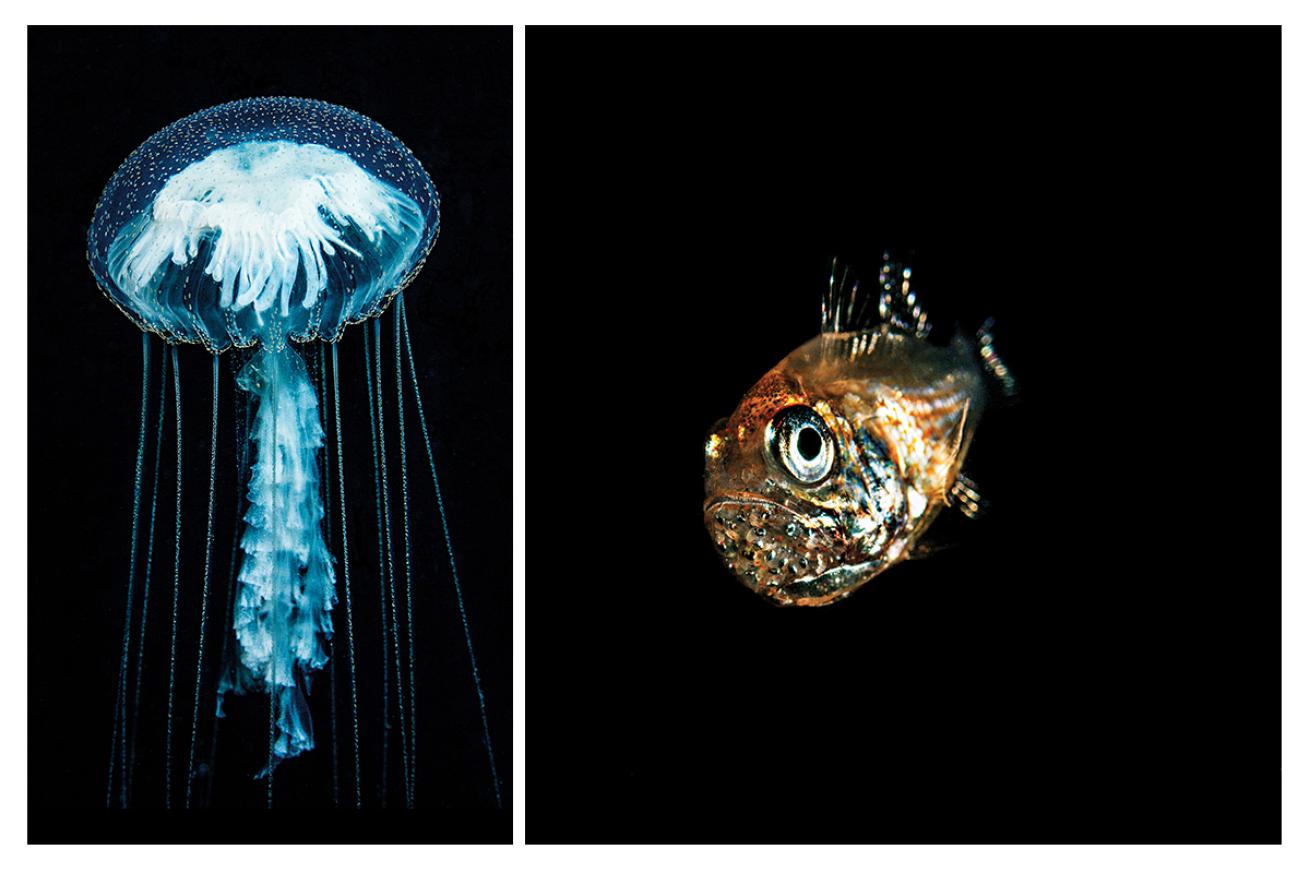 Pelagic jellyfish (left) and a cardinalfish with eggs (right.)

Simon Lorenz
The atoll of Palau is surrounded by very deep and clear water, making it perfect for a black-water dive experience. Creatures such as this cardinalfish with eggs, pelagic jellyfish and juvenile snake eels with parasites rise in a parade from the deep. I always find it useful to set a depth alarm on these dives, as it is easy to lose track and follow a sea creature into the deep. To get black-water photos you need to be patient and have the right camera setup. One or two focus lights plus a spotting torch and a fast-focusing camera are essential pieces of photo gear to capture what comes out in the night.
—SIMON LORENZ
DIVERS GUIDE
Average Water Temp Low 80s
What to Wear 3 mm wetsuit
Average Viz 100 feet
When to Go Year-round; best time of month is usually new moon
More Info samstours.com
---
Start your own blackwater adventure today with PADI's Night Diver course.
---
ISLAND OF TAHITI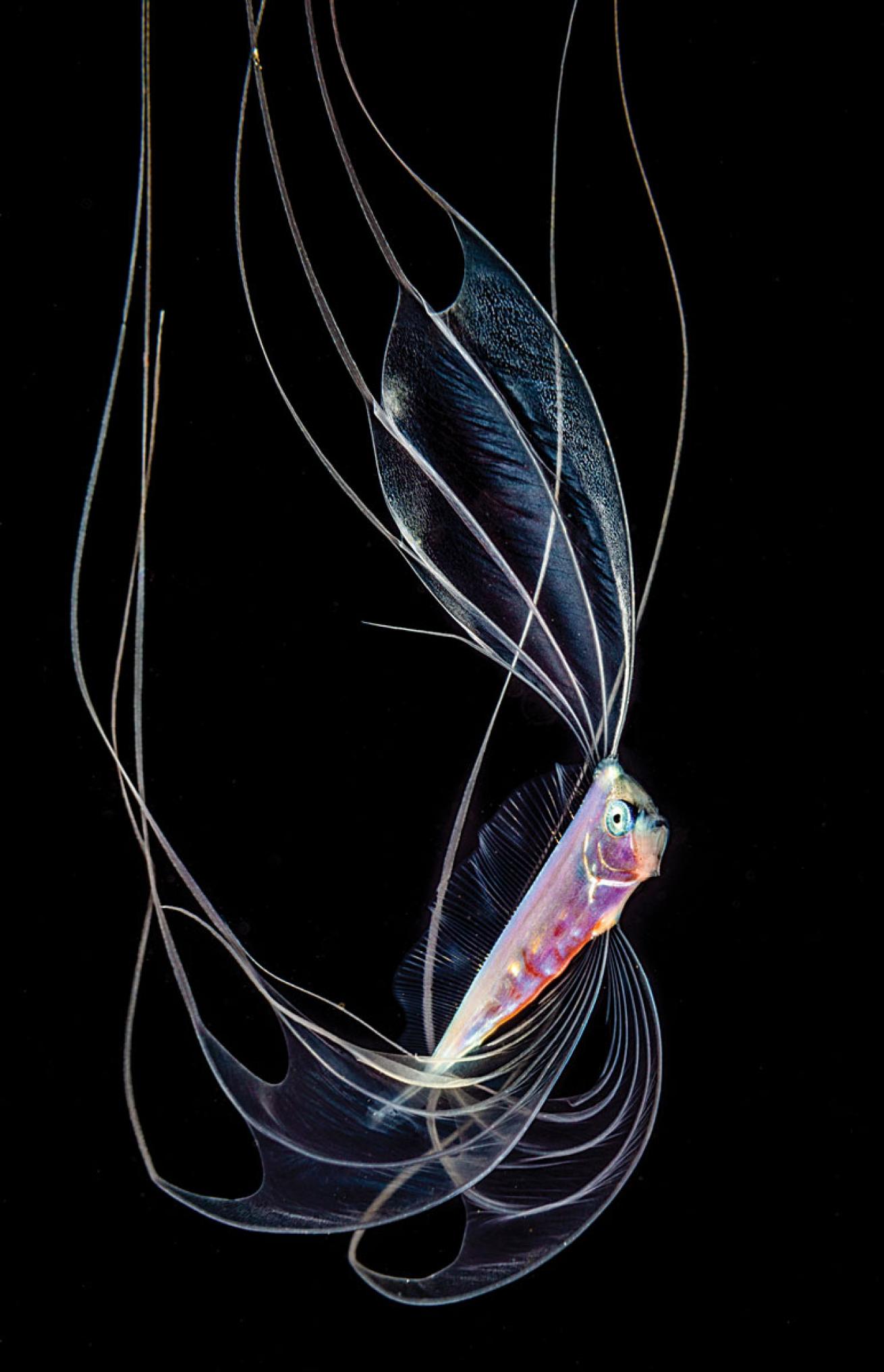 Fabien Michenet
I chanced upon this juvenile ribbonfish at the end of a night drift dive at about 15 feet. The long fins with filamentous extensions disappear with adulthood; they are probably an evolutionary adaptation to deter predators by mimicking stinging filaments. I managed to take a few shots, but soon his red body reflected the light of my flashes like a mirror and that put an end to my shooting session. Although ribbonfish are found at practically every latitude, observations on scuba are exceptional. Most of the documents showing live animals were made during oceanographic surveys with ROVs. —FABIEN MICHENET
DIVERS GUIDE
Average Water Temp Low 80s
What to Wear 3 mm wetsuit
Average Viz 100 feet; less after heavy rains
When to Go Year-round
More Info fluidtahiti.com (by request)