Meet the Dream Liveaboard
In our book, there are no bad days on the water, and no bad boats. But some liveaboards have features so impressive, they're hard to forget.
If we could build our own liveaboard, these are some elements our writers and editors might include, and the boats that inspired us.
1. Cuan Law — British Virgin Islands
Dream Feature – water toys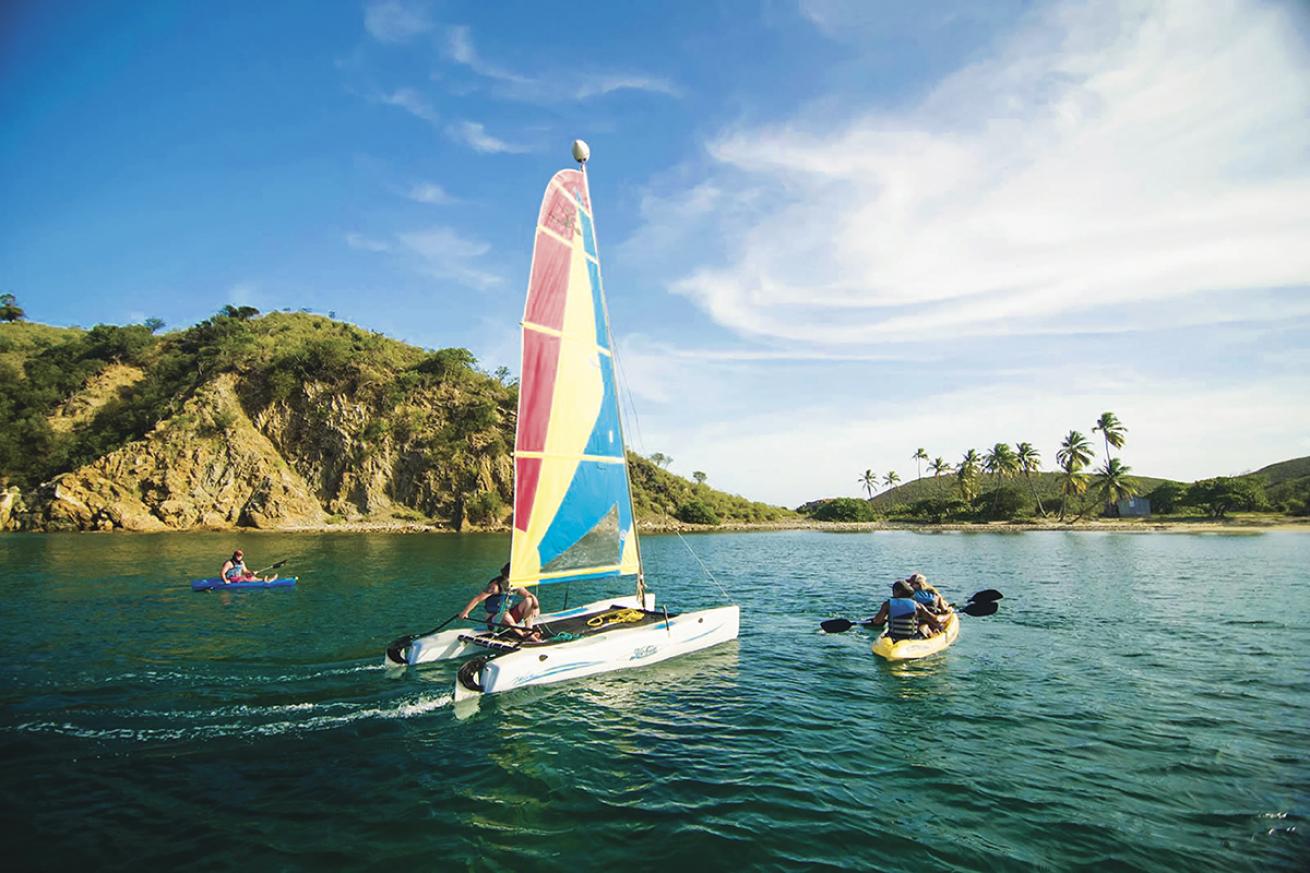 Play all day under the sun, even when you're not diving.

Courtesy All Star Liveaboards
Not everyone wants to read between dives—especially when positioned in an island playground with endless clear, calm water. The team behind Cuan Law, a 105-foot trimaran based in the British Virgin Islands, knows that guests want to keep the adventures going as much as possible. When the vessel is at anchor, guests have access to sail a 16-foot Hobie Cat—either at the tiller themselves or with one of the crew as captain. Another choice is to take a stand-up paddleboard out for a cruise.
What's more, Cuan Law recreates an all-inclusive resort experience on board, opening up its unlimited free bar to guests as soon as they end their dive day. That means kicking back with a Carib or Red Stripe beer, or a glass of any of nine types of wine plus a prosecco. And the shelves are stocked with a wide variety of liquors, including seven rums and three vodka flavors, so guests can enjoy just about any cocktail they can imagine. Downtime can look like drinking a cocktail while lounging in the hammock or taking a Red Stripe out while sailing the Hobie Cat. When near a picturesque beach, which is often, the crew even sets up coolers on shore for guests to enjoy a sun-downer while doing a bit of beachcombing or just relaxing. —Brooke Morton
BVI Divers Guide
When to Go Best deals for flights and the best odds for escaping the crowds are September to November.
Dive Conditions Water temperatures stay warm year-round, from 79 to 84 degrees. This destination is free from currents, and waters are typically calm. Visibility averages 90 feet in winter, dipping to 60 feet in summer. Visibility also depends on how close the site is to shore.
Operator All Star Liveaboards
2. Oman Aggressor — Oman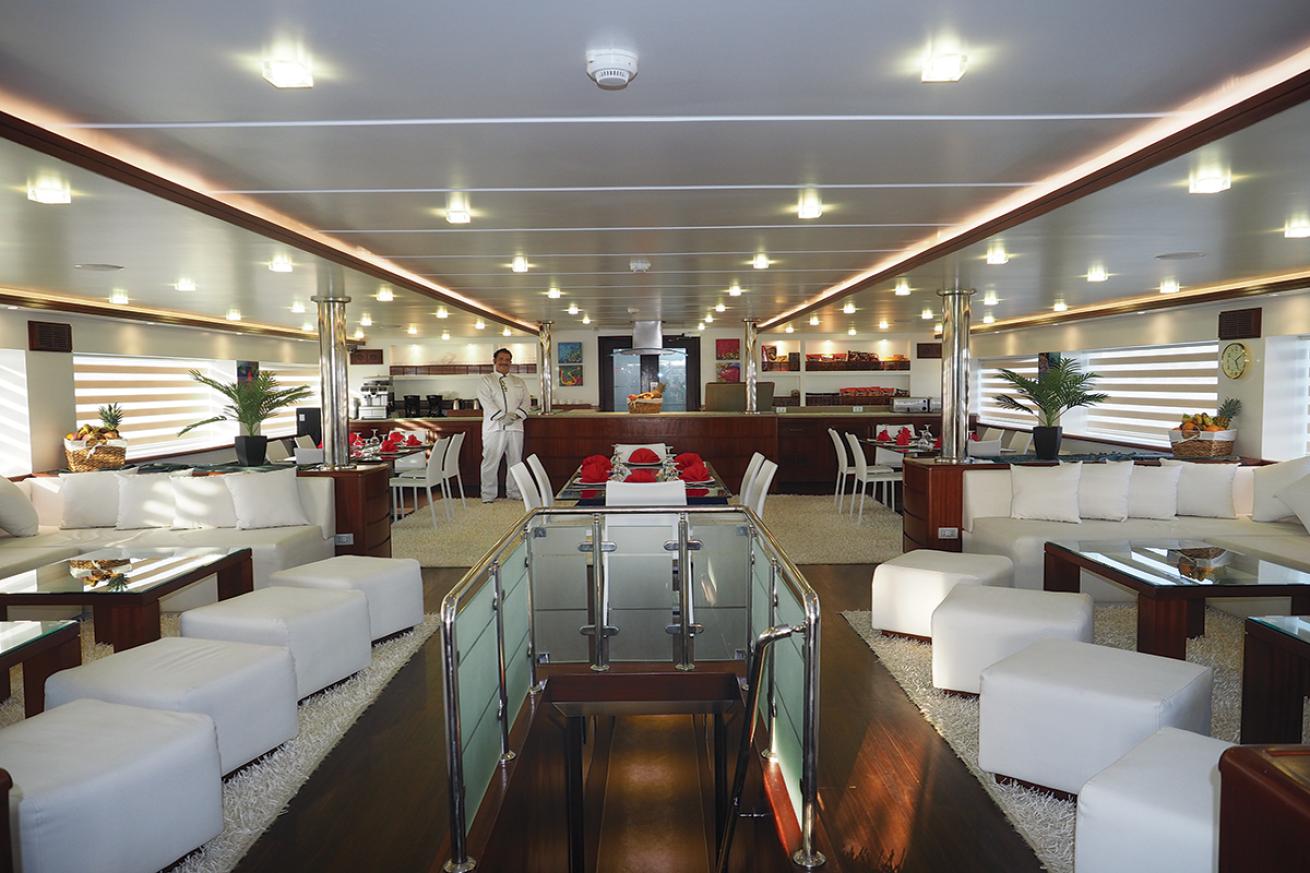 Boutique hotel Euro-style on the Arabian Sea.

Courtesy Aggressor
Dream Feature – the salon
Normally, humans are social animals—a fact sometimes not fully realized on liveaboards, where, all too often, guests retreat to their staterooms when the dives are done. Oman Aggressor, launched in 2018, shifts that onboard dynamic, kicking up the typical liveaboard common areas much more than a notch—its light-filled, spacious salon has a modern, sleek aesthetic that gives guests the feeling of being aboard their own private yacht. Two L-shaped white couches provide enough seating for all 22 guests on board, adjacent to the dining area, where two tables each seat 12.
After a day appreciating the regulars of the Gulf of Oman or the Arabian Sea—company that includes whale sharks, dolphins, mola molas and other megafauna sure to get you talking— it's a next-level space to gather in a casual group, show off images and share stories of liveaboard trips past and future. —Brooke Morton
Oman Divers Guide
When to Go September through November is whale shark season off the Daymaniyat Islands. October through May offers calmest seas.
Dive Conditions Come February, water temps are at their lowest, dipping to 74 degrees. Summer peaks in June at 87 degrees. Depending on season and dive site, visibility ranges from 49 to 100 feet.
Operator Aggressor
3.Aqua Cat — Bahamas
Dream Feature — jet set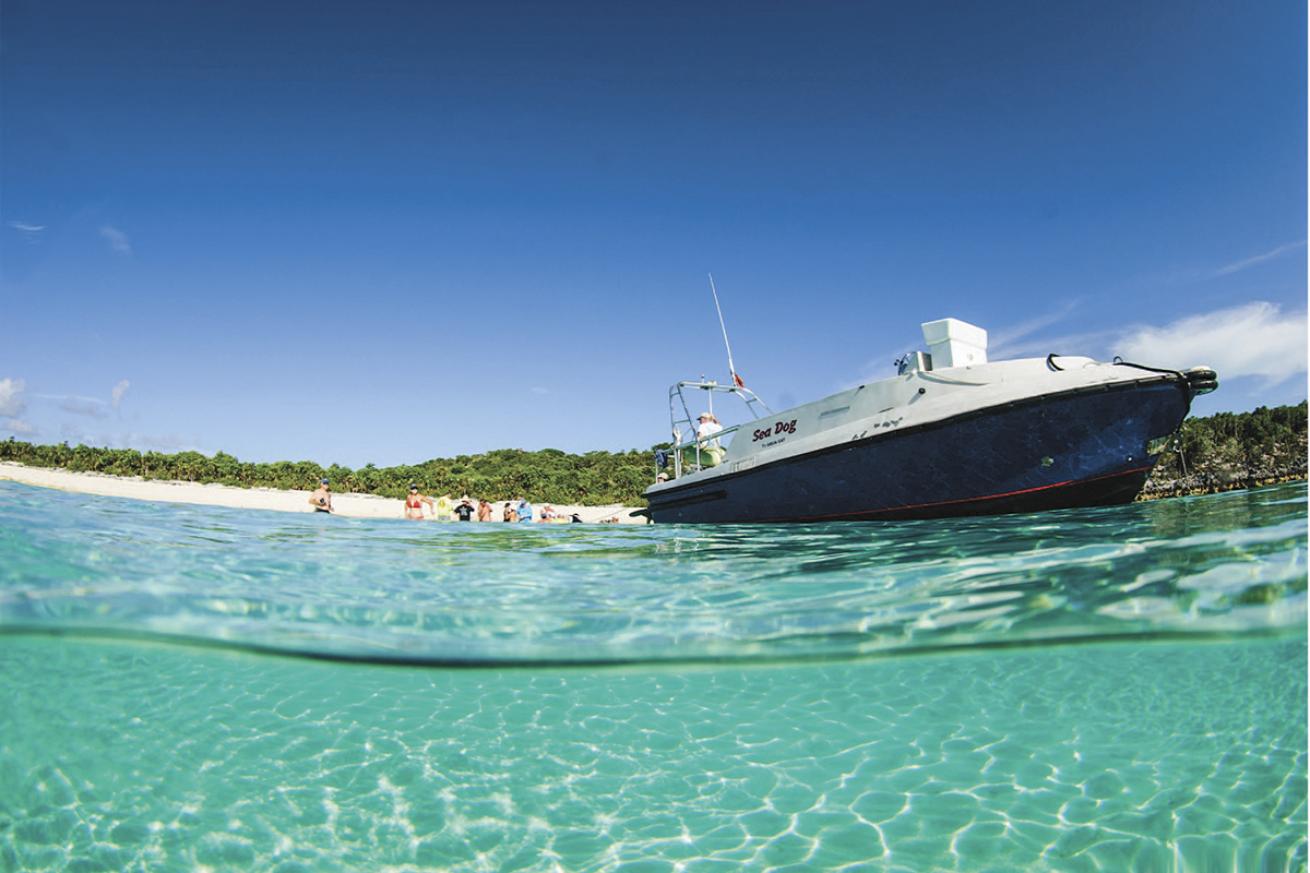 Your own 28-foot jet-drive excursion tender.

Courtesy All Star Liveaboards
Aqua Cat, a 102-foot Bahamas-based power-catamaran liveaboard, changes the equation. In addition to offering five dives a day from the mothership, the Aqua Cat experience includes a 28-foot jet-drive tender, Sea Dog, dedicated solely to shore excursions, namely in the untamed wild spaces of the Exumas Land and Sea Park. These outings connect guests on a more intimate level with only-at-low-tide white sandbars, powdery white beaches that beg exploration, and mangrove habitats home to turtles, juvenile sharks and rays.
Non-diving partners or even divers who prefer a little variety during the weeklong schedule can opt into the land-based excursions offered a couple of times daily. Those eco-adventures include hiking nature preserves such as Warderick Wells Park, beach time, snorkeling in-shore reefs and mangrove preserves, and island visits focused on local wildlife, from iguanas to the famous swimming pigs. There's also kayaking, stand-up paddleboarding and tubing behind the tender.
Thanks to Sea Dog, the itineraries pack so much more in—meaning that this vacation won't leave a die-hard diver indebted to their partner or travel buddy. Win-win. —Brooke Morton
Exumas Divers Guide
When to Go Peak season in the Exumas is December to May, when the climate is dry. Summer can bring better deals, as well as less wind and hotter days.
Dive Conditions The Bahamian islands see a big swing in temperature from summer to winter, with summer temps peaking at 88 degrees, and winter waters dropping to 75.
Operator All Star Liveaboards
4. Four Seasons Explorer — Maldives
Dream Feature – luxury digs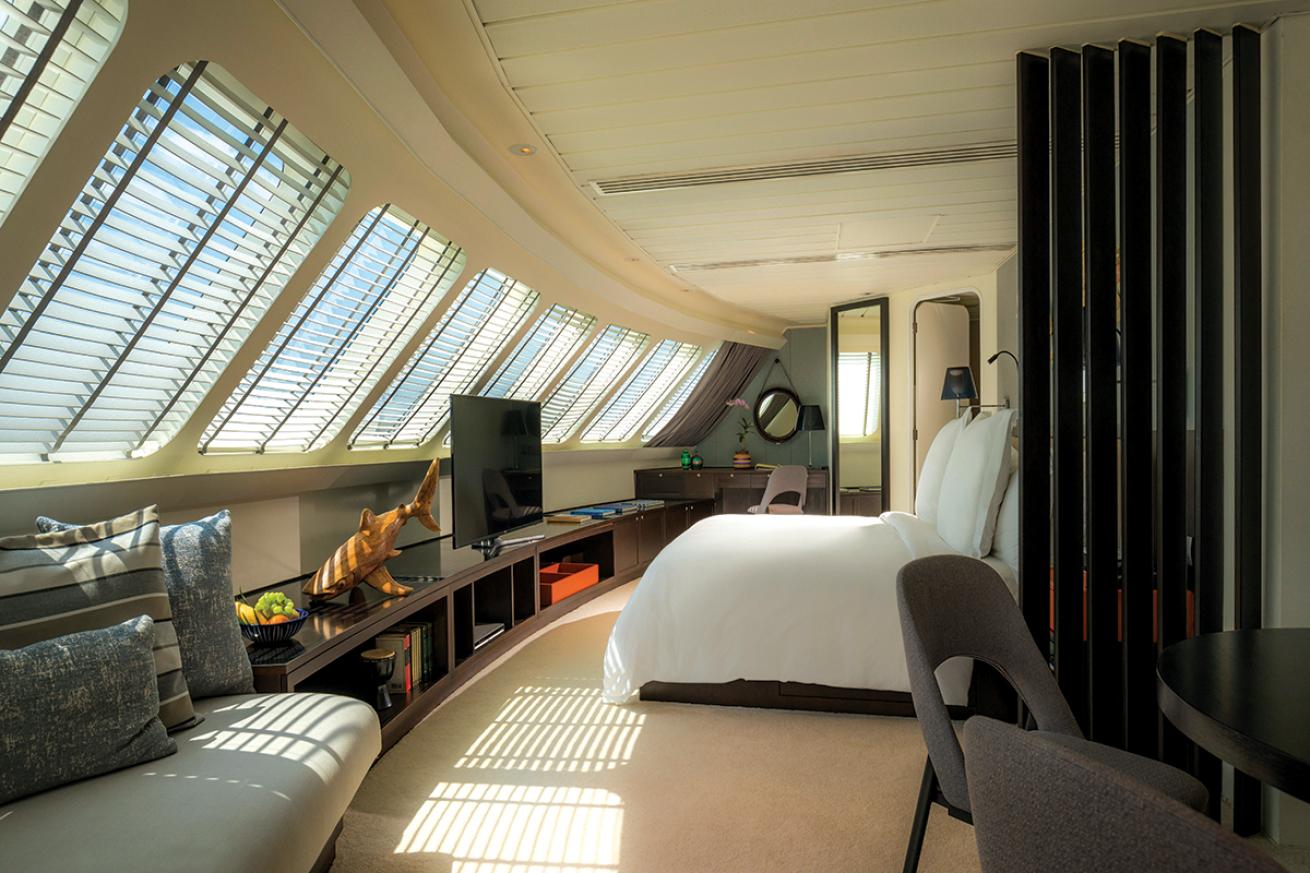 The Explorer Suite sits at the front of the vessel and spans the width of the ship and features a private wraparound balcony.

Courtesy Four Seasons Explorer
Four Seasons Explorer takes the term "floating hotel" to the next level, offering the ultimate in comfort and luxury. With accommodations rivaling that of a high-end Manhattan hotel room, this luxury dive catamaran features 10 staterooms and one Explorer Suite that sits at the front of the vessel and spans the width of the ship—with its own private wraparound balcony. All 11 staterooms are situated on the main deck, with large windows perfect for viewing the sunrise or gazing out at the turquoise waters of the Maldives. Each stateroom is equipped with a comfy king bed or two twins, a sitting area with sofa bed, writing desk, TV and private bathroom with standing shower. This is one liveaboard where you'll actually want to spend time in your room—when you tear yourself away to dive, you can expect a small gift like a Maldivian lacquered basket or fresh fruit treat from the staff waiting for you upon your return. —Becca Hurley
Maldives Divers Guide
When to Go The Maldives can be enjoyed year-round, but if you are after manta and whale shark sightings, it's best to travel between May and October.
Dive Conditions Temperatures are warm year-round, varying between 75 and 90 degrees. Water visibility is at its best during the dry season from December to March.
Operator Four Seasons
5. Arenui — Indonesia
Dream Feature – sky decks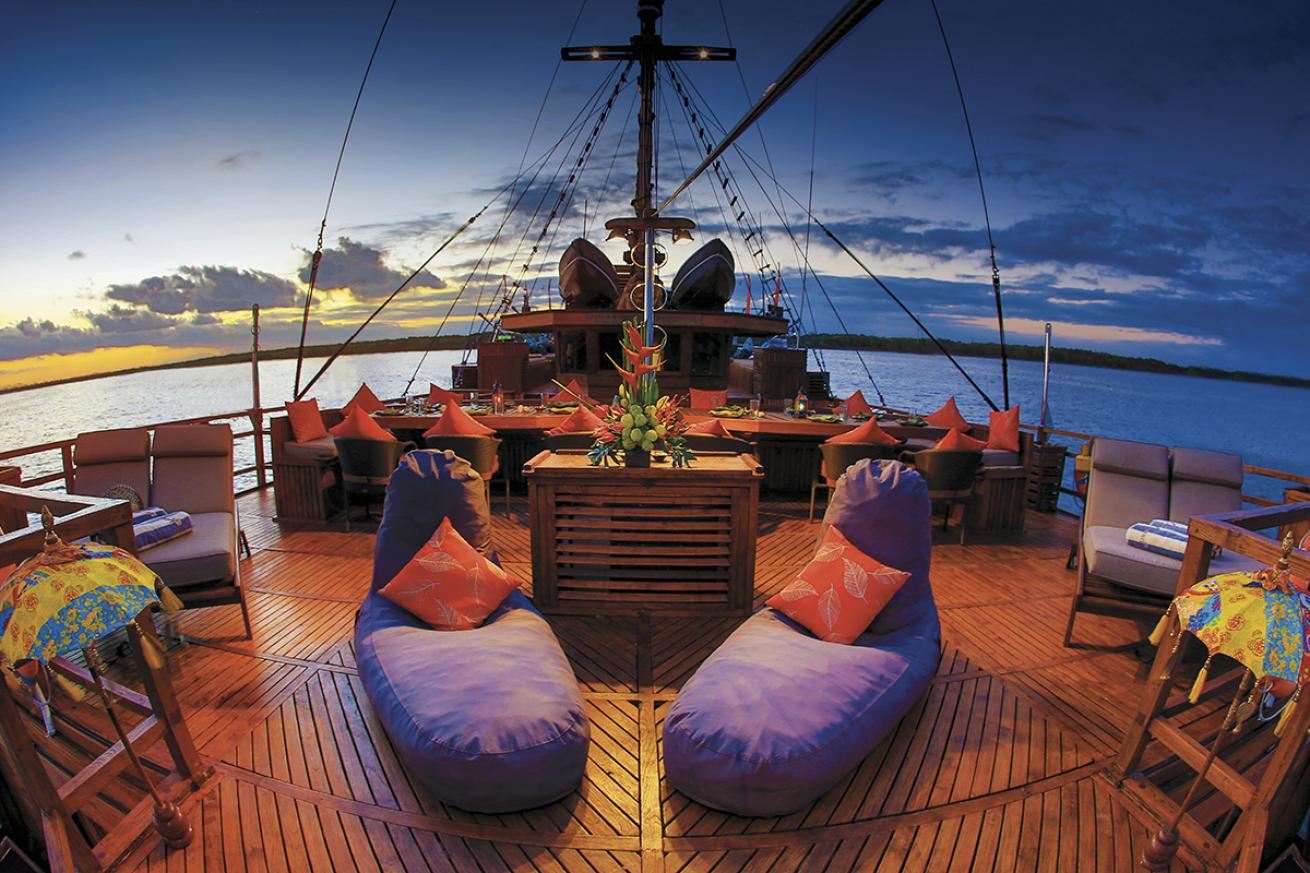 Outdoor living under Indonesia's spectacular skies.

Courtesy Arenui
One of the most memorable images from a trip aboard Arenui—a "boutique" liveaboard if ever there was one, which plies multiple itineraries in Indonesia—is surfacing after a night dive under the starriest of nights and looking across the water to the warm glow of Arenui's lanterns, beckoning you home.
The source of that alluring light is also one of Arenui's principal pleasures: its unparalleled outdoor living spaces. Those include the Sky Restaurant, where multicourse dinners are served whenever weather permits by highly trained staff in evening uniforms, and the Sky Lounge, where you can stretch out with a book—or catch a nap—on your surface interval on plush, cushioned chaises. It's also possible to book an open-air massage here.
Hang around those decks into the evening and you might be rewarded with another unforgettable moment: the sounds of Arenui's congenial crew, gathered along the ship's bow, singing soft, sweet songs in their mother tongue as one gently plucks a small guitar. Heaven must sound a lot like this. —Mary Frances Emmons
Indo Divers Guide
When to Go Arenui spends May to October around Komodo National Park, diving Bali to Flores and Alor. In November it heads toward Ambon and the Spice Islands, then to Raja Ampat from December through April.
Dive Conditions Depths range from 30 to 100 feet. December through April generally is calm. Visibility ranges from 30 to 115 feet; temps from 80 to 88 degrees.
Operator Arenui
6. Damai I and II — Indonesia
Dream Feature — camera room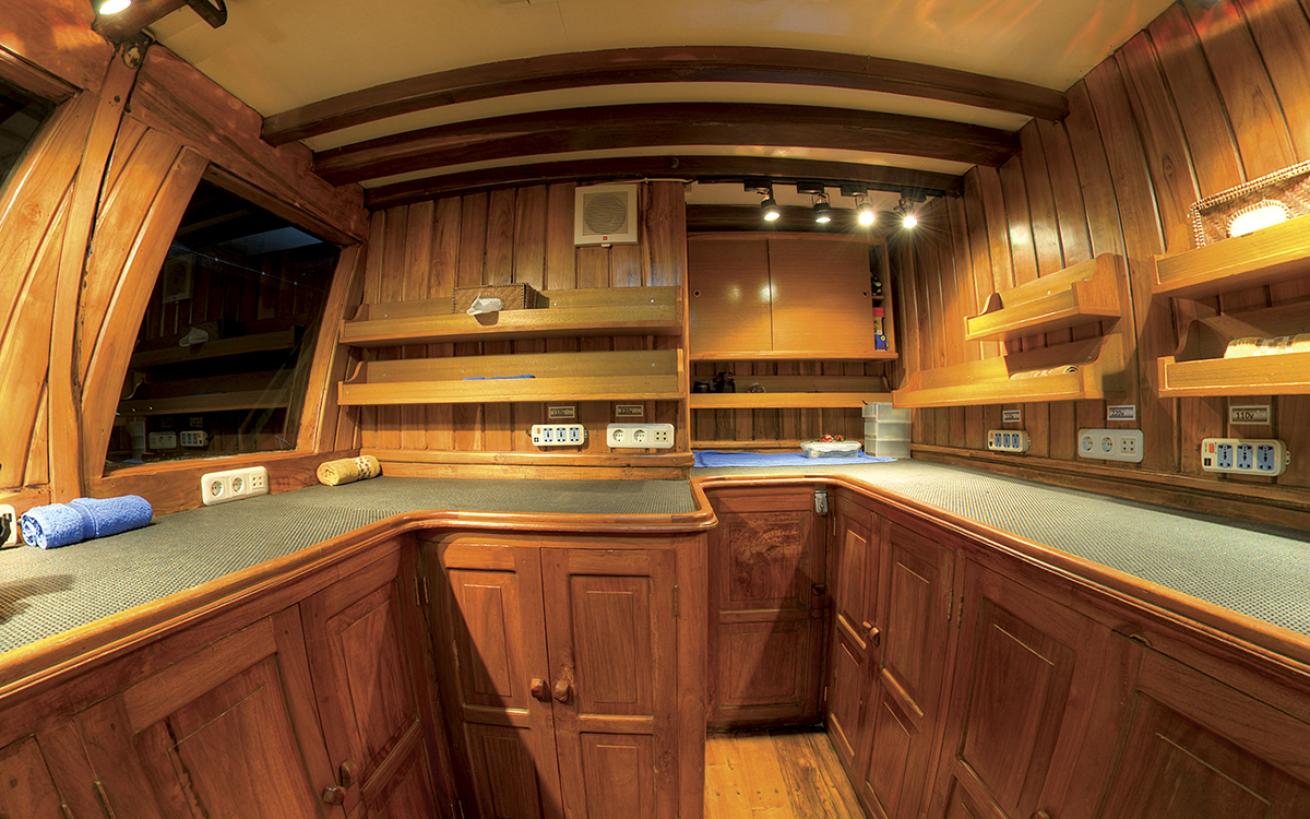 Personal space for every shooter on board.

Courtesy Dive Damai
Photographers are happy guests on board either one of the Damai vessels. The camera rooms are "big-rig" friendly and provide enough space to put together and break down any setup. Each guest has an individual station with integrated 110v/ 220v/USB charging outlets and personal workstation lights. The room is equipped with fans instead of A/C, to prevent condensation issues. Before each cruise, each station is set up with a camera towel, name tag for your camera and plenty of space to store bags beneath your station—no need to run back and forth to your cabin for a different lens or port. The camera rooms open onto the gan way where the crew loads the tenders; when your tender is ready, the crew carefully handles the cameras, loading them one by one onto the tender and covering them securely with a towel to prevent sun exposure. Upon your return from a dive, the opposite occurs, with the crew carefully transporting each rig for a meticulous freshwater rinse and dry before returning it to your station. —Tanya Burnett
Indo Divers Guide
When to Go Diving in Indonesia is year-round, though when and where is determined by conditions, which are influenced by seasonal weather changes and plankton concentrations.
Dive conditions Water temperatures typically range from 82 to 86 degrees but can dip to the low 70s or lower in some areas.
Operator Dive Damai
7. Aggressor — Red Sea and more
Dream Feature – gear locker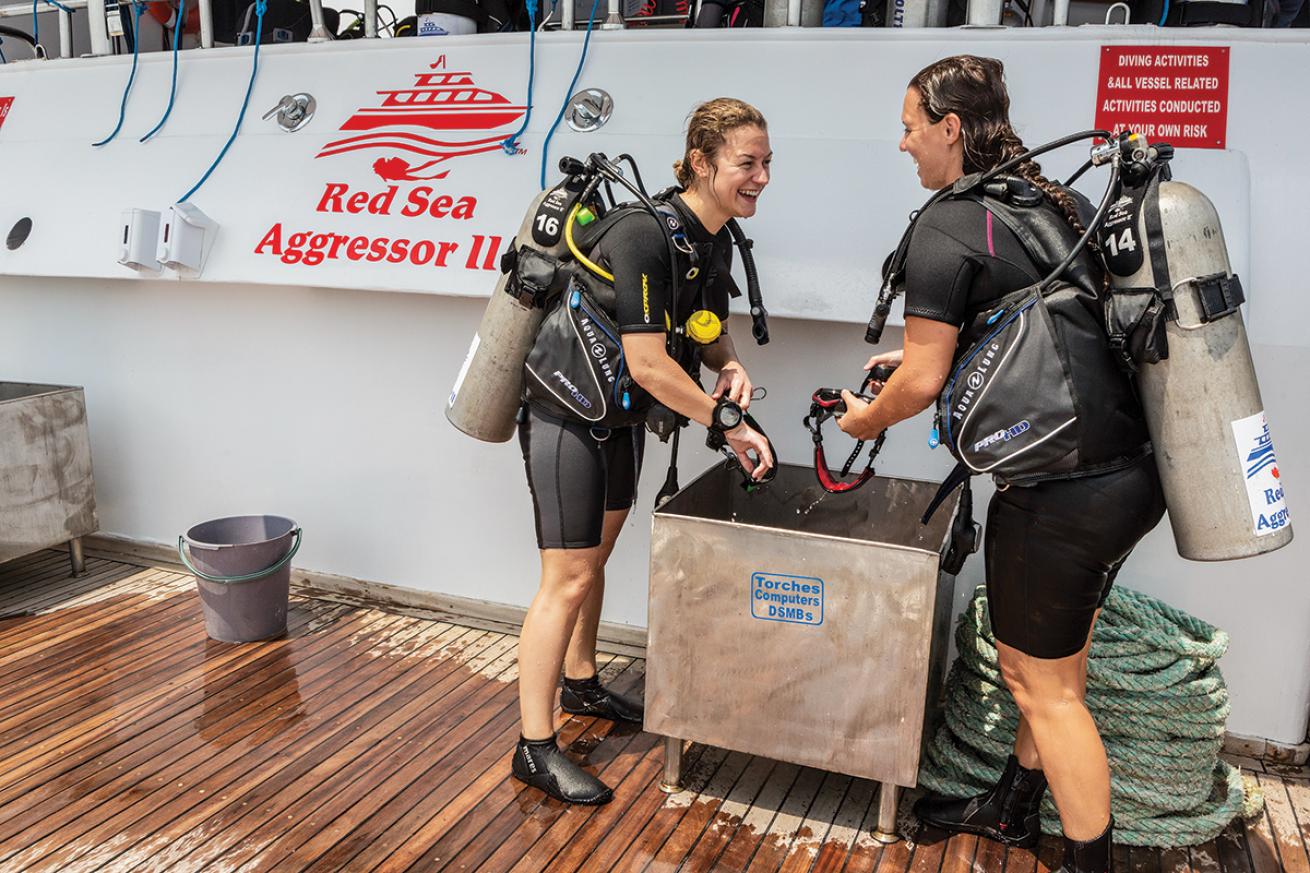 Free Aqua Lung loaners when you need them most

Courtesy Aggressor
An admitted gear head, I've been known to travel with every piece of gear I can carry. But a week aboard Red Sea Aggressor II called for a change, since it would be followed by an Aggressor Nile Queen cruise and sightseeing in Cairo— where things like a clean shirt or spare socks might prove more useful than a BC.
Fortunately Aggressor's fleetwide rental program allows you to arrange for anything from a complete set of gear down to a single item, as well as a digital camera rig. Aggressor's program features popular models of Aqua Lung gear, plus Aqua Lung's loaner-gear program that provides you with free loaner equipment (depending on availability) if yours breaks during the charter.
Are you a gear head too? Join Aggressor for Demo Weeks cruises with a chance to try an assortment of Aqua Lung dive equipment at no charge. —Roger Roy
Red Sea Divers Guide
When to Go March through December. Summer temps can be very warm—routinely in the 100s. Winter can be windy.
Dive Conditions Water temps are in the low 80s in summer, dropping to the mid-70s at the coldest times of year, when a 5 mm fullsuit or heavier, with hood and extra garments, can be necessary. Visibility can hit 100 feet.
Operator Aggressor
---