Ocean's Calling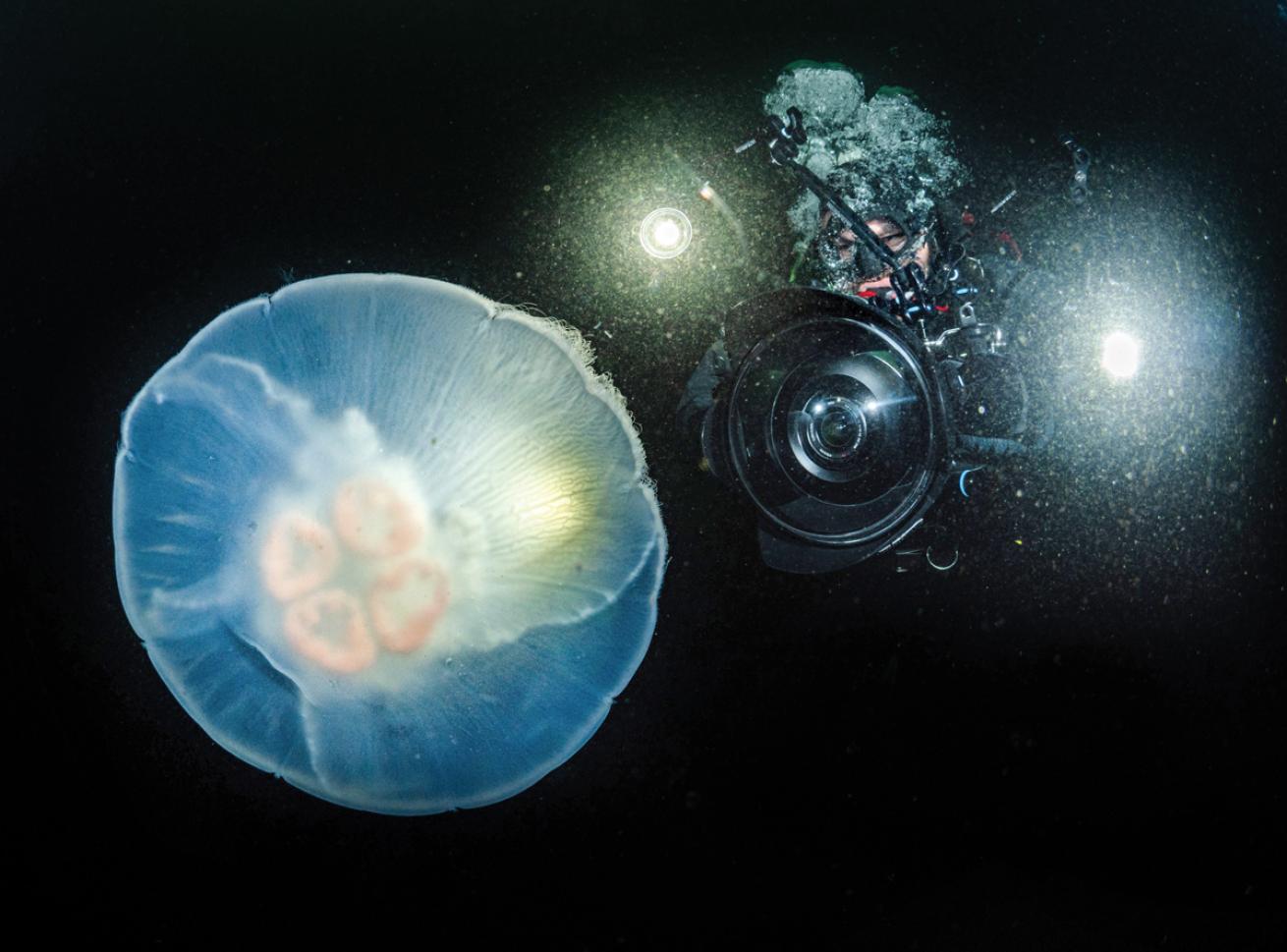 Malek photographs a moon jelly (Aurelia labiata) off Chichagof Island in Alaska.

PATRICK WEBSTER
Kayvon Malek spends much of the year diving in Antarctica, Alaska and the Arctic as an independently contracted expedition guide for small-ship cruise companies like Lindblad Expeditions, Silversea Cruises and Natural World Safaris.
"I can still remember the moment I realized this was what I wanted to do," Malek says. "I was in Alaska, hovering underwater, filming a giant Pacific octopus while listening to humpback whale songs as they were bubble-net feeding. It was one of those moments that I never could have dreamed would be possible."
Since 2017, Malek has had countless adventures, from leading snorkelers in the water with orcas in Norway to diving a blue whale graveyard around a shipwrecked whaling vessel in Antarctica to encounters with leopard seals at South Georgia Island.
Because of the extreme conditions at the poles, expedition guides don't lead dives in the water, but rather show guests what's happening below the surface. "We do a lot of diving to film underwater so we can cut together videos for guests to watch in the evenings," says Malek. "We also use remotely operated vehicles, gather marine life for touch tanks and deploy tow nets to gather plankton and microplastics as educational experiences." He also leads nondiving activities like hiking, kayaking and Zodiac excursions.
Malek started diving at the University of California Santa Cruz, with the goal of earning his scientific diver certification for his degree in environmental studies and biology. He credits that scientific background as a key element in the expedition work he does today. "I think having an interest in science and experience with scientific diving is key, either through a university program or citizen science work," he says. "It also makes you a better photographer and videographer to have a deeper understanding of the animals you're seeing."
Malek is a divemaster, but the certification isn't a requirement. "The minimum certification requirement for my role is rescue diver, though the more experience and higher certification you have the better," Malek explains. "That said, a lot of the people working in these roles are divemasters or instructors, or have a background in commercial or scientific diving. First aid/CPR and diving accident management knowledge is also important." For aspiring guides, Malek suggests building a strong foundation of diving skills and proficiency with underwater photo/ video. It is also important to be able to quickly edit those videos/photos back on the surface. "You also need to be comfortable diving in the middle of nowhere, with no sight marker or map," he says. "We're often diving in places that are pretty extreme, not to mention remote, pristine habitats, so it's important to be aware of the effort and risk involved."
"You'll be on the clock and available for guests all the time," he adds. "We're on boats with anywhere from 60 to 250 guests, for 10 days at a time, so it's a really active, go-go-go environment."
WHAT TO EXPECT
Degree: Environmental Studies, Biology, Photography/ Videography

Salary: $200–350/day, depending on region and specialization

Certifications: Rescue, Drysuit (for polar regions)
---