Pelagian Dive Yacht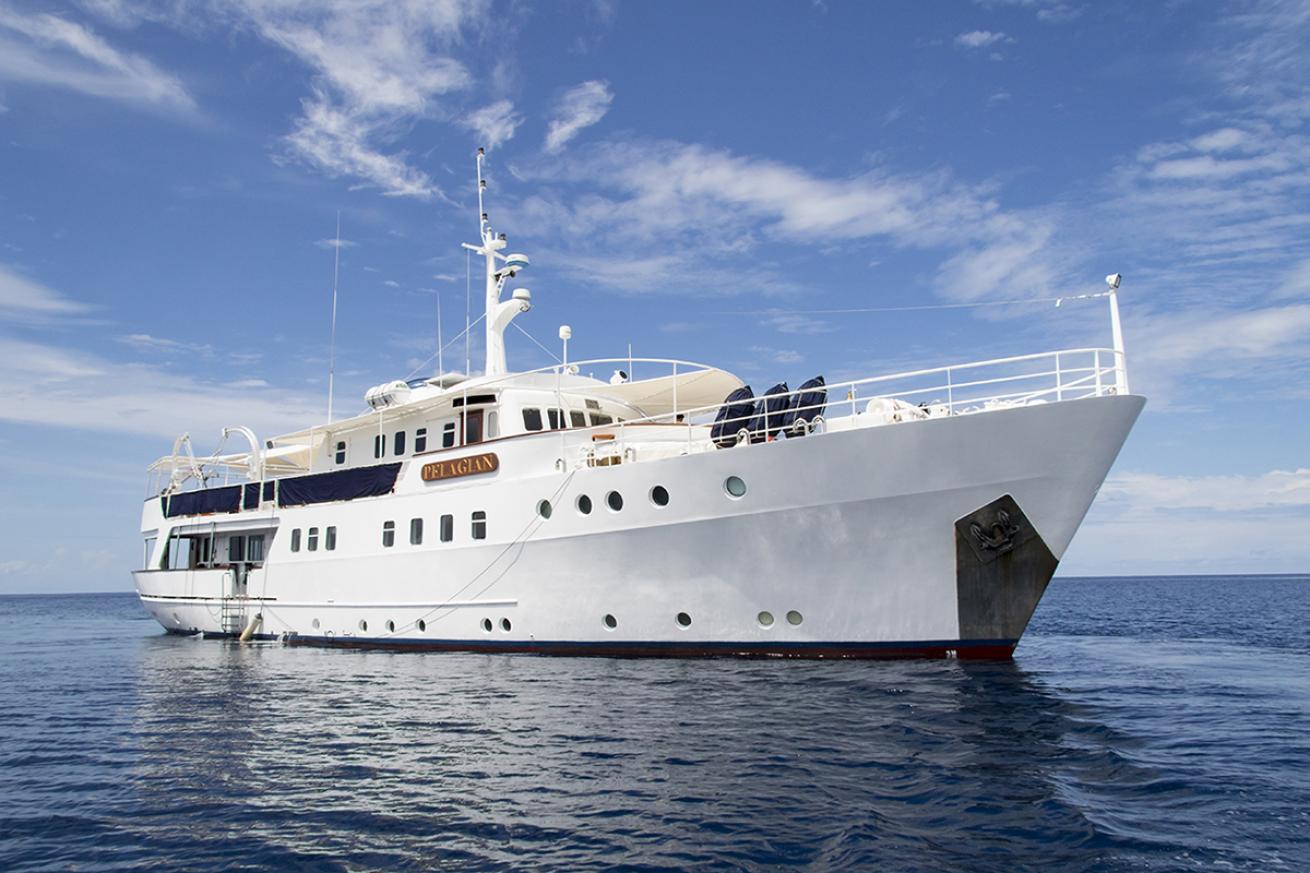 Walt Stearns
Dedicated to diving the southeast corner of Sulawesi island and beyond, the Pelagian dive yacht, operated by Wakatobi Dive Resort, delivers the best in Indonesia diving — and it does so in luxury. This 115-foot yacht is run by a 12-person crew, catering to just 10 divers to deliver an unmatched level of service and exclusivity — and what can only be described as a magical experience.
Pelagian offers four room categories, including the Master suite that spans the width of the yacht. You'll find a queen bed in the Superlux cabins, which have a layout that's set up for comfort — the bed is not pushed up against a wall but instead is placed so there is space on both sides. The Deluxe cabin has two beds and its own private-access stairwell, and the Standard cabin has two twin beds.
The entire Pelagian experience has been designed with spaciousness in mind. No other dive yacht offers more square feet per guest, creating the ultimate in onboard luxury – and in the water. Two custom-made, 18-foot rigid-hull inflatable (RIB) dive tenders each carry no more than five guests to dive sites. Such small dive groups allow for a more personalized experience, with guides making sure you lay eyes on all that each site has to offer, from flamboyant cuttlefish to harlequin shrimp.
On board, you'll find a separate interior room that serves as a dedicated camera and photography workspace, allowing more room to spread out, set up gear, recharge batteries and download images.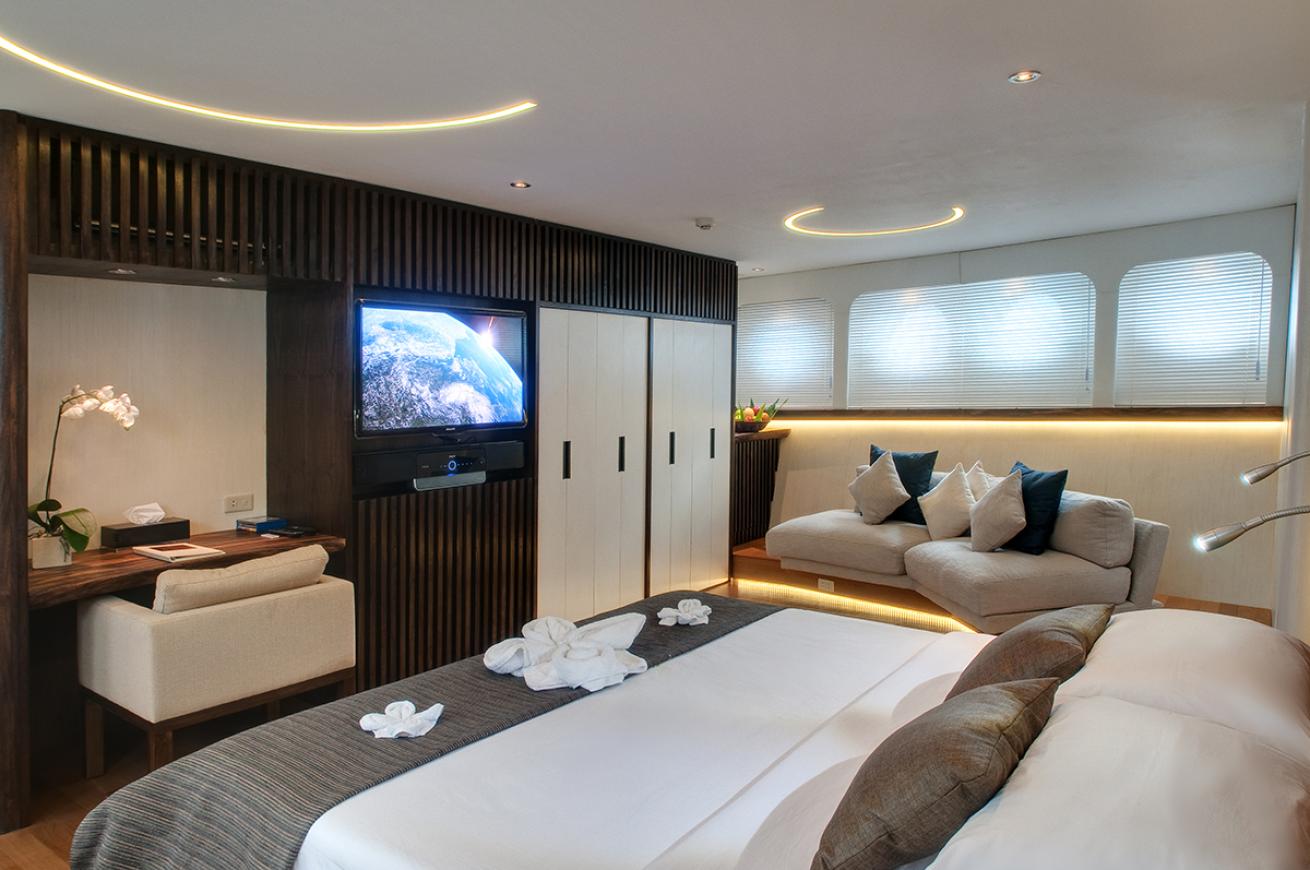 Walt Stearns
Pelagian has also created a next-level dining experience. Each meal gives guests options such as tuna sashimi, steak or local curries. Menus showcase a mix of Western favorites and Asian and Indonesian cuisine, ensuring variety. Dietary preferences, allergies or restrictions –including vegetarian, vegan or gluten-free – are easily accommodated.
The service ethos touches all areas of the experience, especially underwater. From detailed briefings to a personalized guide experience, the Pelagian team delivers a trip of a lifetime. On the dive deck, crew greet you as you exit the RIB, wrapping you in a warm towel, gently placing your camera in a rinse bucket and offering you fresh water, a hot drink and minty face towel.
Trips start in Bali where Wakatobi staff meet you at the airport, making for a hassle-free, seamless transition to the yacht. After an overnight stay in Bali, staff collect you the next morning at the domestic terminal for the quick flight to Wakatobi Resort where you'll enjoy lunch before boarding the yacht.
Every charter runs a full week, Monday to Monday, for 7-night cruises of the seldom-visited corners of the Tukang Besi archipelago. In addition to the standard weeklong charters, the Pelagian is available for private charter, allowing small groups to determine their own itinerary for the week, spending more time at sites that they deem favorites.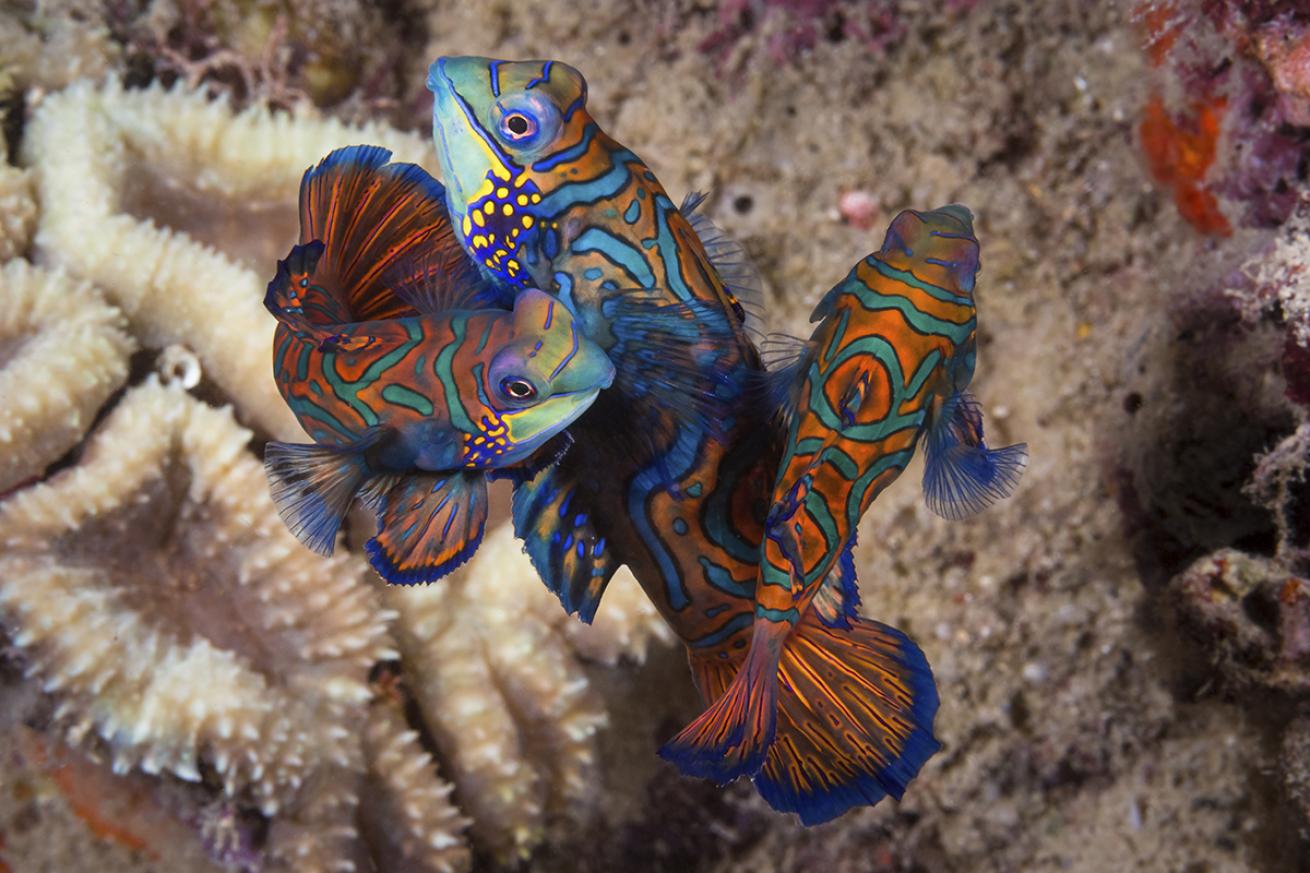 Walt Stearns
Cruises venture to remote islands that offer a mix of Indonesia's astonishing and stunning marine habitats, from pristine reefs and coral-covered walls to muck dives full of curiosities. One of the highlights is easily Cheeky Beach, a shrimp-breeding territory for several of the more exotic species found in the Wakatobi region. In addition to rare species such as tiny harry shrimp and the colorful bumblebee shrimp, this soft substrate site is also the hunting grounds for blue-ringed and wonderpus octopus – memorable encounters for any diver.
On muck dives, guides point out the critters they find and also share tips and special gear, such as the indispensable muck stick. This small metal pointer not only serves as a communication tool but it also allows you to get closer without touching or disturbing the muck bottom.
Another highlight of the dive week is Magic Pier, a place where hundreds of colorful mandarinfish appear at twilight, readying to flutter out in dazzling mating dances. Your patience here may also pay off with sightings of bucket-list ornate ghost pipefish or blue-ring octopus.
Throughout the week, dives showcase the diversity of marine life that Indonesia is so famous for. From schooling fish to tiny wonders, the reefs deliver nonstop enchantment. Divers leave the Pelagian captivated by the underwater beauty of the rainbow-colored reefs and grateful to the guides who point out all the marine life, including three species of pygmy seahorse – Bargibanti, Denise, Coleman's Pontohi – that live here. The guides excel in locating it all, so make sure to pack a logbook with plenty of blank spaces available to record it all.
Post cruise, guests often elect to extend their vacation with a stay at Wakatobi Resort to continue their vacation before heading back to the real world. Any why not? You'll be treated to the same thoughtful amenities and impeccable service as you had on board the Pelagian, as well as have access to the region's unending pristine reefs packed with life. It's a magical dive vacation you won't soon forget.
Visit, wakatobi.com/dive-yacht/intro/ for more information.