Pensacola's YDT-14 Wreck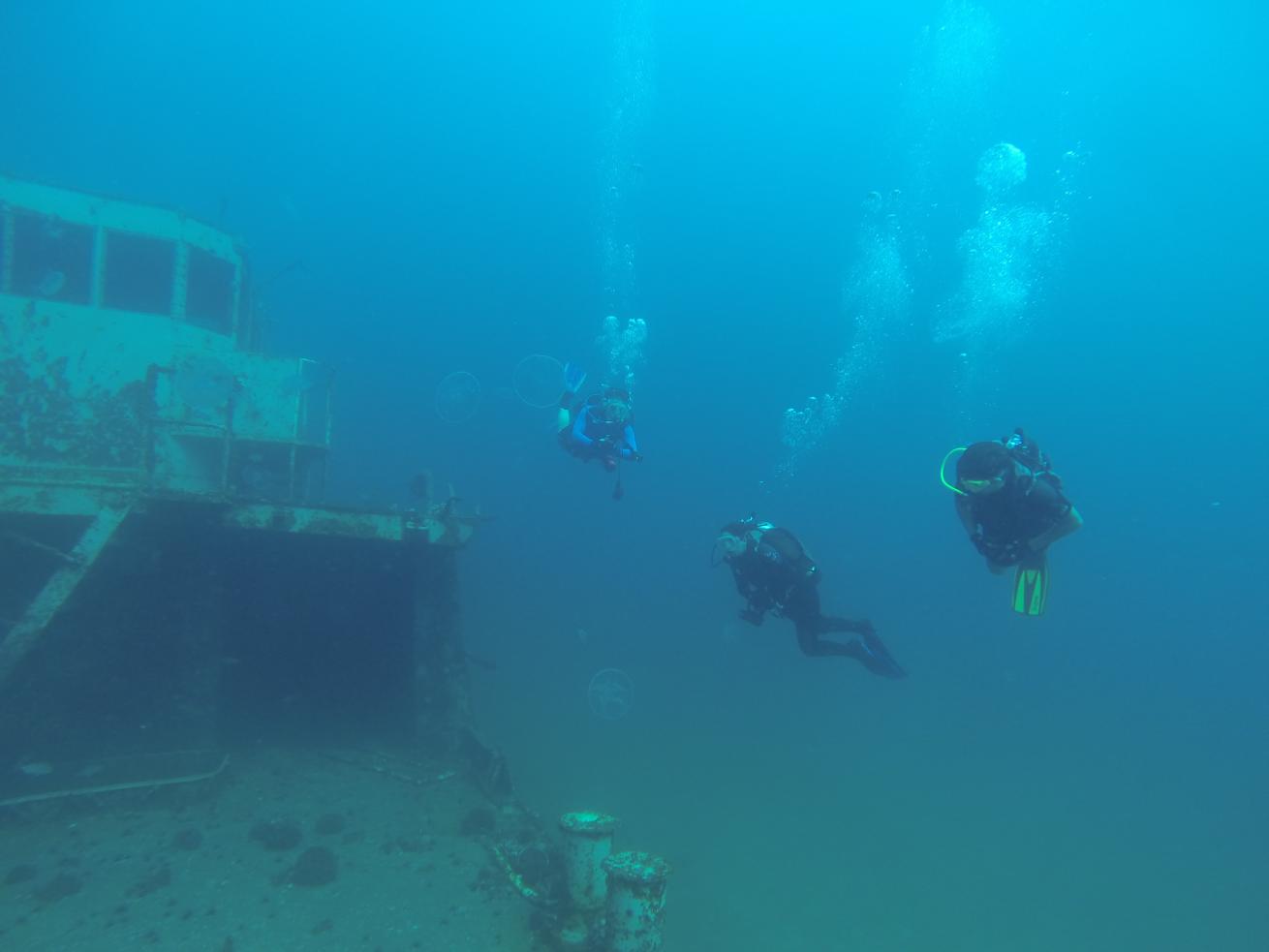 One of the highlights of diving in Pensacola is exploring the numerous shipwrecks located in the area, including the YDT-14.

Courtesy of the Florida Department of State
Intact and in prime condition, the YDT-14 stands as arguably one of the top two wrecks of the dozen belonging to the Florida Panhandle Shipwreck Trail–it's incredibly easy to enjoy thanks to the forethought that went into the preparation prior to sinking.
As an artificial reef, the YDT-14 was laid down in a choice location for ideal in-water conditions and maximum marine life encounters. This spot, some 15 miles offshore from Pensacola, doesn't receive much current, and allows for some of the best underwater visibility in the Florida Panhandle.
Built in 1942, this U.S. Navy dive tender saw service in San Juan Harbor in Puerto Rico, Norfolk Harbor in Virginia and off Key West, Florida, before embarking on a new mission in 2000 when she was sunk to a depth of 95 feet.
Down for more than two decades, its 132 feet are covered in a patchwork of sponges and encrusting and wire corals. Amberjack fish cruise the waterline. Bull sharks make passes of the wreck, often at the edge of divers' field of view. Green and loggerhead turtle shelter under the ship's stairways and inside the wheelhouse, which starts at a depth of 65 feet.
Because the ship was intentionally sunk, many doorways, hatches and hazards have been removed, making it much safer for swimming through the wheelhouse and into wide cutouts into the hull, either following a guide or a well-planned route. Decking has also been removed surrounding the bridge as another way to drop down and see inside the ship.
This is considered an intermediate dive largely due to the depth. However, it's an experience that Open Water Divers can take on, provided they stick to the shallower depths of the bridge and topdeck.
For most divers, the YDT-14 is the first dive of the day, followed by a dip on the Pete Tide II, with three decks of superstructure. Other possible seconds include the 247-foot Avocet clamshell dredge, the Chevron oil rig or the 347-foot Antares freighter.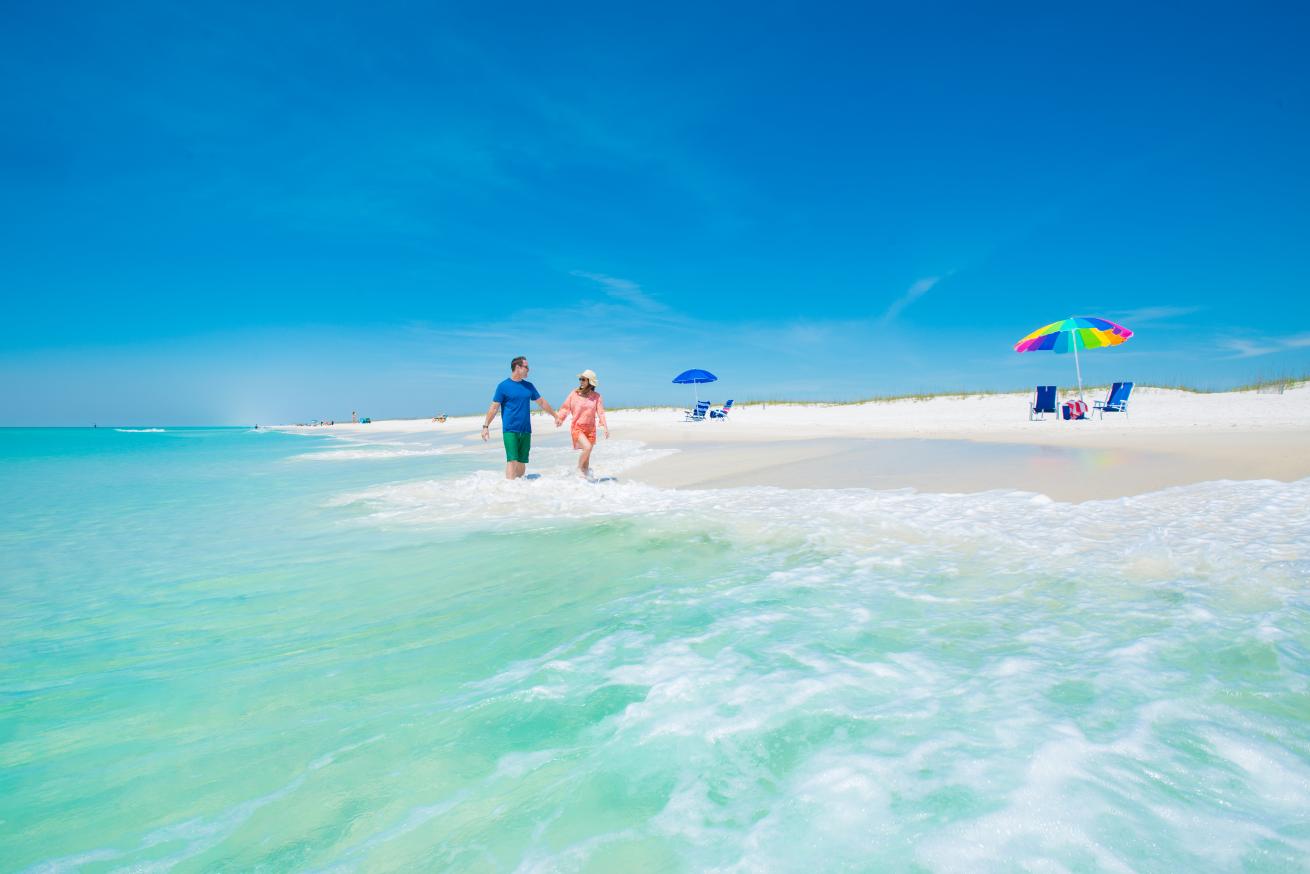 Pensacola is known for its beautiful white sandy beaches and clear waters.

Courtesy of Visit Pensacola
Beyond the wrecks, Pensacola serves up a wide variety of things to do, from the white sand beaches of Gulf islands National Seahorse to the 150 planes on display at the National Naval Aviation Museum. Head to the Gulfarium for up-close encounters with marine life you won't find on Pensacola reefs, including sea lions, otters and penguins. The Blue Angels, a squadron of F/A-18 Super Hornets, are based in Pensacola and regularly fly practice drills over the city and beaches March to November.
Pensacola Bay, separating the main city from the barrier islands, is a playground for watersports enthusiasts, offering calm conditions well suited for paddle boarding, kayaking, sailing, boating and more. Daily dolphin tours are offered, or, for those who want to be at the helm themselves, half- or full-day rentals of speed or pontoon boats let you cruise the bay at your own pace.
For those traveling with kids and those who simply like to stay active when traveling, Pensacola offers high-adrenaline attractions, including ziplining, indoor skateparks and go-karts and mini-golf for added entertainment and togetherness after the dive day.
This coastal city is also home to a handful of celebrated seafood restaurants where just-caught fish is dished up many ways, whether that's with a creamy crawfish étouffée on top, or blackened and served as Baja-style tacos. Bounty from the Gulf includes not just snapper and grouper, but oysters, wild-caught shrimp and crab. With dining options ranging from upscale and modern coastal to down-home casual, Pensacola offers much in terms of experiences, setting and flavor. Seafood is a must, and so, too, is the local barbecue. Favorites like slow-cooked ribs and pulled chicken are crowd pleasers, dished up with local blues music for a fun, memorable evening. Best of all, it's dining with a view, with many top eateries located beachside or bayside, giving you more time to enjoy the scenery that you've come for.
Just like the wrecks, the dining options give you abundant choice–with something for every taste and traveler.
Learn more at visitpensacola.com