Pollutants from Sunscreens Accumulate in Seagrass, New Study Finds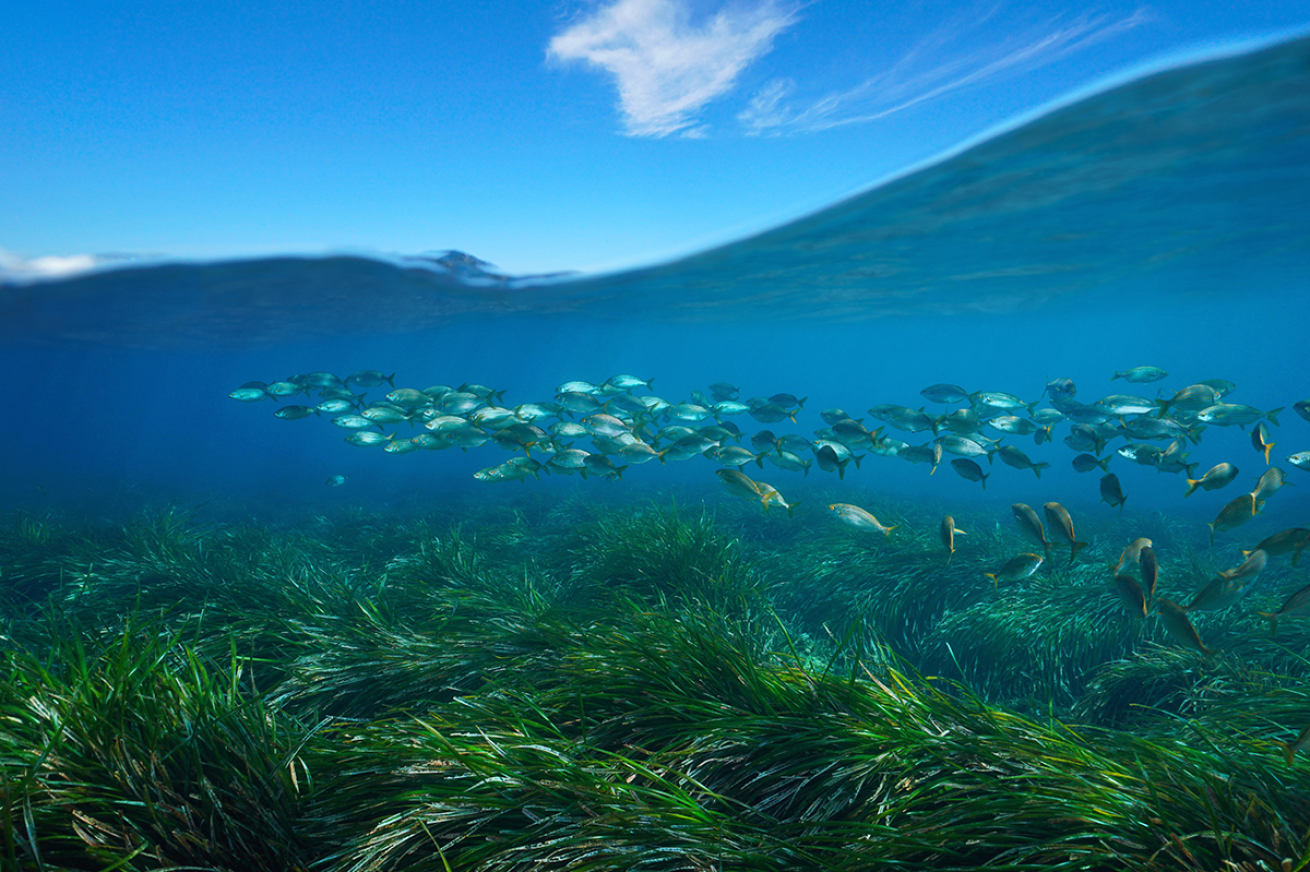 Fish swim over seagrass in the Mediterranean, a critical habitat for marine life.

Shutterstock.com/Damsea
Chemicals in sunscreens accumulate in Mediterranean seagrasses, a new study found. Additional research is needed to determine if this results in further negative effects.
Scientists studying seagrass meadows off the coast of Mallorca, Spain discovered ultraviolet filters in the stems of Posidonia oceanica, an endemic Mediterranean seagrass species. The filters are likely the result of recreational activities and waste discharges into the water. Mallorca is a popular tourist destination that enjoys many annual visitors.
"This marine enclave is impacted by port activities, water discharge and tourism," Silvia Díaz Cruz, co-author of the study, tells The Guardian. "Since the Mediterranean Sea is shallow, small and very enclosed, concentrations of UV-absorbing chemicals can reach high [levels]."
Whether the accumulation of contaminants causes further harm to seagrass remains unknown. If it does, this discovery could have broader implications for an ocean ecosystem that provides critical habitat and foraging grounds for marine life, strengthens coastal areas against erosion and storm damage, and sequesters carbon.
During the study, which was published in Marine Pollution Bulletin, varying concentrations of sunscreen components, including oxybenzone, avobenzone 4-methyl, benzylidene camphor, benzophenone-4 and methyl parabens, were found in the seagrass stems.
Previous research found that certain UV-filtering sunscreen chemicals can harm fish, turtles and dolphins. The chemicals disrupt their reproductive systems and their development. For animals that live in and feed on seagrasses, exposure to more of these contaminants could have serious effects on their health and survival.
These same chemicals also damage coral reefs by interfering with coral recruits during their free-swimming phase. Some tourist destinations, including Hawaii, Key West and Palau, have banned certain sunscreen chemicals because of their harmful effect on coral reefs. Mediterranean countries have yet to introduce similar legislation.
The researchers advocated for further research on the effects of UV-filtering chemicals in seagrass meadows. "If we find which sunscreen components are harmful for seagrasses, then we should better regulate and provide alternatives to protect the beach-goers and also the seagrasses," co-author Nona Agawin says.
---