San Pablo: A Colorful Wreck Dive off Pensacola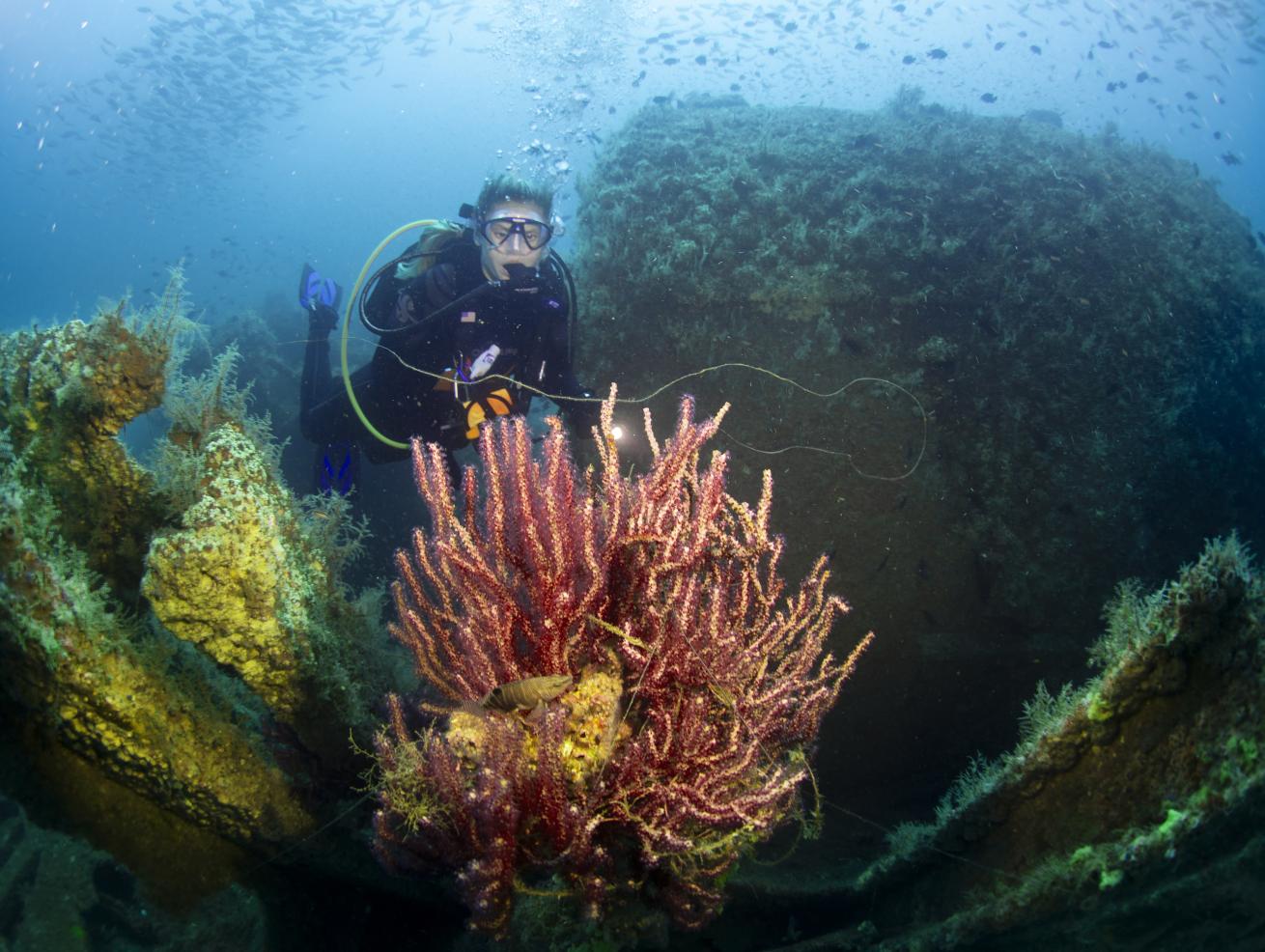 San Pablo's preserved condition and fascinating artifacts make it a must-see for anyone interested in diving or maritime history.

David Benz
There's an armada of wrecks found in the Gulf of Mexico, including 20 that are part of the Florida Panhandle Shipwreck Trail, but the S.S. San Pablo, located 9 miles off Pensacola, is one of the most captivating, both for its virtues as a dive site and its fascinating history.
San Pablo is not special for its enormous size or remarkable features. Although it was a decent size when it was a working cargo ship — a 315-foot steel-hulled vessel with three decks — what is left of the ship is mostly mangled metal. But what San Pablo lacks in awe-inspiring size it more than makes up for in diverse marine life and colorful history. Though it was completely destroyed in 1944 in a top-secret U.S. military operation, today, San Pablo is a lively artificial reef that is a magnet for all manner of sea creatures. It is a wonderful introduction to Pensacola wreck diving.
When San Pablo exploded off Pensacola's coast, rumors flew among the local residents, who dubbed the wreck the "Russian Freighter" (a name that you'll still hear). Franklin Price, a maritime archaeologist who manages Florida's Underwater Archaeological Preserve program, says that the ship was towed to the United States and blown up during a top-secret government mission. The facts only became known in recent years when documents related to its sinking were declassified. It turns out, the ship's real history is as intriguing as its imagined one.
Launched in 1915 from Belfast, Ireland, San Pablo mainly shipped fruit between Caribbean ports prior to World War II. During the war, San Pablo became a target for German submarines that were intent on disrupting commerce worldwide. In May 1942, a U-boat intercepted and fired on San Pablo near the Yucatan Channel. The crew of the unarmed merchant vessel frantically maneuvered in an attempt to outrun the submarine. Finally, the Key West command center bluffed the Germans by radioing that air support was on the way. When the U-boat submerged, the San Pablo made it to safety in Puerto Limon, Costa Rica. The ship wasn't safe for long, however. While discharging cargo at the pier in Port Limon, two torpedoes struck the ship in its #1 and #2 holds. San Pablo flooded immediately and sank to the bottom with only its superstructure and masts above water.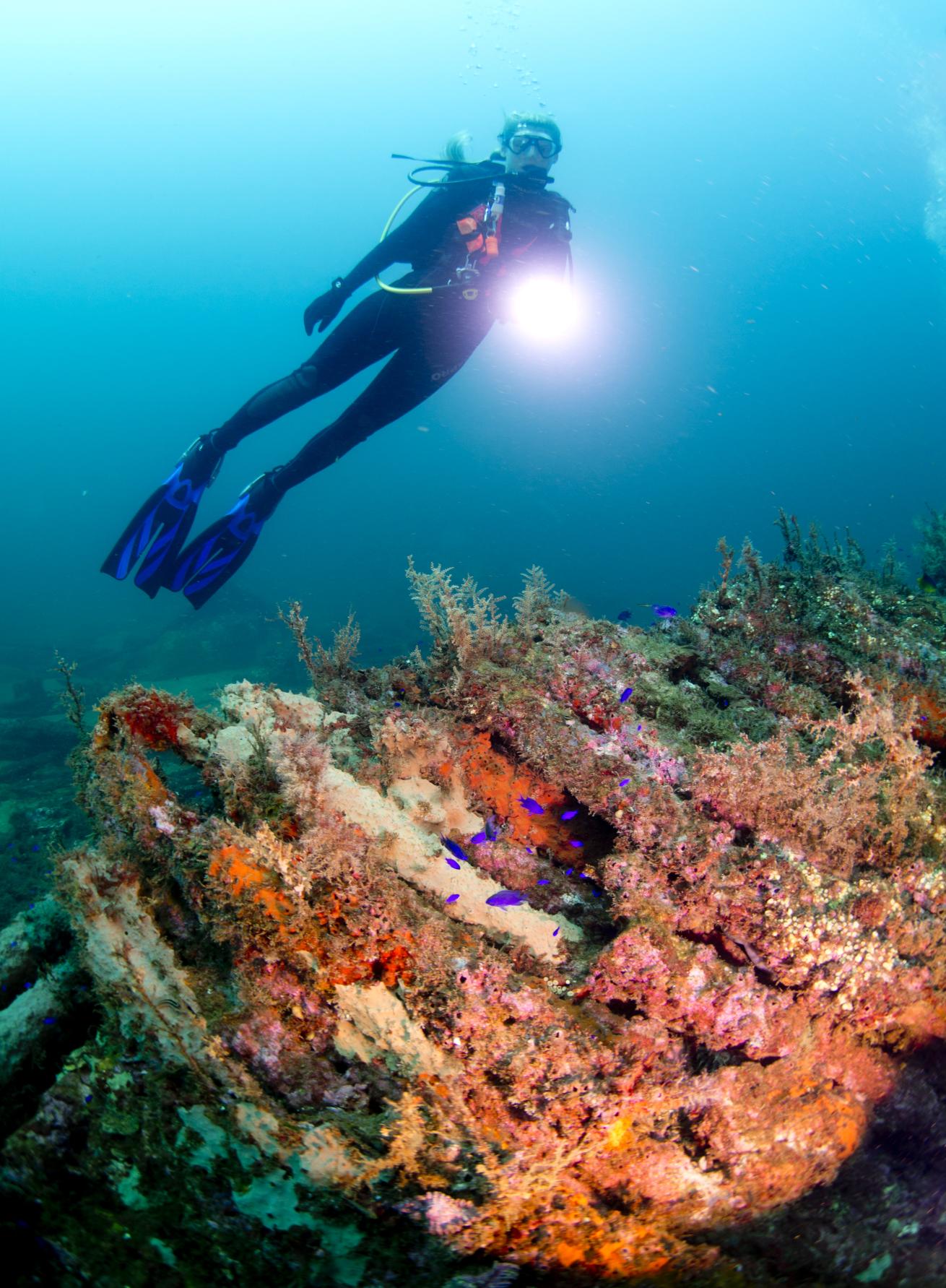 The San Pablo wreck in Pensacola is a fascinating piece of history and a popular destination for divers and history enthusiasts alike.

David Benz
In March 1943, the ship was raised and towed to Tampa, Florida, for repairs, but the War Shipping Administration declared the San Pablo a total loss, and in December 1943, It was towed to Panama City, slated to be used as a target ship for a secret operation conducted by the Office of Strategic Services (OSS), the U.S. intelligence agency during World War II, and the Army Air Corps. The OSS was testing a remote-control speedboat, code-named "Campbell," that was packed with 14 depth bombs filled with 3,846 pounds of torpex, a powerful explosive. Campbell was disguised as a civilian fishing boat — complete with engine noise and exhaust smoke that mimicked the real thing — so that it could sneak by enemy defenses undetected. It even had a mannequin designed to look like a fishing boat captain at its helm. Campbell was controlled by a B-17 bomber crew using radio and a new-fangled technology called "television." The August 1944 mission was a success; San Pablo sank in two minutes.
With a scintillating history like that, who wouldn't love diving San Pablo? Though the wreck is not intact, you'll see evidence of its past history — the refrigeration coils from when it carried loads of bananas are still identifiable, and the scattered pieces of twisted metal are a testament to what nearly 4,000 pounds of explosives can do. Sitting on the sandy bottom in roughly 85 feet of water, San Pablo is an irresistible magnet for fish and the substrate for profuse marine growth. Bigger fish like red snapper, amberjack and Goliath grouper are found on nearly every dive (it's a favorite site for avid spearfishermen), and sandbar sharks occasionally cruise by in search of hard-shelled mollusks. Swirling clouds of baitfish ripple around the boilers and stern section, and everywhere you look is a riot of color — red and yellow sponges, corals and hydroids take up nearly every inch of real estate on the remains. Divers can dip in and out of the places where explosives ripped the boat apart, where macro critters such as arrow crabs have set up housekeeping on the crumpled metal fragments. Look in the rubbly sand to spot bottom-dwelling, large-mouthed Gulf toadfish. Visibility is usually reliable, and underwater photographers and videographers will have plenty of opportunities to use their cameras.
Every dive is different, but one thing's a guarantee: The diversity of life on San Pablo is a constant, and you will never be disappointed by this phenomenal artificial reef habitat.
If you're here on vacation, there's lots more to do than wreck diving. Pensacola Beach and Perdido Key are home to Gulf Islands National Seashore, the longest stretch of federally protected seashore in the United States. All the rivers, bayous and bays provide many diverse ecosystems and coastal habitats to explore. Downtown Pensacola boasts a diverse and fun cultural experience. Visit Pensacola, to dive the San Pablo, but don't miss discovering the area's historic and charming attractions, sugary-white sand beaches, outdoor and family adventure, coastal cuisine, unique shopping, and of course, amazing wreck diving.