Scientists Are Saving Ancient Cave Art From Rising Sea Levels—And You Can Tour The Submerged Cavern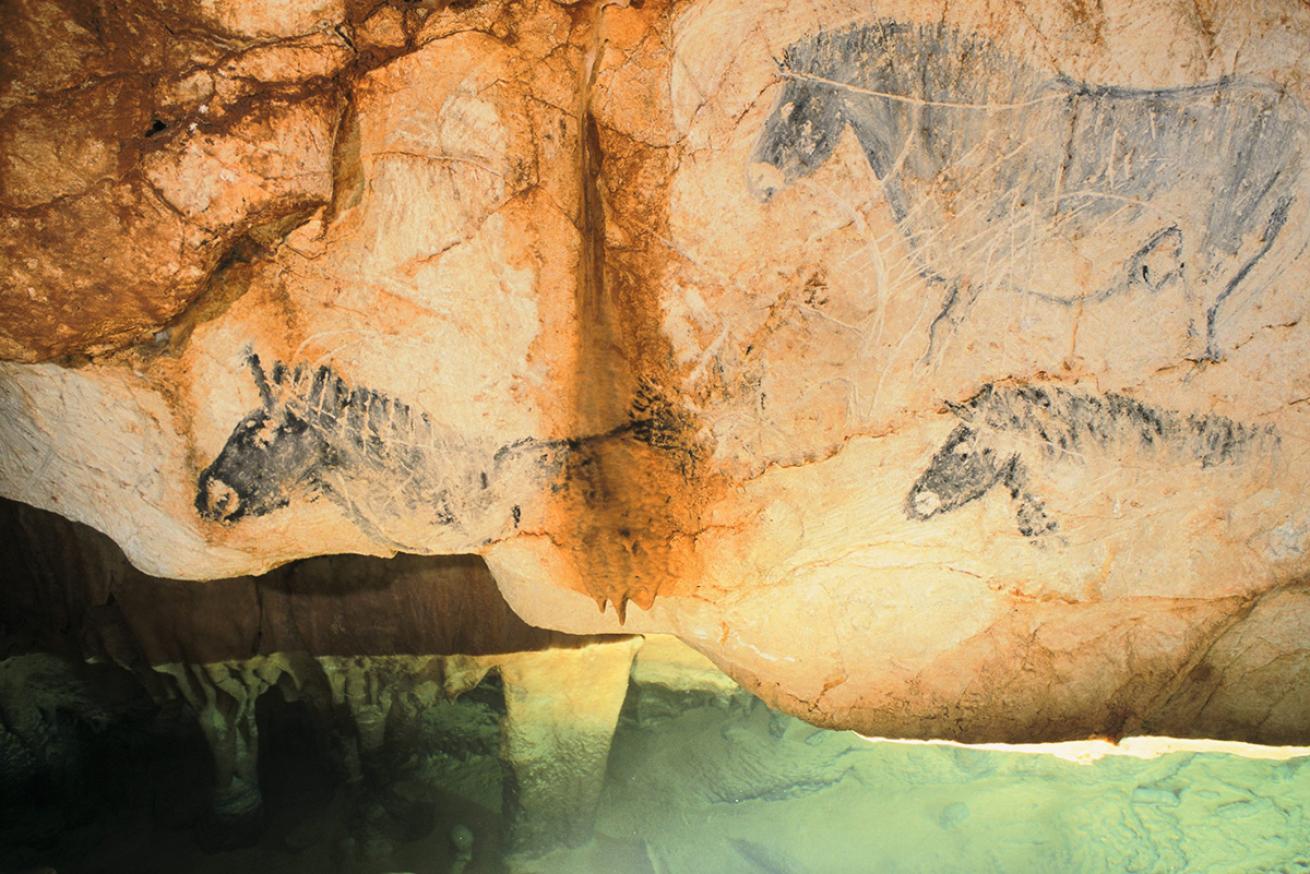 Water swallowed the cavern entrance an estimated 9,000 years ago, and its continued rise will one day destroy the drawings.

Cosquer Méditerranée
Archeologists are racing to preserve the world's only cave paintings of prehistoric marine life from the ravages of rising seas and plastic pollution.
Six hundred signs, images and carvings decorate the walls of France's Cosquer cavern, including aquatic life never before seen in neolithic art. Sixty-nine red or black handprints grace the walls along with 13 different species of wildlife, including horses, deer, bison, ibex, prehistoric cows, seals, penguins, fish and a cat.
The "sheer density" of the graphics puts "Cosquer among the four biggest cave art sites in the world," says diver-archeologist Luc Vanrell.
Some of these images have already been lost to the sea. To reach the cavern today, one must dive to the depths of the Mediterranean and navigate a 450-foot tunnel with a submerged entrance before clambering into the roughly 26,900 square-foot cave. When used in prehistoric times 33,000 to 18,500 years ago, the sea was more than 440 feet lower than today, says archeologist Michael Olive, and the dry entrance sat more than six miles from the coast.
The sea overcame it as the climate shifted across millennia. Professional deep-sea diver Henri Cosquer unintentionally discovered his namesake cave in 1985 and revealed the discovery in 1991. Since then, archeological research missions have studied the site and taken inventory of its Stone Age art.

Cosquer Méditerranée opened in Marseille in June of 2022.

Cosquer Méditerranée/Eiffage Thierry Lavernos
In 2011, a sudden 5-inch rise in local sea levels irreparably damaged key images, putting Vanrell and his colleagues on alert. "It was a catastrophe, and it really shook us psychologically," he says.
More of the art erodes every year with annual increases in the high water mark.
"The sea rises and falls in the cavity with variations in climate, washing the walls and leeching out soil and materials that are rich in information," says geologist Stephanie Touron. And "all the data shows that the sea level is rising faster and faster."
Microplastic pollution in the water exacerbates the damage to the irreplaceable paintings.
Now, the diver-scientists are racing against time and nature to record the unique site. The team is digitally mapping the entire grotto and has created an almost life-sized 3D reconstruction.
"We fantasized about bringing the cave to the surface," said diver Bertrand Chazaly, who leads digitization efforts. "When it is finished, our virtual Cosquer cavern—which is accurate to within millimeters—will be indispensable for researchers and archaeologists who will not be able to physically get inside."
The $24-million 3D replica, Cosquer Méditerranée, includes copies of all paintings and 90% of the carvings. It opened in mid-June in nearby Marseille. Children six years old and younger are free and audio guides are available in six languages.
---