Scuba Diving with a Million Sardines in the Philippines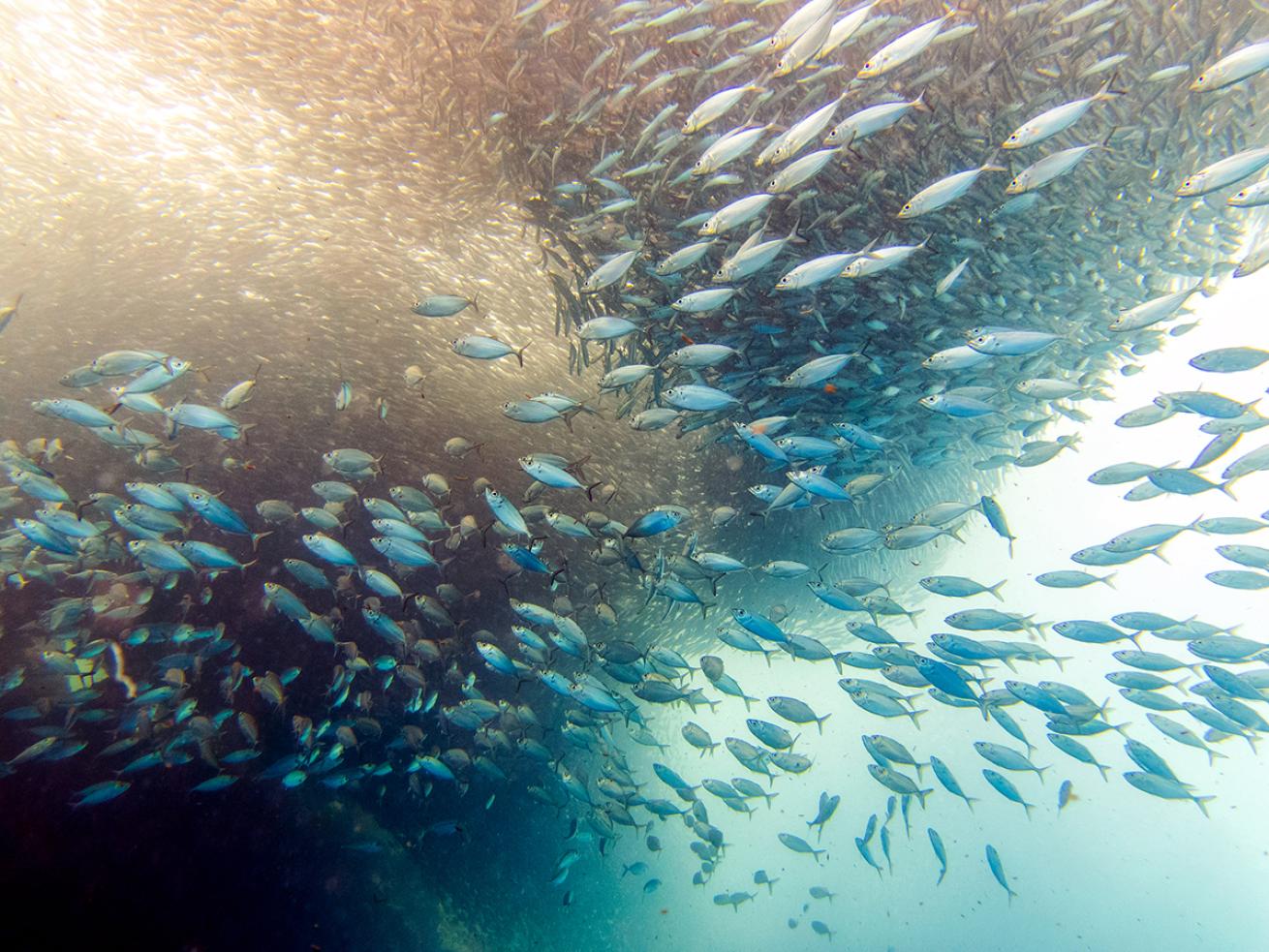 Unlike the South African sardine run, there's no need to chase this encounter — it can be a shore dive!

Shutterstock.com/Mr. James Kelley
It was an overcast weekday in June, the beginning of the rainy season, when we slowly crunched across the sand off Panagsama Beach, weighed down with our scuba gear, in search of sardines. We drifted in the choppy waters for a few minutes before descending into the deep blue water. Less than 100 feet offshore, the reef dropped, reaching beyond 260 feet in some places.
The sardine run off the coast of the sandy Panagsama Beach in Moalboal, Cebu Island, is a bucket list experience constantly drawing divers to the Philippines. While the sardines of South African fame follow a migratory path between May and July, millions of tiny, sparkling sardines dance near-daily here. It is still a mystery why they frequent the waters of Moalboal, or why they briefly disappear for a day every now and then.
I had expected to wait a bit until we faced the spectacle, imagining that we'd explore the colorful reef first to observe other marine life before finding the mainstage. Yet it was only mere minutes before the glittering shoal of silver emerged from the dark blue, moving together. The streamlined school of sardines created different shapes in unison as if they were performing, first taking form as a huge, steel-colored ball before transforming into a thick, oval tube swarming through the water like a ginormous snake.
With the flecks of grey moving together freely against the looming reef wall, I felt as if I had been dropped into the ocean far, far away from any other humans.
Fascinated, I swam towards the flickering form as quickly as I could to immerse myself in the center. The sardines were too reactive for me, and my unwelcome self-introduction broke the clique in two. I felt a strange pride that I could influence such a cohesive and unified team.
When we were finally willing to tear our eyes away from the gleaming ball, we navigated closer to the vibrant colors of the reef wall. It turns out millions of sardines weren't the only wonder of Panagsama. Our eyes revelled in the vivid likes of sea anemones, colonies of orange and white clownfish, batfish and damselfish. Rumor has it that the yellow-lipped sea krait, a venomous snake known to deliver more than twelve times the venom needed to kill a human, frequents the reef too.
Among these more flamboyant neighbors, a single sardine would be unremarkable. But when you witness them together, working as one shimmering entity — unremarkable steals the show.
Need to Know
When to Go
The Philippines diving season is year-round, and so are Moalboal's sardines, but the dry season runs from January to April.
How to Get There
You can catch a flight to Cebu (CEB) from Manila (MNL) daily. Take a bus or taxi from the airport, or work with your dive resort to arrange transportation, the remaining 56 miles to Moalboal. "If you are traveling from Dumaguete take a tricycle to Sibulan port for the ferry to Cebu and continue from there," advises PADI.
Conditions
Cebu is warm water diving, with an average temperature around 84 degrees. Viz hovers between 40 and 66 feet.
Operators
PADI maintains an updated list of dive shops in Moalboal.
Where to Stay
Here are some great dive resorts in Moalboal.
---