Scuba Diving with Ontario's Freshwater Bugs and Beasts
As an adventurous girl born and raised in Northern Ontario, many thought it strange that I turned to marine biology and scuba diving as a career path. Yet, when you learn that most of my childhood summers were spent by the lake pretending I was a fish, it suddenly becomes understandable. Water, and everything in it, have become one of my biggest passions.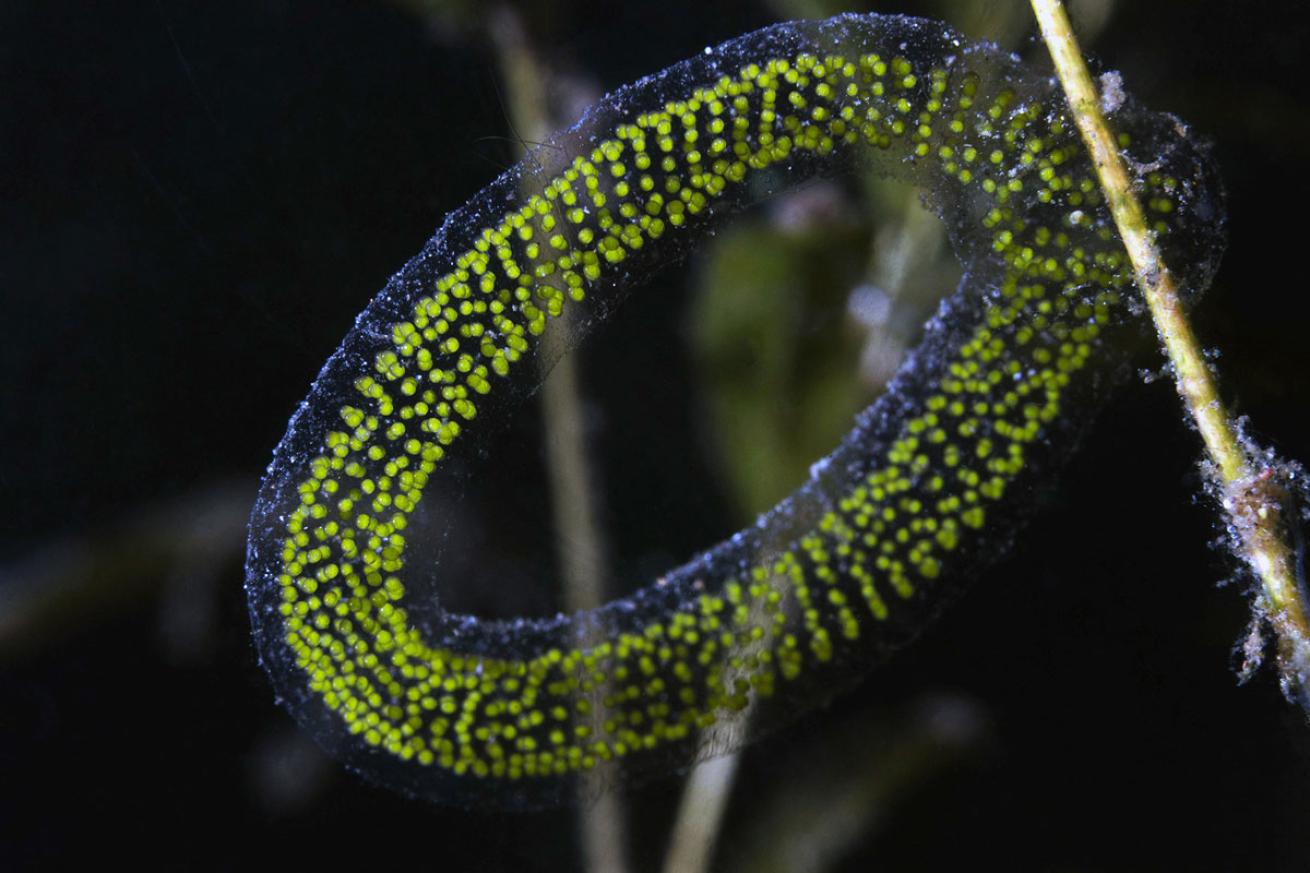 A translucent ring of non-biting midge or caddisfly eggs.

Alisha Postma
For many, scuba diving is about the big things — the adrenaline pumping megafauna or the jaw-dropping shipwrecks. Others fawn over intricately detailed rainbow-colored reefs flourishing with life. For a lake diving alumni like me, it's about the small things — the unsung diamonds in the rough. The bugs, beasts and macro critters that often go unnoticed and at times are no bigger than a sewing thimble are the critters that excite me.
My home province of Ontario is dubbed as the freshwater gem of Canada, and with good reason. Having the world-famous Great Lakes in the south and hundreds of thousands of lakes and rivers peppered everywhere in-between, this slice of Canada boasts a world of water and wonder. After several years abroad, my husband and I have recently returned home, giving ourselves the opportunity to become reacquainted with an unfounded love for freshwater and all it's encompassing minuscule life.
Water Mites in the Mattawa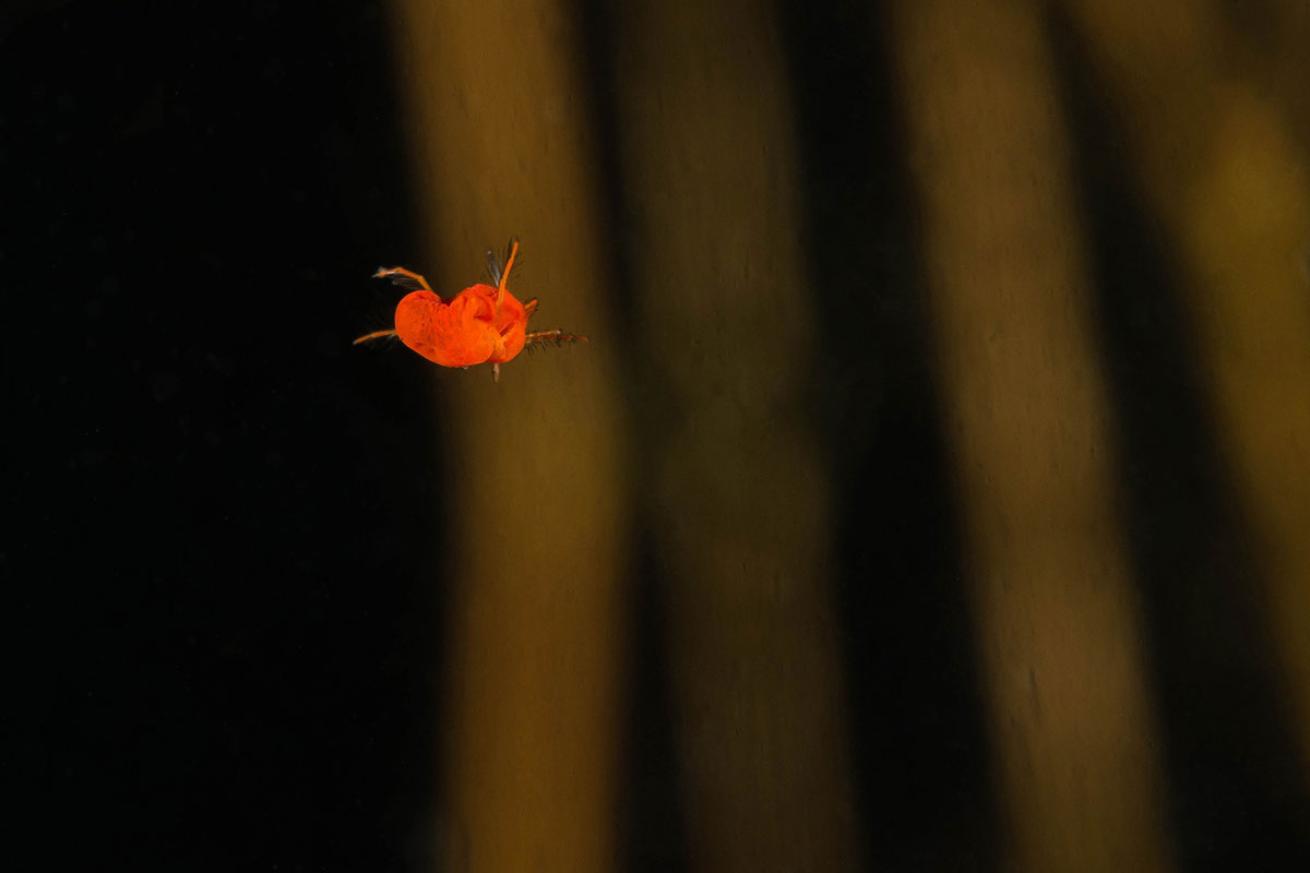 A water mite swimming near the Talon Chutes.

Alisha Postma
Talon Chutes is a dam, waterfall and historic site on the Mattawa River accessible by boat or on foot. Exhibiting rugged cliffs plunging down into 30 feet of dark, tea-colored water, this site is popular for swimming and cliff jumping in the summer months. Scuba diving this oasis afforded me my first glimpse at an intriguing bug buzzing about the muddy benthos.
Smaller than a grain of rice and sporting colorful and striking patterns, water mites (Hydrachnidia sp.) are a highly diverse group of arthropods that bejewel just about every freshwater ecosystem on the planet. Although many are poorly studied, water mites not only play a critical role in the ecosystems they inhabit, but their presence or absence is one of the best indicators of water quality (University of Arkansas, 2015). In North America alone, there are an estimated 1500 different species.
Feasting my eyes on this itty-bitty critter, the bug's neon-orange pigmentation was a sharp contrast against the river's brown and green hues. The closer I focused on the mite, the more entranced I became. I watched as it's oval-shaped body pirouetted from one vegetation sprig to another, using its legs equipped with fibrous strands of hair to travel through the water. This little beast seemed to move with no rhyme or reason.
In the spirit of minimizing my dive buddy's impatience, I limited myself to examining the water mite for 15 minutes. But the reality is, I could have planted myself on the bottom and stayed there all day.
Finding Mayfly Larvae in Killbear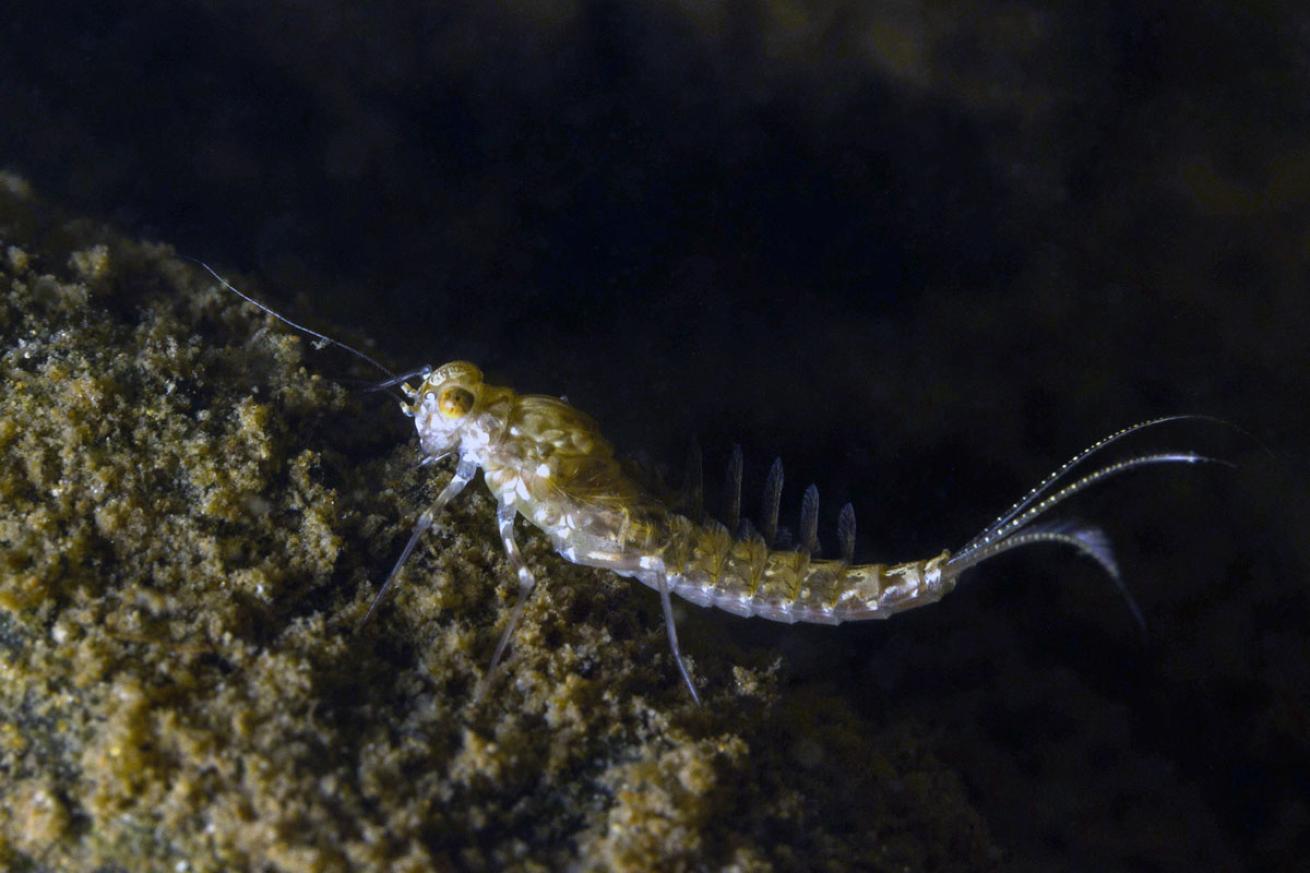 A creepy-crawling mayfly nymph on the murky bottom of Killbear Provincial Park.

Alisha Postma
Killbear Provincial Park is a small peninsula within the larger more significant Georgian Bay World Biosphere Reserve — an internationally recognized segment of land stretching from Severn River to the French River. The park, as a whole, is considered ecologically significant due to its varied shoreline and diverse habitats. Harold Point beach is a rocky escarpment, in the confines of Killbear, where Joey, and I stumbled across our next fascinating creepy crawler.
Scouring the sunkissed shallows of Harold Point beach, I spied a lone mayfly nymph. Mayflies (Ephemeroptera sp.) are a common insect in Killbear and throughout the rest of the province. During Ontario's summer months, nymphs emerge from the water as adults, live for two days where they swarm, mate and die near lake and river sides. Many are familiar with these winged beasts, thanks to their live fast, die young lifestyle. I have come to know these bugs as an important food source for many species of freshwater fish.
The slender bug was perched on top of the soft sediment bottom and seemed to be waving its three-pronged tail. Gazing closely at the nymph's segmented body, I was able to discern glossy orange compound eyes and feathery, semi-translucent gills running between its legs and tail. Looking at this creature, it was hard to imagine something so seemingly unsuspecting, having the ability to transition from water to life on land.
Temagami's Vibrant Wetlands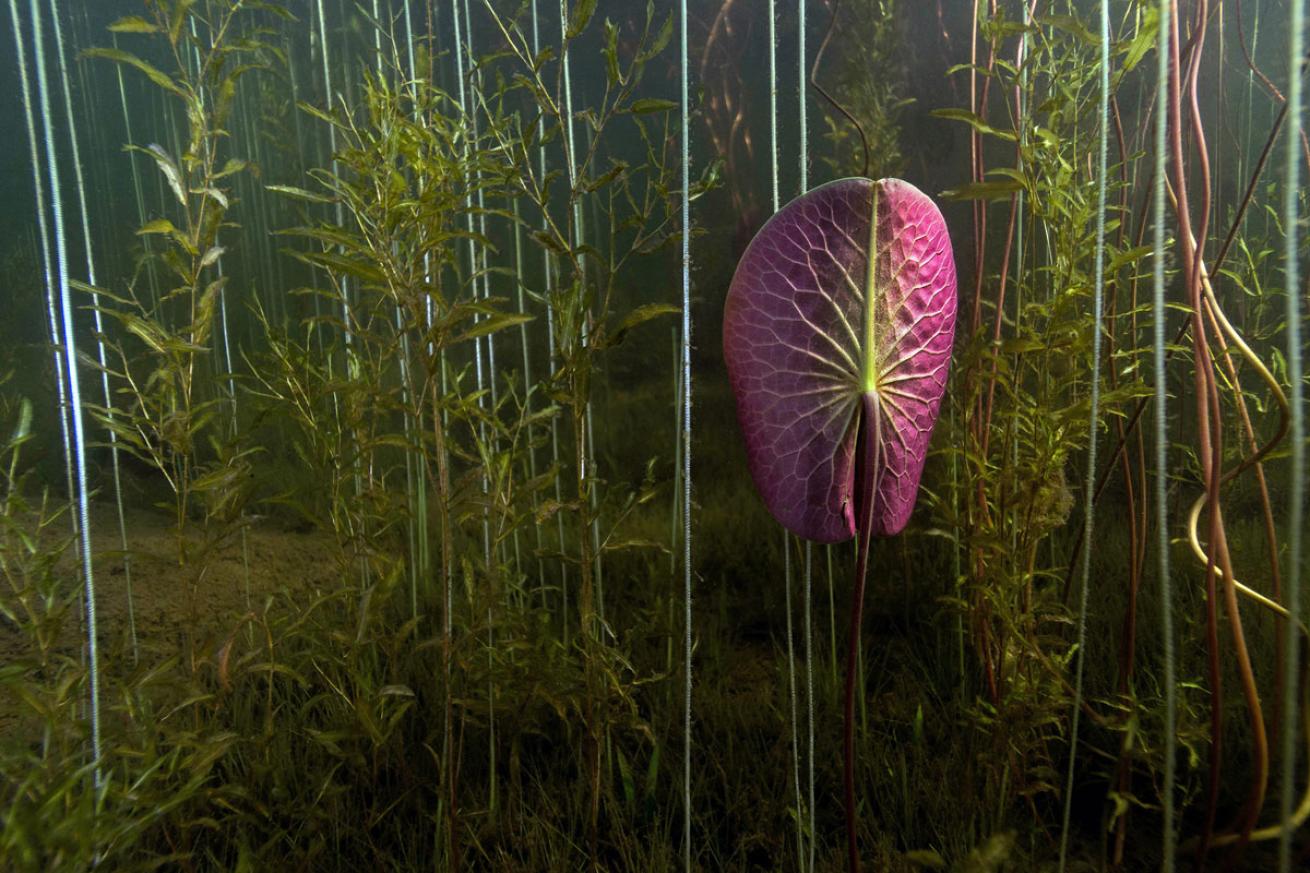 A pink lily pad amid the jungle wetland of Temagami.

Alisha Postma
Acting as the gateway between the south and Ontario's northern mecca, the township of Temagami is a robust expanse of wilderness characterized by canoeing, camping and fishing. Over 200 lakes are found within the municipality, straddling two distinct watersheds — The Ottawa River and Great Lake basin. Of the many waterways that fuel this region, Lake Temagami is the largest, sprawling 28 miles north to south and 22 miles east to west.
Scuba diving in Temagami exposed me to a mixture of different ecosystems, the highlight being the lake's swampy wetlands and specialized wildlife communities. Wetlands are flowery gardens of productivity providing a myriad of ecological and economical services to our planet. From bogs to marshes, wetlands are some of the most diverse environments on the planet supporting plant, bacteria and animal life (2017, Ontario Nature).
I drew my first breath as my mask submerged below the Temagami water line. Immediately, the rich green jungle of plant life surrounded me. Looking through this underwater rainforest, it became abundantly clear why wetlands are critical ecosystems for filtration, nutrient cycling and so much more. This place was a beehive of activity. The stems of pond lilies (Nymphaea sp. & Nuphar sp.) protruded from the mud bottom, framed by clusters of pondweed (Potamogeton sp.). Stuck to the weeds were several gelatinous rings of non-biting midges eggs (Chironomidae sp.). At the surface, lilly pads created a canopy-like effect. And everywhere I turned my mask small things seemed to thrive.
Dull and dismal lake diving you say? Every time I hit the water in Ontario, I am constantly reminded that good things come in small packages. While it's understandable that most divers find freshwater diving to lack dramatic flair, to each their own. For the untrained eye, bugs, beasts and other mundane creatures often get missed, but to me, there is so much more to be seen in this seemingly barren landscape.