Scuba Diving With the Sharks of Mexico's Baja Peninsula
You never know what you'll encounter
Any scuba diver looking for serious shark action should set his or her sights squarely on the Eastern Pacific waters around Mexico's Baja Peninsula. From practically guaranteed cage-diving encounters with great whites to open-ocean free-for-alls with hammerhead and Galapagos sharks, there are few places in the world with the same species diversity and sheer number of these apex predators.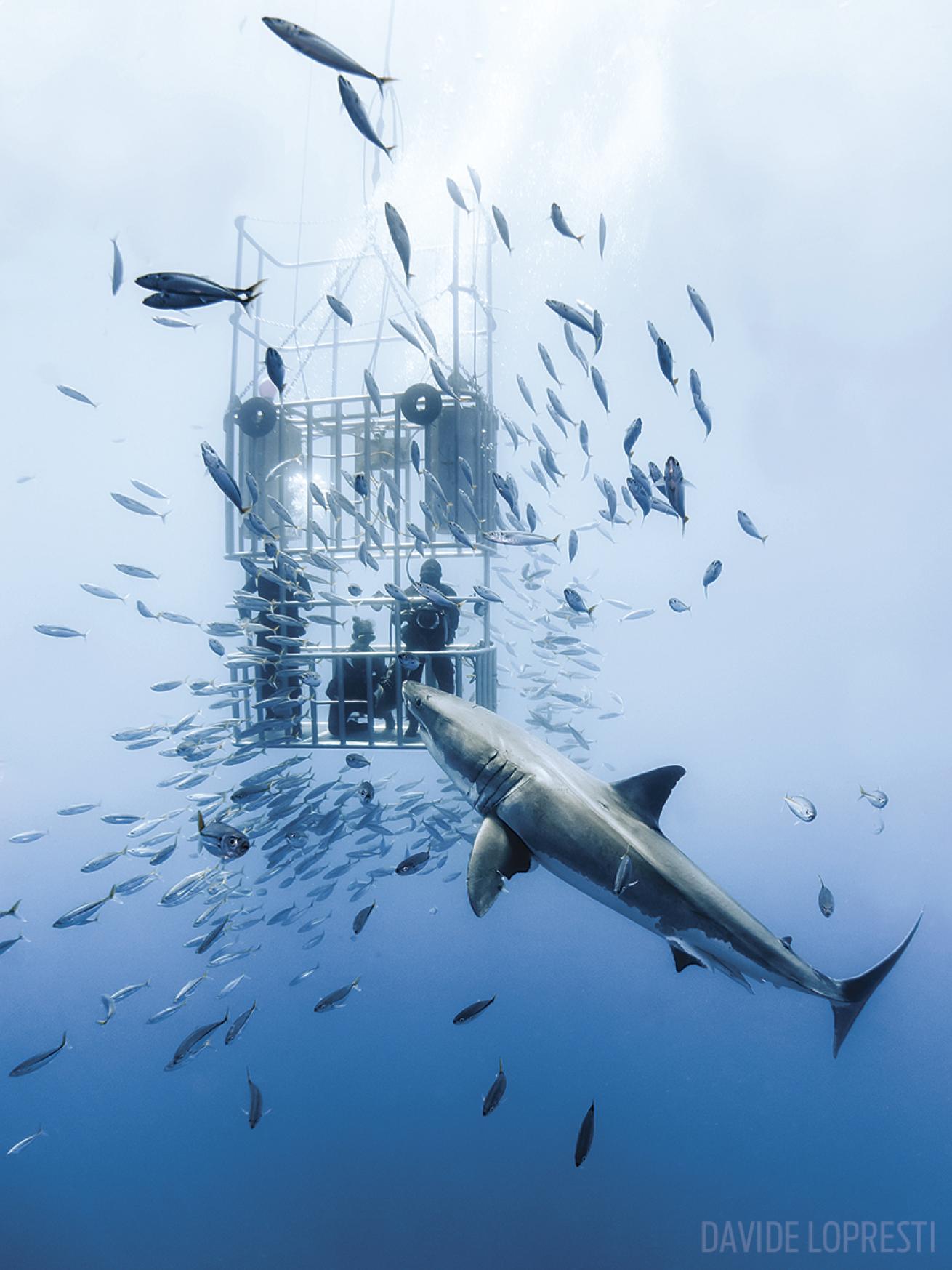 Isla Guadalupe is one of the world's best destinations for shark-cage diving

Davide Lopresti
There are only a handful of hot spots where divers can find reliable encounters with great white sharks, and Isla Guadalupe is arguably one of the best. This small, uninhabited island southwest of Ensenada is a mating ground for great whites from all over the Pacific. That means the sharks come looking for partners rather than food, so the encounters are more sedate than in Australia or South Africa.
You might see fewer teeth at Guadalupe, but the clear blue water — with visibility topping 100 feet — means you'll see lots of sharks. The diving at Guadalupe is done in cages, but not the usual kind that float at the surface. Operators lower the cages to around 30 feet deep, where the sharks spend most of their time. There's no chum or feeding allowed, so the encounters are natural, with curious sharks calmly cruising by to check out the divers.
Another legendary shark spot in western Mexico is the Socorro Islands, about 250 miles south of Cabo San Lucas. This remote chain of volcanic seamounts is uninhabited by people, but underwater, it's a metropolis of marine life. Divers regularly see a wide variety of sharks — including hammerheads, silky sharks, Galapagos sharks, silvertips, whitetips, tigers and even whale sharks — and have frequent encounters with mantas, dolphins, humpback whales and much more.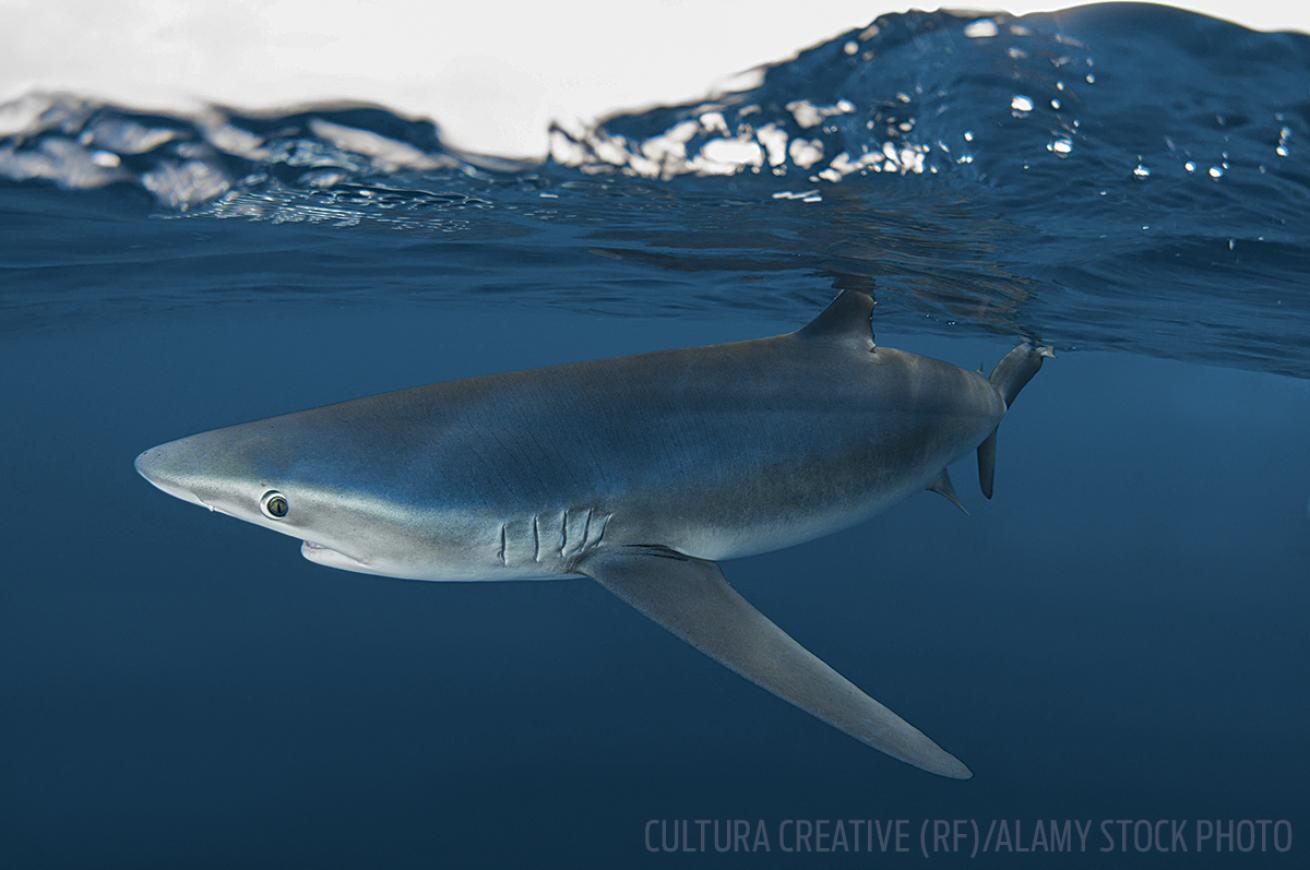 Blue beauty: Prionace glauca can be found in Cabo San Lucas waters.

Cultura Creative (RF)/Alamy Stock Photo
Because of their remote, open-ocean location, the Socorros can be visited only by liveaboard, and it takes a full 24 hours to get there from Cabo San Lucas. Once you arrive, you're rewarded with pelagic shark action unlike anywhere else. Roca Partida, a solitary pinnacle rising from the depths, is one of the best spots for rare bluewater encounters with species like oceanic whitetips.
If you want to do some Eastern Pacific shark diving but don't have the time or inclination for a liveaboard trip, try the nearshore waters around Cabo San Lucas. Los Cabos is where the Sea of Cortez and the Pacific Ocean converge, and it's a uniquely rich marine ecosystem, where divers and snorkelers can potentially encounter blue and mako sharks, as well as the occasional hammerhead and whale shark.
FAST FACTS
SPECIES
Great white, hammerhead, silky, galapagos, tiger, oceanic whitetip, and whale sharks are found in this region.
SHARK SIZE
Sizes range from 3-foot whitetips to 40-foot whale sharks.
MIGRATION PATTERNS
Great whites tagged at Guadalupe have been tracked as far as Hawaii; females seem to visit Guadalupe every two years to mate, birthing their young off Baja in the off years.