Kemit-Amon Lewis Awarded for Coral Restoration in St. Croix, USVI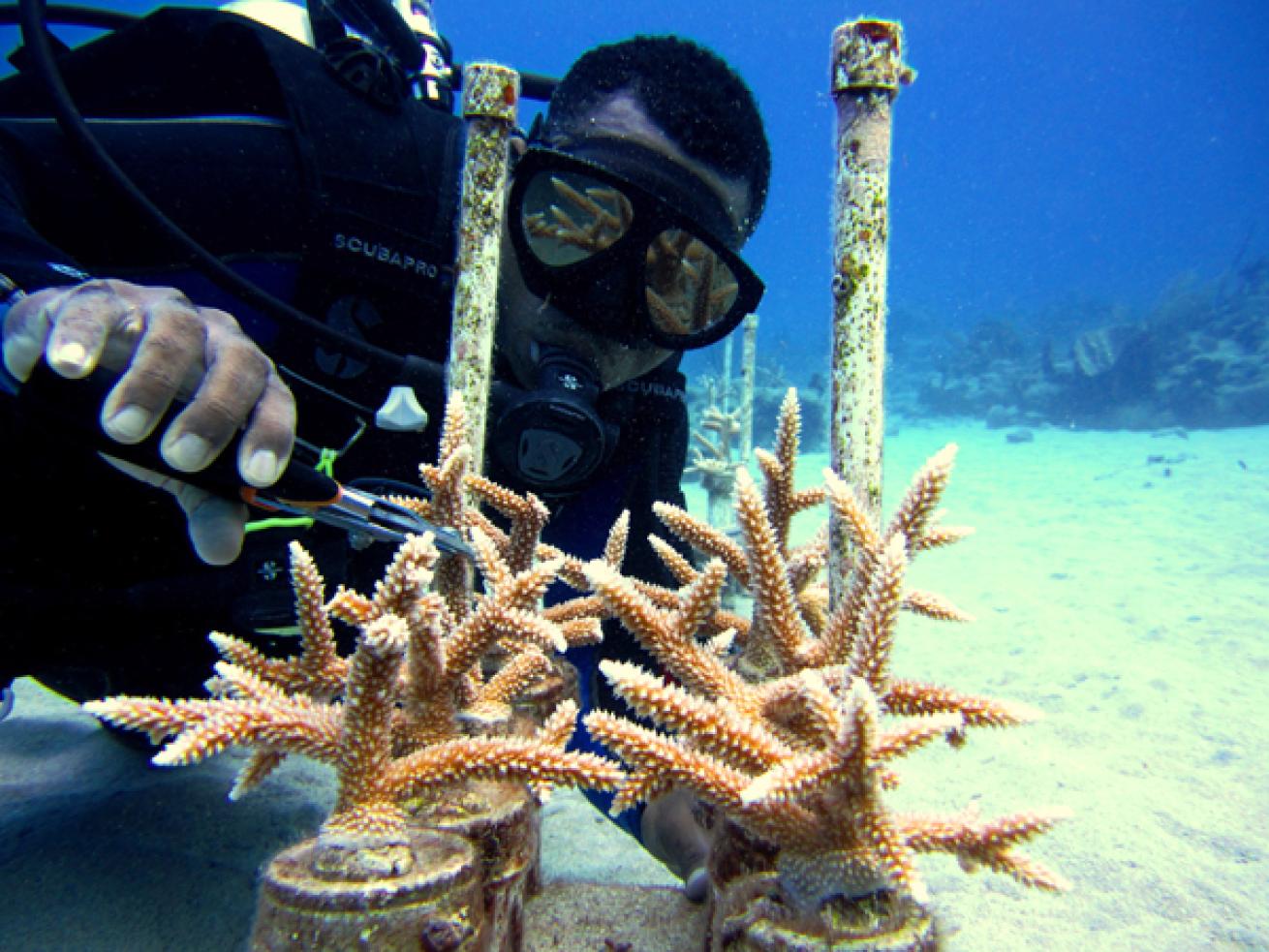 Kemit-Amon Lewis is working with coral nurseries to increase genetic biodiversity and resilience in reefs.

Courtesy Kemit-Amon Lewis
St. Croix-native Kemit-Amon Lewis has grown his life-long passion for his native waters into local conservation that's producing measurable positive change.
Why coral restoration?
"I had collaborated with NOAA's Coral Reef Restoration Team on reefs impacted by vessel groundings — using coral nurseries to restore reefs hadn't been done in the USVI before the Nature Conservancy received funding from NOAA. I saw the opportunity as a proactive way to con- serve coral reefs, a true feel-good project."
Tell us how it's working.
"More than three years into the project we are observing relatively high nursery survivorship, considering that we collect only elkhorn and staghorn corals broken by natural processes. We are also observing high survivorship and growth rates of nursery-grown corals transplanted to natural reefs, most likely a result of the process we used to determine suitable sites."
What do you hope for?
"That our transplanted corals will enhance elkhorn and staghorn reefs that are beginning to make natural recoveries; that our efforts will help to increase genetic diversity and build resilience; and that our corals will mature, reproduce, and help to seed other reefs throughout the U.S. Virgin Islands."
How can divers help?
"We are working with PADI to develop a Coral Nursery and Restoration Specialty Course that will soon be available. Divers visiting Florida can volunteer with Coral Restoration Foundation."
What's next?
"It will take a few years to realize true success. Until then, we plan to continue to expand our nurseries and transplant corals yearly. The Nature Conservancy Caribbean Program is also sharing lessons learned with other Caribbean countries as they begin coral restoration projects."
---
Each SEA HERO featured in Scuba Diving will receive an Oris Diver's Date watch worth $1,595. At the end of the year, a panel of judges will select one overall winner who will receive a $5,000 cash award to further his or her work. Learn more about our 2011 and 2012 Sea Heroes, and find out how to nominate a Sea Hero, right here.