Six Dive Destinations to Get More Value for Your Money
Get more for your money — from unlimited shore diving to nonstop animal action at these six dive destinations.
Each year, we ask our readers to participate in our annual Readers Choice survey to determine the best dive destinations, resorts, operators and liveaboards. Nearly 5,000 readers provided feedback this year, which helped us to identify the value dive destinations below. View the complete 2020 Readers Choice Award rankings here.
MEXICO
Mobula rays at Mexico's Cabo Pulmo marine park.

David Valencia
For most divers, the Galapagos Islands are the stuff of bucket lists, not Facebook updates, thanks to a price tag of $8,000 and upward. Sure, it's definitely the trip of a lifetime, but might be just that: a once-per-lifetime event.
Enter the Revillagigedo Islands, also known to non-Spanish speakers as Socorro— the biggest island of the bunch. "I believe these islands are much better than the Galapagos, and much more reasonable, price-wise," says Dora Sandoval, owner of the *M/V Rocio del Mar* liveaboard, based in these islands 240 miles off the coast of Cabo San Lucas. Regular sightings include humpback whales—including babies—plus seven shark species, such as whale, hammerhead and tiger. Add to that list giant mantas. "The mantas love to feel your bubbles on their belly, so they hover above you," says Sandoval.
Little surpasses that high, save for looking a baby humpback in the eye. It's pure magic, affordable enough to go two times with a down payment toward a third trip, all for what one would have paid for a single Galapagos experience.
BAY ISLANDS, HONDURAS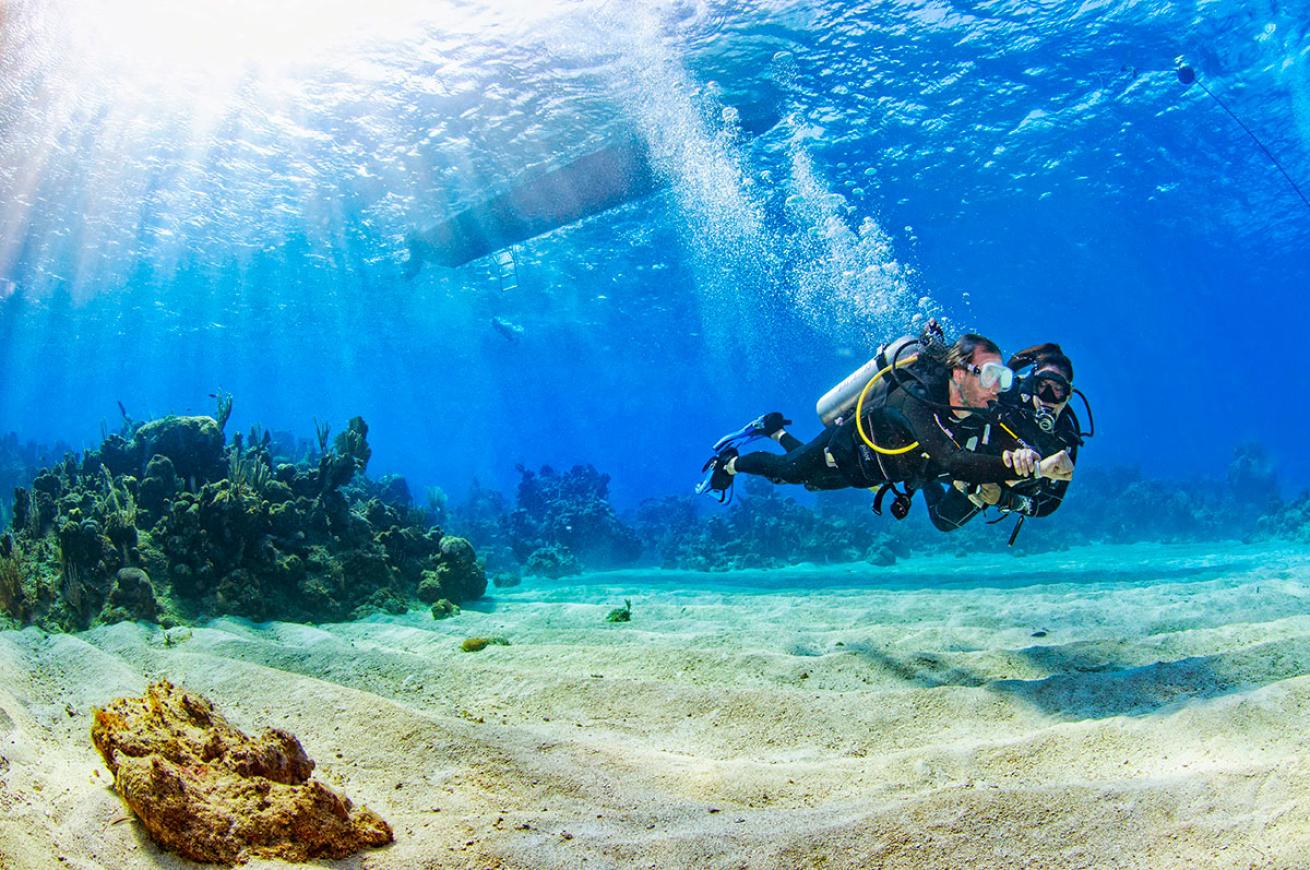 Sunny shallows off Roatan, Honduras.

Antonio Busiello
"You get incredible diving and an incredible amount of it," says Elizabeth Midkiff of the dive experience on the Honduran island of Roatan—especially if choosing a resort such as CoCo View or Anthony's Key with diving packages that include food, nonalcoholic drinks and entertainment. Midkiff is part of the team at CoCo View, located in the middle of the southern, leeward coast. Shore-diving options at this resort and a handful of others on the island offer divers even more value. From the beach, it's a four-minute walk to a dive platform, then a one-minute swim to the 140-foot Prince Albert tanker.
From there divers can head in either direction for a wall dive. Every CoCo View package includes two boat dives a day, unlimited shore dives, all meals, soft drinks, Wi-Fi, kayaking and paddleboarding, and a host of other extras.
"You get the whole resort experience, which includes staying in great oceanfront accommodations—and you know exactly what to budget for," says Midkiff.
PHILIPPINES
The Philippines stands out as one of the top underwater destinations for big creatures and macro life. You get two disparate experiences in one. "You can see everything from whale sharks and mantas to thresher sharks and schools of jacks or sardines," says Kevin Purdy with All Star Liveaboards, the fleet behind Stella Maris Explorer, which targets the Tubbataha Reef, Malapascua Island and the Visayas Islands. "On top of that, divers will likely encounter flamboyant cuttlefish, blue-ringed octopuses and nudibranchs," he says.
Perhaps best of all, the Philippines is an easy getaway for North American readers. Upon arrival, divers who choose Stella Maris Explorer enjoy a long list of inclusions: free nitrox, alcohol, rental gear and ground transfers.
FLORIDA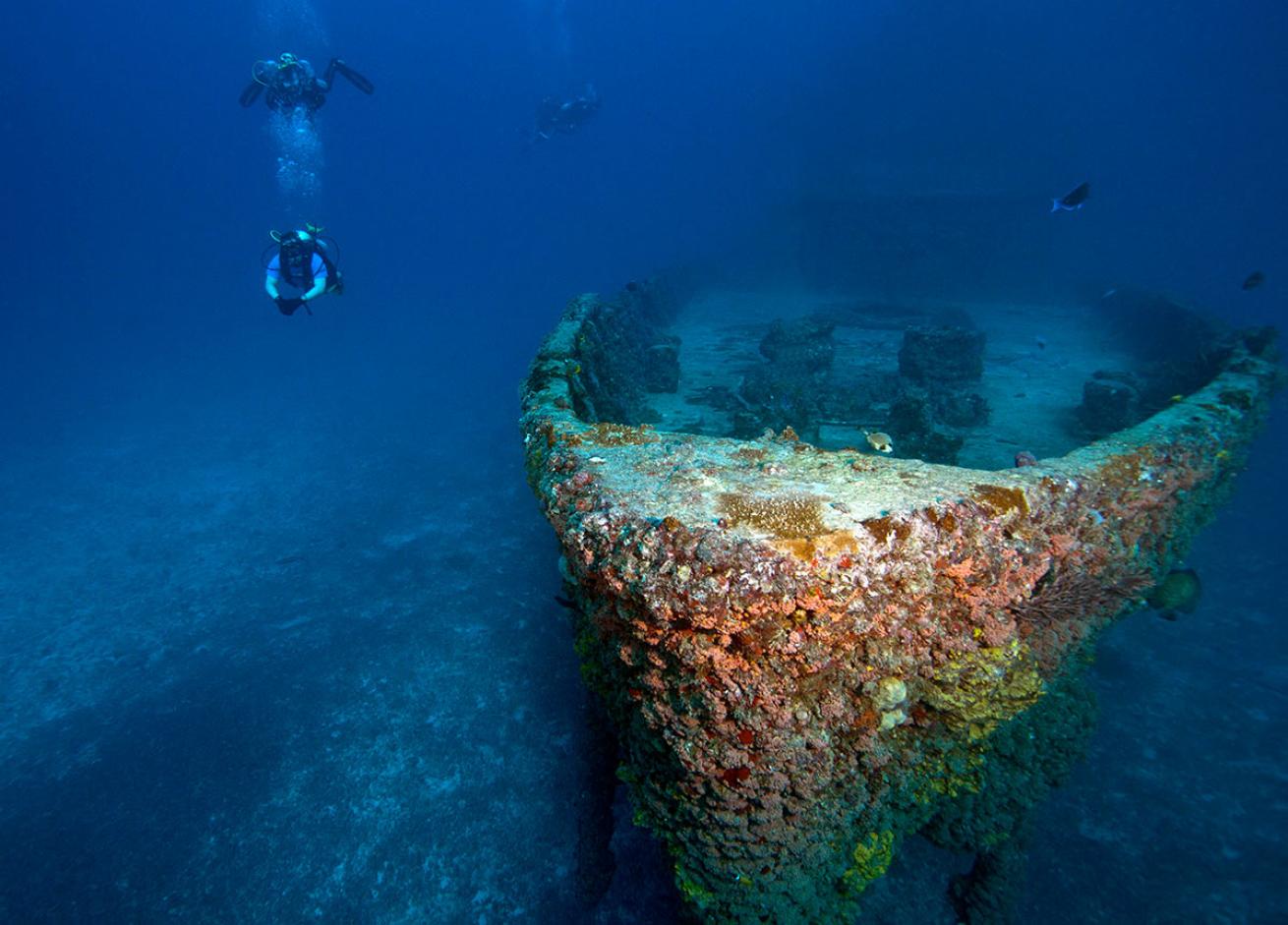 The coral-encrusted bow of the Duane in Key Largo.

Michel Labrecque
Reefs, swim-throughs and wrecks give divers visiting Key Largo plenty of variety to pack into a trip of any length. Wrecks such as the 510- foot USS Spiegel Grove and the coral-covered 327-foot USCGC Duane cater to divers looking to gain wreck experience and those certified to penetrate.
"If I had to pick a favorite wreck, it'd be the Spiegel because it has a lot more swim-throughs," says Neil Evans, course director at Key Largo's Rainbow Reef Dive Center. "The Duane is a top pick too—occasionally we see a lot of bull sharks circling it."
The Gulf Stream carries in surprises on most reef dives. "Out on Molasses Reef when I was guiding, I heard people dinging on their tanks, and I looked up in time to watch a 12-foot hammerhead go 1 foot right above me," Evans says. Yes, Key Largo is within driving range for many Americans, but it's not without exotic, warm-water perks—namely that eagle rays, green sea turtles and sharks can show up on any dive, on deep wrecks or on shallower reefs.
"We have sites, shallow or deep, for all levels," says Evans. "The diversity of the area allows you to do pretty much any kind of diving you want."
---
RED SEA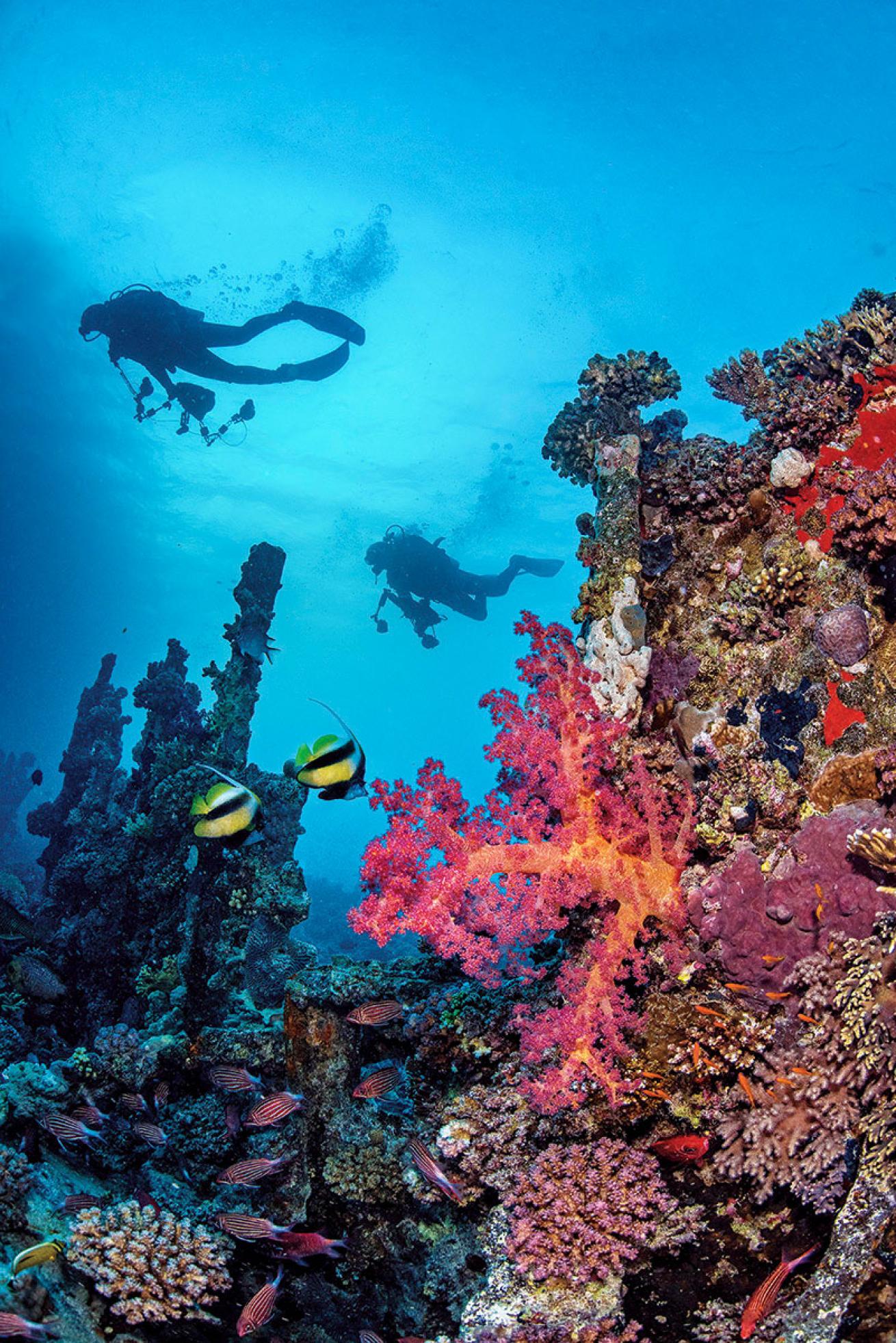 A lively coral reef in the Red Sea.

Brook Peterson
The big-animal action is nonstop in the Red Sea. "You go from a dive with oceanic whitetips to one with mantas to one with schools of hammerheads— all on the same trip," says Wayne Brown, whose Aggressor Adventures operates Red Sea Aggressor II out of Hurghada, Egypt, and Red Sea Aggressor III out of Port Ghalib, Egypt. The seamount Daedalus is a hotspot for hammerheads and mantas. At the Brothers, a pair of offshore islands, oceanic whitetips are seen on every dive. And, although it's not a big-animal encounter, the dive site known as Anemone City offers its own unique experience: thousands of anemones, each with an anemonefish keeping house.
---
THAILAND
Thailand is inexpensive to operate in," says Wayne Brown, whose Aggressor Adventures liveaboard fleet includes Thailand Aggressor, based in Phuket. That savings is passed on to every diver. Plus, Thailand offers many cultural experiences to the traveler who chooses to add a few days in Bangkok. From its floating markets to its temples, the Land of Smiles is known for its vibrant, welcoming culture. The diving can be summed up by Thailand's most iconic site, Richelieu Rock, known for mantas and whale sharks, and an explosion of colors, from purple soft corals to the pinks and oranges of the anthias hovering just above.