Six Great Dive Knives in 2022
ScubaLab tests a wide variety of asseccories, including dive bags, dive lights and dive knives. Each test is aimed at evaluating the key characteristics of each specific type of gear so divers can in turen evaluate what works for them.
How We Test a Dive Knife
Knives are evaluated by how effective they are at cutting a variety of lines that divers may encounter underwater. Ergonomic factors include comfort of the grip, security and accessibility of the sheath, and ease of maintenance. Resistance to corrosion is gauged by soaking the knives in salt water and documenting the results.
For ScubaLab gear reviews, visit our ScubaLab hub.
The grip of your knife should offer comfort and control, and mounting options should be secure but easy to access. Knives that come apart for cleaning are easier to protect from corrosion.
Scuba Diving Knives
Scubapro Jawz TI Rescue Tool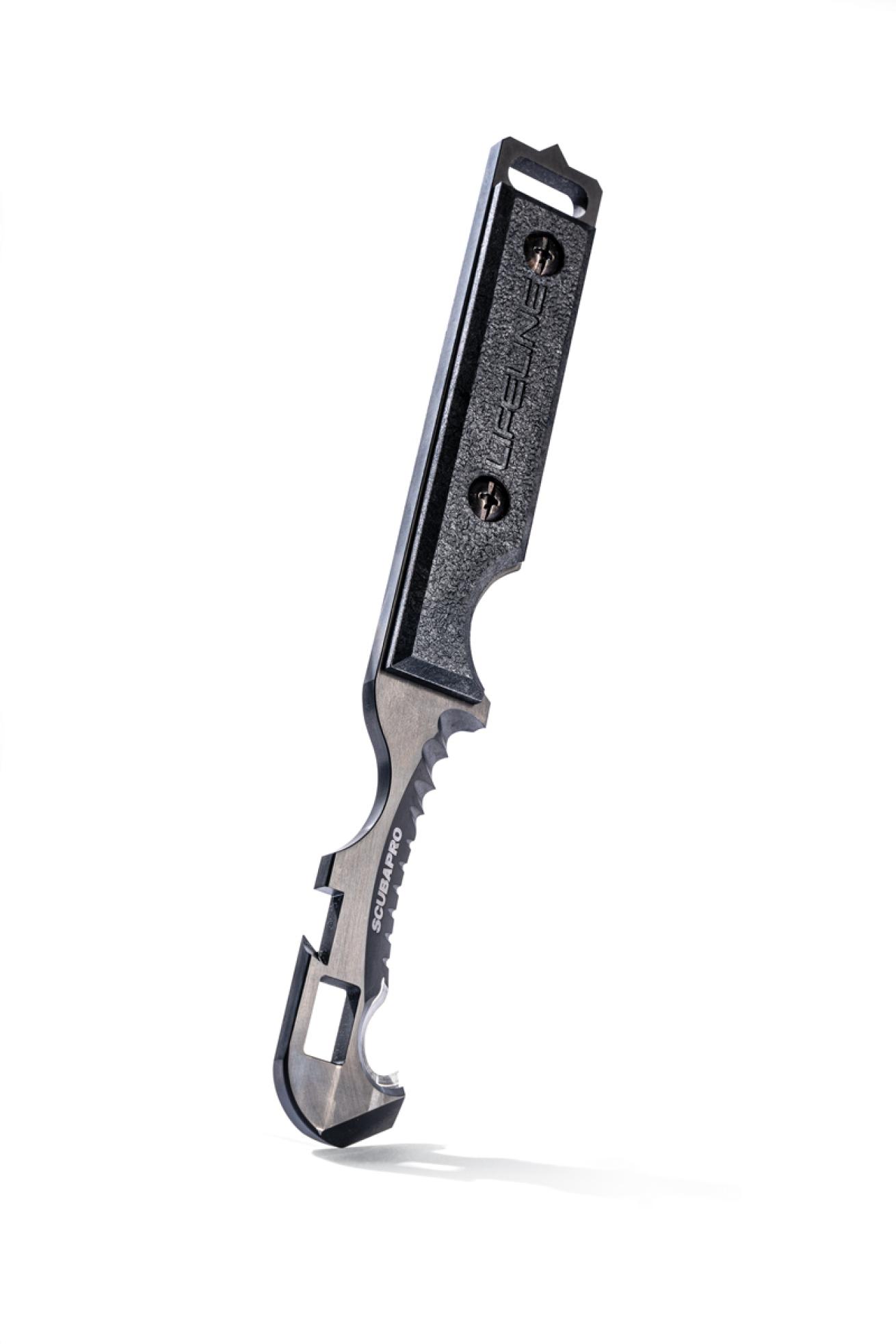 Blunted tip protects sensitive areas and equipment during close cuts.

Jon Whittle
This multipurpose rescue tool can be secured to the upper chest area of a BC with the included TacWare J-Clip. A titanium blade and stainless-steel hardware withstand harsh marine environments. The knife features a serrated blade and a line cutter for slicing through monofilaments and netting. The end of the tool can be used as a window breaker or an O2 valve wrench.
MSRP $280(yellow), MSRP $300(black) | scubapro.com
Spyderco Aqua Salt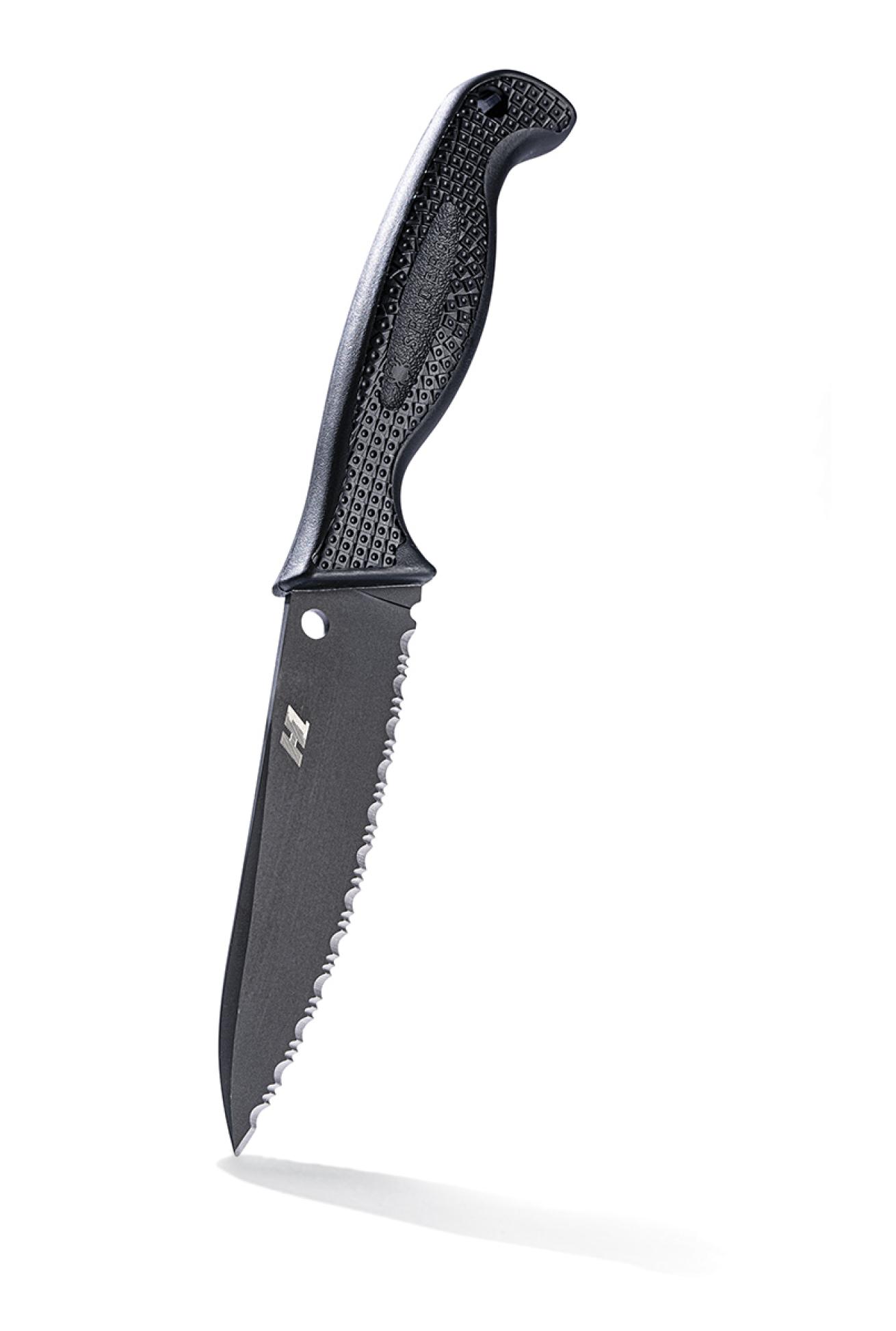 Versatile, do-everything knife optimized for tactical operations.

Jon Whittle
This sleek fixed-blade knife features a 4.7-inch H1 steel blade with a nonreflective titanium carbonitride coating. The hollow-ground blade, available with a plain or serrated cutting edge, is tough and corrosion-resistant. The textured slip-free grip provides control and security, even with wet hands. The Aqua Salt includes an injection-molded polymer sheath with multiposition attachment that supports belt or waist carry.
MSRP $213.50 | spyderco.com
Spyderco Dragonfly 2 Salt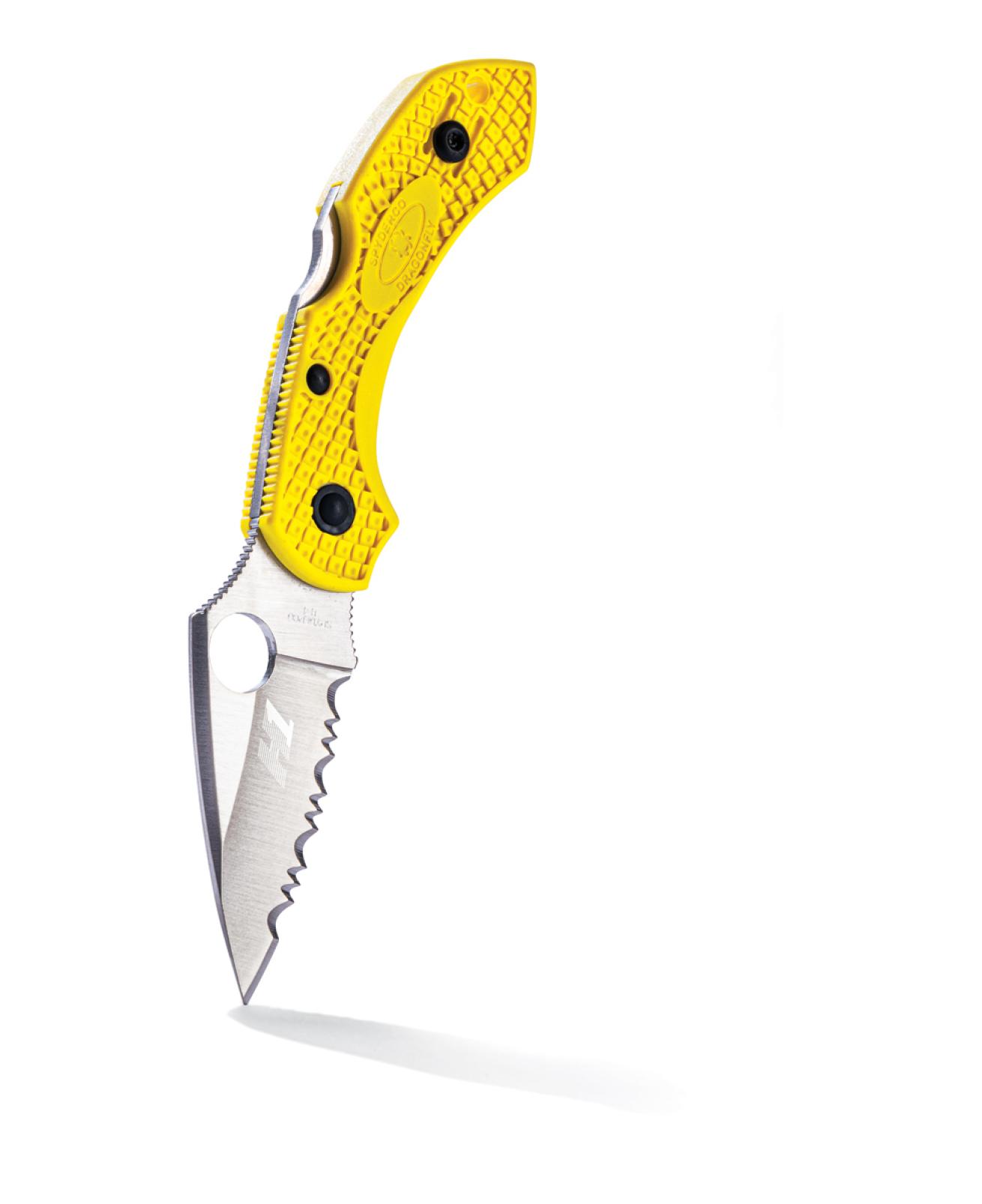 Compact cutting tool easily stows just about anywhere.

Jon Whittle
Measuring only 3.3 inches when closed, this corrosion-resistant folding knife's design balances a compact size with serious cutting power. The textured handle is ergonomically shaped for a comfortable grip and features an index-finger choil for excellent control and security while cutting. Made of H1 steel, the hollow-ground blade is extremely corrosion-resistant and features a rock-solid back lock.
MSRP $114.49 | spyderco.com
Spyderco Enuff Salt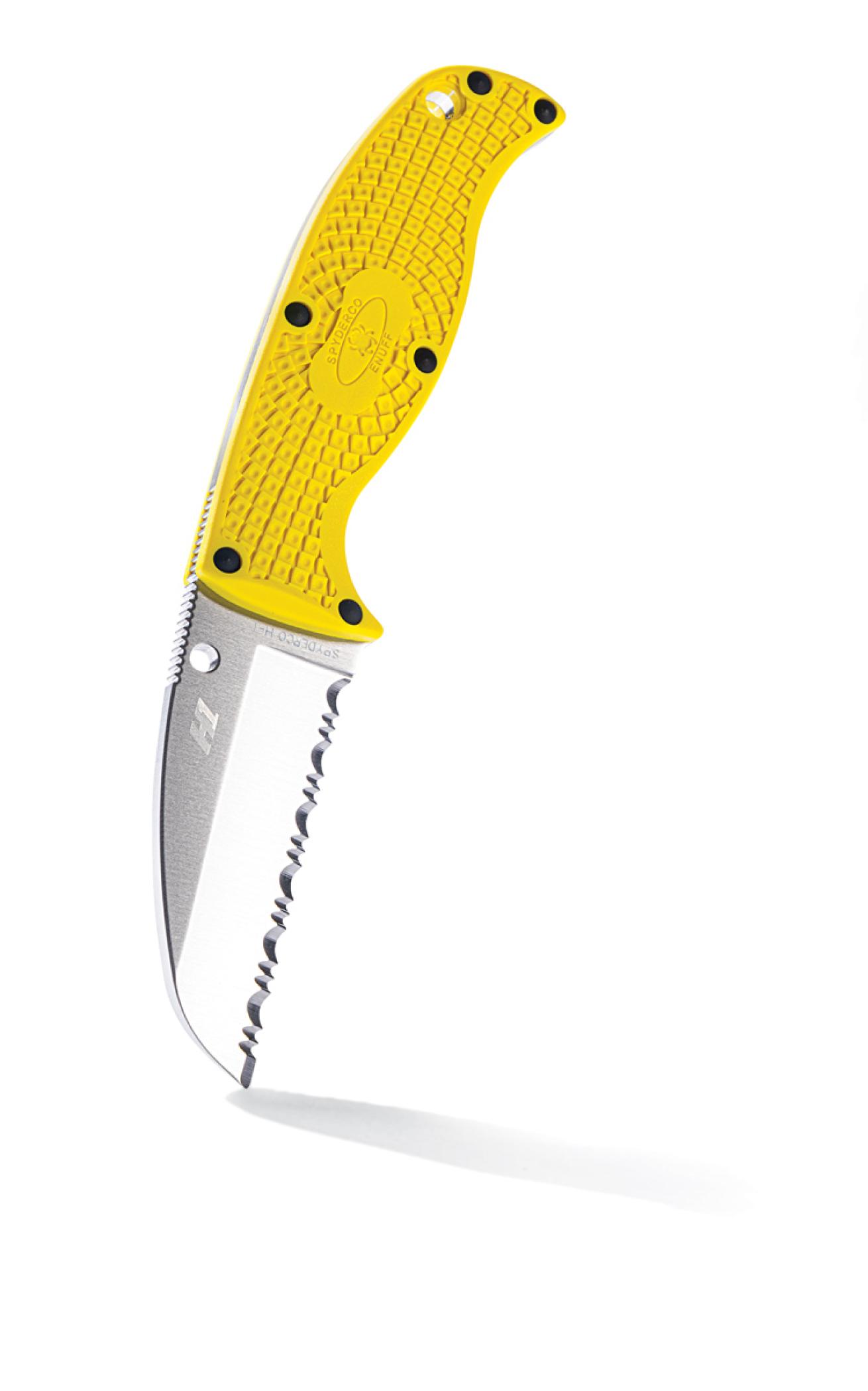 Injection-molded sheath holds knife and allows for effortless draw.

Jon Whittle
Sporting a 2.75-inch sheepfoot blade, this fixed-blade knife maintains an easy-to-carry size with enough bite
to power through even the toughest cuts. Made of corrosion-resistant H1 steel with a fully serrated cutting edge, the blade is ultra durable and able to easily cut through fibrous materials. The bright-yellow handle is eye-catching and easy to find in an emergency or in murky water, and is textured for a secure grip.
MSRP $206.50 | spyderco.com
Spyderco Manbug Salt Sheepfoot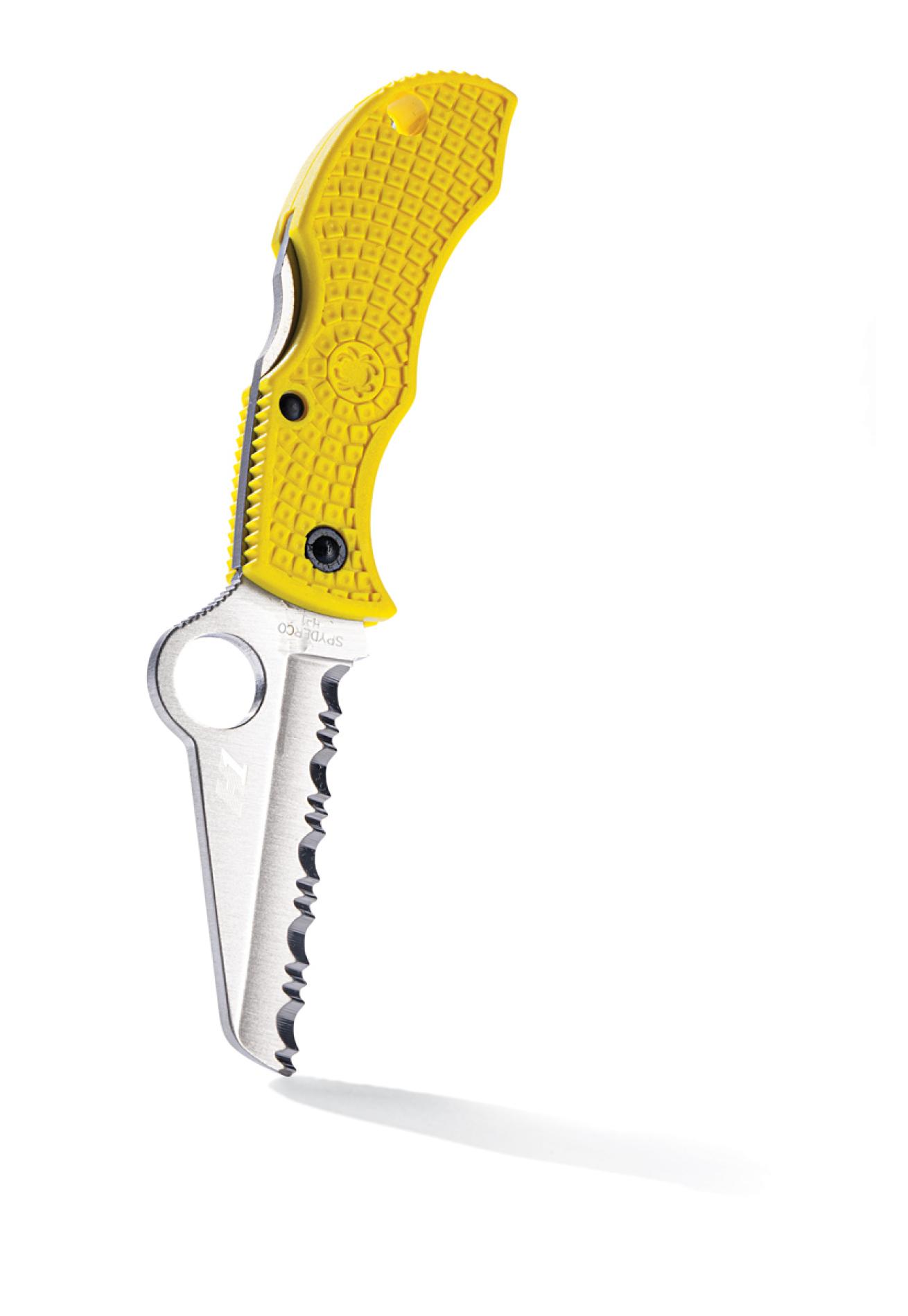 Capable performance well beyond its compact size.

Jon Whittle
Specifically designed for use in marine environments, the Manbug Salt uses a rustproof H1 steel blade for a capable, corrosion-free cutting tool. This compact folder measures just 4.4 inches overall with a 1.9-inch hollow-ground sheepfoot blade. The textured, ergonomic grip provides precision control and houses a sturdy back lock. The blunt-tip blade uses a fully serrated SpyderEdge to power difficult cuts with ease.
MSRP $91.50 | spyderco.com
Spyderco Pacific Salt 2 Green LC200N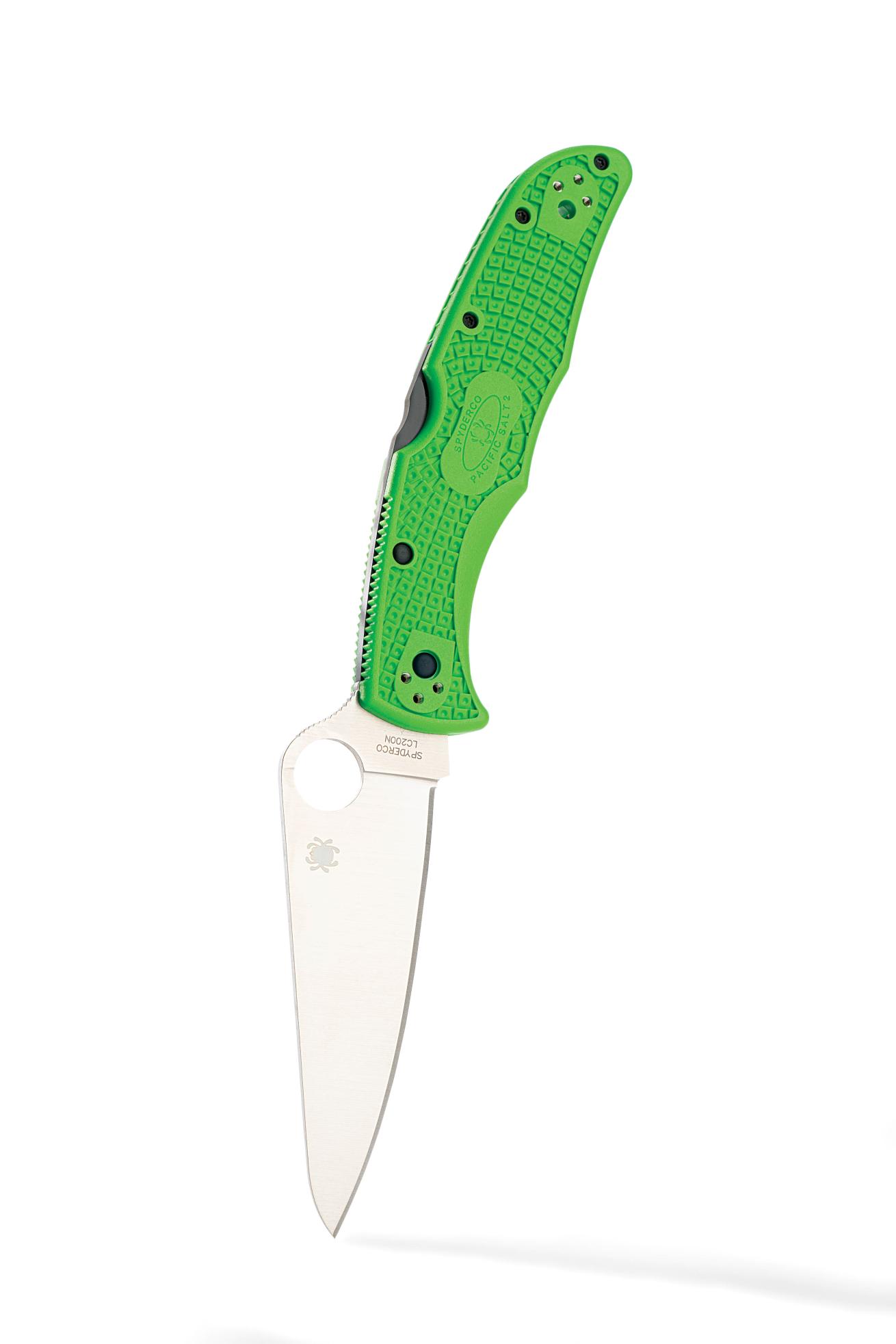 Spyderco Pacific Salt 2 Green LC200N

Jon Wittle
Made with LC200N steel, the Pacific Salt 2 ups the game for Spyderco's line of capable, corrosion-resistant folding knives. The blade is highly resistant to the corrosive effects of salt water, and hardened to better retain a superior edge even with heavy use. Less than 5 inches long when folded, it has a full-flat-ground 3.8-inch blade that opens easily with one hand and a high-visibility, fiberglass-reinforced handle with a textured grip.
MSRP $193 | spyderco.com
Spyderco Salt 2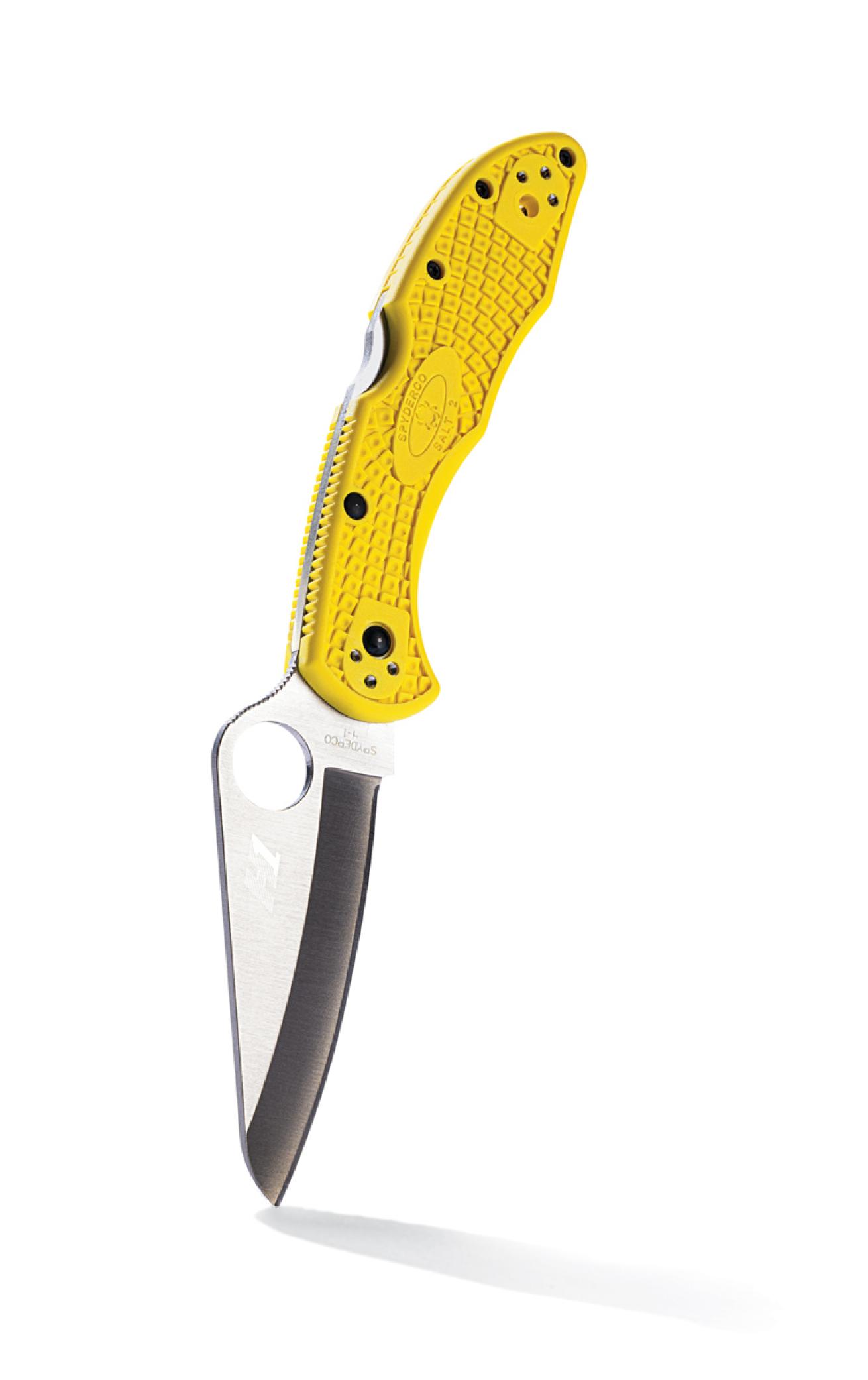 High-strength back lock mechanism provides excellent blade security.

Jon Whittle
The Salt 2 comes with a 100 percent rustproof, nitrogen-based, hollow-ground H-1 steel blade with the choice of either PlainEdge or SpyderEdge cutting edges. Like all Spyderco folders, it features the trademark round hole in the blade for easy one-handed opening. The bright-yellow handle is an eye-catching touch that provides bidirectional texturing for a secure grip while cutting underwater, and multiple threaded inserts to anchor a titanium pocket clip.
MSRP $147 | spyderco.com