Six Must-Dive Sites in Sydney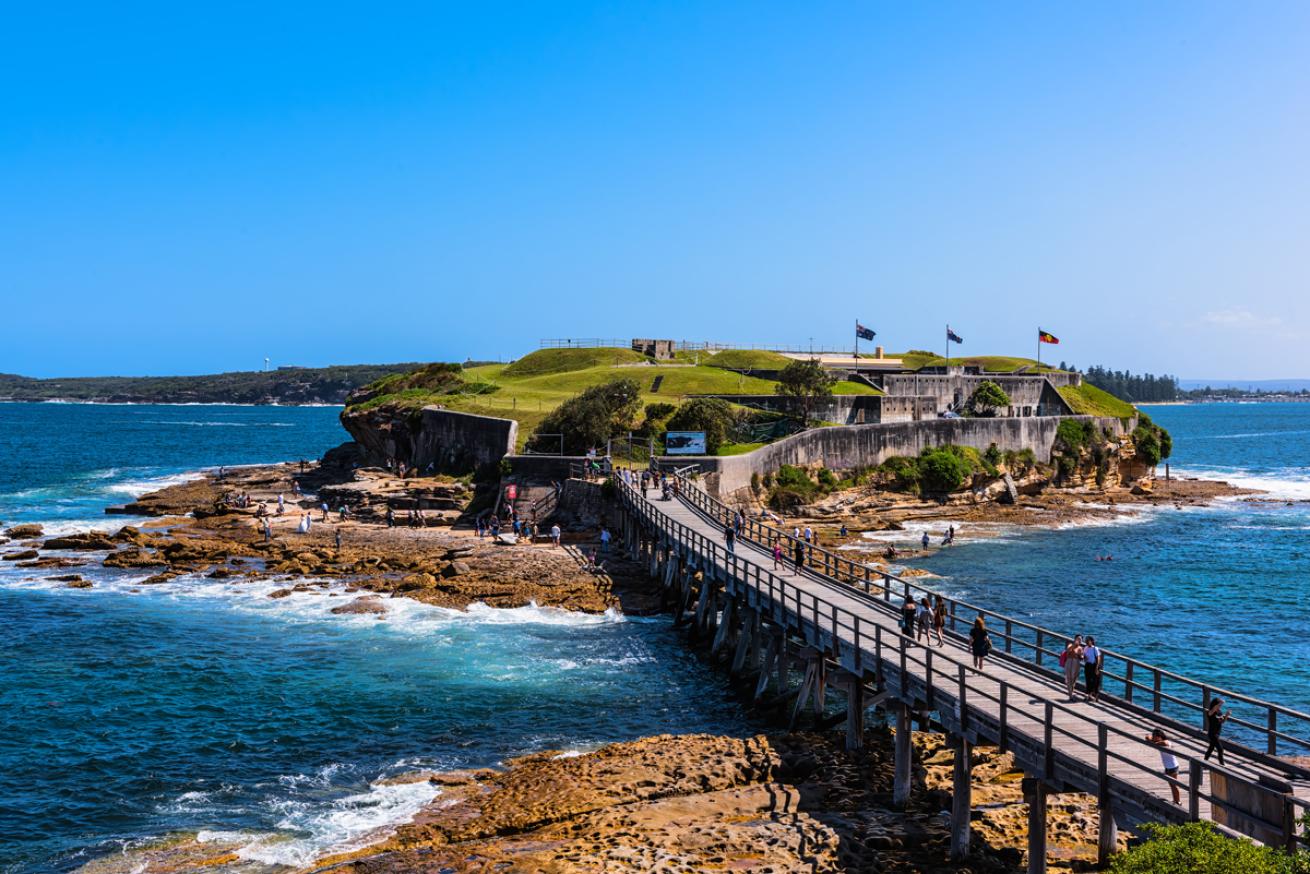 Bare Island is a popular scuba diving destination on a sunny, summer Sunday. There can be as many as 200 divers there during the day.

Shutterstock.com/ RRong
When you imagine diving in Australia, you probably think about the famous Great Barrier Reef, however, the harbor city of Sydney is actually home to some of the country's most unique dive sites. Sure, the waters of Sydney might be a bit chillier than the tropics of Queensland, but there's a vast array of marine life to be discovered with enough variety to keep you coming back. Whether you're hoping to spot a shark or work on your macro photography, there is a dive site for you.
Sydney has plenty of easy shore dives as well, which make it a fantastic place to learn how to dive—both Manly and Bondi are home to reputable dive schools that offer dive accreditation year-round. Whether you're brand-new to diving or looking for a new challenge, here are some of the best dive sites in Sydney.
Bare Island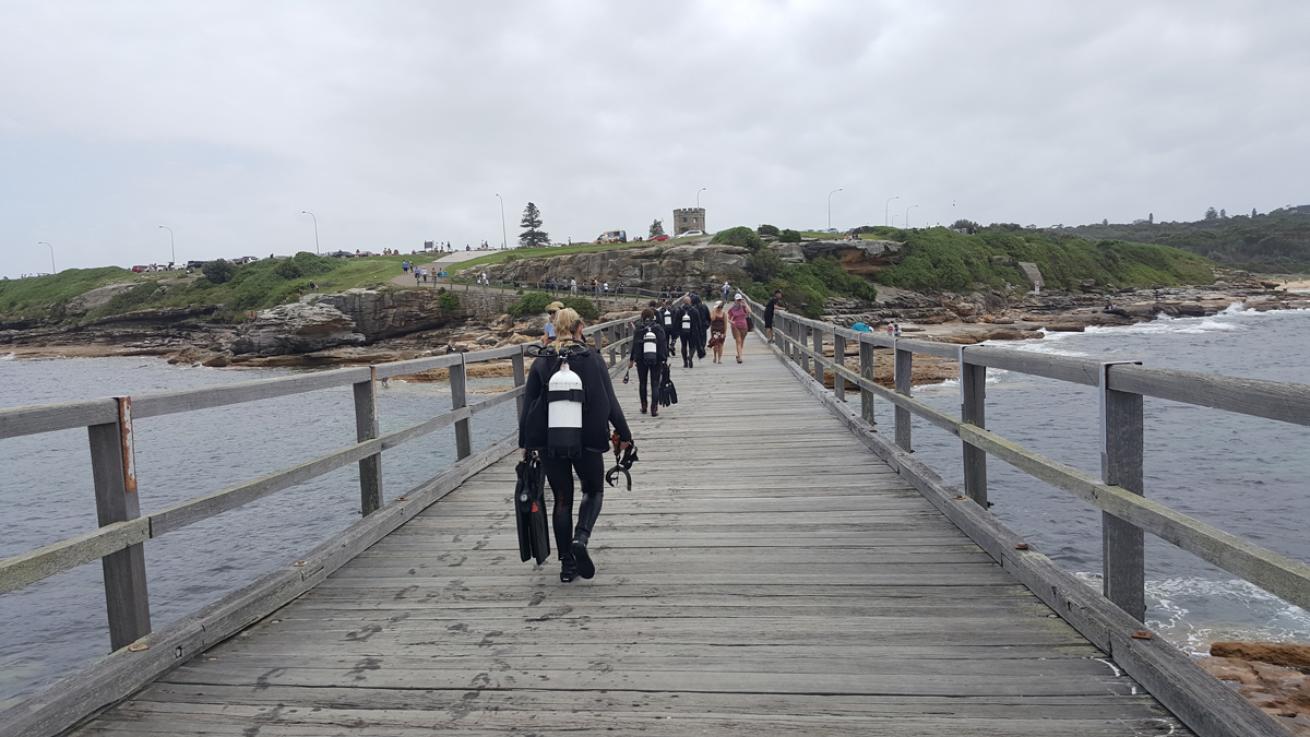 Scuba divers carry their cylinders on the Bare Island Bridge after finishing a dive at the La Perouse area.

Shutterstock.com/saruntorn chotchitima
Bare Island, just off La Perouse in Sydney's south, is one of the city's most popular dive sites. Linked from the mainland via a footbridge, you can dive on both the left and right sides of this small island, with plentiful underwater life to be found on both sides (and if the island looks familiar, it's because it was featured in the movie Mission: Impossible 2). Bare Island attracts divers hoping to spot the elusive weedy sea dragon, a gorgeous creature with vibrantly colored stripes, found only in certain areas of Australia—they live all around Bare Island, among the kelp beds and can be seen in most dives.
With many rocks and overhangs, Bare Island is teeming with interesting marine life, so you're likely to see sponges, nudibranchs, and eels. Your odds are good of finding a shark too, with Port Jackson sharks, wobbegongs, and even dusky whalers seen frequently around the island. Most dives around Bare Island are to a depth of around 20-40 ft.
HMAS Adelaide
While Sydney isn't home to many wrecks, if you travel just north of Sydney to Terrigal, you'll find the HMAS Adelaide, scuttled in 2011 to a depth of about 115 feet. This dive site is easily reached by boat, giving advanced divers access to the largest naval warship to be sunk within the Sydney region. Large openings have been cut into the hull, allowing divers access to areas like the guided missile area, engine room, and bridge deck.
In the winter months, you have a chance to see migrating humpback whales, but divers can regularly spot kingfish, bannerfish, octopus, and sharks.
Cabbage Tree Bay Aquatic Reserve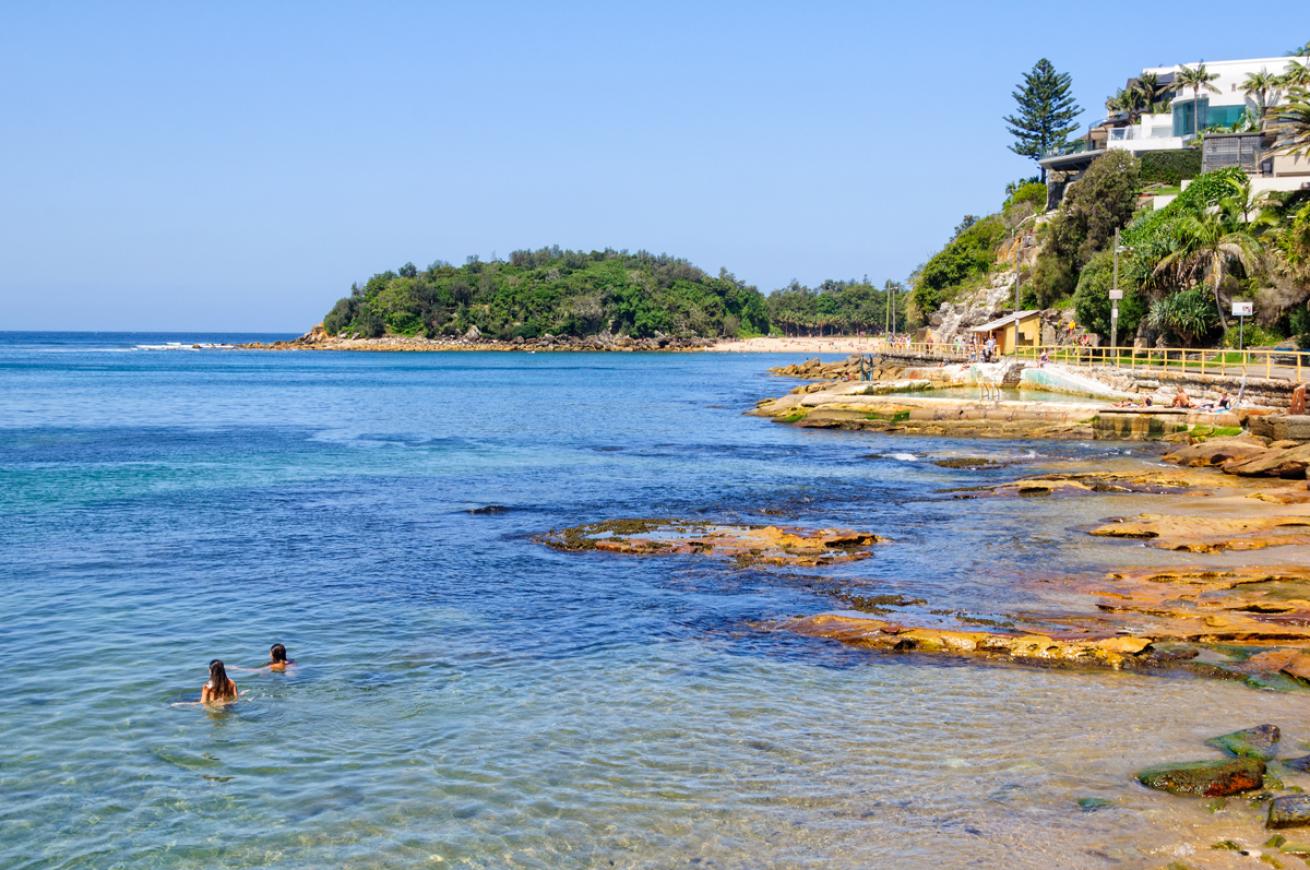 The popular Cabbage Tree Bay on Sydney's northern beaches at Manly is an aquatic reserve.

Shutterstock.com/lkonya
In Sydney's northern suburb of Manly, divers flock to Cabbage Tree Bay Aquatic Reserve, a protected marine site that's also ideal for snorkeling. Entering the water straight from Shelly Beach or Fairy Bower, divers can access this beautiful marine reserve. Because it's been a protected site since 2002, with severe penalties for fishing or collecting marine life, divers are treated to some of the best of Sydney's underwater life. It often feels like you're swimming through an aquarium.
Look for eagle rays, sea turtles, large schools of yellowtail, trevally, and hulafish, plus cuttlefish and wobbegongs. More than 160 species of fish alone have been recorded within Cabbage Tree Bay.
Most dives here are around 20-45 feet. The calm, sheltered waters of the reserve also attract plenty of dive schools—this site can be quite busy on a Saturday morning. It's popular for night diving too.
Magic Point
If it's sharks you seek, a boat trip to Magic Point, just off the coast from Maroubra, almost never disappoints. Magic Point is home to a large population of grey nurse sharks, thanks to large caves and rocky shelving around 60 feet below the surface that provides shelter to these beautiful sharks. This location has been named a protected shark habitat area by the state government in an effort to protect the critically endangered species.
In addition to soft corals, kelp and wobbegong, Port Jackson sharks are frequently seen here. You might just catch sight of a bull ray and there's sure to be plenty of schools of fish darting around the boulders and rock formations as you dive.
Camp Cove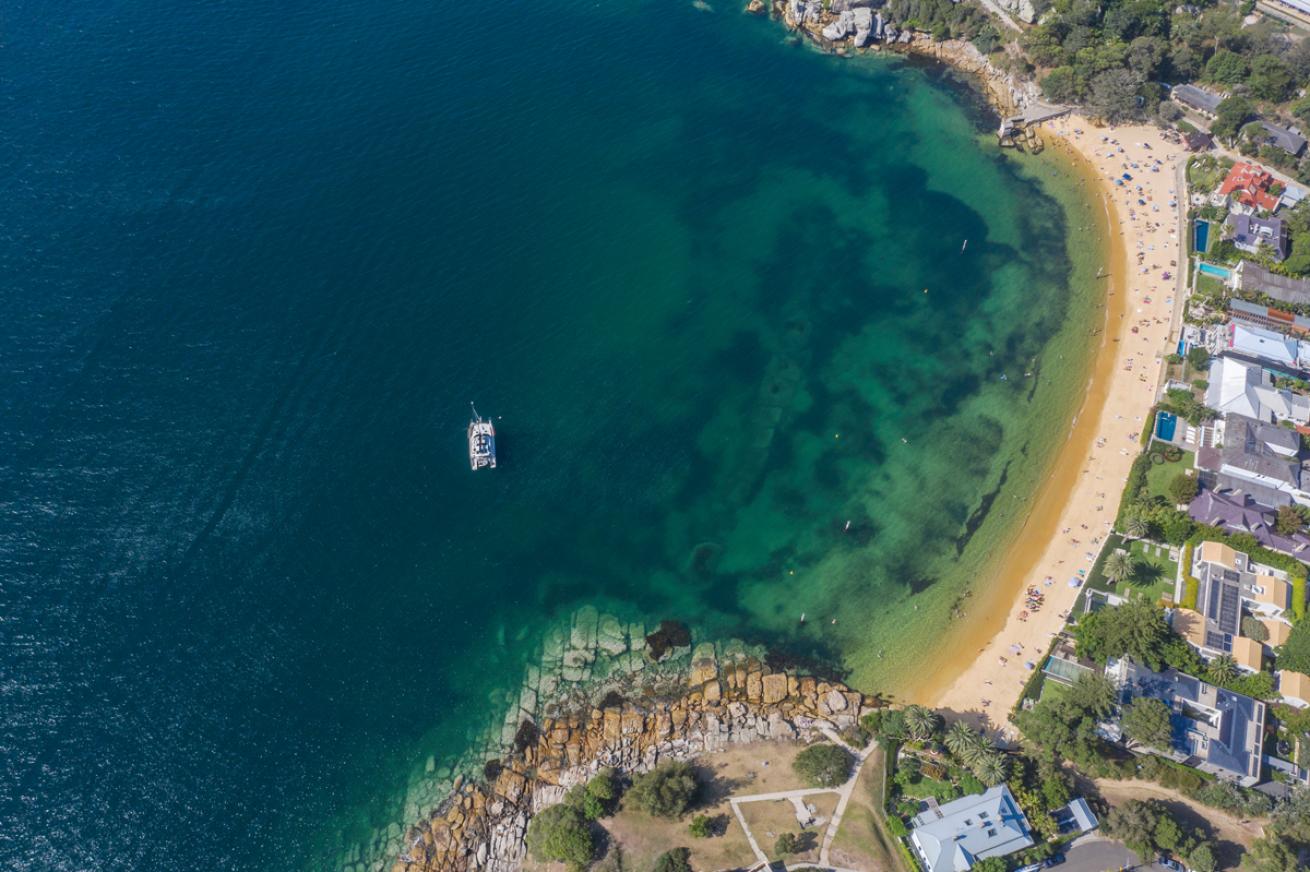 A drone shot over Camp Cove Beach in Watson's Bay.

Shutterstock.com/Edison Wang
Camp Cove is a relaxed, easy shore dive—even in poor weather, it's still a sheltered, calm dive location, although visibility can sometimes be poor. Camp Cove is a fantastic beach in its own right, set in Sydney's Eastern Suburbs near Watsons Bay, so it's popular with swimmers and beachgoers too.
Most dives here don't go much deeper than 20-25 feet, but there's still plenty to see. Look for octopus, hermit crabs, squid, leather jackets, and catfish, plus eels and wobbegongs. Because the beaches here are so popular, they attract plenty of harbor traffic in the summer—always ascend with great caution to avoid boats overhead.
Kurnell
Kurnell, in Sydney's Botany Bay National Park, is home to two popular shore dives—Kurnell Monument and Kurnell Steps. Kurnell is another great dive site if you're searching for weedy sea dragons, as it's home to plenty. Both are easily accessible dives to depths of around 25-45 feet, although best conditions can be experienced at high tide.
While divers flock to the Kurnell Steps in search of weedy sea dragons, you can also find plenty of great macro photography subjects here, along with dwarf pipehorses, rays, nudibranchs, cuttlefish, and crabs.
With so many dives to explore in Sydney, you're sure to find something amazing down under!