Six Video Lights for Underwater Shooters
1. Backscatter Macro Wide 4300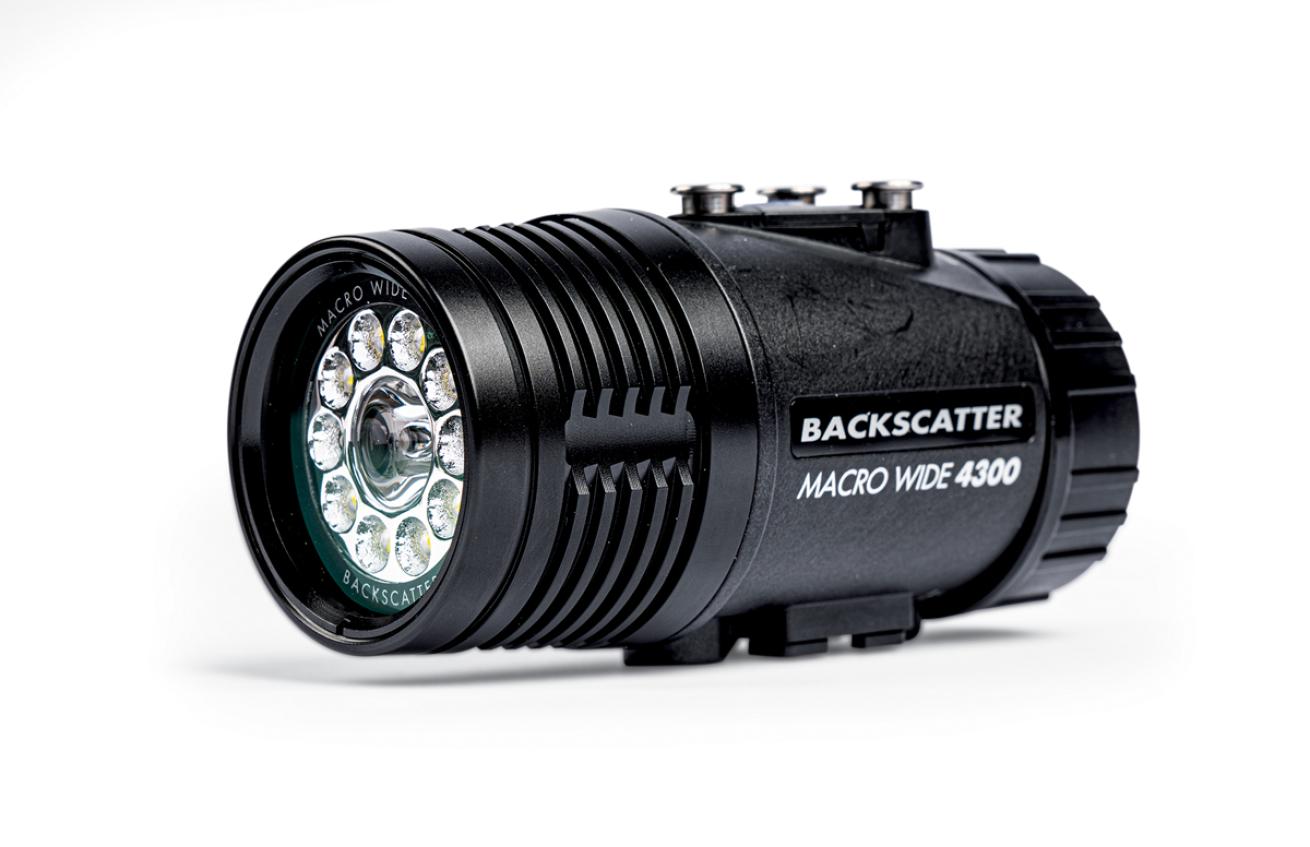 Backscatter Macro Wide 4300

Courtesy of Backscatter
Sporting a 1,400-lumen spotlight, this video light provides plenty of illumination for macro shooters in need of tight, steady, powerful light for shooting tiny subjects. It's even bright enough that compact-camera users can use it in place of a strobe for still photography. The 85-degree wide-angle beam maxes out at 4,300 lumens and features a soft, smooth edge for lighting larger scenes. Both modes have multiple power levels to choose from. It also has a red-light mode and multiple signaling functions. Two removable, rechargeable batteries allow for quick changes between dives.
At full power, it runs up to 110 minutes in macro mode. The light is compatible with Backscatter's optical snoot and color systems.
2. BigBlue Dive Lights CB6500PB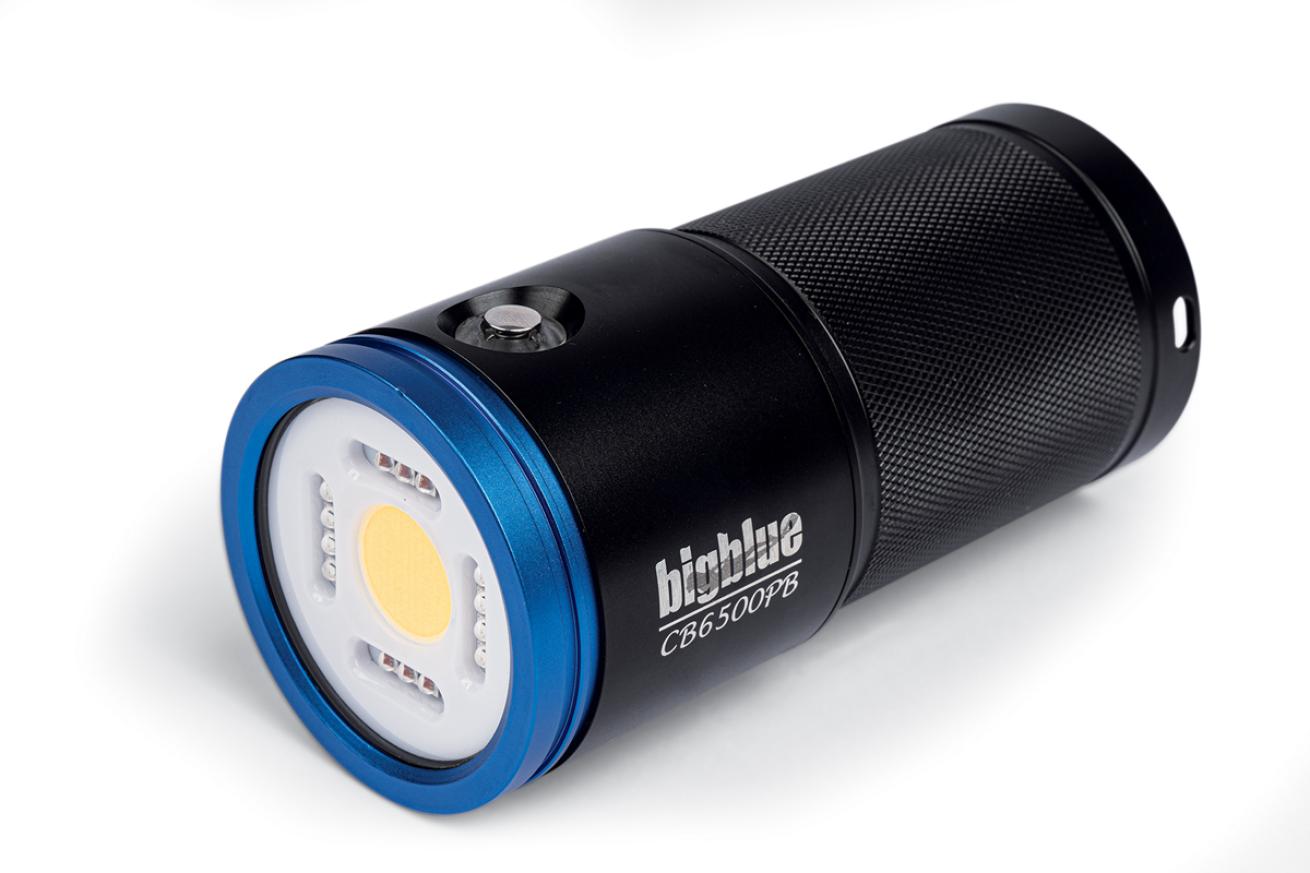 BigBlue Dive Lights CB6500PB

Courtesy of BigBlue Dive Lights
Machined of rugged anodized aluminum, this light features a powerful 6,500-lumen beam well suited for shooting video. The super-wide 120-degree beam provides plenty of coverage, evenly illuminating subjects in soft white light. The brilliant beam also offers three power levels to control the light's intensity and regulate battery life—which will last up to two hours on full power— plus two color modes. Red LEDs provide subtle illumination for achieving focus in low-light environments without spooking skittish critters, while blue LEDs can be combined with the included yellow plate for capturing underwater fluorescence. All functions are accessed via a single push button, including a hidden emergency SOS flash. A Goodman glove, 1-inch ball mount, rechargeable lithium-ion battery, charger and dry bag are included with each light.
3. Kraken Hydra 4000 WRGBU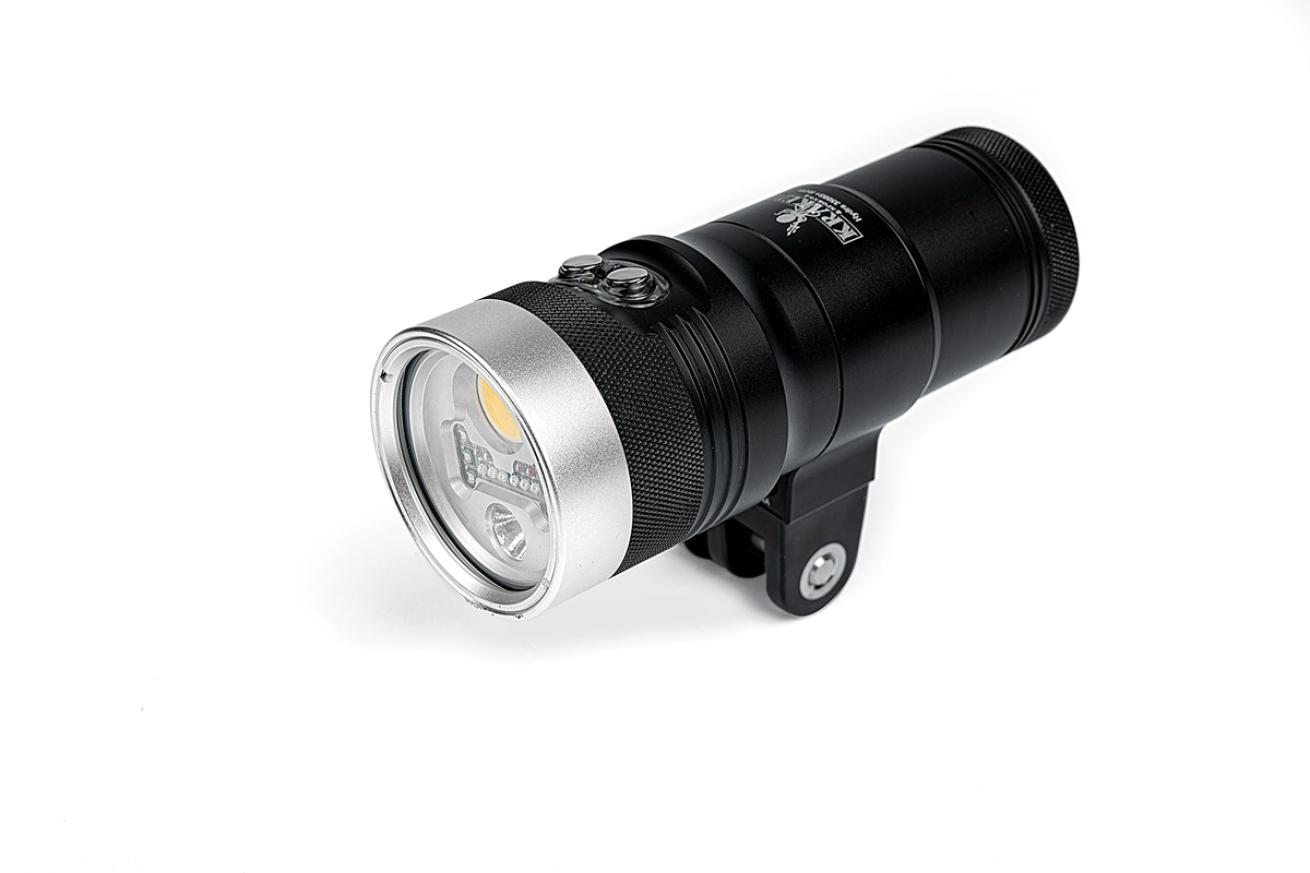 Courtesy of Kraken
Essentially a Swiss Army knife for underwater shooters, this light is packed with useful features, including a wide 120-degree flood beam. Max output is 4,000 lumens, which can be stepped down using five preset power levels. Outfitted with an RGB LED array, the light can output red, green and blue light, as well as several pre-mixed colors. A UV beam is included for shooting fluorescence. Using the strobe/burst mode and a fiber-optic cable, the light can be used as a 6,000-lumen strobe for still-image photography. Three push buttons access all of the light's settings and emergency strobe mode, but the light can also be rigged up to an optional remote control. Battery lasts up to 75 minutes when running 100 percent flood.
4. Light & Motion Sola Video 2000 S/F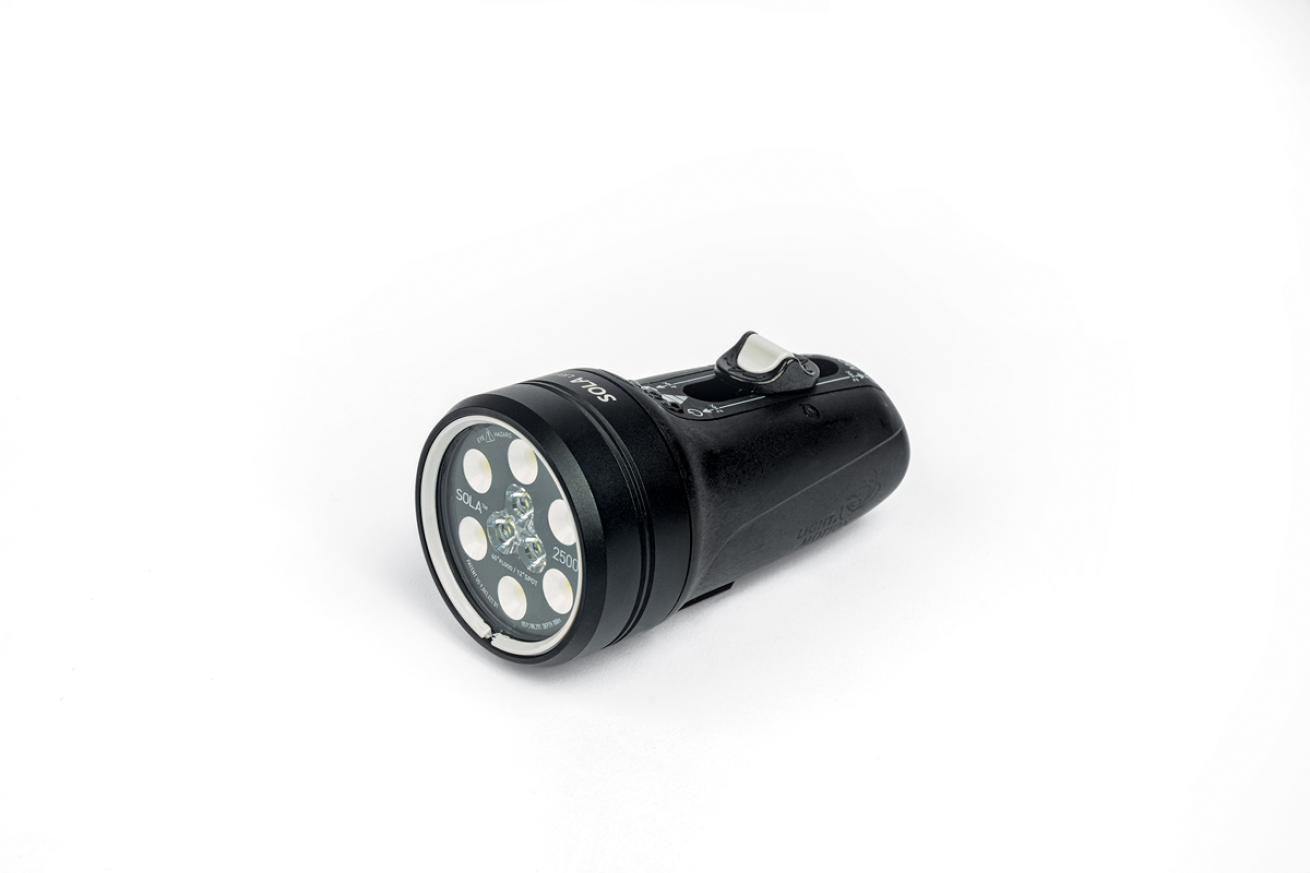 Light & Motion Sola Video 2000 S/F

Courtesy of Light & Motion
Compact and lightweight, this travel-friendly light is approved for transport in carry-on and checked luggage. The factory-sealed body ensures flood-free performance, while an external wet charge interface allows for quick recharging between dives. Two light modes provide shooters with a wide-angle 60-degree flood light and a 12-degree spotlight. They max out at 2,000 and 600 lumens, respectively, and each offers three levels of brightness. Custom optics keep both beams free of hot spots and hard edges. Colored indicator lights display the light's current power setting and remaining battery life. The spring-loaded sliding switch makes it easy to swap between modes and power levels with just a touch. Run time is 55 minutes on high power, and the light features both an electronic and a mechanical switch lock to prevent accidental activation.
5. Light & Motion Sola Pro Video 15000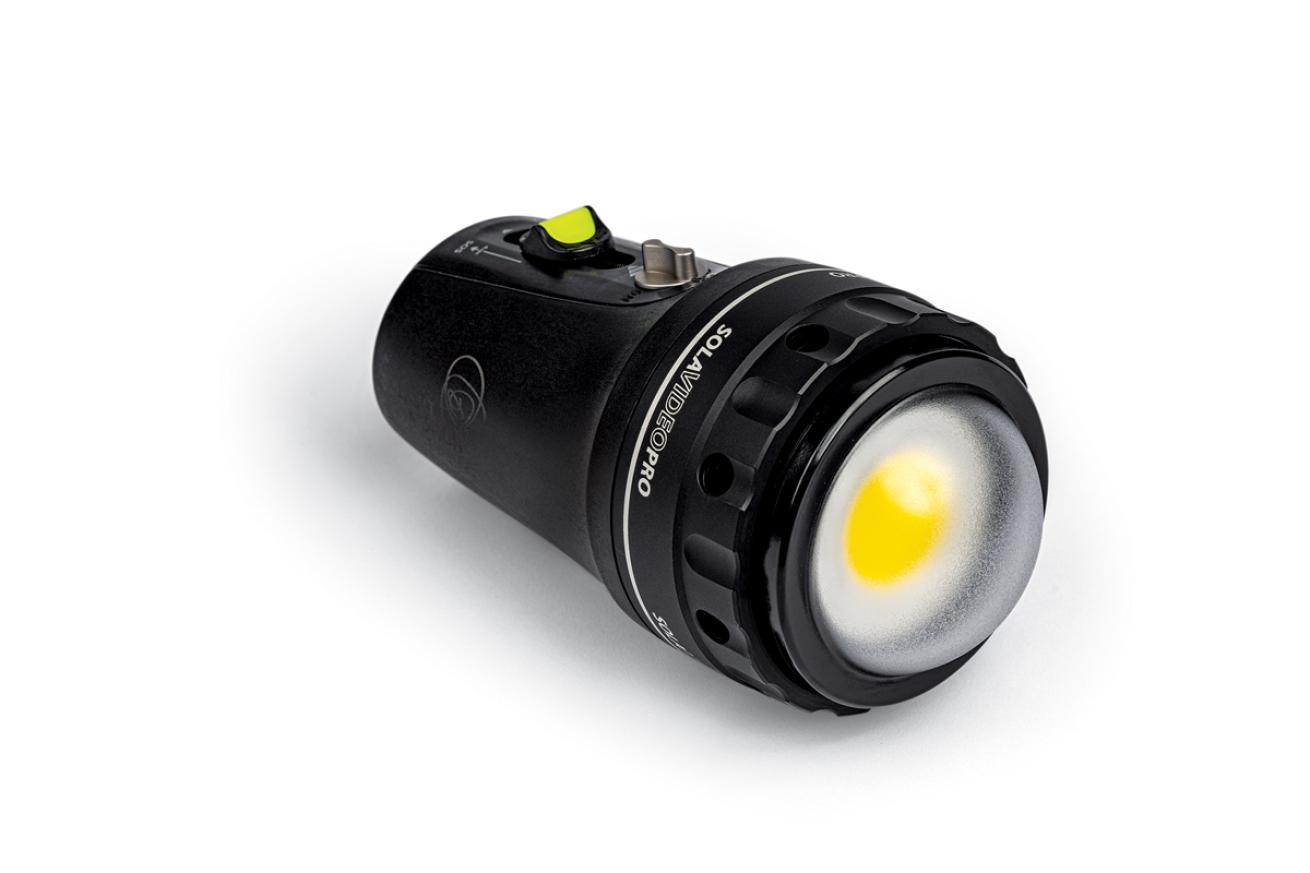 Light & Motion Sola Pro Video 15000

Courtesy of Light & Motion
Price $1,499.99 Contact
Aimed at professional underwater videographers, the Sola Pro offers a blindingly bright 15,000-lumen beam. The brightness can be stepped down using five preset power levels, but output can be further fine-tuned by holding the switch in place, which will continually increase or decrease brightness in 100-lumen intervals. An OLED display assists in monitoring lumen output, run time and battery charge. The specially designed dome port spreads light in a soft 115-degree beam, which ensures total coverage even when shooting with a fisheye lens. The beam's edge is almost invisible thanks to the gentle falloff. Custom firmware ensures consistent output so that the light will not dim during use. Max run time is 40 minutes on high power; the built-in battery can fully charge in an hour and 45 minutes. The Video Pro 15000 is compatible with Light & Motion's Air Kit—which allows for topside use—and bluewater dome port cover.
---
---
6. SeaLife Sea Dragon 3000F Auto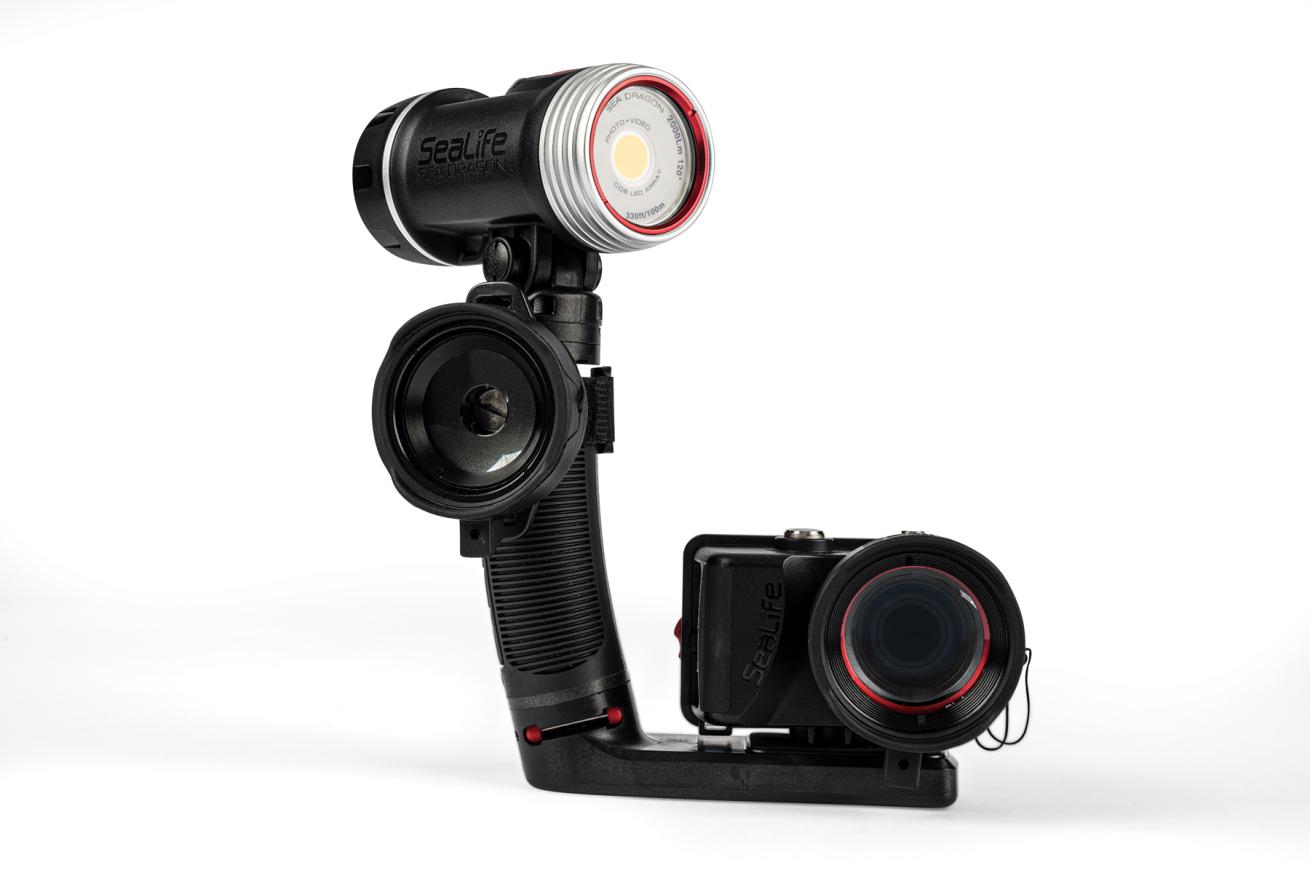 SeaLife Sea Dragon 3000F Auto

Courtesy of SeaLife
This compact LED light offers up to 3,000 lumens of warm light to add vibrant colors and brightness to underwater footage. The wide 120-degree beam is perfect for capturing big scenes with even, natural-looking illumination. The light can be adjusted to three preset power levels, but also features an automatic mode that will set the brightness between 300 and 3,000 lumens based on the proximity of the subject. The light can be used with strobes, as it will automatically turn off for one second when an external flash is detected. It also has a red-light mode and two emergency strobe functions. A single push button accesses all modes and features an integrated battery-life indicator. The removable, rechargeable lithium-ion battery will run up to 60 minutes at full power.
---