Sky High Scuba Diving in the Canadian Rockies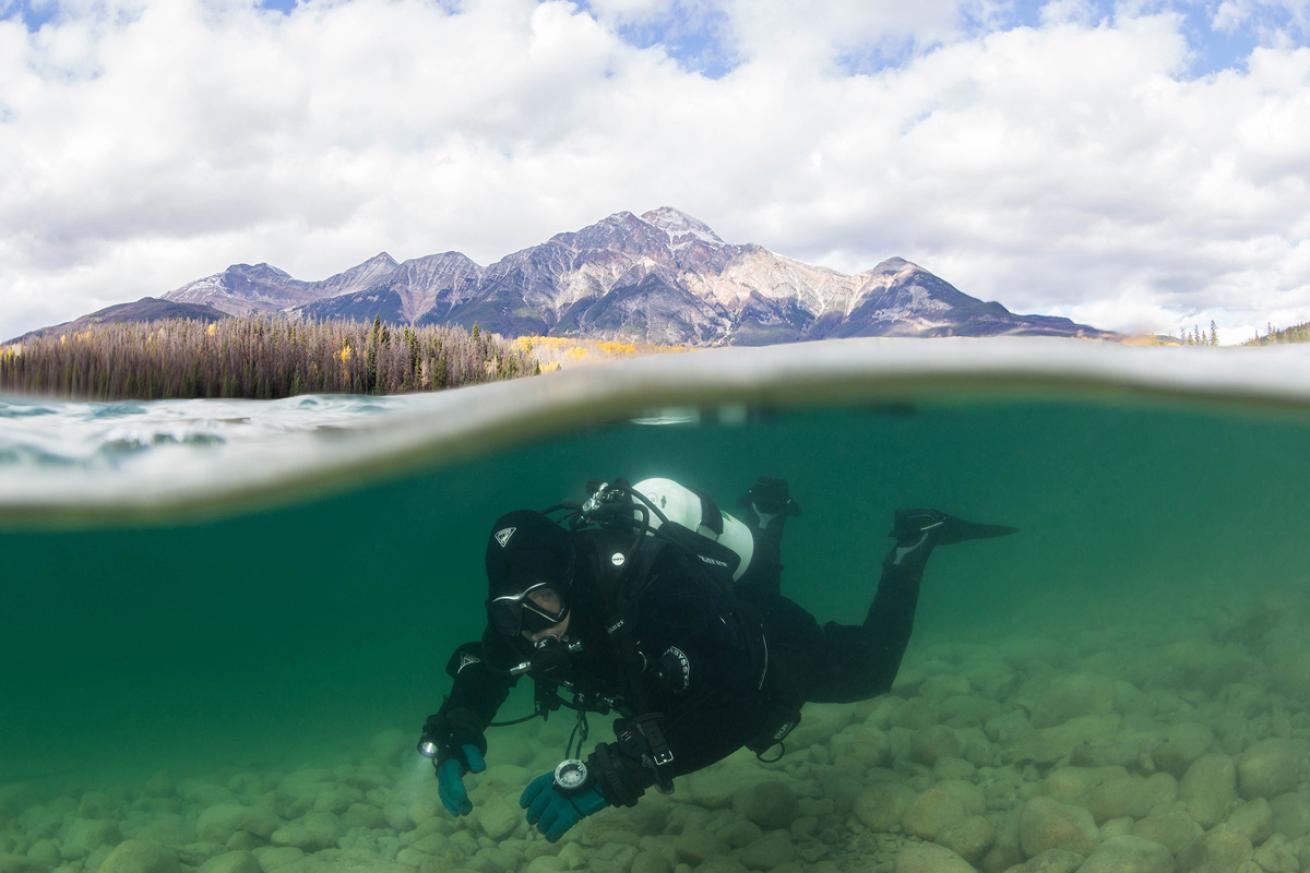 Joey dipping below Lake Patricia surrounded by mountains in the heart of Jasper National Park.

Alisha Postma
There is a lot to love about the beautiful and sky-high Canadian Rocky mountains. Many know this slice of Canada by its whiff of wilderness and raw scenery, like straight off a postcard. Others think about the mountain range's larger-than-life fauna, beginning with bugling elk and ending with grizzly friends. But when it comes to the Rocky Mountains, often forgotten is its gin-clear lakes — which present unique diving opportunities.
Banff and Jasper National Parks are world-renowned and fall under the Parks Canada banner, both lie along the cusp of the Rocky mountains. These neighboring parks account for 6,672 spectacular square miles of the province of Alberta. This past summer, while passing through the province on our way to Canada's Pacific coast, my husband Joey and I stopped for several days in each park to enjoy alpine scuba diving in their lush turquoise waters.
Scuba Diving in Jasper National Park
Jasper National Park was our first pit stop passing through the Alberta Rockies. The park is one of the wildest of the mountain parks with some of North America's most rare animals including grizzlies, moose, caribou and wolves as well as the Columbia Icefields, one of the only Icefields in the world accessible by road. According to our contacts at the Alberta Underwater Council, the recommended alpine lakes for scuba diving consisted of Beauvert, Annette, Edith, Patricia and Horseshoe.
Patricia and Edith were our first and second glacier-fed lake dives, at an altitude of 4,000 feet (1,219 meters) and 3,353 feet (1022 meters) respectively. Gearing up in the shallows, I observed the glassy lake completely surrounded by snow-capped mountains. It felt like something out of a storybook.
Letting the cold placid water gobble me up, Joey and I slipped into a welcoming embrace as we plunged into the freshwater. Almost the instant I submerged my head, I could see the incredible water clarity allowed for excellent sun ray penetration. I could gaze off into the blue and green hues for what felt like forever. It was almost dizzying.
Patricia and Edith didn't have much in terms of fish life, but we could occasionally see minuscule bugs and beasts trailing along the sun-lit benthos. The bottom displayed occasional patches of moving sediment. This, I later discovered, was melted glacier water feeding the lake through sand and silt cavities on the bottom.
All in all, Jasper had a breathtaking collection of alpine lakes. My only reservation was missing out on diving Patricia Lake's best-kept secret — the Habbakuk wreck. Project Habbakuk or Habakkuk (spelling varies) was a top secret World War II project, where scientific advisor Geoffrey Pyke had the idea to build an aircraft carrier of pykrete (a mixture of wood pulp and ice). Patricia Lake was the site where a 60 by 30 foot (18 by 9 meter) prototype was constructed and tested. Unfortunately, the project was shelved due to costs, requirements and availability. However, the sunken remains of the model remain underwater in this lake, as a testament to the 1943 project.
Scuba Diving in Banff National Park
Banff was our second stop after returning from the Pacific coast. Lake Minnewanka, was the lake of interest in Banff National Park — a 13-mile (21 kilometer), 465 feet (142 meter) deep lake, powering Banff with hydroelectric power. The lake is at an altitude of 4500 feet (1371 meters).
For scuba divers, Minnewanka has two big dive sites; the old townsite of Minewanka Landing which is typically accessed by boat and the remains of a hydro dam, accessible from shore. Lake Minnewanka was first dammed in 1895 to improve the boggy shoreline for boating. The lake was dammed again in 1912 as a part of a Calgary Power Co. operation to store water for a downstream hydro-electric plant on the Cascade River. This flooded a good portion of Minewanka Landing. A final dam was constructed in 1941 which raised the water levels by 100 feet (30 meters) engulfing the remaining Minewanka Landing townsite as well as the old hydro-dams.
During our visit to Minewanka, we were unable to charter a boat to the old townsite and focused on diving the flooded hydro-dam instead. Heading out into the azure waters of Minewanka, we circled around the plant life finding and following concrete foundations from the 1912 construction. We missed finding the old wooden dam from the late 1800s, but we did find parts of the concrete hydro dam and intake pipe. There was also a humongous generating station with open voids which I later learned appropriately trained divers can enter. Although not as exciting as exploring an old flooded townsite, I was pleasantly surprised at how much I enjoyed poking around the dam, all while learning a little about this lake's unbeknownst history over the years.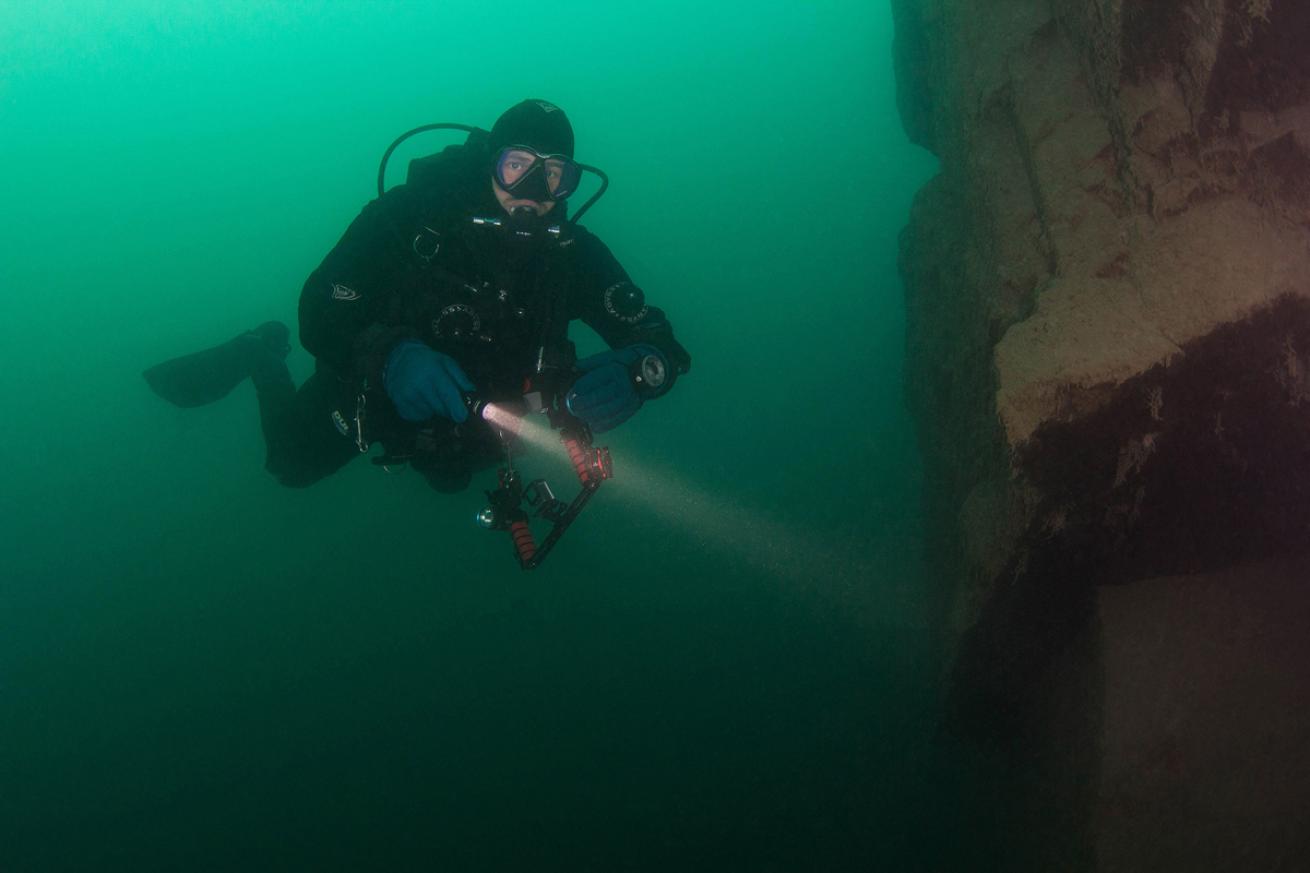 Joey exploring the foundation and dam escarpment submerged in Lake Minnewanka.

Alisha Postma
Need to Know:
Licensed Operators: There is no licensed operator in Banff and Jasper National Park. Divers must rent equipment and get tank fills in either Edmonton or Calgary. Below are the licensed PADI dive operators in each area:
Edmonton:
Ocean Sports
Northwest Scuba
Calgary:
The Dive Shop
Aqua Dive & Watersports
Dive Sites: Jasper National Park has dive sites on Beauvert, Annette, Edith, Patricia and Horseshoe Lakes. These sites are all shore dives. Banff National Park has dive sites at Minnewanka and Two Jack Lake. The Minnewanka townsite is the only dive that is offshore and must be accessed by boat.
Depth: These dive sites range in depth from 20-30 feet down to 100 feet to reach the points of interest in Lake Minnewanka.
Conditions: The dives highlighted in this article are all altitude dives characterized by being 980 feet (300 meters) or more above sea level. Divers should have appropriate knowledge and training to dive in this area. Water temperatures in Alberta are warmest in the summer months and coldest in the winter when the lakes freeze over. The warmest water is in August when it reaches 62 degrees F and the coldest is in March at 37 degrees F.
Glacier lakes are known for their water clarity, however summer plankton blooms can sometimes result in turbid water. Minnewanka is known to have poor visibility in the summer and fall. The visibility of these lakes dramatically increases in the winter months.
Equipment: Banff and Jasper dive sites are a result of glacier-fed water. Adequate thermal protection is strongly recommended. Divers should use a minimum of a 7mm wetsuit, semi-dry or drysuit (preferred) complete with booties, gloves and a hood. At certain sites, divers should also carry a dive flag with them as there can be boat traffic.