Start 'Em Young: How and When to Get Kids Diving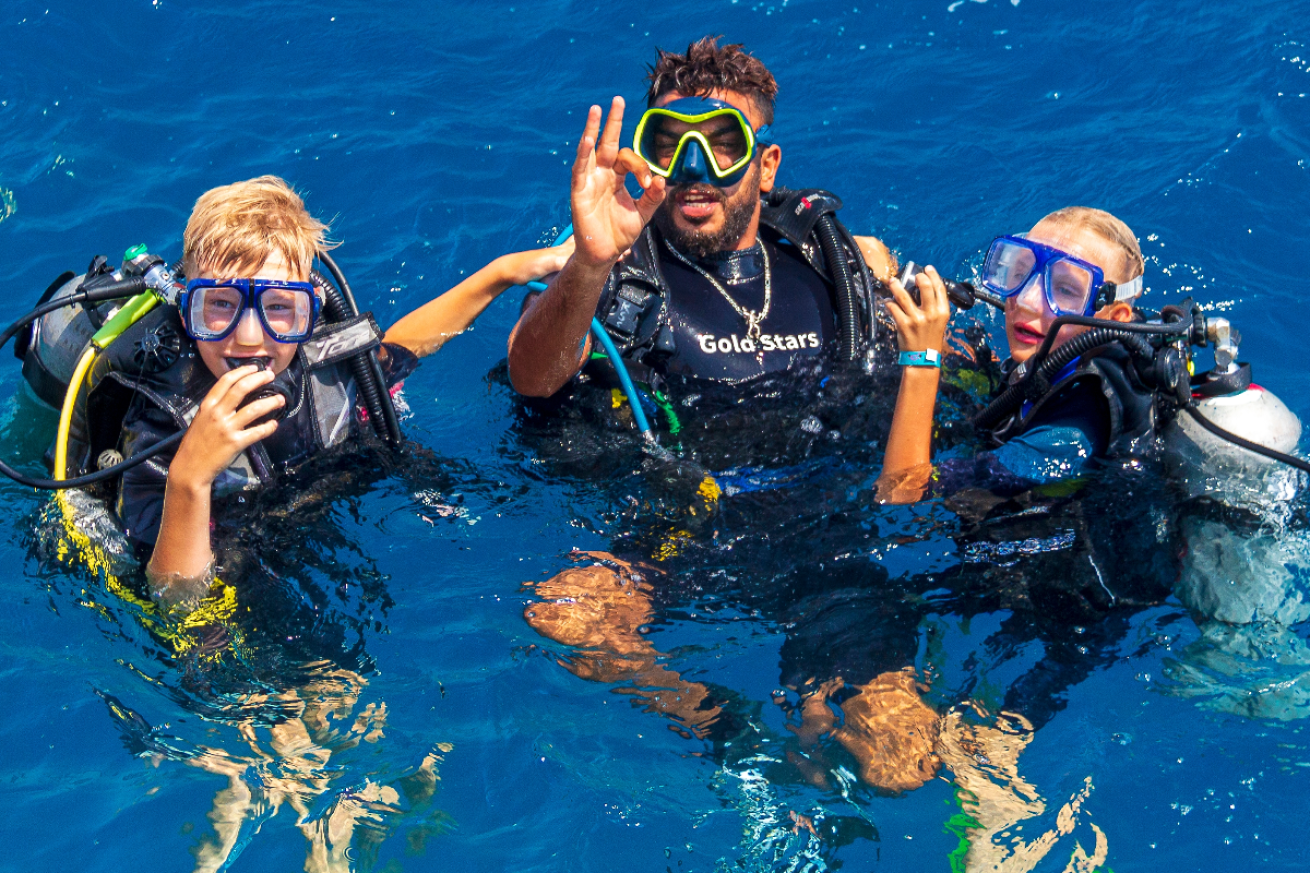 Kids and teens benefit from specialized learning environments and processes. Friendships made through diving last a lifetime!

Shutterstock.com/Studio MDF
The ocean is underrepresented in many formal educational systems and often misrepresented as dangerous by the media. By extension, so is scuba diving. Additionally, many misconceptions exist around kids and diving. For the past decade I have been running a successful dive program for kids, teens and families in the Pacific Northwest. These tips and tricks will help the kids in your life love scuba diving, starting with their first course.
Encourage Water Comfort From An Early Age
It's never too early to start increasing a child's comfort around water. This can be done through swimming, snorkeling or marine science programs.
Most private swim schools and public parks have programs to teach water-survival skills for babies as young as 6 months.
Include games when you are in the water with kids, such as diving to the bottom of the pool to retrieve toys, and add in equalization techniques. Learning how to pinch and blow gently as they go into deeper water helps kids have fun even before they learn to dive. When they learn early, it's often easier for them to swallow or wiggle their jaws to equalize.
Swim fins have become a popular instructional tool for children as they build leg strength. Fins need to be the right size. If they are too big or too stiff, kids will bicycle-kick instead of flutterkick. Developing muscle memory for kids early in life helps them transition to scuba diving as they age. Kids must demonstrate they can swim 200 yards, or 300 yards with a mask, snorkel and fins. In my PADI Junior Open Water Diver courses, I prefer to have my students snorkel so I can observe their comfort with gear and their water skills.
Going slow builds self-confidence as students discover a new skill set, language and self-reliance. Young learners need repetition, patience and the responsibility of completing their own work. The more confident and competent they are in the pool, the more successful their transition to open water will be.
Invest In Equipment
Investing in scuba equipment helps children excel. There is plenty of gear on the market that fits most 10-year-olds. If you have a smaller child, ensure the training dive center you choose has invested in junior-size or extra-small gear, including tanks.
A properly fitted mask is a child's window to the underwater world. In my experience, the two best-fitting masks for beginners are the Tusa Freedom Ceos or Tusa Freedom Elite. Both have soft silicone, and the Ceos fits most kids' faces, while the Elite suits larger, wider faces.
Before purchasing fins, work in the pool with an instructor. Learning with various fins helps students create proper technique over a bicycle kick. As soon as you know your child will want to pursue scuba diving, invest in a regulator and dive computer.
Related Reading: Better Together: Planning Your First Family Dive Trip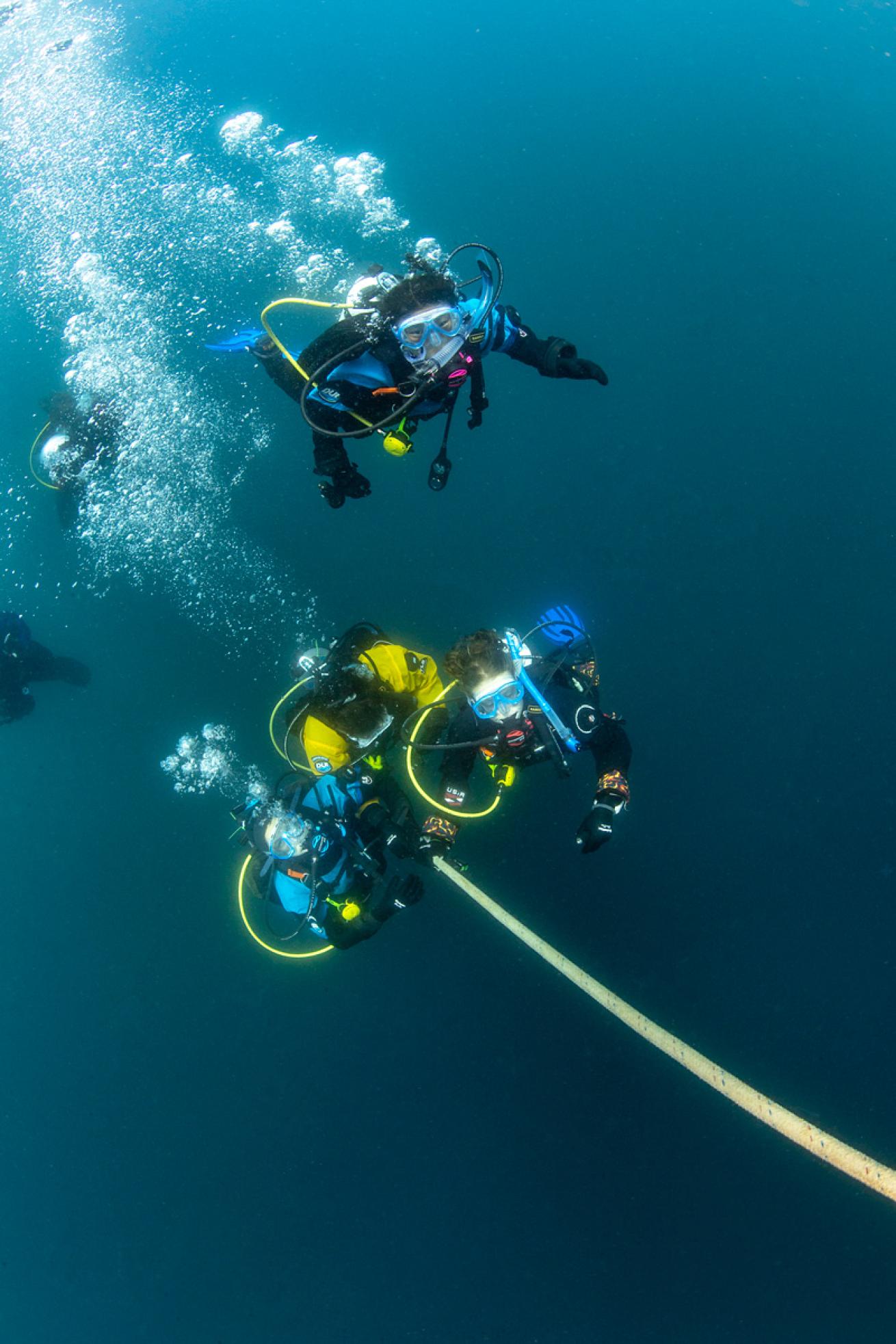 Encouraging water comfort from an early age will lead to more confident divers who are ready to explore the underwater world with you.

Annie Crawley
Kids can start logging dives from the beginning of their dive careers using an app that connects to their computer. Computers and apps are a great tool you can use together as they learn how to safely explore our world underwater. Discuss depth, temperature, air consumption, ascent rates, safety stops and more using real-time information after every dive.
Most common physical issues kids face while learning to dive can be overcome by building strength. Core-strengthening exercises help support the weight of carrying equipment on shore dives. Disconnecting the BCD or drysuit hose is one of the hardest skills for kids because of their smaller hands. Build finger strength with stress balls or grip-strengthening trainers.
Kids as young as 8 can experience diving concepts and use gear with the PADI Seal Team program. At 10 years old, if they are mentally and physically ready, they can become PADI Junior Open Water divers by demonstrating the same skills as an adult learner. I assess a child's ability to understand basic diving concepts in the classroom, and their physical and mental readiness in the pool.
Friends Learn Best With Friends
It's more fun for kids to learn with their friends, so as you explore the concept of diving for your family, ask other families if they are interested as well. Semi-private classes work great. Breaking them into age groups of 10- to 12-year-olds, 13- to 15-year-olds and 15- to 18-year-olds is essential. With the right instructor and students in their cohort, students can excel and overcome challenges.
Patience, Perseverance And Passion
Many dive centers run four- or five-day programs that include all confined-water and open-water sessions. These courses can work well for competent teens and adults who complete the online learning in advance. I've found young learners work best with a slower pace and more pool sessions, while simultaneously completing the online program.
Related Reading: Great Dive Destinations For Kids
Keeping kids warm before, during and after their dive helps with their enjoyment and desire to do repetitive diving. This can be done by using a properly fitted hood or hooded vest. Get a dive coat for warming up after diving. Fuel young divers properly with protein and adequate hydration to keep them focused when learning to dive.
PRO TIP
Although many parents want to take the class with their child or put siblings together, kids tend to do better with peers that are the same age. The social and emotional part of diving is impactful as students learn how to take responsibility for themselves, their equipment and their buddies. When kids are learning with parents or siblings, it can negatively affect their ability to focus and learn. Encouraging them to proceed independently will make them better divers.
---