Stuart Cove Talks shark diving, training movie stars and sinking wrecks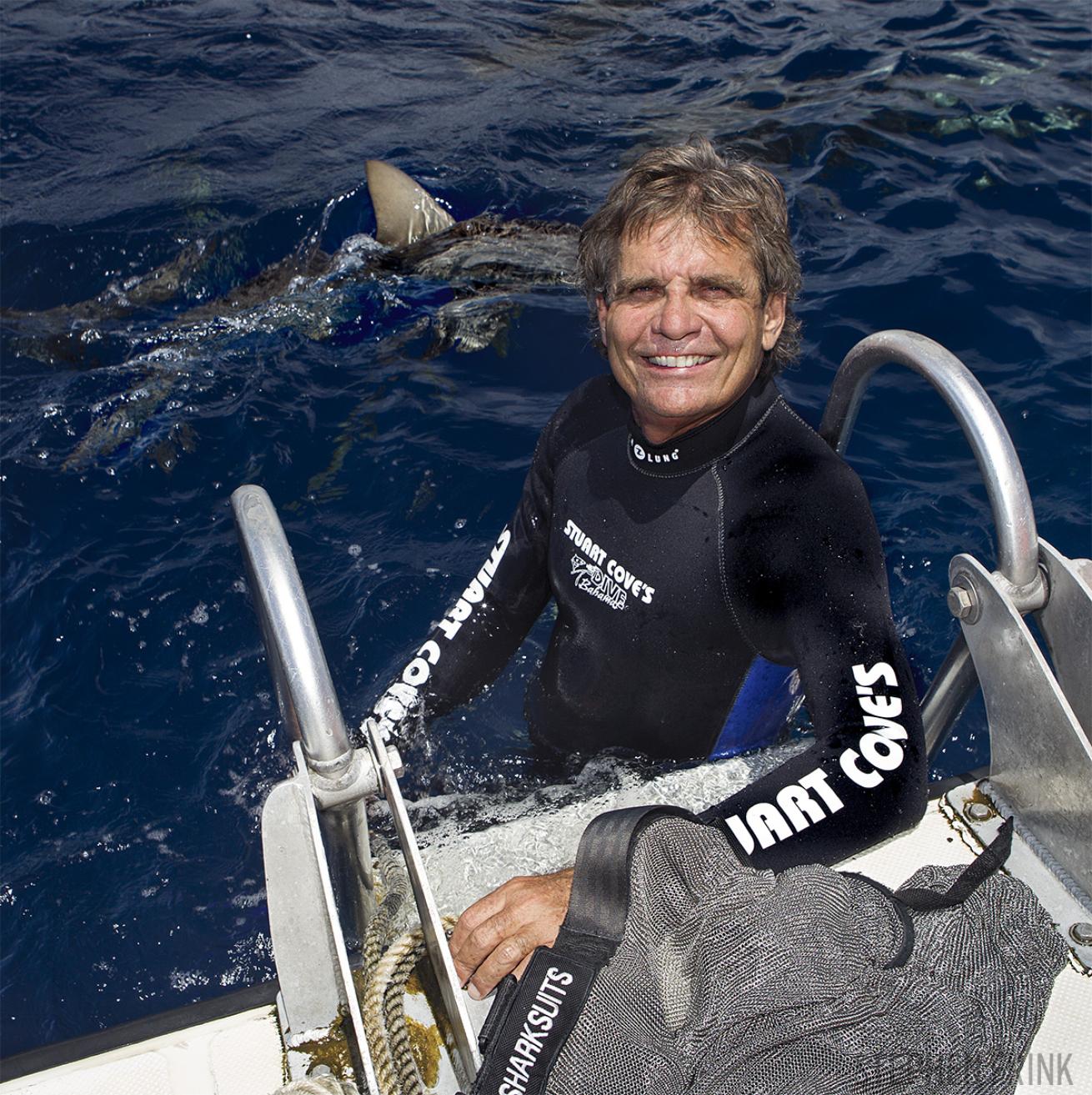 Hall of Fame
In 2016, shark-diving pioneer Stuart Cove was inducted into the International Scuba Diving Hall of Fame.

Stephen Frink
Seeing Stars
Stuart Cove has worked with many movie stars over the years, including Paul Walker during the filming of Into the Blue.

Courtesy Stuart Cove
DAT BAHAMAS BAD BOY
"Hammerhead!" Stuart Cove saw the predator swim by as he was baiting lines and called out to alert others to the shark's presence. Cove had always thought that if you see a shark, you get out of the water.
Instead, he witnessed something he had never seen before. It was off-hours on the set of the James Bond flick For Your Eyes Only, and suddenly all of the foreign and California crew grabbed their masks and jumped in.
"Somewhere in the back of my mind I thought, 'You know, sharks aren't as bad as people are led to believe. People want to see this,'" Cove recalls.
Today, after 40 years of diving professionally, Cove still wakes up every morning excited to go to work — even if scuba diving isn't what he originally planned to do. Back in 1978, his parents weren't thrilled to hear their son was dropping out of the University of Western Ontario's pre-med program. An avid diver born and raised in the Bahamas, Cove had been destined to become a fifth-generation dentist. After a doctor confirmed that a debilitating tremor in his hands could be controlled only by daily medication, his life and career path changed forever.
"A lightbulb went off and I thought, 'Do I really want to be doing this, something I have to take a daily drug for?'" Cove says.
It was only natural that Cove returned to the Bahamas. Taught to scuba dive at age 5 by his father, Cove looked for work on the water. He opened a dive center; shortly after that his sister's boyfriend got him a job as head of dive training on For Your Eyes Only.
"I got to train the stars, the director and any other important person who came on the set," says Cove.
It was during filming of that 1981 release that Cove learned to wrangle tiger sharks. "Up to that point, I thought when you see a shark in the water, get the hell out; they'll eat you," Cove says. "It was after For Your Eyes Only that I realized these sharks are pretty freaking cool."
That's when Cove had a business epiphany.
"We put a price on it and started bringing tourists down here," says Cove. "It was one of the first places in the world where you could interact with sharks. Then we started getting television shows — National Geographic, the BBC. So we got a lot of international press, and our dive business boomed because of it."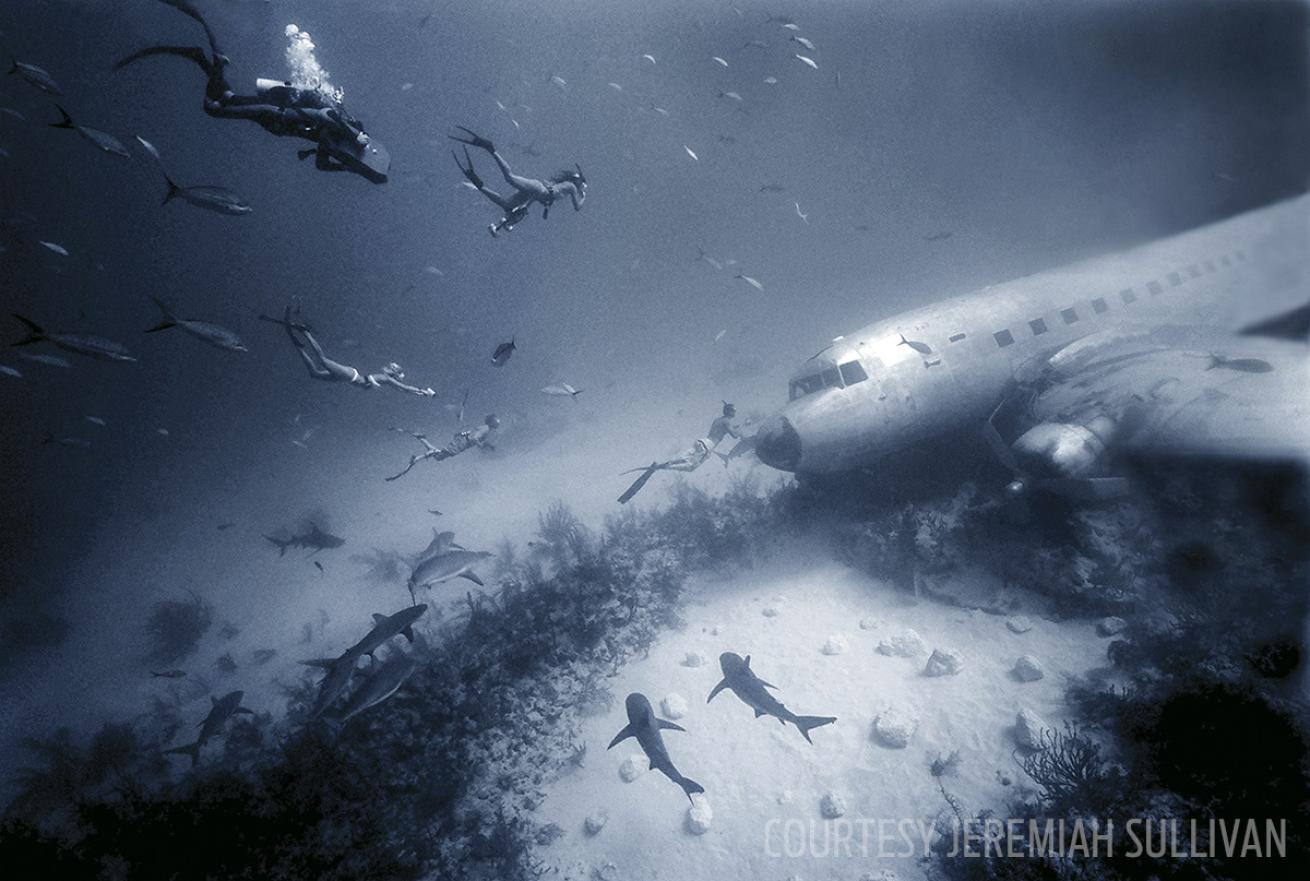 Into The Blue
Stuart Cove purpose-sunk a DC-6 airplane to a create a shark filled set for Into the Blue.

Courtesy Jeremiah Sullivan
REBEL WITH A CAUSE
Cove reinvested in the business, buying one piece of equipment at a time.
When a Hollywood cinematographer like Peter Zuccarini has to shoot underwater scenes requiring a real ocean, he knows Cove's team offers the full gamut.
"If we need to shoot on a wreck or build a set underwater, we can choose an optimum depth for the scale of the set," Zuccarini says. "Stuart and his team know this area so well, we barely need to scout to find filming locations. For Into the Blue we needed to have a DC-6 airplane on the bottom, surrounded by sharks. Stuart was able to work with the Bahamas National Trust to secure permits and install the aircraft in a way that delivered a fantastic set with great care not to impact the marine ecology."
Over the years, the business has amassed a collection of shipwreck sites, not always in conventional ways.
"We work with the Bahamian government in moving old sunken freighters from Nassau Harbor," says Cove. "We kind of have an unspoken agreement that if I can move them, then I can put them wherever I want. So they're happy, they ask no questions, and we're happy. Because of that, we have over 25 shipwrecks. A couple of them we've baited sharks in, so there are always sharks there. They've become great movie sets."
"If you want to sink a wreck, the government wants to send out people to inspect it and make sure it's all perfect," Cove continues. "We don't want to damage the environment that we make a living from, and I think they realize that, so they kind of leave us alone. And we do a damn good job of cleaning them."
Not following protocol doesn't worry the self-proclaimed rebel. As he sees it, he does plenty in return for the community.
"I'm the Bahamas bad boy, but I bring in a ton of tourists and movie jobs, and we create a lot of good-paying jobs," he says. "We also train Bahamians to be dive instructors and place them with our business or other businesses around the Bahamas. I do so much good that they turn a blind eye to my rebellious side."
Earlston McPhee, Bahamas' director of international relations and economic development, says Cove is critical to the Bahamas' tourism economy. "Stuart Cove is a household name," says McPhee. " Stuart has given numerous local youths opportunities to forge a career in the dive sector — this relationship is paramount in our goals of sustainable tourism development and sustaining the growth of the dive sector."
Along with custom shipwreck sites, Cove believes his location is invaluable.
"Our success is because we're in a great location — it's the best diving in the world," he says. "It's so diverse, and there's so many fish, it's just unbelievable."
Although tourism is Cove's bread and butter, he also specializes in commercial diving, providing logistical and dive support for underwater film production, and private dive instruction on request.
His eponymous dive center has come a long way since its 1978 opening. What began with one man, a Boston Whaler and two tanks has grown into a staff of more than 180 people and 20 boats at five locations across Nassau.
"I said this 20 years ago: 'You either expand or die,'" Cove says. "You have to embrace change. I don't see us slowing down any time soon. I still have the enthusiasm to carry on another 20 years at least. I'm 57; I think I can go until I'm 77."
Certifying Celebs
Stuart Cove helps find and create underwater locations for films and trains the onscreen talent as well as other production members. Here he is with Salma Hayek.

Courtesy Stuart Cove
LIVIN' THE HIGH LIFE WITH STUART COVE
Q: What's your coolest encounter with a movie star?
A: "When I taught Sean Connery" — for Never Say Never Again — "he came up with a shell from one of the dives," Cove remembers. "We had this cook on the boat, and she said, 'Oh, Sean, what a lovely shell.' And he looked at her and said, 'It's not half as lovely as you.' Sean Connery is James Bond in real life. He's just a cool cat; he's somebody you'd want to go out and have a few beers with."
Q: Where's the best scuba diving in the world?
A: "I'll be honest, the best diving is here in Nassau. There's a site off the southwest side of Nassau called Orange Bowl, and it's quite advanced. It's 60 feet deep and drops off to the Tongue of the Ocean, which is a mile deep. There can be a lot of current there, so it can be a little challenging, but it's nutrient-rich water that flows off the edge there, so there's a lot of fish and a lot of coral. I also did just get back from ice diving in Quebec. I like to change it up. When I get time off, I like to do things a little different."
Q: What's the biggest thing you've learned?
A: "Humility. On my first movie job, on For Your Eyes Only, my sister's boyfriend told me, 'Stuart, take the cotton out of your ears and stick it in your mouth,' because I had so much ego and knew everything better than everybody. It's taken me 40 years to tame that ego. An ego is good if you can balance it out — you can't have it be obnoxious."
Q: What's your dive boat of choice?
A: "I'm spoiled. I've got several of the 46-foot Newtons made in Louisiana. They're really beautiful boats that are fast and comfortable. I don't like going on the little outboard boats. I've gotten a bit soft in my old age."