Stunning Summer Scuba Vacations
Planning a trip to one of these dive hotspots? Here's what you need to know. Featuring insight from locals, tips for timing seasonal experiences, and the scoop on popular dive sites, as well as some lesser-known dives you'll want on your radar too.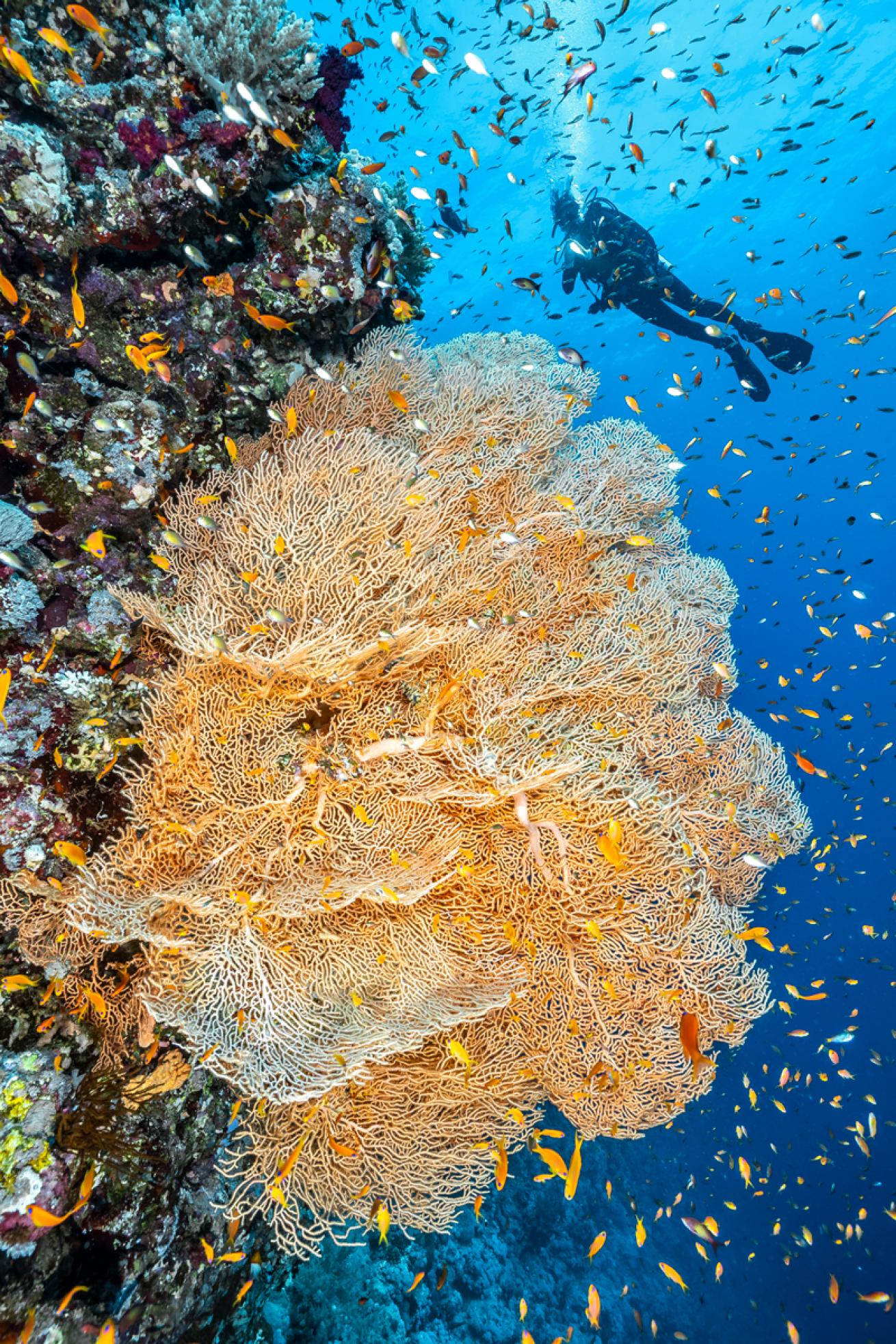 A diver marvels at a huge gorgonian sea fan at Elphinstone reef.

TOBIAS FRIEDRICH
Red Sea
Under the Radar
Red Sea dive sites off the southernmost region of Egypt remain relatively untouched by divers, says Wayne Brown, of Aggressor Fleet, since most liveaboards only travel as far south as St. John's Reef, near the Sudan border, before heading back north.
In July, however, Aggressor will launch seven Deep South Egypt charters on its Red Sea Aggressor IV yacht, says Brown. Among the rarely visited sites farther south on the itinerary are Habili Ali and Habili Gaffar reefs.
The Classic Dive
North of Marsa Alam in Egypt, Elphinstone Reef is the stuff of legend for divers visiting the Red Sea. The open-sea reef has plunging walls and plateau dive sites, and teems with a dizzying array of pelagic fish and sharks.
On any given dive you might see oceanic whitetip sharks, schooling hammerheads, silvertips, Napoleon wrasse, turtles, mantas and more— all just 6 miles from shore at what's considered one of the world's most thrilling dive sites.
Related Reading: How to Photograph the Red Sea's Wrecks and Reefs
Dive Report
"Meeting the Indian Ocean bottlenose dolphins in the north, especially at Shaab El Erg, is always a highlight, especially if you catch them in the right mood, before they start resting in the morning or after waking up in the early afternoon," says All Star Liveaboards cruise director Elke Bojanowski.
In April, the All Star Red Sea launched its fi rst separate itineraries in the northern and southern Red Sea. Dugongs have recently been spotted at dive sites around Marsa Alam, says Brown.
Plan a Trip
There's always something to see in these waters, no matter what time of year you dive.
May to July brings the excitement of schooling scalloped hammerheads around sites at St. John's and Daedalus in the southern Red Sea, says Kevin Purdy, president of All Star Liveaboards.
Your chances are best for seeing oceanic whitetip sharks along the drop-offs of Brothers, Daedalus and Elphinstone (and at sites farther south) in October and November, he says.
Second-Time Visitor
It's easy to spend all your time blowing bubbles in these parts, but Egypt's topside sites are among the most culturally enthralling in all the world.
If you missed the pyramids, Valley of the Kings, Luxor and other sites on your fi rst trip, book a dive adventure that wraps topside travels into the itinerary—or piece together your own adventure that allows time for independent topside travels in one of the world's most fascinating countries to visit.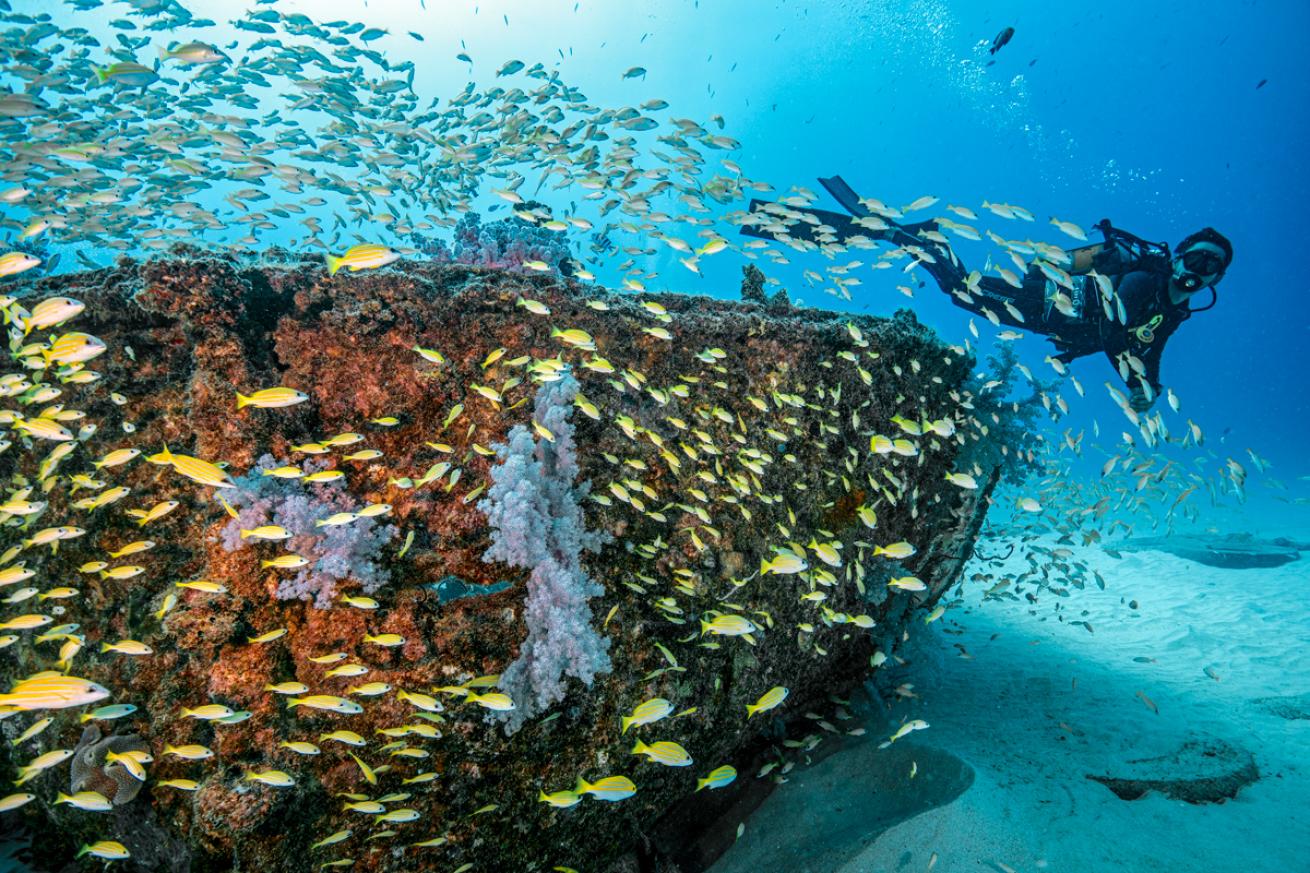 The wrecks of the Emily and the Water Lily attract vibrant fish life.

GERALD NOWAK
Mauritius
Under the Radar
Emma Andrews, of Crystal Divers Mauritius, points to Carpenter Reef, a drift dive off the east coast of Coin de Mire Island, as a lesser known dive site that brings the excitement. "When the currents and tides align, this dive site has spectacular swim-throughs, rock formations and the chance of spotting some of the larger pelagics out in the blue," she says.
The Classic Dive
Jill Holloway, owner of Ocean Spirit Scuba Diving Mauritius, says the Round Island Safari, with dives at Shark Cathedral and the Shark Pit, is Mauritius' classic dive day out. "It's spectacular. We always find sharks there," she says about the sites. "And the corals are magnificent on the way to the drop-off, where you can see the bottom of the ocean 120 meters below you in the blue."
Related Reading: Do Sharks Behave Differently at Night?
Dive Report
"Every time you jump into the water you learn something new," says Andrews. "You don't know whether you will see a wild pod of dolphins on the surface, spot some cool macro critters among the corals, or see a reef shark, turtle or ray cruising out in the blue. There is something for everyone to enjoy!"
Plan a Trip
From late June until around the end of October, humpback whales migrate from the cold waters of Antarctica to the warmer tropical waters of the Indian Ocean, including around Mauritius, to mate and give birth to their calves. "The ocean is filled with plankton and baitballs of young shoaling fish," says Holloway.
"Be prepared to hear [the humpbacks] underwater and see them on the surface," says Andrews. The water gets cooler during this time of the year too, dipping to around 75 degrees, so you'll want the right wetsuit to stay warm and enjoy their songs as long as possible.
Second-Time Visitor
Once they've dived Coin de Mire's classic sites, Shark Island and Mauritius' famous wrecks, including the Djabeda, return visitors often make time to explore Mauritius' vibrant reefs closer to shore, Holloway says. "There, we see rare Rhinopias species, interactions between moray eels and octopuses, hunting action and territorial disputes," she says.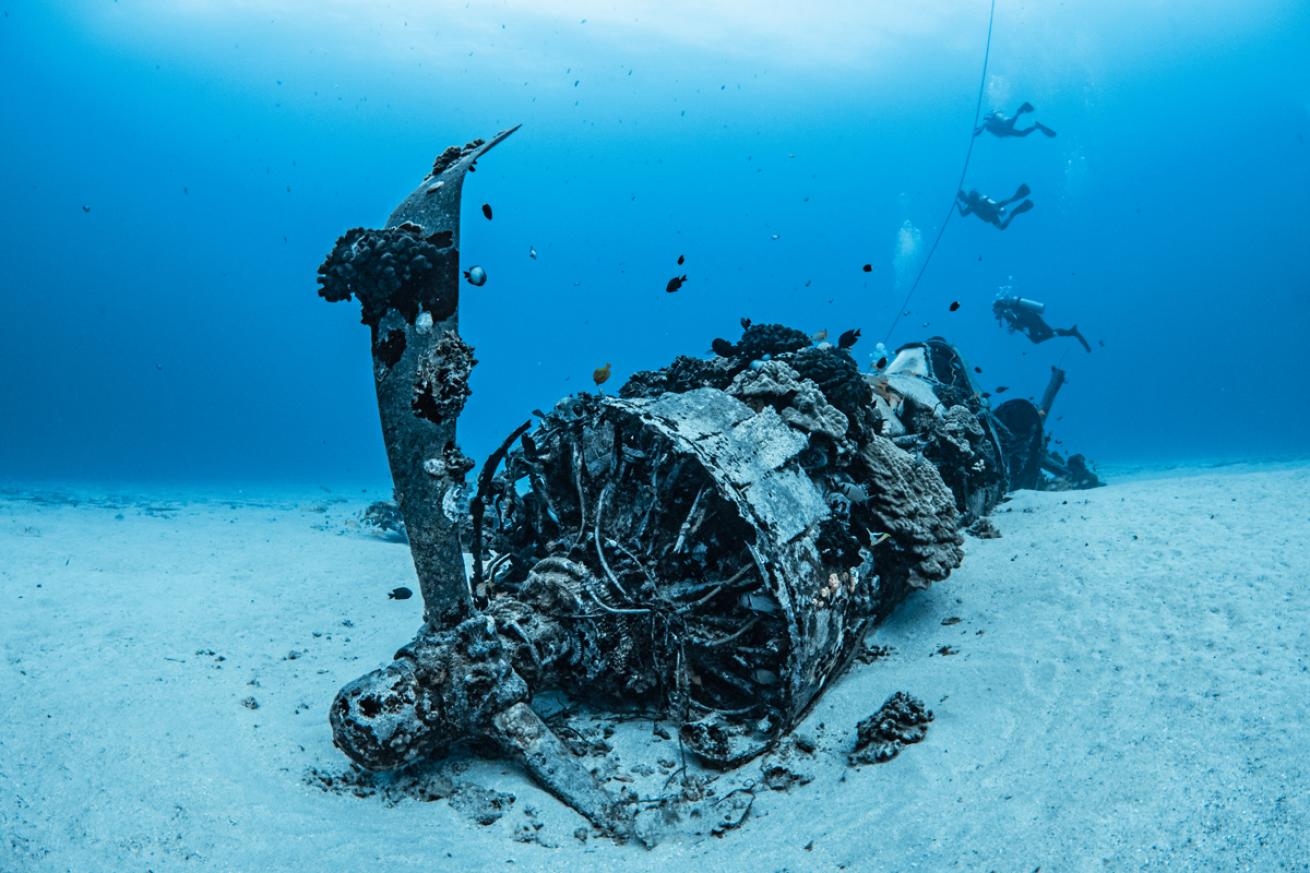 The Corsair fighter is perhaps Hawaii's most famous divable wreck.

JASON SINTEK
Oahu
Under the Radar
Fantasy Reef, along the south shore of Oahu in Maunalua Bay, is "a dream of coral,"says Teresa Kling, of Aaron's Dive Shop. "The site is a series of sculpted rock outcrops and ridges set upon a broad rubble plain with numerous overhangs, ledges and swim-throughs large enough for divers to pass through," as she describes it. The contrast of the vibrant reef with the surrounding white sand makes for striking photography.
The Classic Dive
"A beautiful mistake" is how Dive Oahu's website refers to the World War II-era wreck of a Corsair fighter plane that went down (the pilot miraculously survived!) during a training exercise from Pearl Harbor. Sandy expanses populated with reticent garden eels surround the wreck, which rests in roughly 105 feet of water. Look for large moray eels and frogfish within the decaying debris.
Related Reading: The Ultimate Guide to Scuba Diving Oahu
Dive Report
"Most recently, we've seen whale sharks and humpback whales on our deeper wreck sites," says Kling. "It's been a real treat."
Plan a Trip
If being serenaded by whale song and potentially even catching a glimpse of the graceful giants sounds like your kind of aloha spirit, plan to dive in Hawaii's waters from January to March, says Kling. "Humpback whales migrate to Hawaii to mate and give birth in the warm, safe waters," she adds. "Most dives during this time are accompanied by their whale song," and you can often watch them topside from the dive boat.
Second-Time Visitor
During the summer months, when there's generally less swell lapping the islands, it's a good time to check out surprising shore diving sites on the west side of Hawaii's Big Island, says Byron Kay, of Kona Honu Divers. The site Puako has swim-throughs and chimneys to explore in just 35 feet of water. And Kailua Pier is beloved among local divers for the enormous schools of bigeye scad that gather by the thousands and shimmer like an underwater disco ball (that might even come swirling all around you, if you're lucky).
---