The Ultimate Guide to Scuba Diving Oahu
Oahu is home to Honolulu, Waikiki Beach and the infamous pounding surf at Pipeline. With its population of nearly a million, this is also the social heartbeat of the islands, earning it the nickname "Gathering Place."
But Oahu is much more than a thumping nightlife and surfing epicenter. Minutes from the shoreline, one can drown out the urban cacophony with a wide variety of diving opportunities suited to anyone with an open-water cert. An ocean full of wrecks, walls and lush reefs is just a brief boat ride away. When planning your trip, think of the island in sections. The majority of operators are out of the South Shore, or Honolulu. This is where the wrecks of the San Pedro, YO-257, Navy tug and Sea Tiger sit. This is also where you will find Kewalo Pipe and Turtle Canyon.
The southeast harbor of Hawaii Kai gives access to sunken barges, the Corsair fighter plane wreck, Spitting Cave and the beautiful Sea Cave. If you can find a boat out west, you might check out Makaha Caverns or what's left of the M/V Mahi. Diving the North Shore of Oahu is only possible in summer months when the water is calm enough.
Wherever you splash, keep in mind that 30 percent of Hawaii's fish species are found nowhere else in the world. And everywhere you go, a Hawaiian green sea turtle is likely to make an appearance.
Best Dive Sites in Oahu
Get ready for wrecks on wrecks when you come to dive Oahu.
Sea Tiger
Mario World
YO-257
Navy Tug
Sea Tiger
The Sea Tiger was once a Chinese trading vessel, confiscated as part of the largest human-trafficking bust in the history of Hawaii. The vessel was sunk in 1999 as an artificial reef in 120 feet of water near Kewalo Basin, in an area where currents are almost unheard of. Whitetip reef sharks are often found lying in the sand. Look closely and you'll find the wreck is crawling with nudibranchs and other hidden critters. Brian Benton of Dive Oahu mentions that the Sea Tiger even made a guest appearance in an episode of Magnum P.I.
Mario World
From the moment you descend, you'll understand where this Oahu dive site gets its name. The extensive pipe system that covers the sea floor makes for a unique underwater landscape and is home to many tropical fish. The real star of the show here is the large schools of pufferfish that congregate here. With a maximum depth of around 40 ft, this dive site can be enjoyed by divers of all skill-levels.
YO-257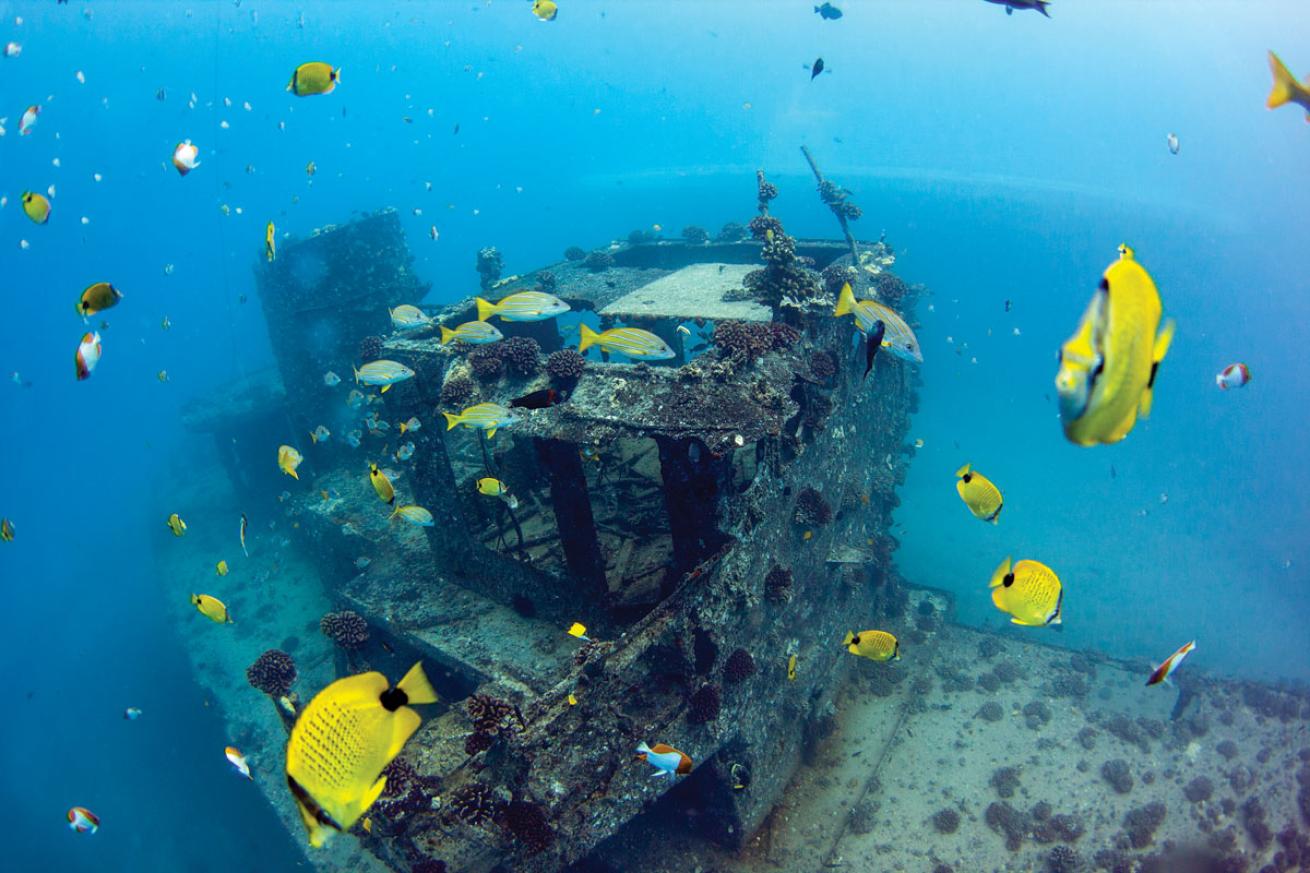 Jeff Milisen
This former Navy yard oiler served in World War II, the Korean War and Vietnam before being committed to the deep near Waikiki in 1989. Large plates have been cut away, making the interior accessible to most divers. Life abounds near this current-swept wreck; the stern is home to a cleaning station that services some of the largest and friendliest turtles on the island. "If you time it right, you can watch one of the Atlantis tourist submarines go by," Benton says. Max depth is 90 feet.
Navy Tug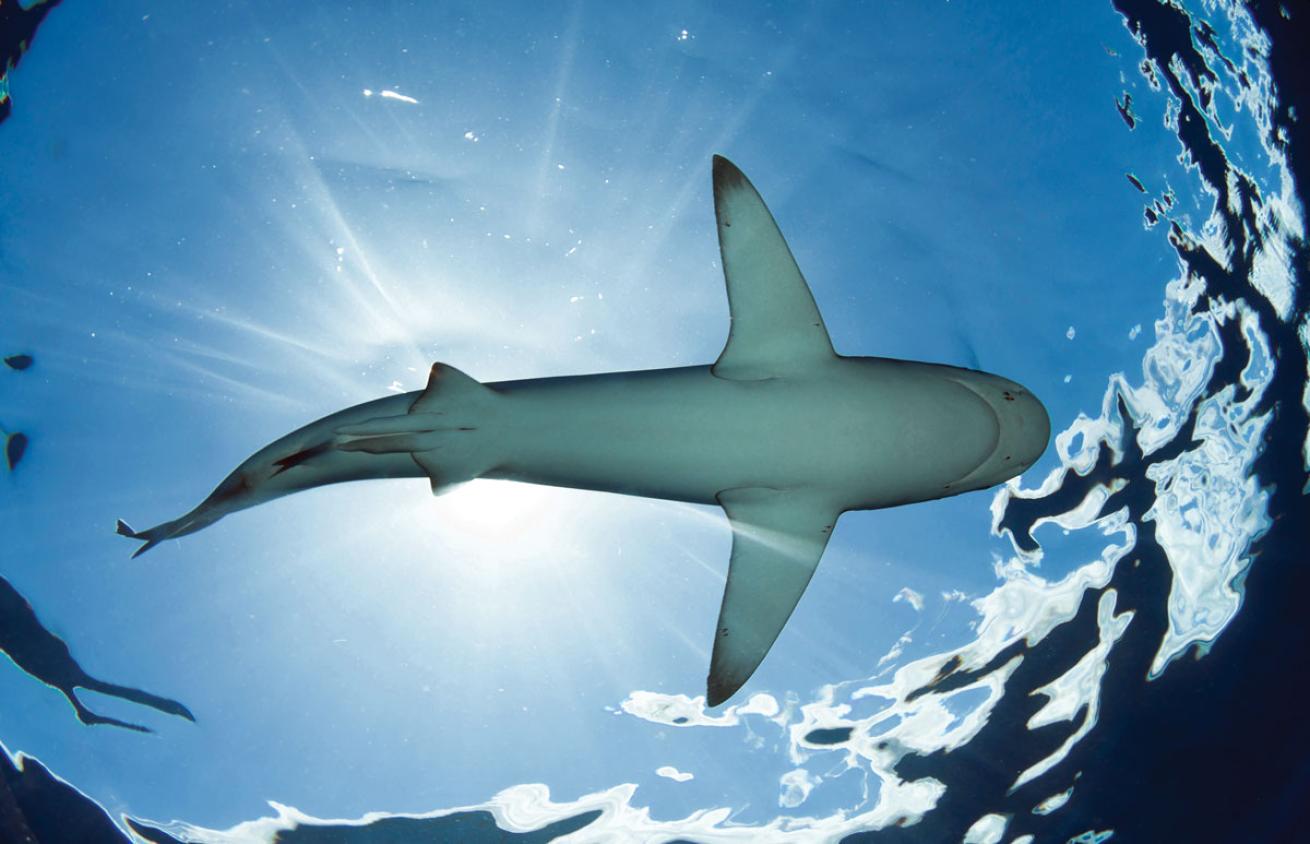 Jeff Milisen
This little-tug-that-could served the U.S. Navy until sunk sometime before 2012 as a training exercise. "It's now one of the nicest wrecks on the island," Benton says. There's something poignant about seeing a recognizable structure underwater—this one sits upright on cement spars at 60 feet offshore from Pearl Harbor. Keep an eye in the distance for sandbar sharks that patrol the area. These medium-size gray sharks move very fast to catch their fishy prey.
Must-Do Topside Activity
Rent a car and get out of town. The drive east from Hanauma Bay is easily one of the most scenic in America. Keep your eye open for the idyllic beach near Halona Blowhole where the movie From Here to Eternity was filmed. Enjoy delicious shrimp from the Kahuku food trucks; people-watch at Pupukea Beach (aka Pipeline) before grabbing a shave ice and soaking up surf culture in quaint Haleiwa.