The Ultimate Guide to Scuba Diving Kauai
The grand beauty of Kauai's majestic paradise is matched by few places on Earth. Nicknamed the "Garden Isle," Kauai is famous for the lush tropical rainforest that covers much of its surface and has served as an exotic backdrop for many Hollywood films. What some may find surprising is that Kauai and its neighboring island of Niihau offer some of the most rugged and unique scuba diving in the island chain.
If you're looking for an off-the-beaten-path dive experience with gin-clear visibility and extraordinary underwater topography, head no further than Niihau, roughly 17 miles from Kauai's coastline. Known as Hawaii's "Forbidden Island," Niihau is off-limits to outsiders and has been privately owned by one family since 1864. Niihau now serves as a protected habitat for endangered species, including the rare Hawaiian monk seal.
Between May and September, Kauai operators offer day trips here that are suited to more advanced divers. For more relaxing diving, Kauai's south shores offer diversified sites for all experience levels. Since Kauai is exposed to large swells, its coral formations are not as plentiful as in other Hawaiian islands; it compensates with its rich ecosystems and unique underwater terrain. Scuba diving in Kauai means dramatic volcanic ridges, swim-through caverns and large lava tube formations where sea turtles, rainbow-colored tropical fish and whitetip sharks abound, along with macro critters like the Hawaiian turkeyfish and the longnose hawkfish.
Best Dive Sites in Kaua
Looking to encounter big animals, soar through cavers, or sweep through a drift dive? Kauai dive spots deliver:
Vertical Awareness, Niihau
Sheraton Caverns, Kauai
Turtle Bluffs/Fish Bowl/General Store
Koloa Landing
1. Vertical Awareness, Niihau
A Hawaiian monk seal at Kauai's Vertical Awareness.

Renee Capozzola
Known for scores of pelagics, Vertical Awareness also features sheer drop-offs, impressive underwater landscapes and amazing water clarity. Under the boat, giant trevally and sandbar sharks circle a flat pinnacle characterized by large open cracks from rock-boring urchins. But the real star of the show is the highly endangered Hawaiian monk seal. With fewer than 1,500 individuals remaining, these earless seals are one of the rarest mammals on Earth. Niihau serves as their primary nursery and place of refuge.
2. Sheraton Caverns, Kauai
Without a doubt, Sheraton Caverns is the most requested Kauai dive site. Although it's just off Poipu Beach, it is most easily done as a boat dive. The highlight is swimming through numerous sunlit caverns among schools of bluestripe snapper and green sea turtles. Ranging in depth from 30 to 60 feet with little to no current, this is a site that all divers can enjoy.
3. Turtle Bluffs/Fish Bowl/General Store
This trifecta is usually done together as a drift dive. According to the general manager of Seasport Divers, Derek Budde, "Prevailing currents normally make us go in that order, though when they are going in reverse, we switch and do the drift backward." All three are loaded with fish and follow a large ledge featuring several overhangs and a few caves. Lucky divers might also be rewarded with turtles, sharks and black coral trees.
Koloa Landing
The best shore dive on the south side of Kauai. This diving spot on Kauai is easy to navigate and frequented by snorkelers and divers completing their certification introductory dives. Locals and experienced divers love this site for its abundance of marine life, like sea turtles, eels and large schools of fish that can be found in the protected bay.
Looking to do a manta ray night dive in Kauai? Shift your gaze to the Big Island, Hawaii's night dive hotspot!
Must-Do Topside Activity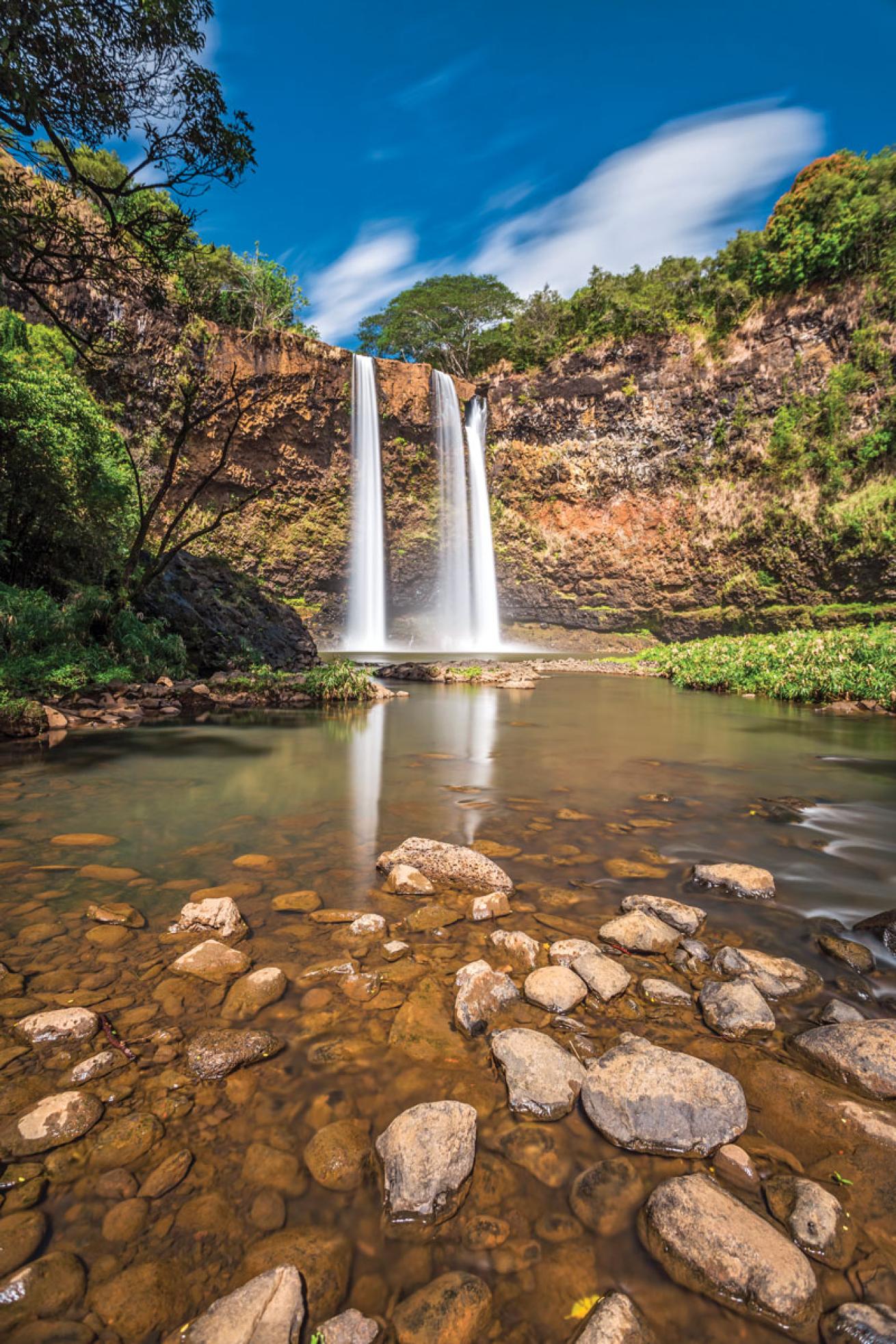 Ominayaphoto/Shutterstock.com
A visit to Kauai would not be complete without enjoying the spectacular scenery of the Na Pali Coast. One of the best ways to experience these towering emerald-green sea cliffs and uninhabited beaches is by hiking the Kalalau Trail to Hanakapiai Beach, approximately 2 miles each way.
---