The Underwater Thrill of Long Island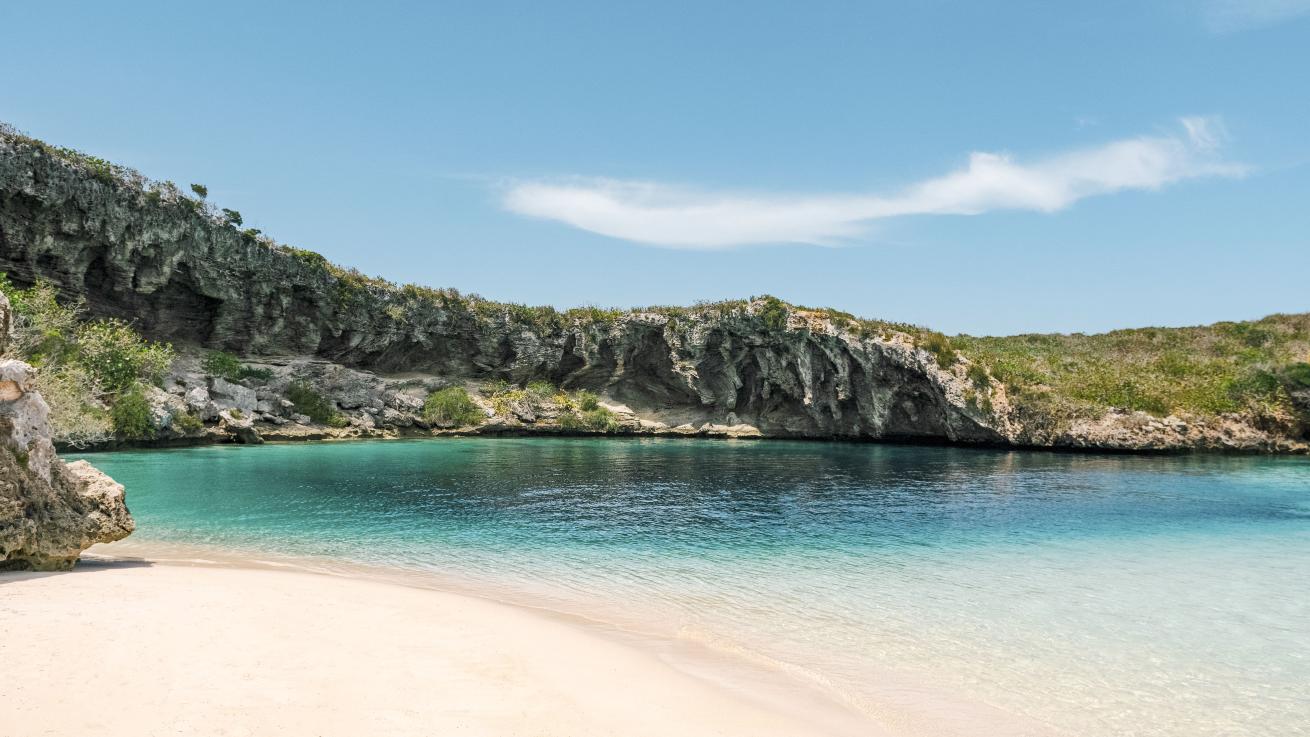 Courtesy of Bahamas Ministry of Tourism
Long Island, just a 45-minute flight from the capital of Nassau, Bahamas, has long intrigued divers, from Dean's Blue Hole, the world's second deepest, to its reefs and offshore islands where anything can happen when it comes to wildlife encounters.
Start with Conception Island, a day-trip diving destination that sits 16 miles from Long Island. It's an hour-long boat ride to reach these sheer walls—amid a 30,000-acre national park—that start at 55 feet deep and drop straight down to 3,000 feet. The island itself is uninhabited; below the waterline, it's home to green sea turtles, sharks and eagle rays. Some local dive operators, including Captain Omar Daley, offer this as a drift dive. As for what you see, it's always a roll of the dice. "Occasionally, we see the Mahi-Mahi when they are running," he says, referring to the months of May, June and July when this fish is more commonly seen. "We've also come across manta rays and hammerheads." Captain Delbert Smith, another on-island dive operator, echoes that excitement. "Sometimes, we see dolphins or eagle rays with as many as two or three coming up to you on a dive."
Long Island is also home to several wrecks, including the 98-foot M.V. Comberbach, a cargo ship unique for the 1975 Ford van inside the hold. The ship played a role in building the island, but when it became clear she was no longer seaworthy, she was sunk in 1986 to a depth of 90 feet. Because she was made safe prior to sinking, divers can swim through sections of the interior, including the engine room and captain's quarters.
On Long Island, you'll also find the world's second deepest blue hole. Dean's Blue Hole, just north of Clarence Town, is a day trip aimed at experienced divers. Jump in, and at 60 feet, you start to lose the sunlight inside this hourglass-shaped expanse. "It opens back up as you're swimming under the beach," says Daley. "You reach 70, 80 feet and the fish are swimming upside down. The first time I saw that, I freaked out—but I knew I hadn't been drinking," he says, joking. Inside the blue hole, Glasseye snapper, Nassau grouper and muttonfish crowd the crevices. At 80 feet, the tarpon hover, ready to stalk their prey. Dean's Blue Hole is also where freediving classes are taught. Vertical Blue, a freediving school based on island, offers summertime clinics for beginner freedivers as well as experienced freedivers looking to take their skills to the next level.
The island also offers a wealth of coral reefs, many with spur-and-groove formations and patch corals. Grouper Valley, off Galliot Cay on the northern tip of the island, is a popular site for the likelihood of spotting sharks and other pelagic life. Barracuda Head, in 50 feet of water, remains a favourite among many dive guides for the richness of biodiversity, from big schools of Horse-eye jacks and Bermuda chubbs to Nassau and Tiger grouper. On nearly every dive, at least two Caribbean reef sharks make appearances.
It's a place where dive guides aren't surprised to be surprised. "Two Saturdays ago, I was at Barracuda Head and saw a 30-foot whale shark," says Smith. "People dive their whole lives, travelling the world, and never encounter anything like that—and I saw something like that right here in Long Island." "It made me feel special," he says.
That's the magic of Long Island.