What It's Like to Be a Polar Dive Guide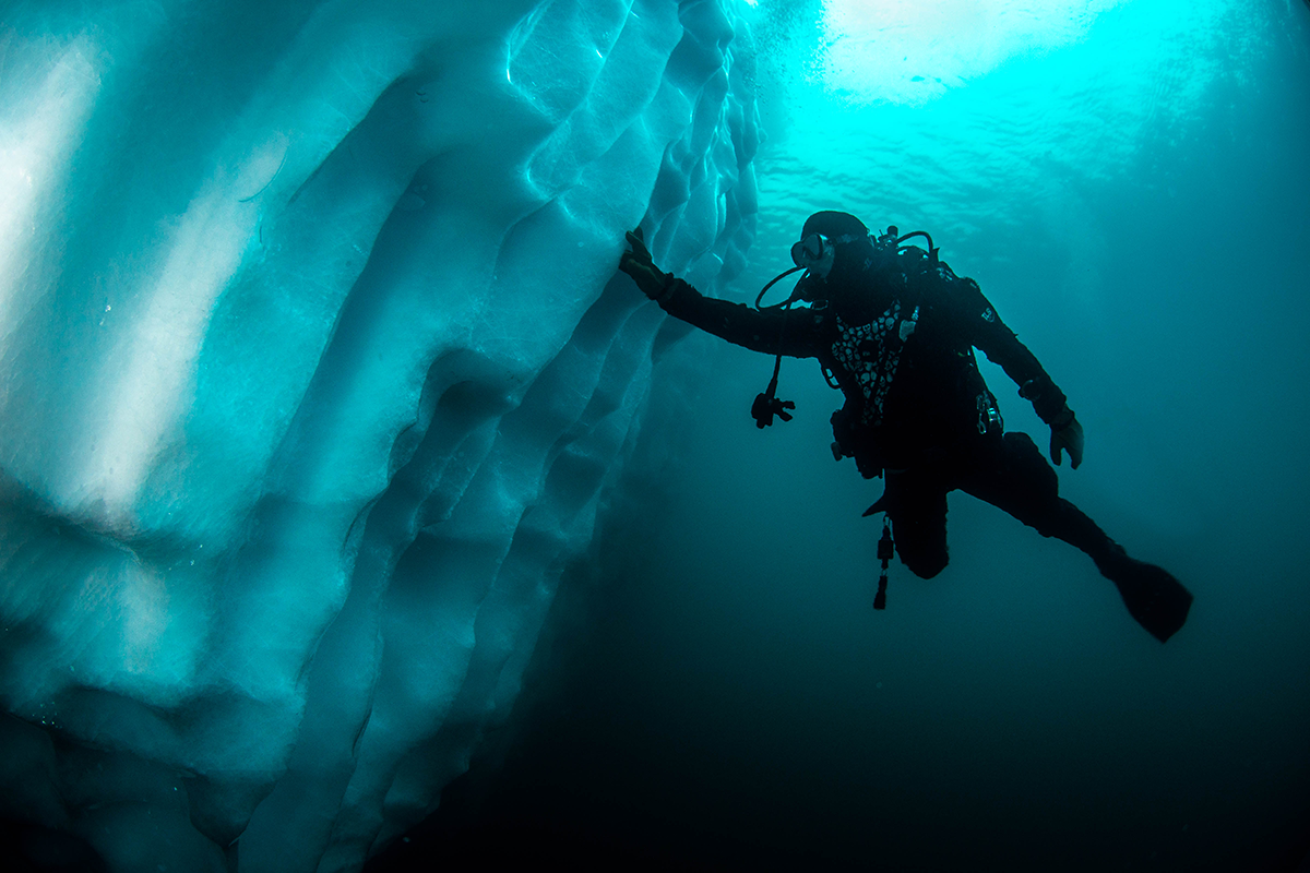 "Groans, squeaks, pops, cracks, creaks, crackles and bangs just softer than a gunshot. You can't hear this anywhere else on the planet."

Michael Green
The cold makes me feel like I've been hit with a baseball bat when I backroll off the Zodiac. But that's what I'm here for — when you're diving the polar regions, you're going to be cold. You have to accept it. You have to embrace it.
Quickly, the only part of me that's exposed to the icy water — my face — goes numb, and I all I feel now is excitement.
I've been a diver since 1980 and a polar dive guide with Oceanwide Expeditions for seven years now, but it never fails to amaze me just how remarkable it is to see ice underwater.
It's much more dynamic than most people imagine. It's in a constant state of change, which it shows off in its sounds. Groans, squeaks, pops, cracks, creaks, crackles and bangs just softer than a gunshot. You can't hear this anywhere else on the planet.
When ice moves across land to get to the sea, it picks up boulders, stones and grit. And when it reaches the ocean and starts to melt, those objects drop out. There's also ice that's melting beneath you when you dive these regions. Eventually, small chunks of ice break off, floating to the surface. These things can happen at any moment.
---
---
Boulders coming down, ice coming up — and then there are the birds, which can come from any direction.
In the North, around Svalbard and Greenland, the seabirds fly past you through the water, flapping their wings exactly as they do through air. The first time you see it, you think the cold has gone to your head. And then you realize they're just searching for fish.
In the South, around the Antarctic Peninsula, South Georgia and Falkland Islands, the birds you see underwater are penguins. You hear the shoo, shoo of the water as they flap their wings, swimming around to make sure there are no leopard seals around before woosh, they rocket out of the water and onto the ice. Seals can also surprise you, how agile they are in the water.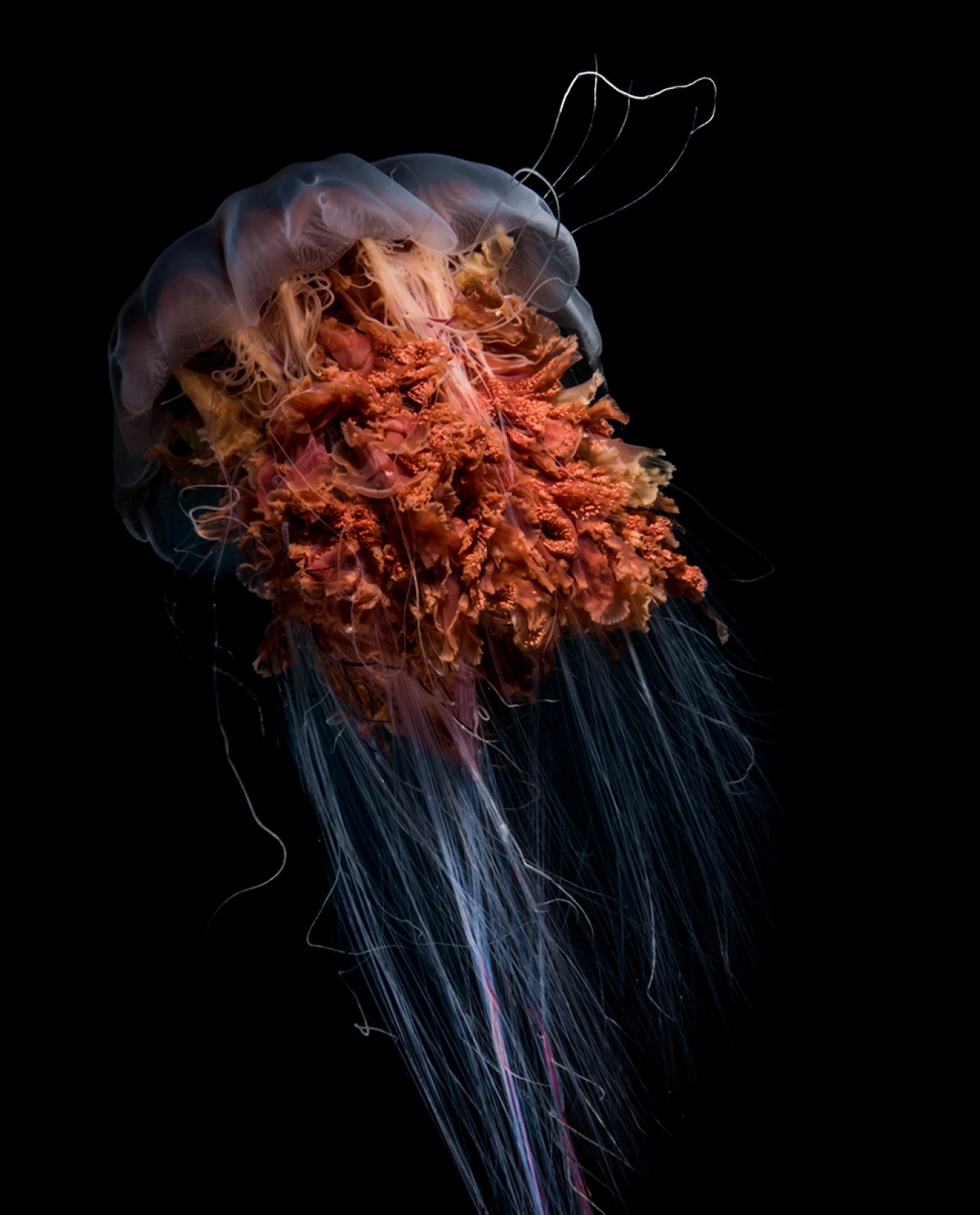 A jellyfish moves through the polar water.

Michael Green
Sure, these seas have no brightly colored reef fish or manta rays or hammerheads. But from humpbacks in the South to sea spiders in the North, there are plenty of interesting encounters to be had.
The only animals we stay away from are polar bears and walruses. We have to be extra cautious out here, because if anything major goes wrong, it can take days to get to a medical facility for help.
Besides keeping a close watch on depth (no more than 50 to 65 feet) and time (40 minutes to an hour), we make sure everyone is keeping their body core warm. Dressing for the dive is an ordeal — full cotton long johns, a wool T-shirt, a ¾-inch-thick fleece undersuit, 5mm gloves and a drysuit for me. And of course, post-dive, we teach the guests how to safely warm up, shed their wet layers and share a nice warm beverage on the expedition vessel. (Hot chocolate's the best.)
My first dive with Oceanwide was as a guest, and just going on a single expedition changed my outlook on the planet and the way I live. Everything is more intentional now that I've seen some of the most vulnerable ecosystems in the world.
---
---
It's why I've kept coming back season after season for seven years and counting. I've traveled quite a bit in my life, but I haven't been to many places where I've watched people go out into the cold and cry because of what they see.
Whether it's topside, taking in a vista of giant sheets of ice, or underwater on a sunny day when the light shines through the ice like a stained-glass window, as a polar dive guide, I've seen that emotion many times from guests.
I hope it changes them the way it changed me, but if it doesn't, at least they'll have the memories of some spectacular dives.
---