What It's Like to Dive the World's Deepest Pool
Deep Dive Dubai's subterranean treasures lie at various depths to accommodate divers of every skill level.

Gerry Blaksley
Returning from a recent Sharm elSheikh trip with my kids (Nakoa, 19; Colin, 20; and their friend Declan, 19), a change in COVID protocol landed us in Dubai with 36 hours to kill. Priority for my addicted bubblers: one last dive before returning to life as landlocked college students. I called the Lost Chambers Aquarium at Atlantis, the Palm.
"Sorry, guys. All booked," I said. "That would have been the coolest dive."
They smirked a bit in response. "I mean, cool, but not coolest," said Colin, pulling up Instagram and holding out his phone. "But probably the coolest dive we had a shot at."
On the tiny screen I watched Will Smith talk up the 200-foot-deep pool at Deep Dive Dubai. From where he sat at the water's edge it looked to be nothing more than a very sparkly and beautifully designed pool, until Will slid on his mask and the camera followed him under the surface. I needed mere seconds before scrambling to dial.
The boys scoffed. "It never hurts to ask!" I said as it rang.

As it turns out, COVID chaos luck swings both ways. The fully booked-for-months operation had a cancellation at 4 p.m., if we could make it.
The building's breathtaking iridescent exterior, mimicking a giant oyster (a nod to the United Arab Emirates pearl industry), was appropriately over-the-top Dubai. We strolled past cascading waterfalls and curved glass walls into the futuristic, gleaming-white interior.
Our brief facility tour felt like we were either embarking on the next space mission or about to get our heads cryogenically frozen. Racks of shiny new Scubapro gear lined the dive prep room. Multiple helpers fitted us with a kit that would reappear neatly readied on a dedicated table mere feet from our pool entry point. The concierge experience continued into luxury spa locker rooms to change.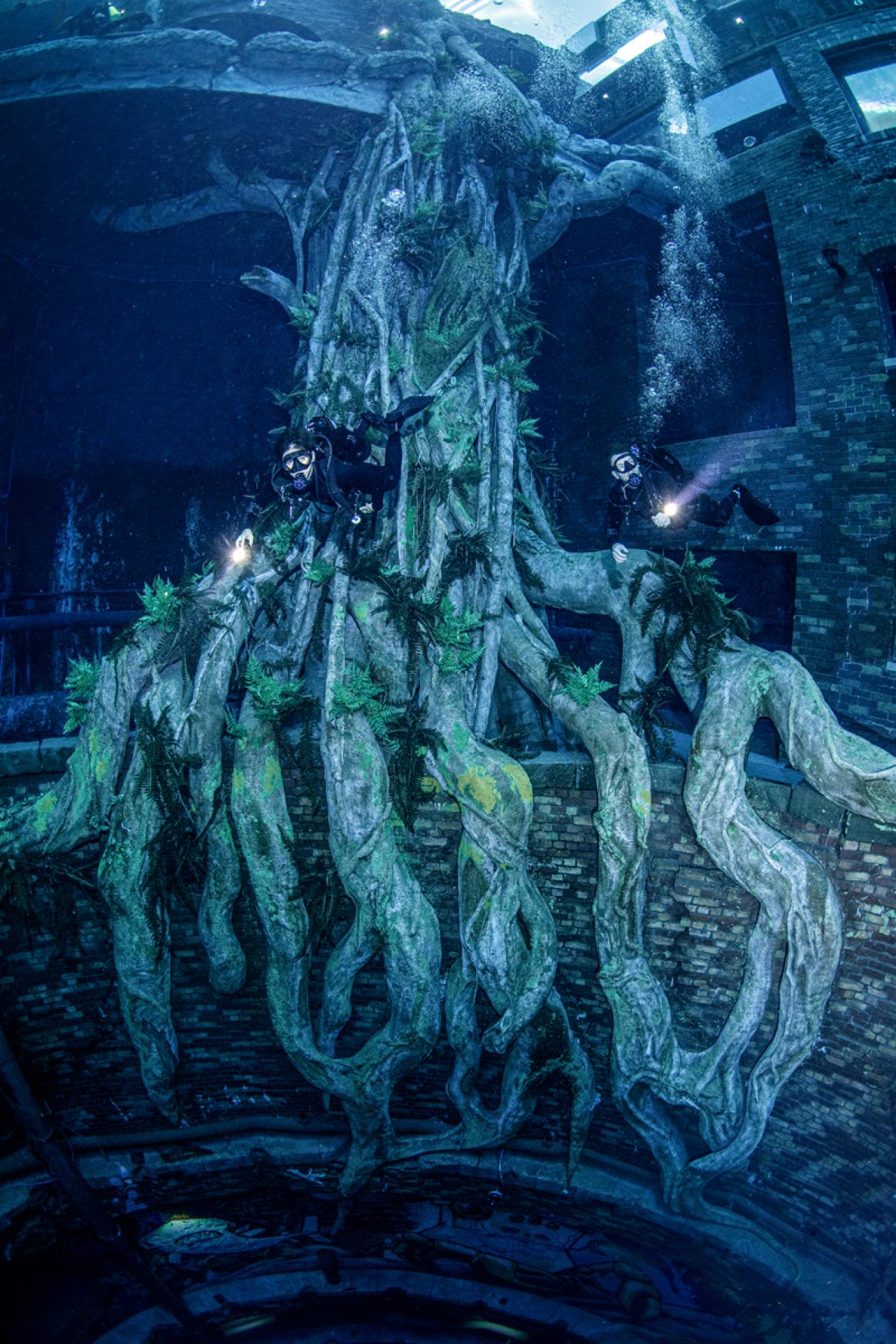 Scuba divers descend past spooky gnarled tree roots and crumbling graffitied walls in this pool designed to resemble an abandoned cityscape.

Jesper Kjoller
On the pool deck, we met the safety officer who would track our dive on a wall of monitors displaying a real-time feed from 56 underwater cameras. Should any issue arise, two-way speakers allowed for instant communication. Although extremely unlikely to be put to use considering the plethora of protective safeguards in place, an on-site hospital-grade hyperbaric chamber with 12 comfy recliners, on-site medics and a private tunnel for emergency vehicle access waited at the pool's edge.
We entered via zero-entry platform and immediately noted the 86-degree water made our matching wetsuits superfluous. (We sure looked cool to visitors through the cafe's underwater observation windows, though.) My Advanced Open Water-certified boys and I kicked to the center of the pool with our guide, Jesper Kjoller, while newly certified Declan and his instructor descended slowly along the side.
Otherworldly is the only word to describe the experience. A Wonka-esque fever dream for divers, the "pool" mirage quickly gave way below the surface. Sub-aquatic ruins of a modern city awaited exploration. Enhanced by mood lighting, a haunting soundtrack accompanied us, morphing through each new chamber. The entire scene spiraled around a mesmerizing sculptural 200-foot-deep blue hole. A multistory tree wove its roots through graffiti-covered brick walls, a poignant vestige of civilization. The vaguely dystopian carved-out windows into deserted apartments gave subtle Ghost of Christmas Future climate change vibes. We kicked solemnly through a modern-art exhibit, until our guide veered left through a break in the brick.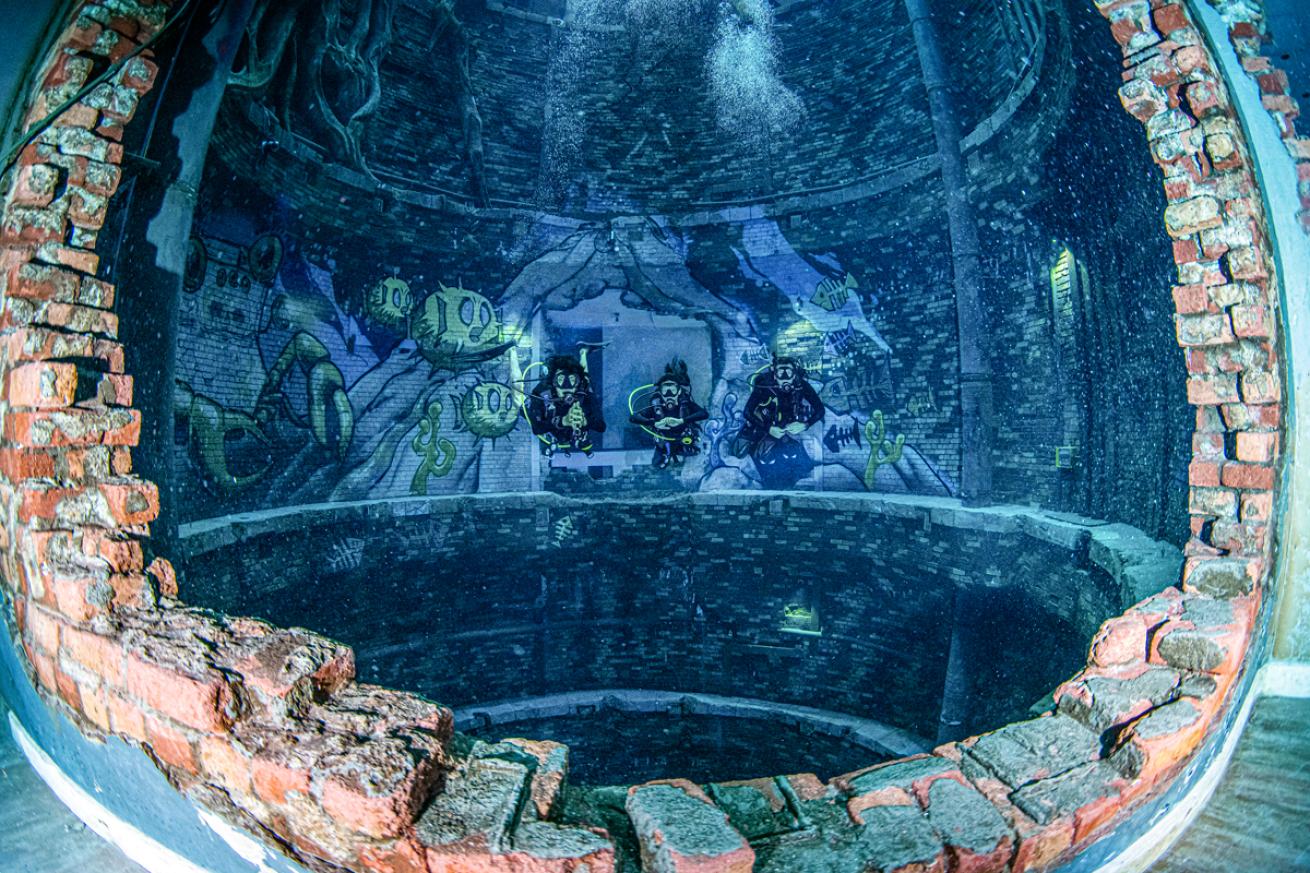 Art Depiction by Jesper Kjoller

Jesper Kjoller
We floated into a pink-hued living room as the music lightened. Kjoller sat on the sofa and reached for a box of carefully weighted popcorn on the coffee table. We looked at each other, laughing into our regs, and joined him in front of a CNN program on the flat-screen, handing the box back and forth and tossing back imaginary handfuls. Playtime had begun.
This was the world's best, coolest, soggiest playground for divers! This was all the joy and fantasy of weightless flying, plus stuff you could touch and not hurt! It was incredibly liberating. We ditched CNN and headed into a library chamber, complete with 1,500 books and a tall ladder we swung from as we perused the shelves for our favorites (sadly, my Girl Overboard had been checked out). In the gym, I got in my kettlebell workout (14 million liters of fresh water didn't make it any easier) while the boys joined forces to take on an impressive dumbbell. They had better luck on the stationary bike.
Onward to a game room to challenge each other on a working foosball table. The boys spotted a Formula 1 car and raced to hop in, while I sat astride a motorcycle, leaning over the handlebars making Evel Knievel vroom noises, my hair floating convincingly behind me in the little mirrors. It was like losing a year or two of maturity with every fin kick.
Kjoller led us into one of the facility's two dive bells, where we surfaced and dropped our regs to exclaim about all the amazing sights. The fact that the gas mix (flushed fully for each new group that entered) made our voices tinny like helium only added to the hilarity. We saw Declan kick past the portholes and reclaimed him for a final game of Ms. Pac-Man and underwater billiards, which devolved into a juggling contest with the billiard balls. I perused a magazine rack, Colin beat Kjoller at a game of chess, and Declan and Nakoa sat on a park bench checking their watches and waiting for a bus. At that point, it was all so magical I wouldn't have been surprised had one pulled up.
Even knowing our next stop was dune-bashing into the desert sunset before shopping at the world's biggest mall attached to the world's tallest building didn't make surfacing to the real world any easier. The unforgettable experience of diving in the world's deepest pool had brought our trip to heights even the 2,722-foot Burj Khalifa couldn't match.
---