What You Should Know About Scuba Diving in Sabah
When it comes to dive travel destinations in Southeast Asia, Malaysian Borneo isn't as popular as certain subaquatic stalwarts such as Indonesia, Thailand or the Philippines. But it's not for lack of quality. The numerous national parks and rich culture in Sabah are a veritable Garden of Eden for outdoor enthusiasts, offering so many different reefs and natural attractions that one vacation to the third biggest island in the world is not enough to explore them all.
1. Wonder Wall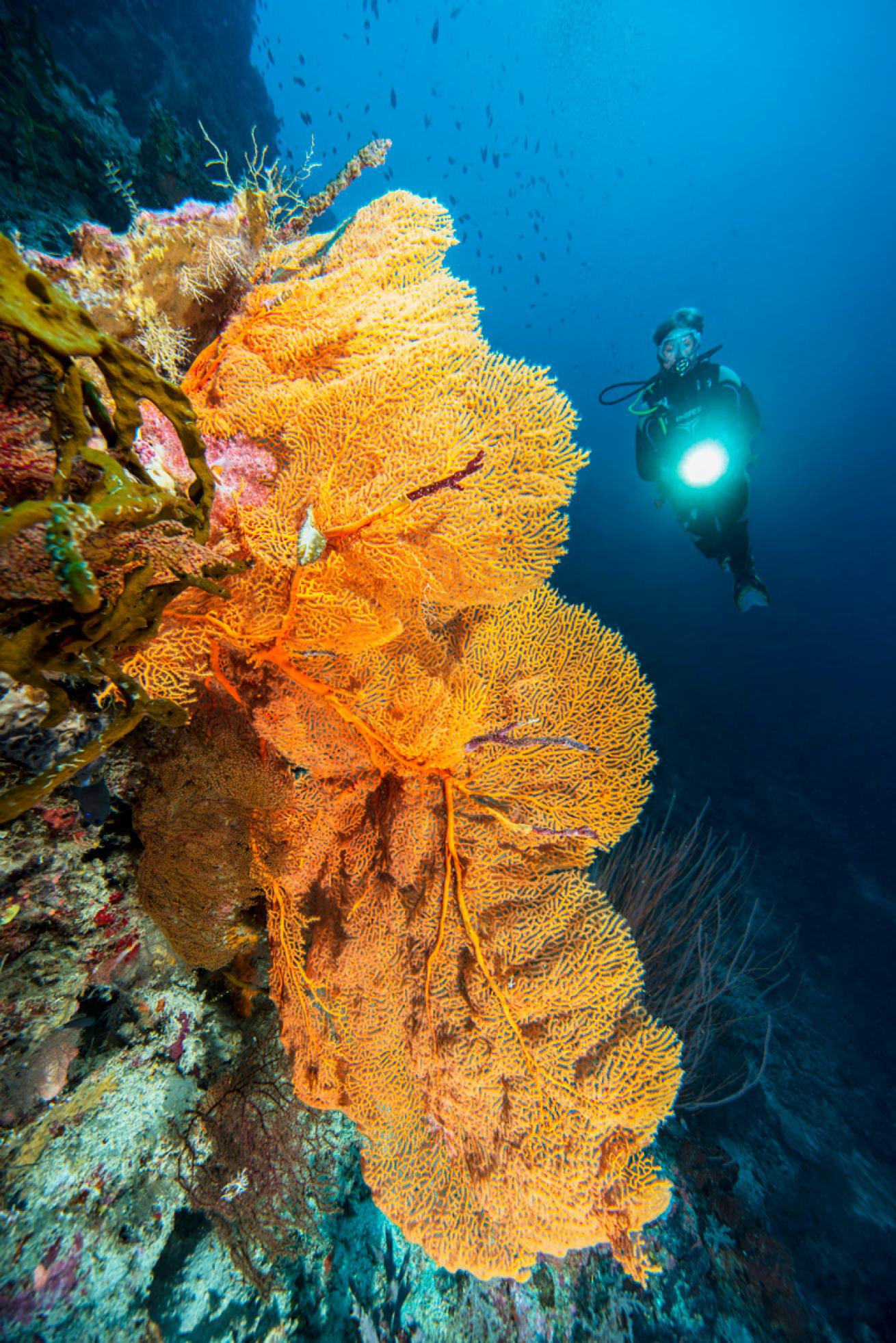 Soft coral grow off an undersea wall near Sipadan Island.

Gerald Nowak
A pinnacle rising from the depths on the edge of the continental shelf, Sipadan Island, in the Celebes Sea, is synonymous with diving in Borneo. The island's white-sand beaches lead right to deep drop-offs, creating sheer walls teeming with marine life and corals. A soft current leads from here to the site Barracuda Point, where you can find reef sharks, batfish, jacks and, of course, the eponymous schooling barracuda circling divers for a grand finale.
2. Macro Mabul
In sight of Sipadan lies the island of Mabul, home to a couple of dive resorts and an Indigenous Sama-Bajau village built on stilts. Dive boats frequently run to Sipadan from here, but the sites around Mabul are fascinating in their own right. A long wall stretches along the island's east side; the sea on the west side is shallower and lined with coral gardens and sandy patches. Jacks, barracudas and turtles romp about in the blue. The bottom is inhabited by frogfish, ghost pipefish and a lot of other small critters. Local dive guides are experts at finding macro monsters like shrimps or nudibranchs that are not easy to spot with inexperienced eyes. The guides know the habitats well, and many of them are underwater photographers themselves so they know well the needs of photographer guests. The colorful mantle of the red anemone , however, can be found without any help.
3. Resort Without an Island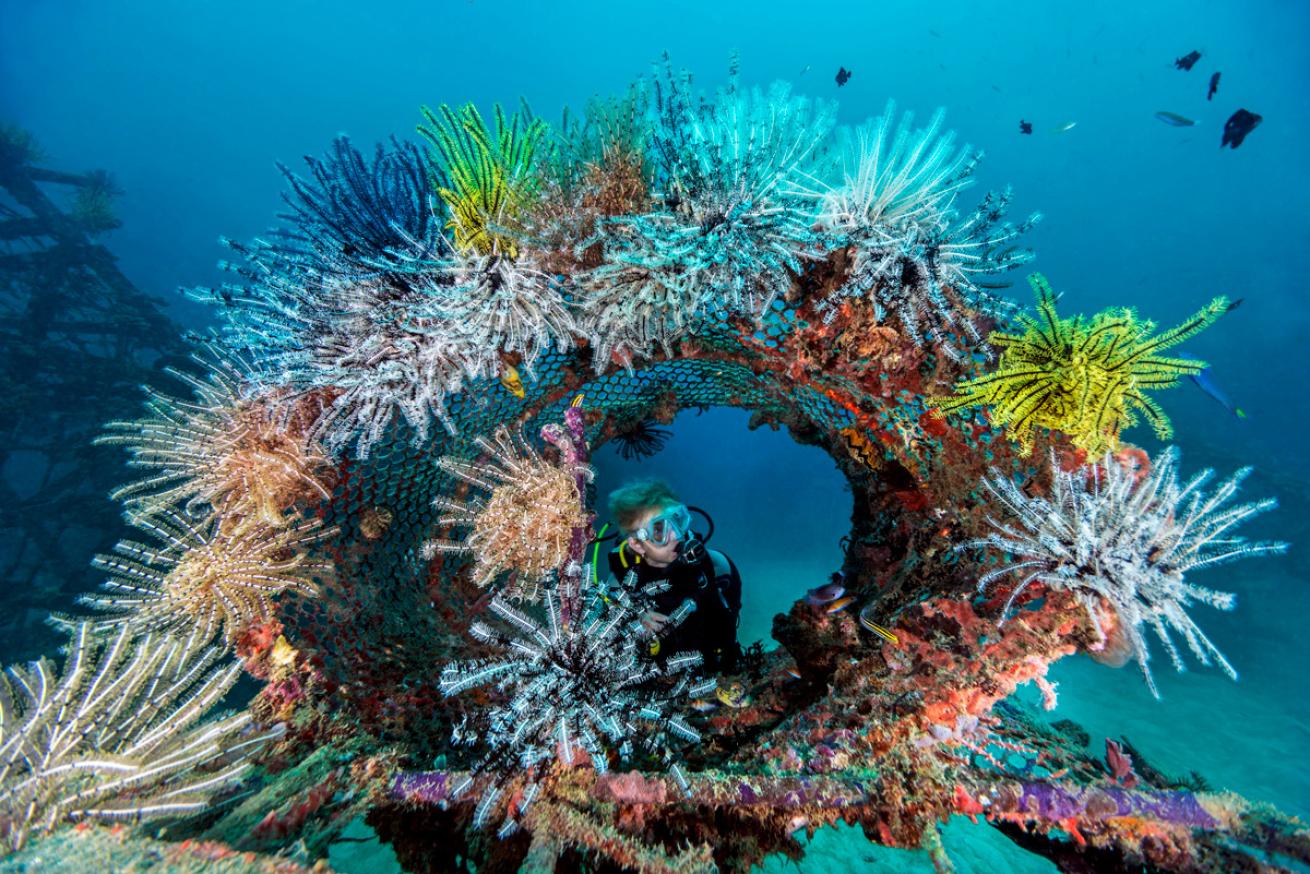 A discarded fish trap made of natural fibers has become home to thriving, colorful feather stars on the house reef at the Sipadan Kapalai Dive Resort.

Gerald Nowak
On a sandy shoal of the huge Ligitan reef system beneath the Celebes Sea stands the Sipadan Kapalai Dive Resort, a Waterworld-like string of bungalows completely surrounded by water during high tide. You can hardly be any closer to the dive sites below, where turtles cruise between ironwood stilts to visit the kindergarten of many tropical reef fish species there. All around are amazing spots for muck diving where you might find a variety of critters such as crinoid shrimp and nudibranchs, blue-ringed and mimic octopuses, and mandarinfish, just to name a few.
4. Another Side of Sabah
Malaysian Borneo is home to just as much unique wildlife topside as it is underwater, with dense, protected rainforest full of endemic and endangered species of all kinds. The 169-square-mile Danum Valley Conservation Area lies in the hard-to-reach hills in the center of Sabah. The highland primary rainforest here is virtually untouched and protected from the logging industry. It is one of the last refuges for many endangered wildlife species, such as red leaf monkeys, clouded leopards, marbled cats, rare agamas, hornbills, the diminutive Borneo elephant and orangutans. It is a truly wild area, and animal encounters are not guaranteed. Trekking through the lush green rainforest on small muddy trails, you might smell the elephants and hear the beguiling call of gibbons—even if you don't see them. Experienced guides are available to lead you on explorations day and night, where you can take a dip in a natural pool beneath a waterfall or take in the view while traversing a walkway high above the jungle canopy.
5. Sulu Sea
Lankayan is Malaysia's main dive hideaway in the Sulu Sea. This tropical gem can be reached in an hour and a half by speedboat from Sandakan on mainland Borneo, where most travelers have an overnight stay due to domestic flight connections. Visit the orangutan rehab and Bornean Sun Bear Conservation Centre while staying in Sandakan. Lankayan Island is part of the Sugud Islands Marine Conservation Area, an important breeding ground for the endangered hawksbill and green sea turtle populations. Whale sharks also pass through between the months of March and May. Along with numerous turtles, you can also spot whitetip and gray reef sharks during dives here. The sites consist mostly of coral gardens and plateaus, but also slopes and drop-offs with enormous amounts of tropical fish life such as batfish, bumphead parrotfish and barracuda.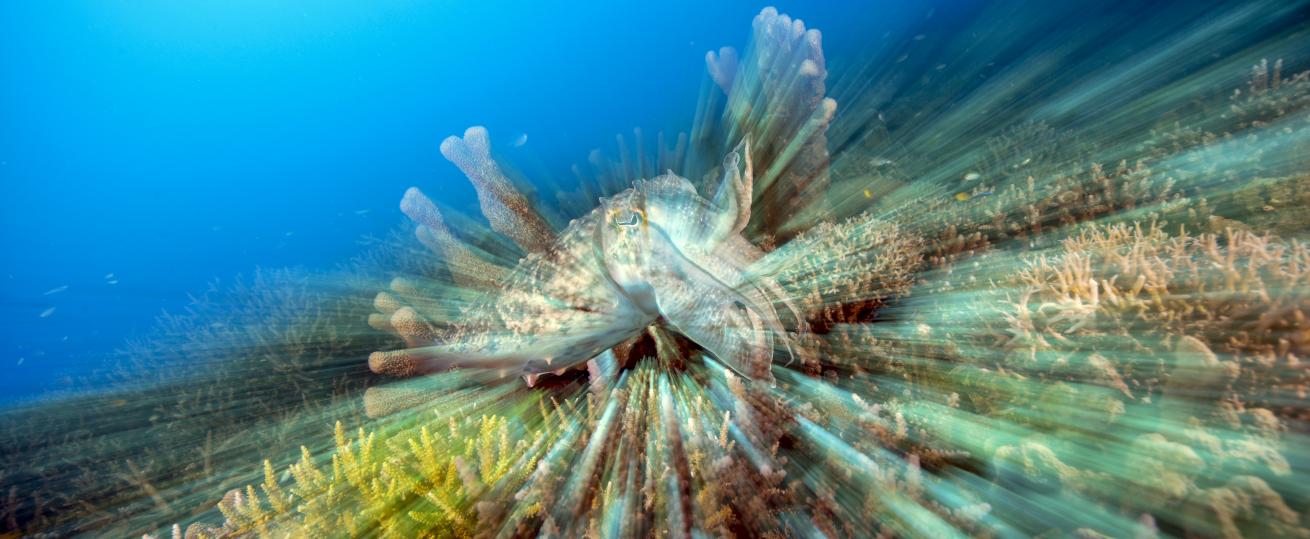 A psychedelic cephalopod, the broadclub cuttlefish (Sepia latimanus), on a Sulu Sea reef near Lankayan.

Gerald Nowak
6. Colorful Current
Nutrient currents wash around Mataking Island's 30-some dive sites and Mataking Resort. This can speed up some of the dives here. The currents are also responsible for the healthy growth of hard and soft corals, accompanied by an abundance of fish and turtles. The resort's house reef is situated just past the white-sand beach in front of the dive shop. An artificial reef farm project and the 40-foot wreck of a wooden former cargo ship complement a natural habitat full of candy-colored corals. It's also a critter hunter's heaven! At low tide you can walk over the sandbar to the uninhabited Little Mataking Island. But take care. Get lost here for too long in a kind of romantic robinsonade and you'll have to swim back home!
Need to Know
When to Go Malaysia is a tropical destination that can be visited year-round. Dry season in eastern Borneo and Sabah is April through October, although local rain showers can happen daily.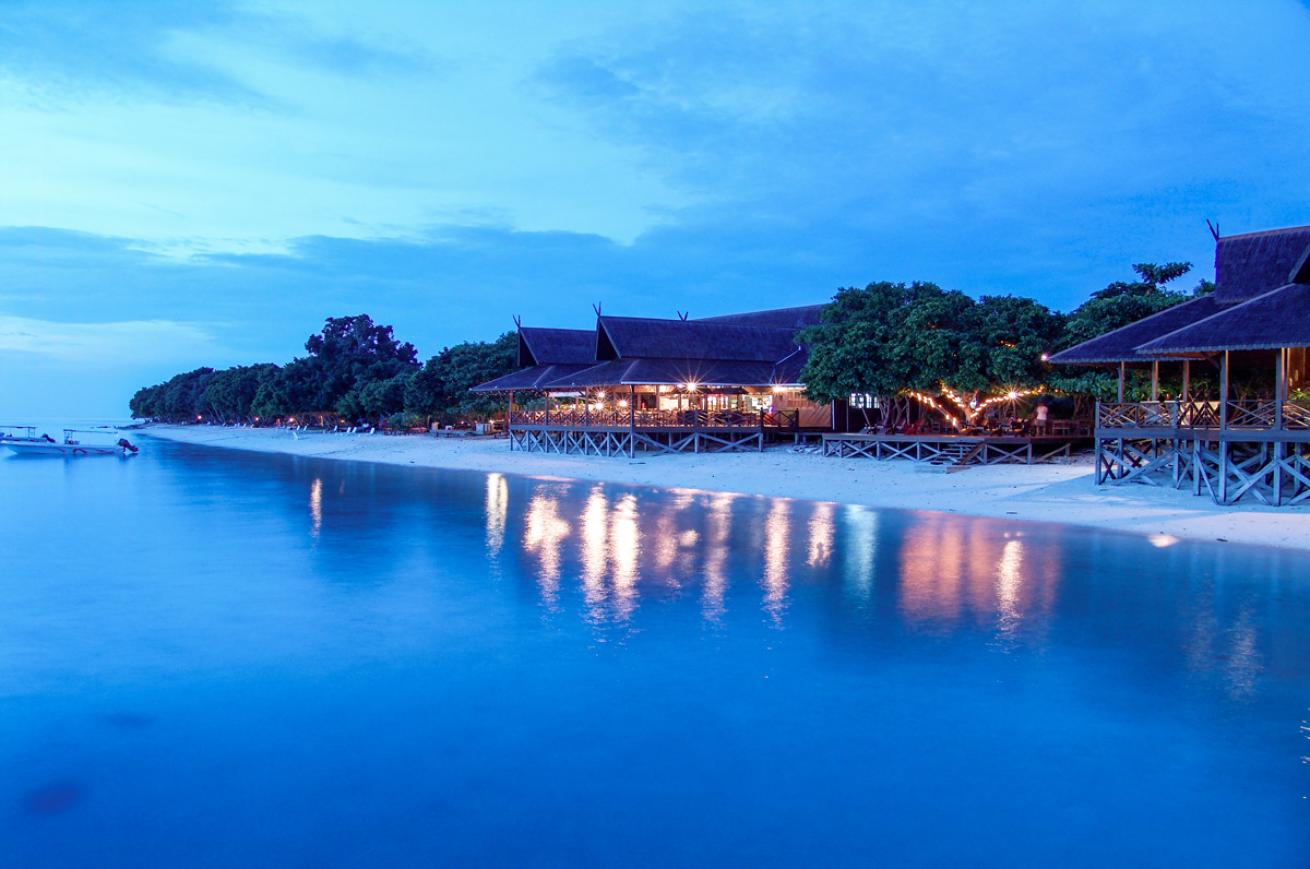 Mataking Island Resort boasts a white-sand beach, fine dining, and access to the nearby house reef as well as dozens of dive sites on protected reefs.

Gerald Nowak
Dive Conditions Water temps average in the low 80s during winter and mid to high 80s in summer. The visibility varies, but usually ranges from 60 to 100 feet. The water can become greenish due to nutrients in the water. Strong currents are not common here, with the exception of Mataking.
Operators Most dive centers in Sabah have a high standard of service and are used to operating with underwater photographers. High-power speedboats can take divers to most sites within five to 20 minutes. Dive guides in the area are experienced at finding hard-to-spot macro subjects. The resorts mentioned in this article also run the dive shops.
Travel Tips International flights are frequent to Malaysia's capital, Kuala Lumpur. From here, domestic flights can take you to Kota Kinabalu, capital of the state of Sabah, and further to Tawau (Mabul, Sipadan, Mataking, Danum Valley) or Semporna (Lankayan).
---