Where to Scuba Dive in Idaho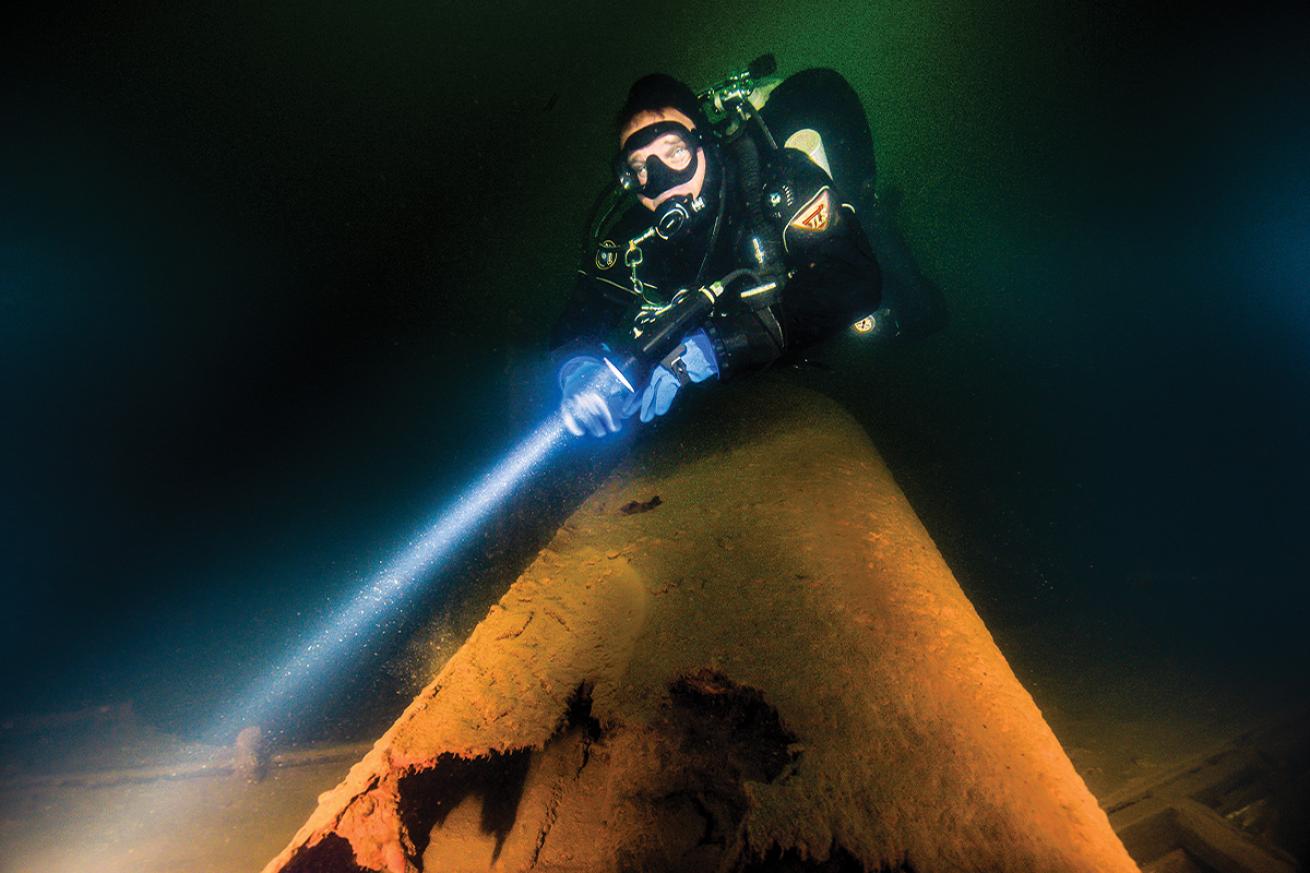 A diver explores the Spokane's smokestack on the bottom of Lake Couer d'Alene.

Jennifer Idol
Outside the region, Idaho might be known for little more than potatoes, but this woefully understates the natural beauty of this geographically diverse state.
Idaho is too large to dive both the north and south regions in a single trip, and although both are filled with unique dives, I appreciate the mountainous landscape surrounding the northern dive sites. Salmon spawning in Ririe Reservoir near Idaho Falls is the primary dive attraction in the southern part of the state.
Just a short drive from Spokane, Washington, in northern Idaho, two glacially formed lakes—Lake Pend Oreille and Lake Coeur d'Alene—provide numerous dive opportunities throughout the year, from ice diving in late winter to swimming with salmon in the fall. Bring your dive lights for these cold-water altitude dives.
Lake Pend Oreille is one of the deepest lakes in North America—at points reaching depths of about 1,150 feet—and the site of more than 60 wrecks, most of which are historic wooden boats. The most unique wreck is some sunken train cars in the north end of the lake near Trestle Creek at 110 feet, though the first car can be seen at 86 feet. These boxcars transported gravel that would have been vital to support the area's mining industry. This lake is so deep that locals claim a sea monster known as the Pend Oreille Paddler inhabits it, though it's more likely witnesses merely saw a submarine from the nearby naval base.
Lake Coeur d'Alene is the most-dived lake in the area and home to several purpose-sunk and natural wrecks. The local dive shop offers charters to easily access most wrecks, but shore diving is also widely available. A resort lies next to Independence Point, a beach from which three wrecks can be reached. Regional silver and copper mining from the early 1900s deposited heavy metals into the lake, which contributes to its exceptional darkness. Salmon are the most exciting underwater wildlife and run from late November to early December, when thousands of kokanee salmon, an inland form of sockeye, spawn at Higgins Point.
Dive Sites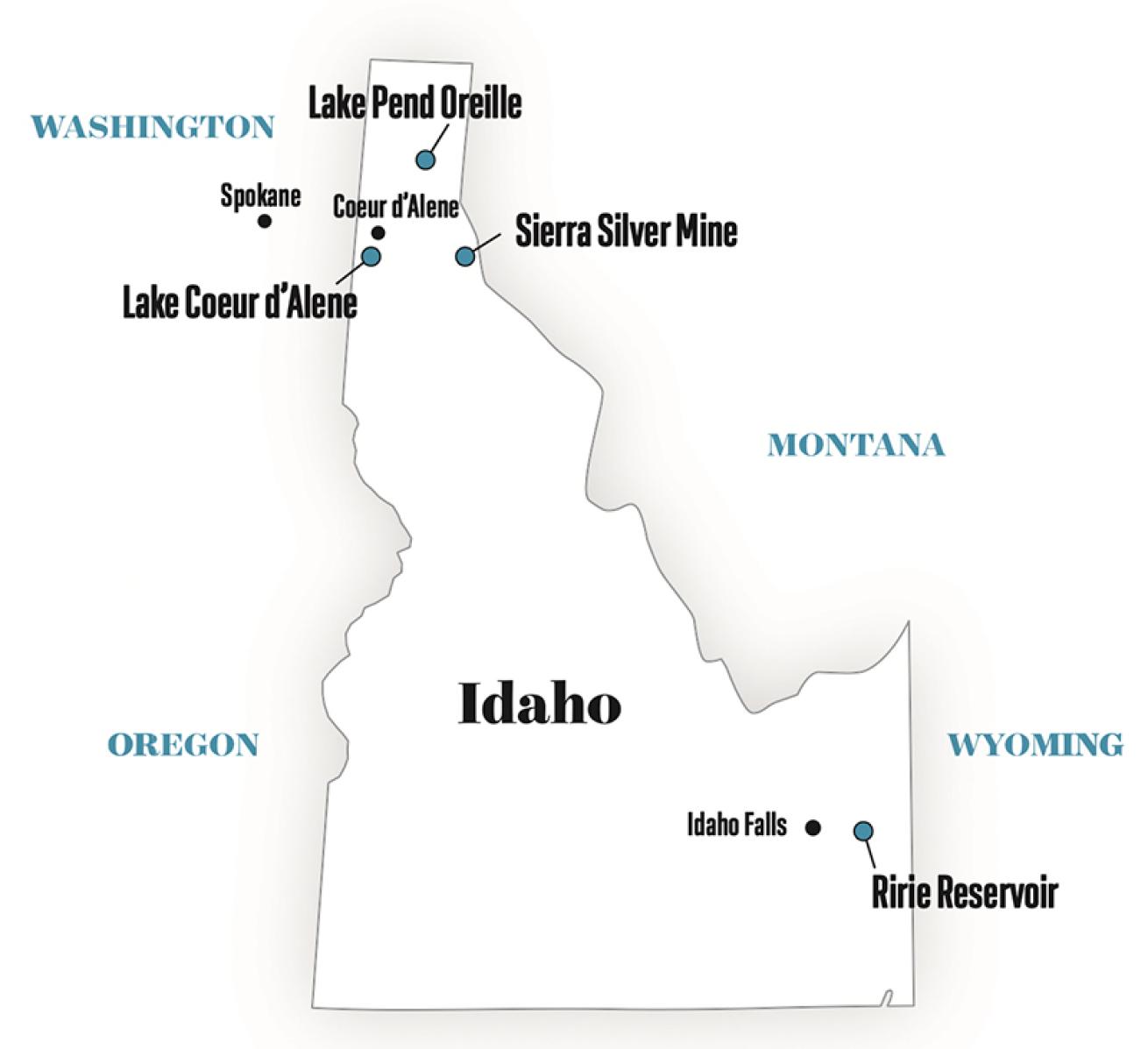 Where to find dive sites in northern Idaho.

PADI Staff
Beacon and Higgins Points
Beacon Point at Lake Coeur d'Alene is used as a local training location. It has a sloping bottom that features an early 1900s car. Dive early to access limited parking at Beacon Point in summer. Higgins Point, a nearby wall dive with easy parking, is best for viewing the salmon spawning.
Lake Pend Oreille
Colder and clearer than Lake Coeur d'Alene, this glacially formed lake is home to more than 60 wrecks. Start at the Bayview public boat launch on the south side and find three boats within shore-diving distance. The surface is at an elevation of about 2,060 feet, so take that into consideration for your dive profile at this and other nearby lakes. Rent equipment or schedule a guided dive from the dive shop in Coeur d'Alene.
Coeur d'Alene Independence Point
Book a charter through Jake's Scuba Adventures to explore four major wrecks near Independence Point. The Seeweewana was an excursion cruise boat sunk at 96 feet as a dive site in 1988. Follow this dive with a second on either the Spokane or the shallow Harrison steamboat.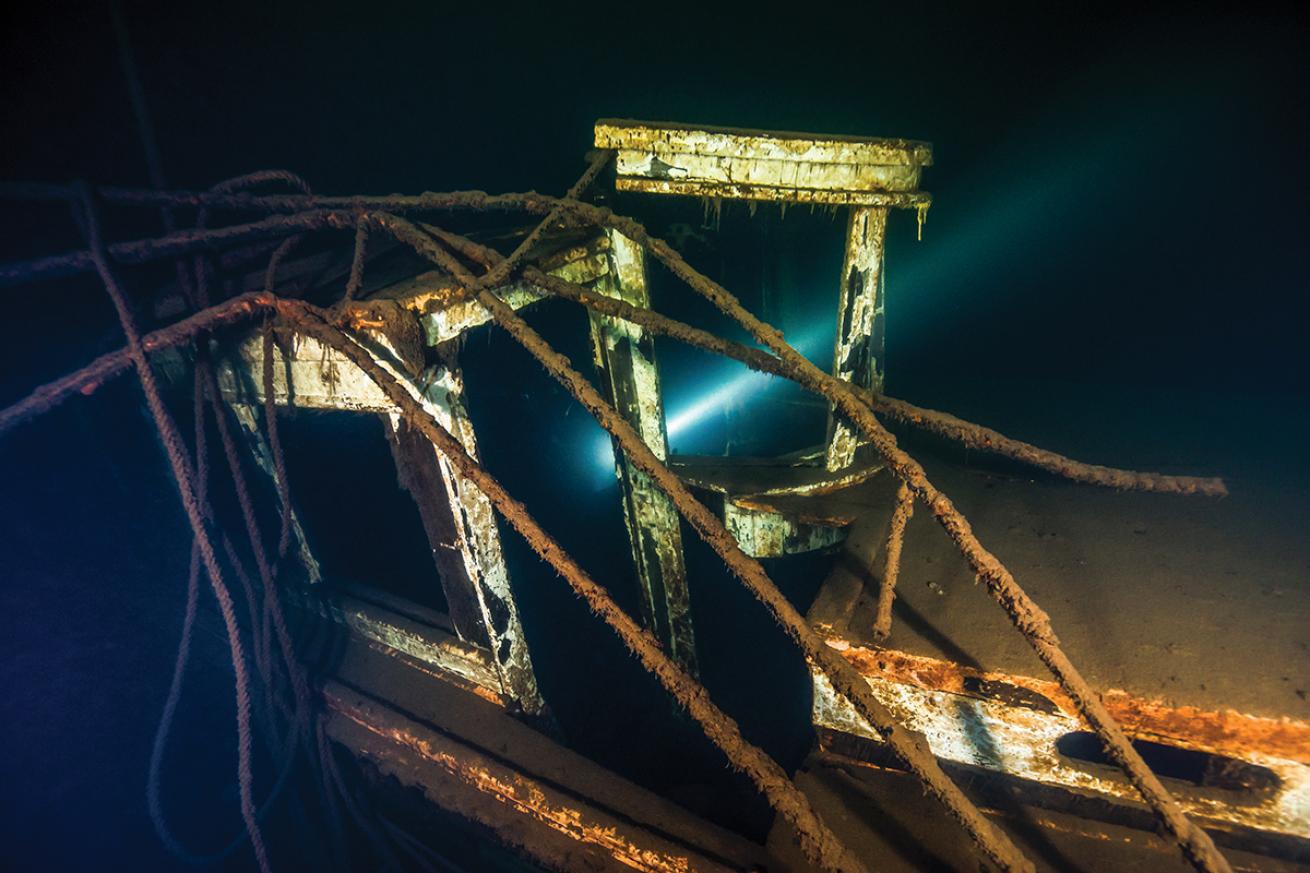 The sunken cruise boat Seeweewana makes a nice shore dive.

Jennifer Idol
Trip Tips
1. Sierra Silver Mine Tour
Join an underground mine tour with a retired miner just east of Coeur d'Alene and discover the rich mining history that defines northern Idaho. Learn about the tools and mining methods of the early 1900s, as well as the miners' living conditions, in this hands-on experience, or grab local souvenirs.
2. Museum of North Idaho
Learn about the steamboats that served Lake Coeur d'Alene, and review models and photos of some of the wrecks in this local museum. Part of the lake is on the Coeur d'Alene Reservation, and artifacts from the region's Coeur d'Alene Tribe (Schitsu'umsh) are also on exhibit.
3. Mineral Ridge Scenic Area
Several nearby hiking trails of various skill levels offer views of the lakes and mountains. For an easy trail that offers rewarding views of Lake Coeur d'Alene, hike the Mineral Ridge National Recreation Trail, a well-marked 3.3-mile loop. Bald eagles roost here during salmon spawning season.
Need to Know
Conditions
Viz typically falls between 10 and 30 feet, with water temperatures around 40 to 62 degrees.
What to Wear
Drysuit preferred.
---