Youth Diving With a Purpose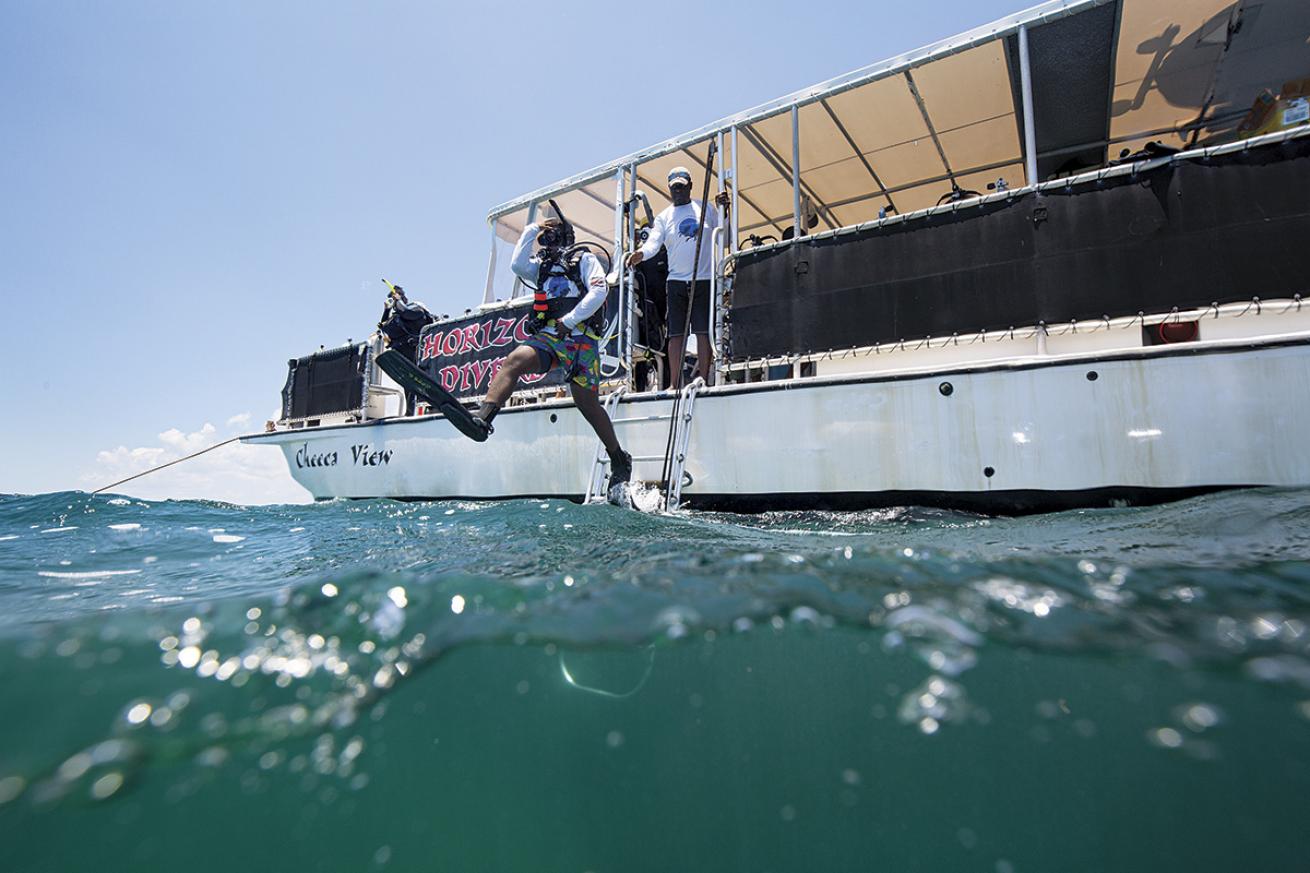 Greg Hood does a giant stride off the Cheeca View.

Michael Langhans
Blankets of sea-green turtle grass jut from a sandy bottom and sway rhythmically in tune to a light current. The hypnotic show becomes more apparent as we descend to a shallow dive site just 22 feet deep in Biscayne National Park. As we approach the sea floor, pieces of wood covered in sand and large clumps of colorful coral nest on numerous odd-shaped artifacts. The pieces of the wreck lie strewn in a way that looks simultaneously orderly and chaotic. What was this ship's story? What was the moment like when it finally went down? There are so many questions to be answered about sunken marine vessels around the world, their countless passengers and mysterious cargo.
Meeting the Wreck
Ninety-seven percent of South Florida's 200-square-mile Biscayne National Park lies underwater, host to hawksbill turtles, manatees and rays. It's also the final rest- ing place of more than 70 shipwrecks.
We are spending this week in a maritime archaeology course offered through Youth Diving with a Purpose, an international organization that teaches certified scuba divers ages 16 to 23 the basics of marine archaeology.
Thirteen students have traveled from Costa Rica, the U.S. Virgin Islands, United Kingdom and the United States to get certified as PADI Archaeology Survey Divers. They will be studying out of a classroom at Biscayne National Park; I am taking the course alongside them to get a peek into the world of underwater archaeology.
Ken Stewart developed YDWP in 2011 with Justine Benanty after starting the adults-only Diving with a Purpose a year before, when he realized that adults were not the only ones capable of documenting shipwrecks for archaeological purposes.
| Ken Stewart Awarded 2018 Sea Hero of the Year |
"Most of the students who go through the program enter into some facet of marine biology, or internships with the National Park Service," Stewart, 74, says with pride. His passion for diving started in the '90s, when he and his son got certified together.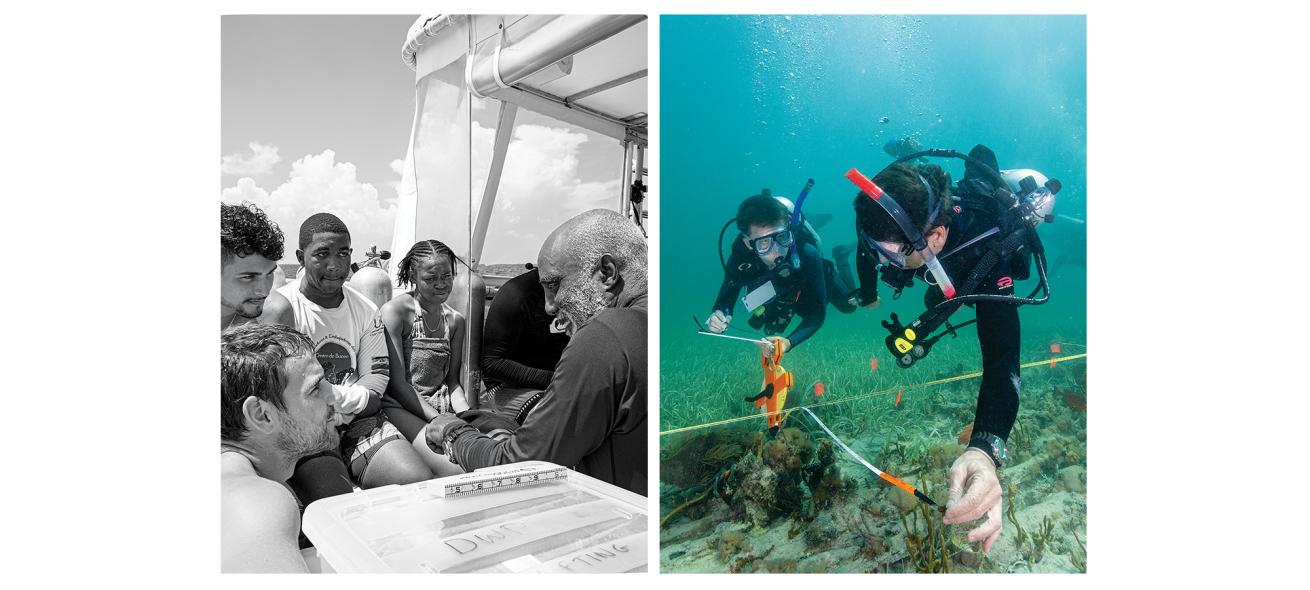 From left to right: YDWP founder Ken Stewart talks to students on the boat; Instructor Andrew Lyons assists Ben Snazzelle with a measurement.

Michael Langhans
"As my commitment to diving progressed, I became involved with the National Association of Black Scuba Divers— a life-changing event where I was able to work with young people, some at-risk, and introduce them to diving," Stewart explains in his easygoing manner.
Shipwrecks ranging from merchant vessels to battleships are scattered throughout Biscayne. A driving goal of Stewart and his organization is to locate the Guerrero, a Spanish slave ship that sank somewhere in the southern end of the park in 1827.
"We should be able to tell our own story by examining slave ships," YDWP instructor Ernie Franklin tells students— mostly of African-American and Hispanic descent—during our first day in the classroom. NPS partners with YDWP to lead these weeklong maritime archaeology classes.
"We believe that visitors to national parks should look like the citizens of the United States; that's why Ken and I started YDWP," says Dave Conlin, chief of the Submerged Resources Center at NPS. "The archaeology of shipwrecks is like excavating time capsules on dry land—a ship's crew carried everything they needed to survive with them on their voyage."
Although YDWP and NPS have been searching for the Guerrero for 14 years, this week is not focused on that wreck. Instead, the focus is an underwater archaeology training session to help NPS map a shipwreck site named BISC-60, also called "Captain Ed" after the man who discovered the wreck.
BISC-60 is a 120-by-45-foot ship- wreck from the mid-1800s that features the starboard side of a sailing vessel. The wreck lies in 22 feet of water just east of Hawk Channel.
Some of the artifacts found at the site and identified by NPS are an iron hawse pipe—the pipe that the anchor chain passes through—ceiling planking, iron nails, chain plates, cargo straps and shrouds. We will be helping NPS take drawings and measurements at the site to support the archaeology work done previously.
Surveying and Documenting
Working from the classroom, students receive instruction on how to conduct archaeological work underwater. YDWP instructor Andrew Lyons is a licensed architect who enthusiastically explains that everyone on the team will get a portion of the wreck to draw, perhaps artifacts or a section of the ship's hull, using 81⁄2-by-11- inch waterproof mylar paper attached to clipboards and mechanical pencils. Drawings are done in situ underwater, with a second drawing sketched to scale in the classroom using graph paper.
The "base line" would become our most important asset underwater: a long piece of secured measuring tape that stretches 120 feet along the wreck. "There is always a base-line tape measure set up underwater, with measurements made between the base line and the object within the debris field of the wreck," Lyons says. Students were split into groups of three, with each group responsible for artifacts along a 10-foot stretch of the base line.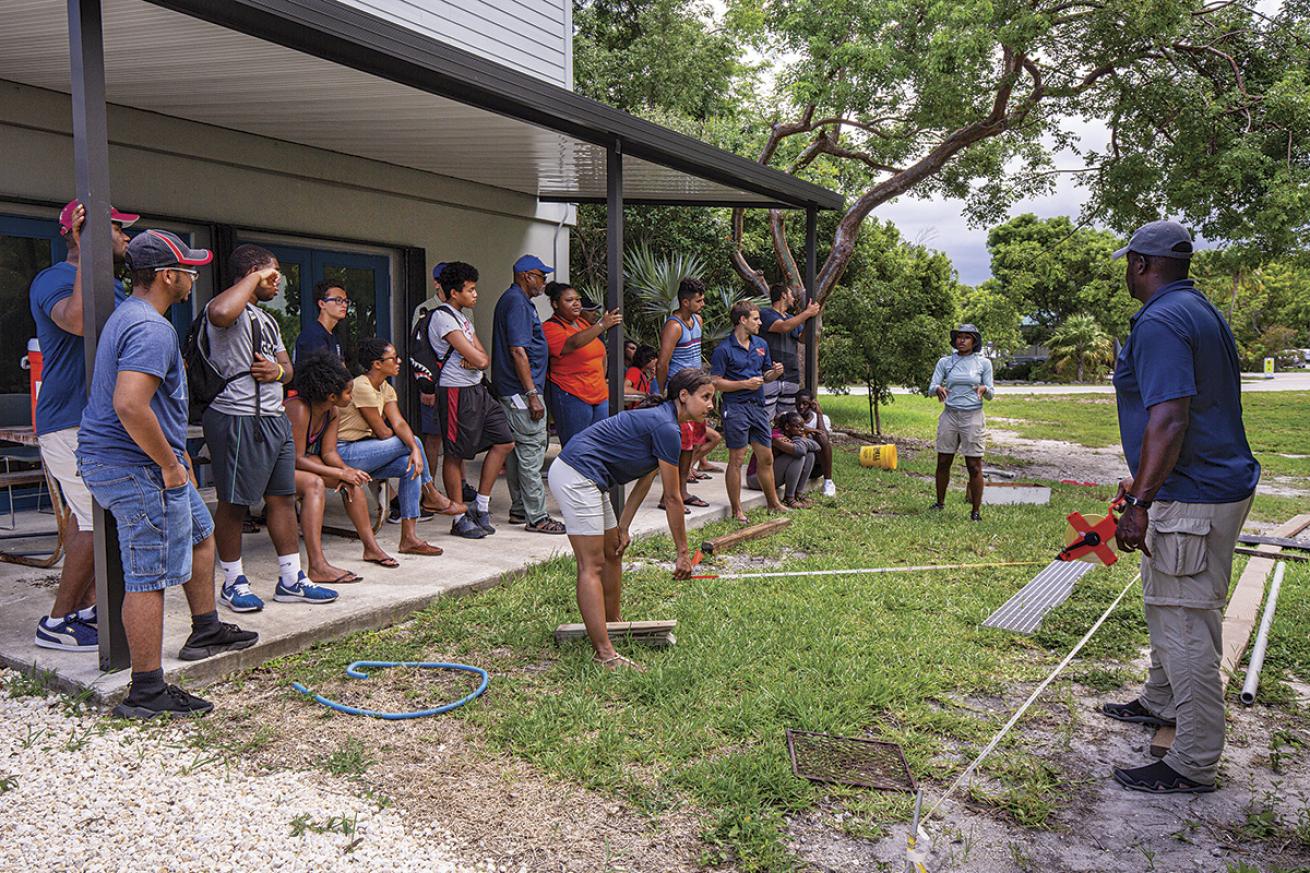 Instructors demonstrate mapping techniques on land.

Michael Langhans
After an intense day of classroom training, the second day of the course brings us to the water. From a Key Largo marina, it takes an hour by boat to arrive at the BISC-60 site. "Make sure you do not disturb the base line because it voids all measurements, and we will have to redo all of the work we did underwater," Stew- art warns students on the ride over.
We enjoy the trek to the site, with little wind and no waves. The first dive is a survey to get acclimated and put down numbered flags next to the artifacts in order to mark points of interest for measuring and sketching over the course of the week.
Eighteen-year-old Tristan Cannon from Nashville, Tennessee, is a second-year YDWP student; he's in charge of a team that includes myself and another female journalist. "I had to redo some of your measurements because you recorded in feet instead of meters," he says with a smile when we're back on the boat after the first dive. "Also, make sure you keep your fins off of the base line and corals."
My second dive goes better, where I practice my buoyancy while making measurements. I try my best to hover in place just above the artifact, and of course, keep my fins off the seafloor.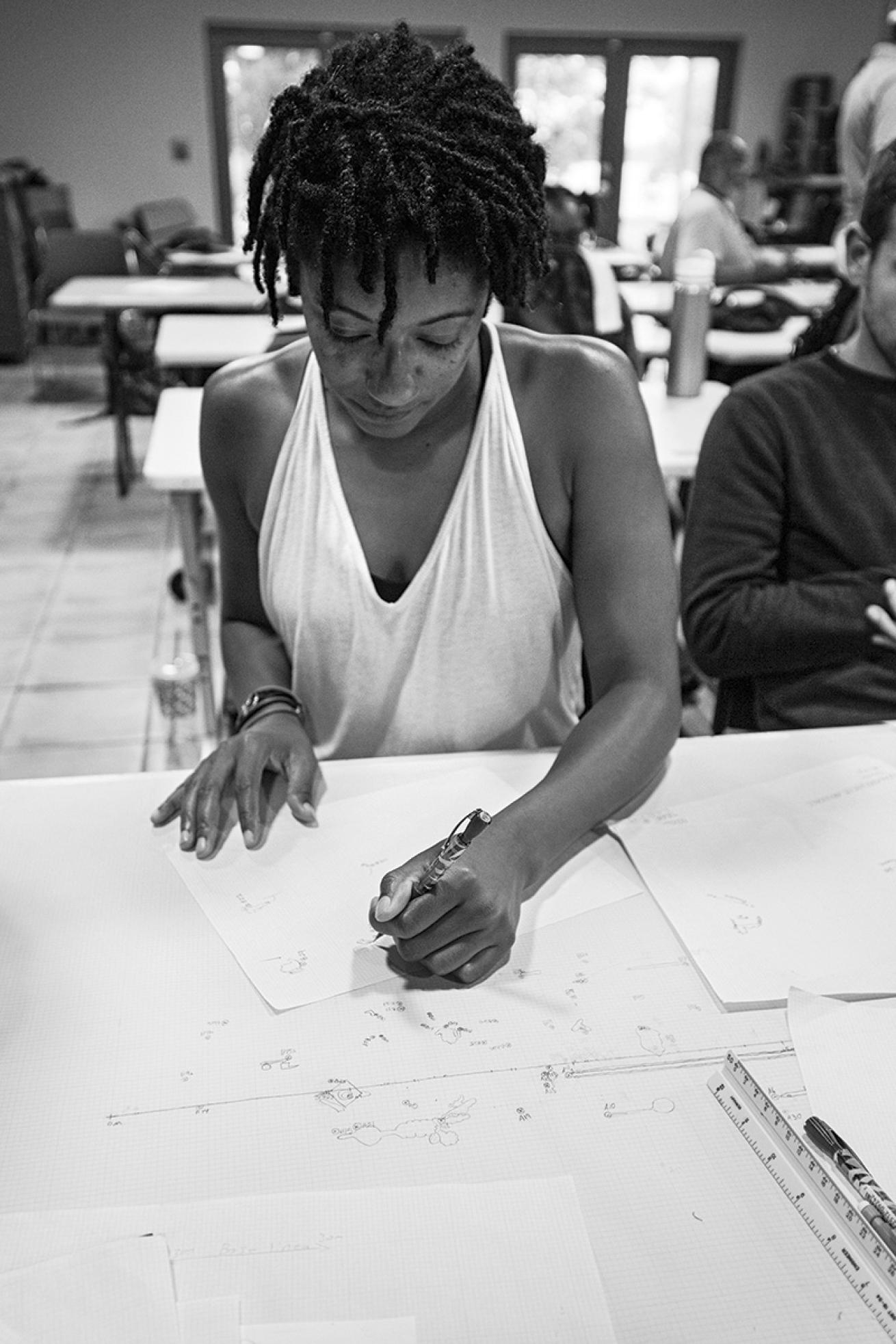 Michael Langhans
Working on sketches with my team, I am impressed by Cannon's ability to stay vertical upside down while taking measurements. He later tells me just how hard he was working: "I feel a bit light- headed because I was breathing shallow to conserve air." Although I am down here to work, at times it's hard to concentrate, surrounded by marine life. Some of the artifacts I am measuring have already been claimed by arrowhead crabs, star- fish, huge gray angelfish and mischievous high-hats. I pause to admire a lone yellow stingray resting on the sea grass.
One of the unexpected but fun parts of the work is learning how to tango underwater: Because many people are mapping artifacts close to one another, space is tight. After a couple dives, I get used to the accidental fin to the face or an arm to the midsection as I maneuver around team members and artifacts.
After I finish my sketching duties close to the end of one of our dives, I explore the length of the wreck, impressed by how riveted students are, concentrating on their work. The most diverse coral growth on the shipwreck is at the midsection of the base line. There, I find one of the students making a drawing of a plank of wood covered in a mountainous star coral. A large, spiny lobster seeks shelter under the coral, while a crab tentatively makes its way around the grooves.
Back on board and dripping wet from the second dive, 22-year-old Royer Coloner from Costa Rica, and Franklin, his team instructor, perform a secret handshake. Glancing down at the measurements on the slate, Franklin offers some suggestions on Coloner's drawings.
"Finito?" he asks. No, "Terminamos," Coloner corrects, as Franklin laughs at his own limited Spanish. Maria Suarez Toro, who runs an ocean-archaeology cultural organization in Costa Rica, comes to translate. She's on site for the week to supervise the five Costa Rican youth who joined the program.
"We have archaeology programs in Costa Rica, so this type of work is not new for the students, but coming here is a way for them to learn new techniques and experience cultural exchange," she says.
Coloner tells me he is a volunteer and president of a community dive center in Costa Rica, and was chosen to participate in YDWP for a second year: "I want to be a dive instructor, so by completing this course, I get hours toward my certification. When I learned pirates really existed by seeing artifacts in the History of Diving Museum in Islamorada, I realized I wanted to be an archaeologist too."
The in-water portion of the course is not without drama, and the students get a lesson: Always be alert. During one of our mapping dives, Franklin suddenly yells underwater and speedily swims around tapping students and giving the "up" signal.
Fifteen divers or so tread water on the surface, where we learn that the anchor had suddenly slipped and was moving perilously close to the shipwreck site, which could destroy the remains. After 10 minutes, the anchor is retrieved and planted safely again. "Not only would the anchor dragging potentially disrupt the artifacts, but it also creates dust storms and messes with our visibility," Franklin says back on the boat. "We had to take people away from the boat until we corrected the problem."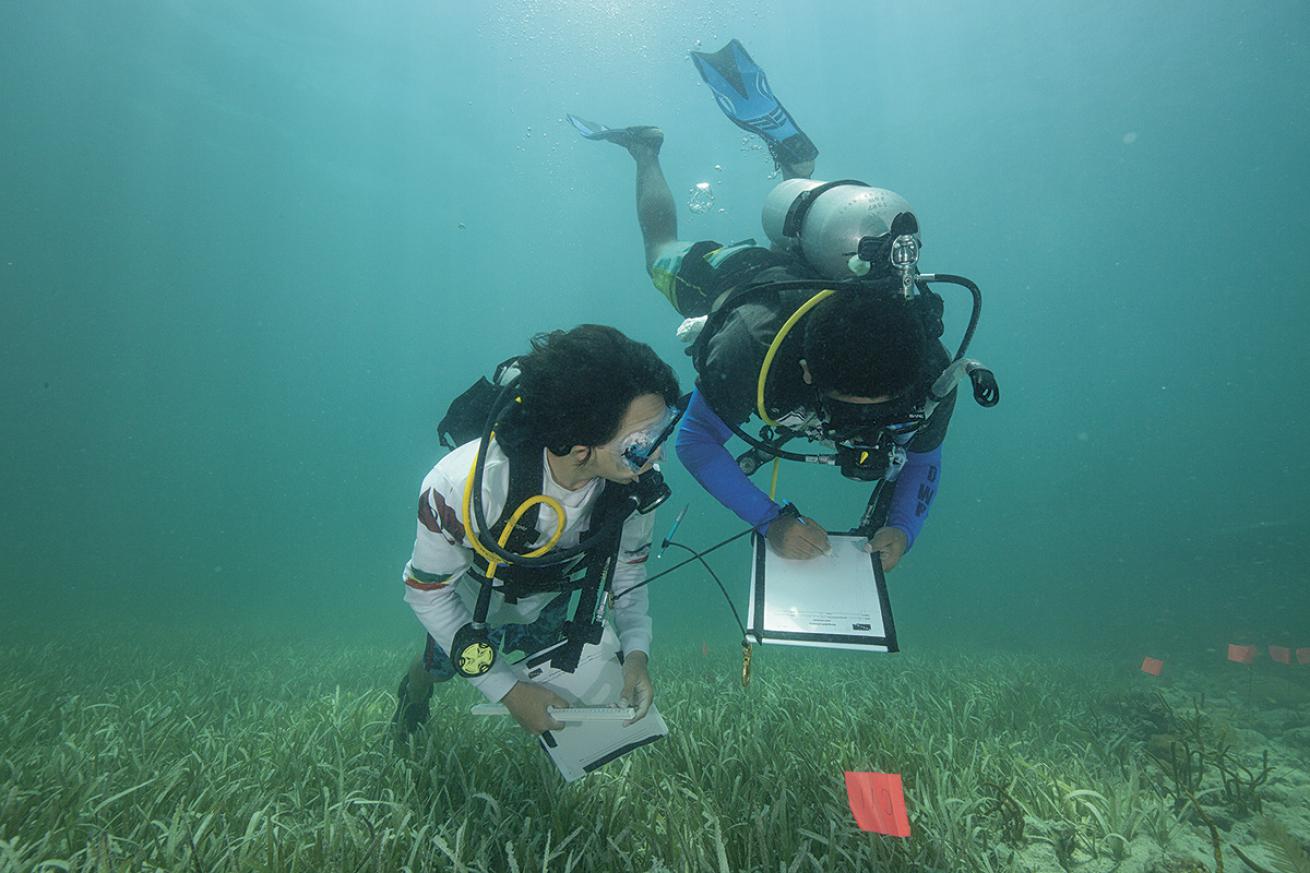 Students compare measurements underwater.

Michael Langhans
Getting Results
On return journeys, students are splayed out on the boat in a comical fashion, tired from the two dives that usually each last an hour. Gatorade in hand, Pedro Ramos, superintendent of the Everglades and Dry Tortugas National Park, joins them on the boat. "If we don't know our history, it's hard to know where we came from," he says with passion, addressing a group of students drying off. "From floating on the surface, it was amazing to see you young people document a place that might otherwise be forgotten."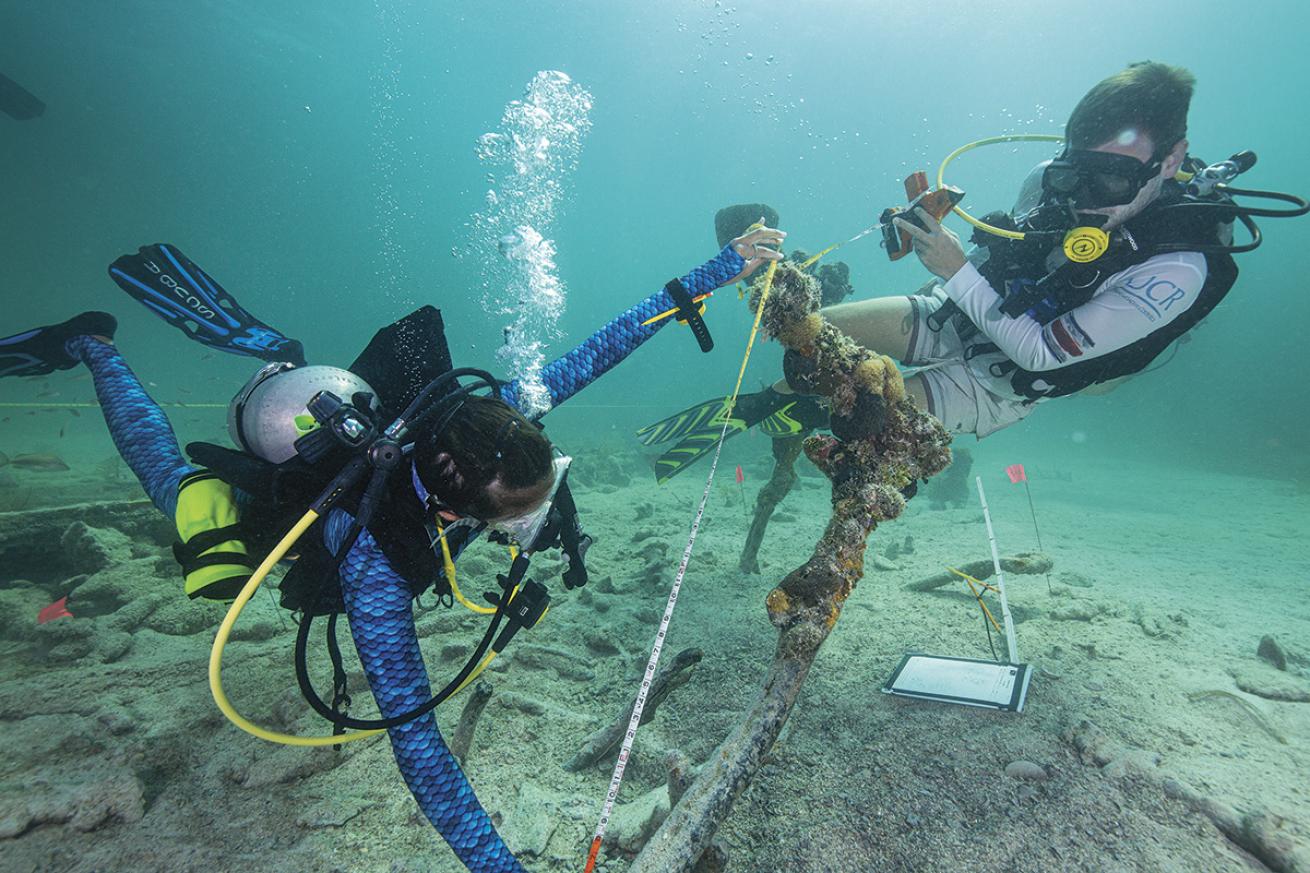 Co-founder Justine Benanty assists with measuring part of the wreck.

Michael Langhans
Once the mapping dives conclude at the end of the week, we spend a long day polishing up and correcting measurements on our graph drawings, migrating from the cool classroom to take breaks on the benches outside in the humid Florida heat. Talking with the students shows that they had different expectations and visions for what the site would look like and what they would find.
"I was expecting more decay," 16-year- old Greg Hood says of the wreck. "Some of the artifacts that I identified were wooden planks and some type of metal."
Michaela Strong, 19, was fascinated by having to measure a 50-foot-long wooden plank, while 18-year-old Tyrese Evelyn surveyed some of the nails and iron fasteners that had held the ship together.
The glue that holds all of our work together is transferring our graph sketches to the final site map.
"Once I have scale drawings of the dozens of artifacts on paper, I use a system called AutoCAD to recreate a cohesive picture of what we have all seen underwater," Lyons says. Although combining all of our sketches to create a final product is the ultimate goal, the students and I gained something far more valuable: teamwork and the importance of con- serving human history.
EXPERIENCE YOUTH DIVING WITH A PURPOSE
Youth Diving with a Purpose gives divers ages 16 to 23 the tools to foster exploration of submerged cultural treasures. Participation requires an intense, one-week instructional course that teaches the lay scuba diver the basic tenets of maritime archaeology. Information on the summer 2020 YDWP session will be available in January at divingwithapurpose.org.