5 Things I Learned Diving with My Family on a Liveaboard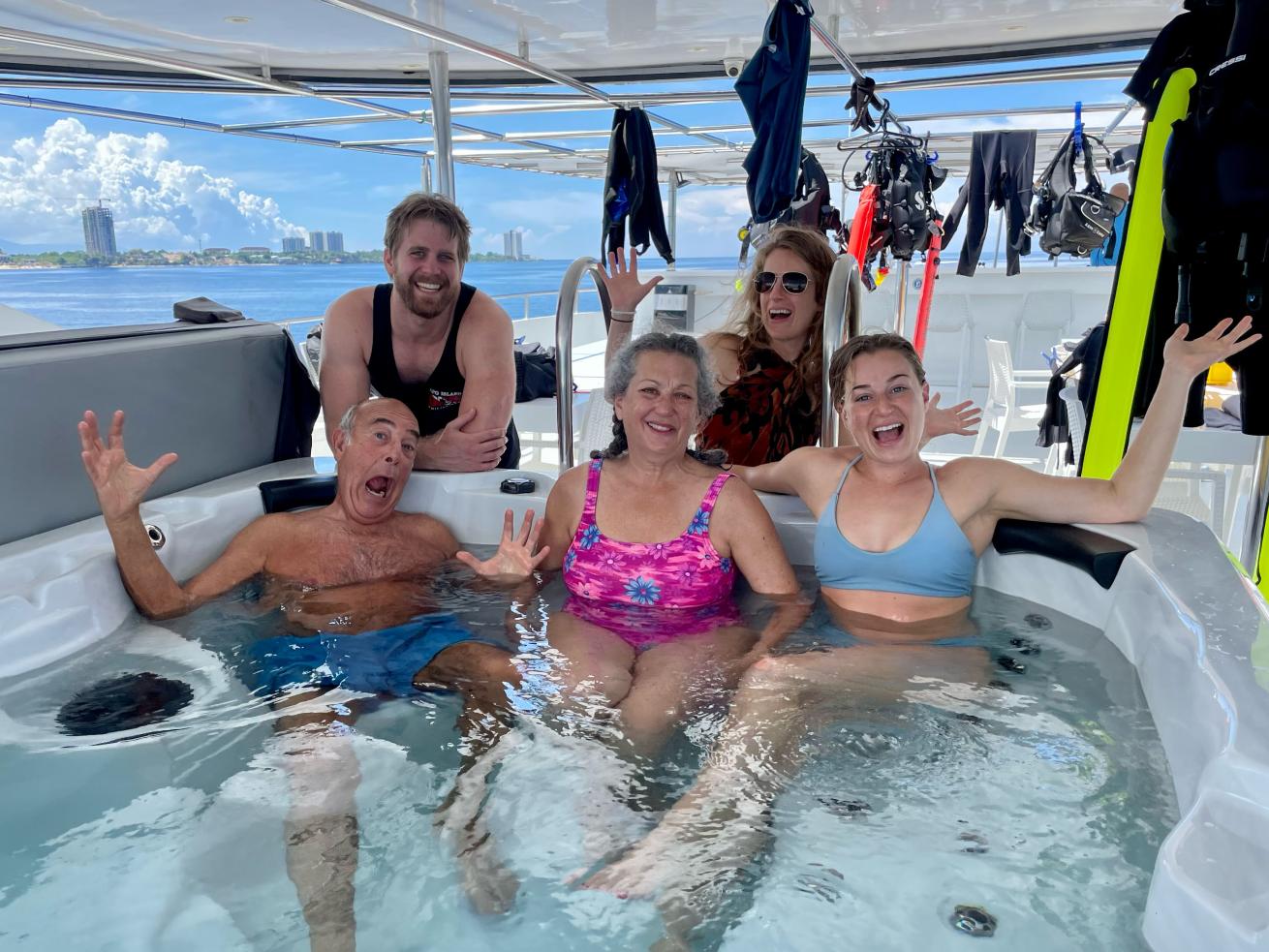 The author and her family enjoying their time in the Philippines.

Ariella Simke
In June of 2023, I packed my bags—and my entire family of five—into a cab and set off for Puerto Princesa, Philippines. The Philippines Aggressor waited patiently at the dock for our crew which consisted of my mom, dad, sister, brother-in-law and me. I love my family dearly, but I would be lying if I said I didn't have some reservations about us all diving together and living on a boat for 10 days sans internet.
Our time on board taught me many things—about diving a liveaboard, about doing it with family, and about taking time to enjoy even the non-diving activities.
To help you get the most out of your own liveaboard trip with your family, I'll share those lessons learned below. At the end of the day, would I do it all over again? In a heartbeat.
1. Dive Your Own Dive
Just because you're on the same boat doesn't mean you will—or need to—have the same experience. Scuba offers many different advantages to people, and what you get out of diving may be different from someone else.
Personally, I love to challenge myself underwater. Swimthroughs, strong current and practicing in new gear excites me. My dad, on the other hand, loves the feeling of being weightless and relaxed—avoiding dives that require anything too strenuous. While I was raring to go for four dives a day, he would stick to one or two.
Related Reading: Everything You Wanted to Know About Family Diving
So, while you may want to earn that famous Aggressor Iron Diver medal by doing every dive offered, your family member may want to just hop in for one a day and that's OK! You can meet back on the boat later to debrief your individual experiences over a cup of hot chocolate, or perhaps a dip in the hot tub.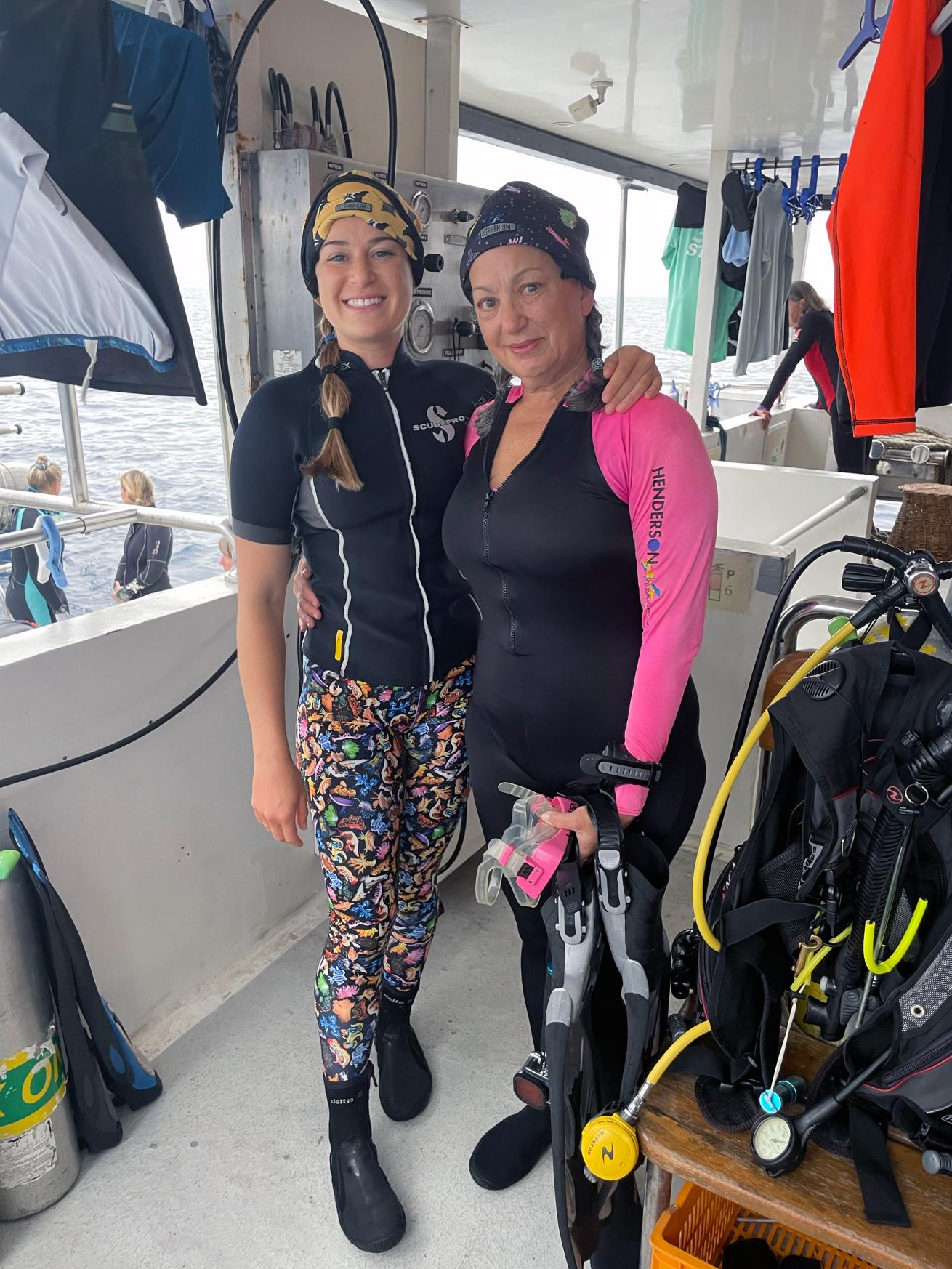 The author and her mom gear up for a dive in Tubbataha Reefs Natural Park in the Philippines.

Leah Simke
2. Together or Apart: Pick Your Flavor
While Aggressor boasts an "Eat, Sleep, Dive" motto, there are many activities mixed in that will keep you as occupied as you want to be. 135 feet long and three decks high, the liveaboard offered passengers many opportunities to gather or disperse.
For alone time, I would read, journal, nap, or take in the sites from the upper deck. Being without cell reception or WiFi was a blessing that allowed for real relaxation. Together my family enjoyed the nourishing sit-down meals provided (including the fact that we did not have to make them), hot tubbing, looking at guidebooks to identify animals, logging dives together, doing sunrise yoga on the sun deck, playing cards and going through photos and videos from the day. I was pleasantly surprised by the balance of personal space and togetherness that could be achieved on a boat where everyone has to exist in relatively close quarters.
Related Reading: How to Pack for a Liveaboard Dive Trip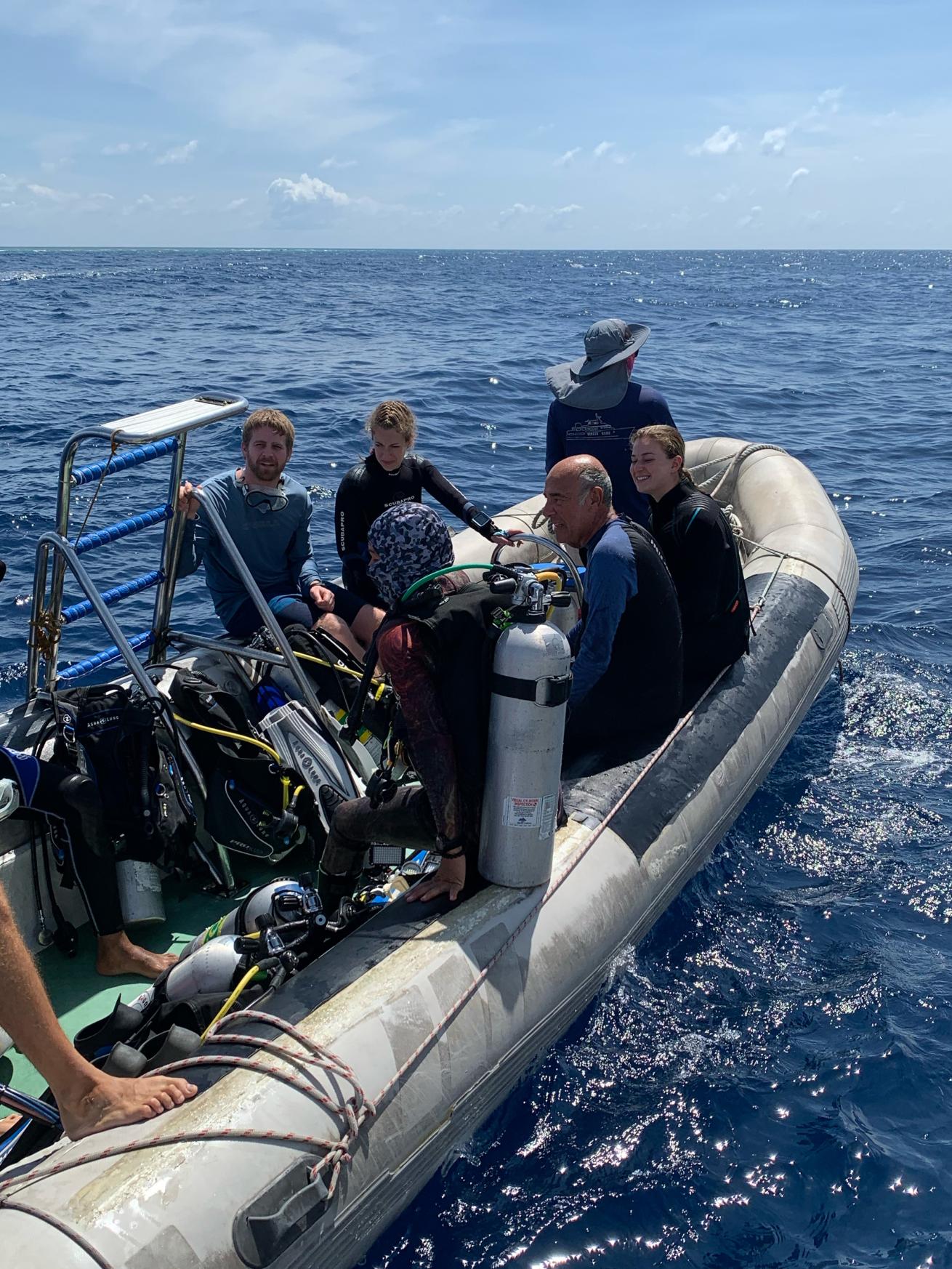 Diving off of inflatables is the Philippines Aggressor way, and it makes for easy entries and exits.

Ariella Simke
3. Make the Most of Family Time
We all know that family time is important, but it is easy to get distracted when spending time together on land. Whether it's working remotely, quickly answering emails, or getting lost in the time-suck of scrolling, being connected can dilute the time we spend with family. Going off the grid together forced us to take some time to really slow down, get to know each other and focus on sharing new experiences. This was a lasting lesson that I took with me off the boat and into everyday life.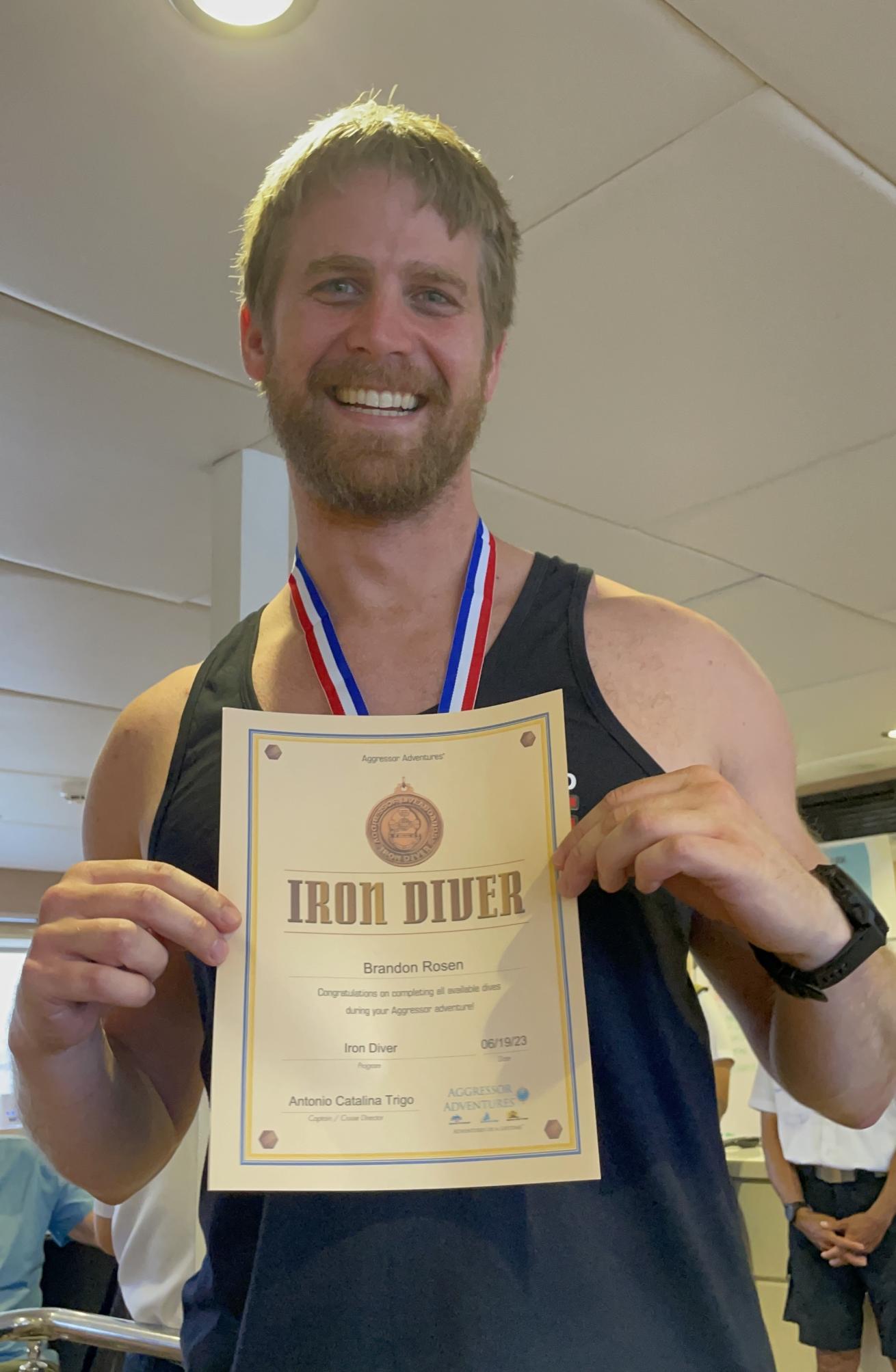 The author's Brother-in-law proudly holds his "Iron Diver" certificate, awarded to liveaboard divers who complete every dive offered.

Ariella Simke
4. It's Fun to Conquer Fears Together
Scuba diving, while incredibly fun, can also bring up some unique anxieties and nerves for many people. My sister was certified years ago, but only recently started diving again. Going into the trip she was nervous in the water and unsure of her abilities. Throughout the trip, we worked on different aspects of her diving to help her gain experience and trust in her skills. She worked with the Aggressor crew to complete her PADI Advanced Open Water course as well.
As a PADI open water instructor myself, one of the most rewarding parts of the trip for me was watching her confidence grow. Similarly, my dad recently overcame an illness and recovered from surgery. Getting back in the water was scary for him. Although he spoke with a doctor, he wasn't sure how his body would react to diving for ten days. Our family worked together to support him and make him feel safe and looked after in the water. The Aggressor crew even went one step further and made sure he had a dive guide with him on each dive.
Related Reading: 7 of the Best Liveaboards for Beginner Divers
Watching my family members conquer their fears filled me with admiration and reminded me to keep challenging myself and improving my own skills.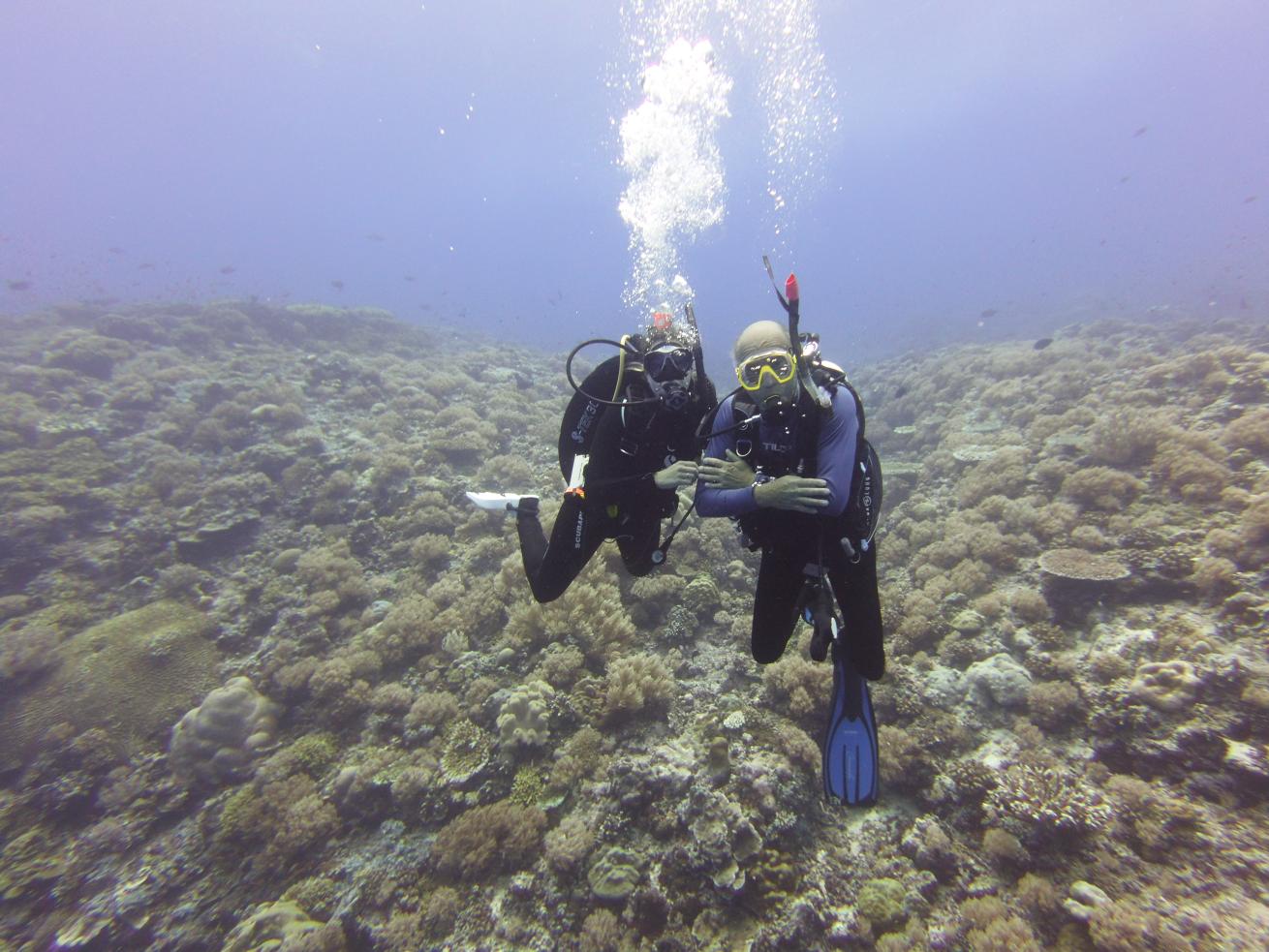 The author and her dad pose for an underwater photo, they have been diving together for nearly 20 years.

Leah Simke
5. Different Perspectives Help You See More
On a dive at Jessie Beazley reef in Tubbataha Reefs Natural Park, I zoned in on a grouper opening its mouth wide to allow tiny translucent shrimp to pick through its teeth when I felt a tug on my fin. I looked back to see my mom gesturing with excitement at something just behind me. I looked into the blue but saw nothing. She shook her head, and pointing closer, directed my gaze to a feathery black crinoid perched like an undersea spider on a dark purple soft coral. I had completely overlooked it on my own as I looked around for more charismatic species, but my mom always had an eye for the small stuff, and her different perspective made the reef come alive even more for me. We spent the next five minutes studying every movement and characteristic of the crinoid like a couple of kids excitedly picking through a tidepool. I got to repay the favor on a subsequent wall dive when I pointed out a whale shark she would have missed while staring at the tiny critters on the reef!
Related Reading: Scuba Diving with a Million Sardines in the Philippines
Coming back from the Philippines I found myself unintentionally evangelizing liveaboard travel for families. If someone were unlucky enough to engage in a conversation about my trip, I would continue on forever about the benefits and the lessons learned. I never thought our entire family would be able to find a trip that suited all of us, but I was mistaken. In my journal I wrote: "Just incredible. Everyone is happy. How often does that happen?"
---
---