8 Best Scuba Diving Sites in Europe
Each year, our Top 100 Readers Choice survey results show that North Americans — who make up the bulk of the respondents — are well-traveled, jetting to Caribbean islands, exotic Pacific locales and beyond. But Europe? Even though stellar diving is found in the bodies of water that surround it — the Atlantic and Arctic oceans and the Mediterranean and Adriatic seas, to name a few — European hot spots barely register. It's time to change that. We asked eight underwater photographers to share their favorite places to blow bubbles across the Pond.
CROATIA
LOCATION Vis Island, Adriatic Sea
PHOTOGRAPHER Steve Jones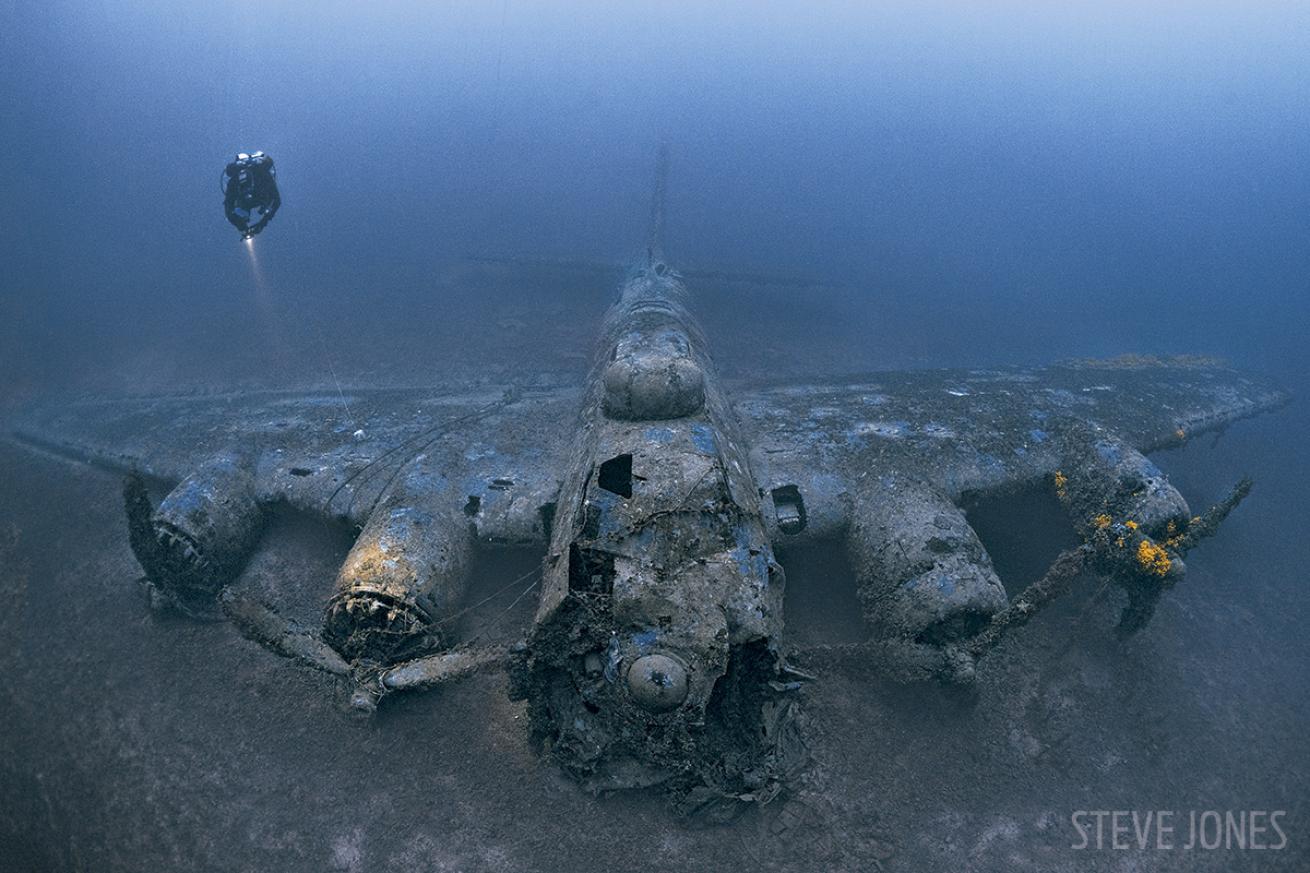 Boeing's B-17G was its final version of the Flying Fortress; a total of 8,860 were built in 1943.

Steve Jones
After being hit by anti-aircraft fire during a World War II bombing raid in 1944, this USAAF B-17G Flying Fortress bomber crashed on approach to a small airstrip on the island of Vis. The co-pilot was killed, but the surviving crew escaped in dinghies. The wreck is in remarkable condition and lies at 236 feet. I had only one dive, and the depth gave me very limited bottom time. I wanted to capture an image that showed the true scale of the aircraft, so I shot with natural light. Afterward, I met the family of the deceased co-pilot, which was particularly touching because they had not seen his final resting place.
WHEN TO GO April to November; water temps range from the 60s F to low 70s F in summer
DIVE NOW crodive.info
SLOVAKIA
LOCATION Slovak Opal Mine, Dubnik
PHOTOGRAPHER Martin Strmiska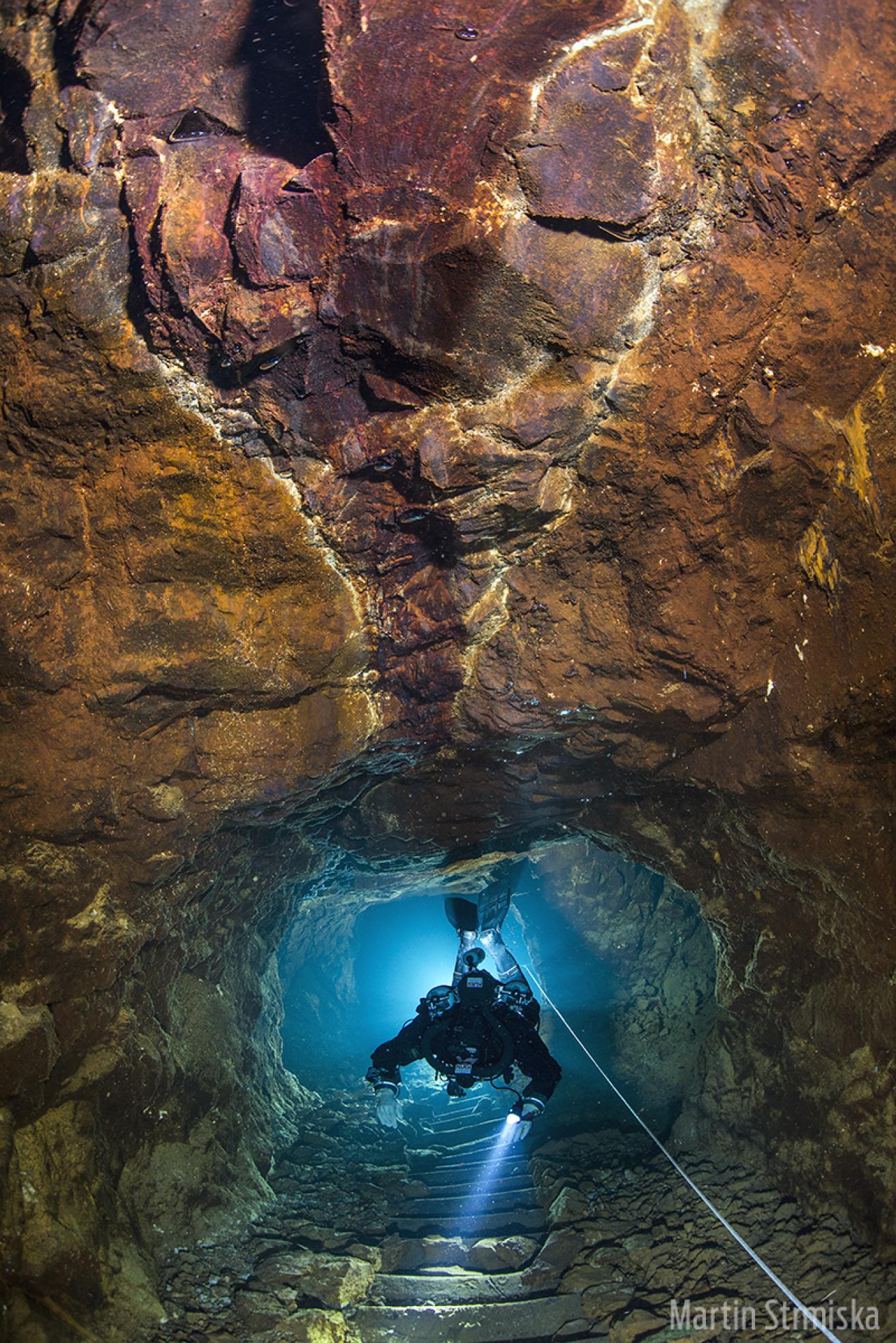 Where history meets beauty: Part museum, part dive site, the Slovak Opal Mine was one of the world's largest.

Martin Strmiska
Dubbed "the queen of gems," precious opals diffract light to reveal various colors, from clear to black. They can occur in the fissures of almost any kind of rock. Here in the east of Slovakia, miles of tunnels were excavated for opal mining (you'll have to hike through tunnels and down stairs to access entry points). The walls shine in all colors of the rainbow — purple, pink, blue, green, orange, red. No hue is missing. Capturing a diver surrounded by these colorful walls was my goal. I used dual strobes to light up the colorful walls, while the off-strobe was used to define the background and the sloping corridor.
WHEN TO GO Year-round drysuit diving; water temp is 37 ̊F
DIVE NOW opalmine.eu/diving.html
NORWAY
LOCATION Andenes, North Atlantic
PHOTOGRAPHER Tobias Friedrich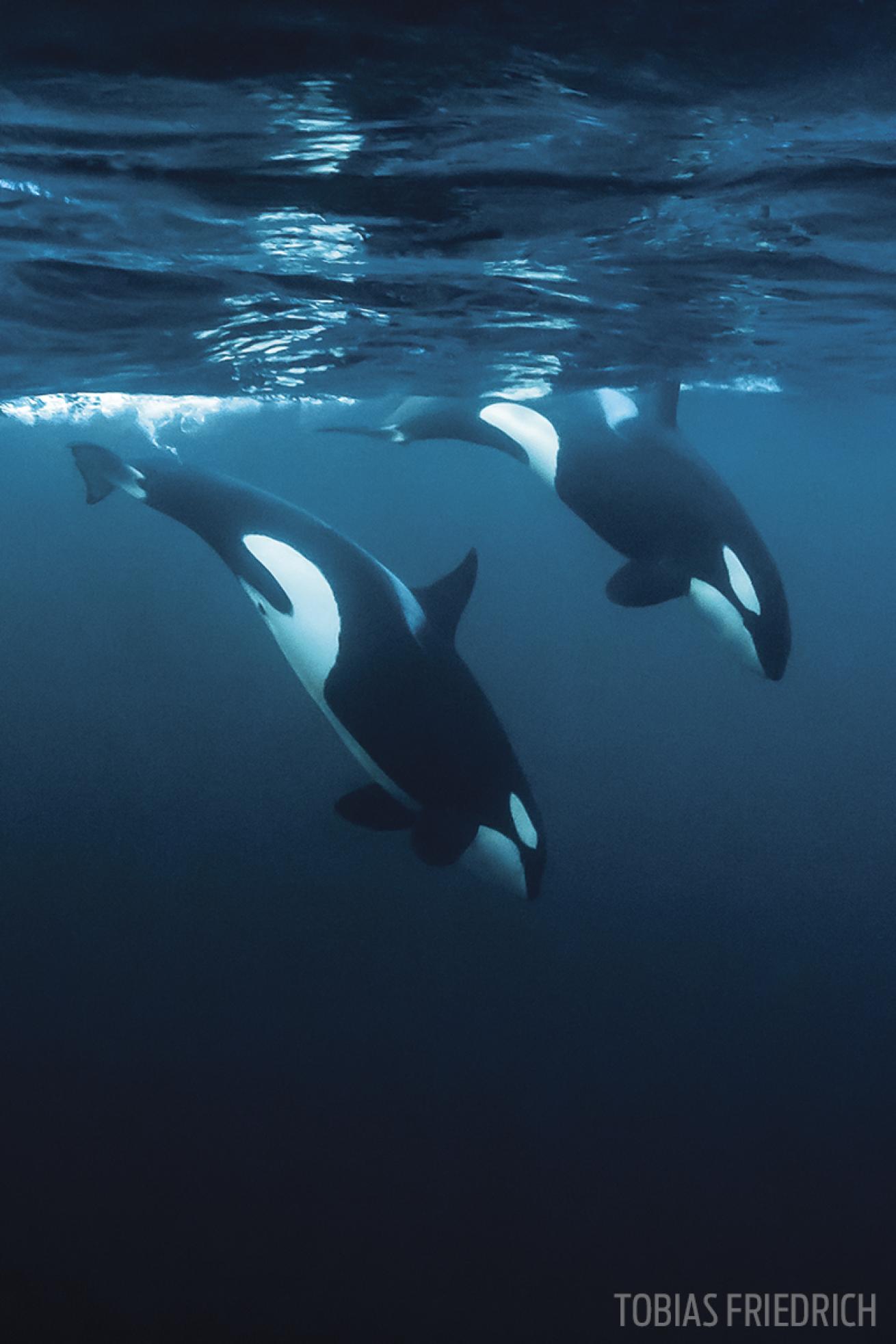 Tobias Friedrich
Each winter in the Norwegian Arctic, hundreds of killer whales and humpbacks chase a vast herring migration, pushing them to shallower waters where the hunting is easier. To witness the action on the surface from a boat is quite easy, but to get close encounters underwater is another story: It's absolutely up to the animals to decide if they will permit human contact. Operators use fast RIBs to drop divers in front of the hunting whales, but you most likely will get only a brief interaction. You need good physical fitness to hop in and out of the water many, many times. Even then, it is challenging to get a decent shot.
WHEN TO GO From November to January; water temps range from 32 ̊F to 40 ̊F
DIVE NOW northern-explorers.com
CANARY ISLANDS
LOCATION La Rapadura, Tenerife
PHOTOGRAPHER Montse Grillo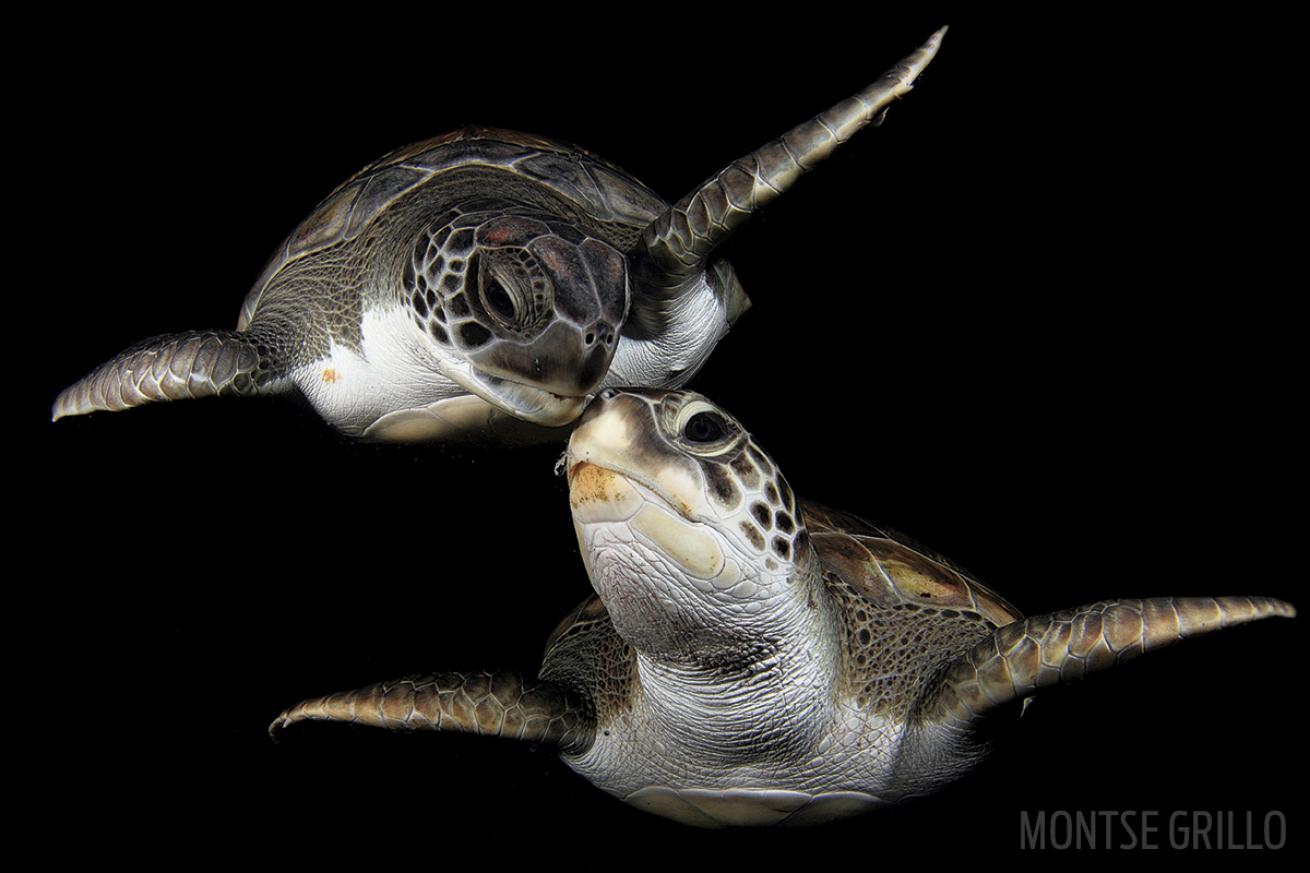 Green sea turtles off Tenerife.

Montse Grillo
One of the most impressive underwater landscapes in the Canary Islands, the basaltic formation known as La Rapadura — Portuguese for brown sugar — emerges from the seafloor to within a few meters of the surface. These beautiful hexagonal columns are the result of molten lava that came in contact with the sea — as the magma cooled, the sloughed rock fractured in the form of a prism. Due to constant erosion over eons, some of these huge columns collapsed down to 160 feet deep, leaving at its base something that resembles a ruined city. Freediving is the purest way to enjoy this underwater landscape.
WHEN TO GO Year-round; water temps range from 68 ̊F to 75 ̊F
DIVE NOW elcardumen.com
SWITZERLAND
LOCATION Posse, Verzasca River
PHOTOGRAPHER Marc Henauer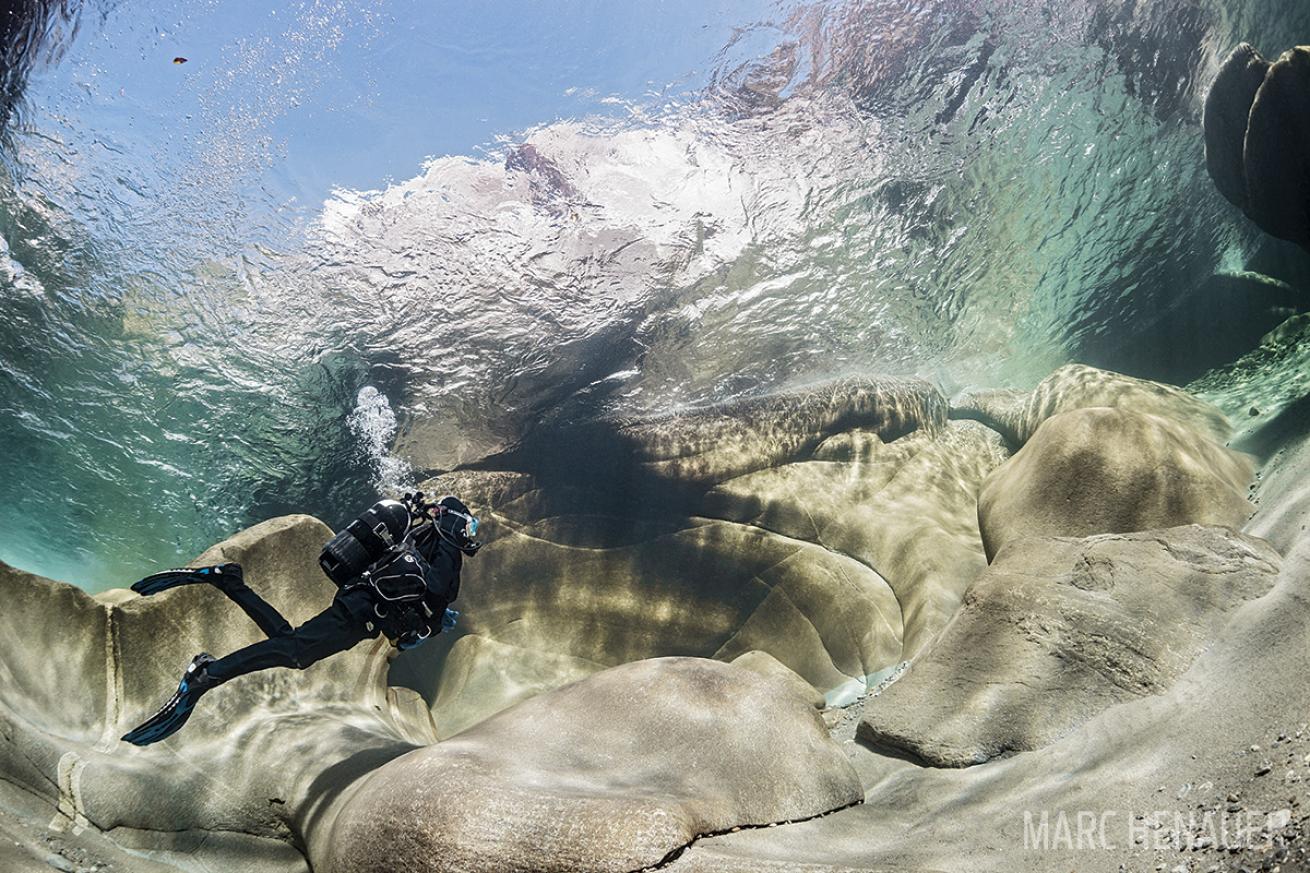 The Verzasca River is for advanced divers.

Marc Henauer
The source of the 19-mile- long Verzasca River is on the peaks above the village of Sonogno, in the Italian-speaking Ticino canton. More raging mountain torrent than lazy river, the Verzasca is for advanced divers; when it rains on the summits, the river's flow can quickly become dangerous, so it's recommended that you hire a local dive guide. For centuries, the river's glacial waters have smoothed the rugged granite; underwater, sparkling rays of sunlight give the sensation of being in a cathedral. We had only one attempt at this shot because the current was so fast.
WHEN TO GO June to October, with warmer water often in fall; average water temps are in the low 50s F
DIVE NOW grupposubverzasca.ch
ENGLAND, U.K.
LOCATION St. Michael's Mount, Cornwall
PHOTOGRAPHER Alex Mustard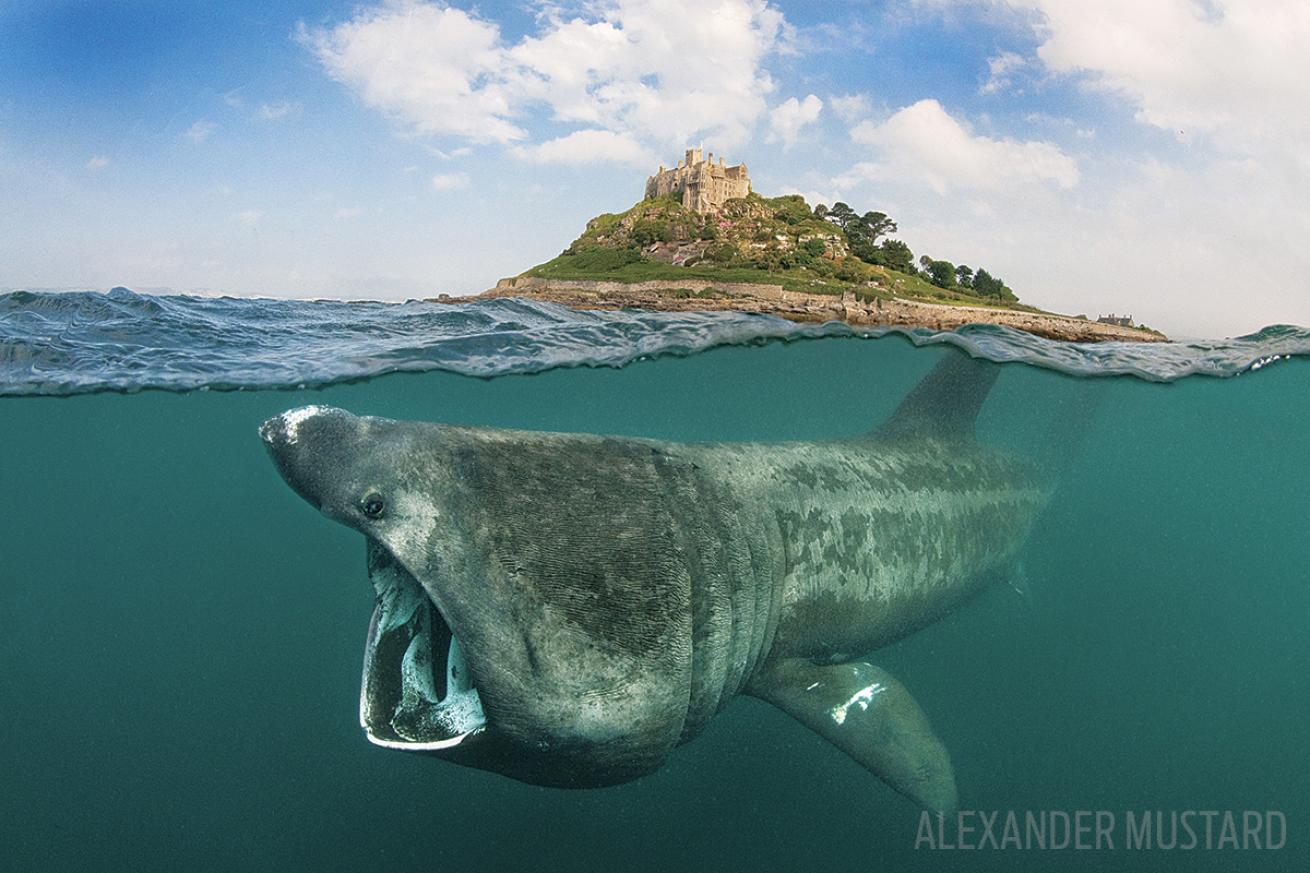 The second-largest fish in the ocean — only the whale shark is bigger — basking sharks are filter feeders.

Alex Mustard
Basking sharks often feed close to shore, and their huge dorsal fins often shock people swimming nearby. These sharks are tough photographic subjects. If you swim in too fast, they'll close their mouths and you'll miss the classic gaping-jaws photo. We heard on marine radio that basking sharks had been spotted near St. Michael's. I used a huge 23-inch dome port, which has 10 pounds of lead attached to it, just to sink it to halfway so I could shoot clean split levels. Both halves of this image — a digital composite — were taken on the same day, in the same area, with the same camera.
WHEN TO GO March to November, but best time for the sharks is late May and June; water temps range from low 50s F to 68 ̊F
DIVE NOW charleshood.com/snorkel-with-sharks
DEMOCRATIC REPUBLIC OF GEORGIA
LOCATION Okatse and Martvili canyons
PHOTOGRAPHER Viktor Lyagushin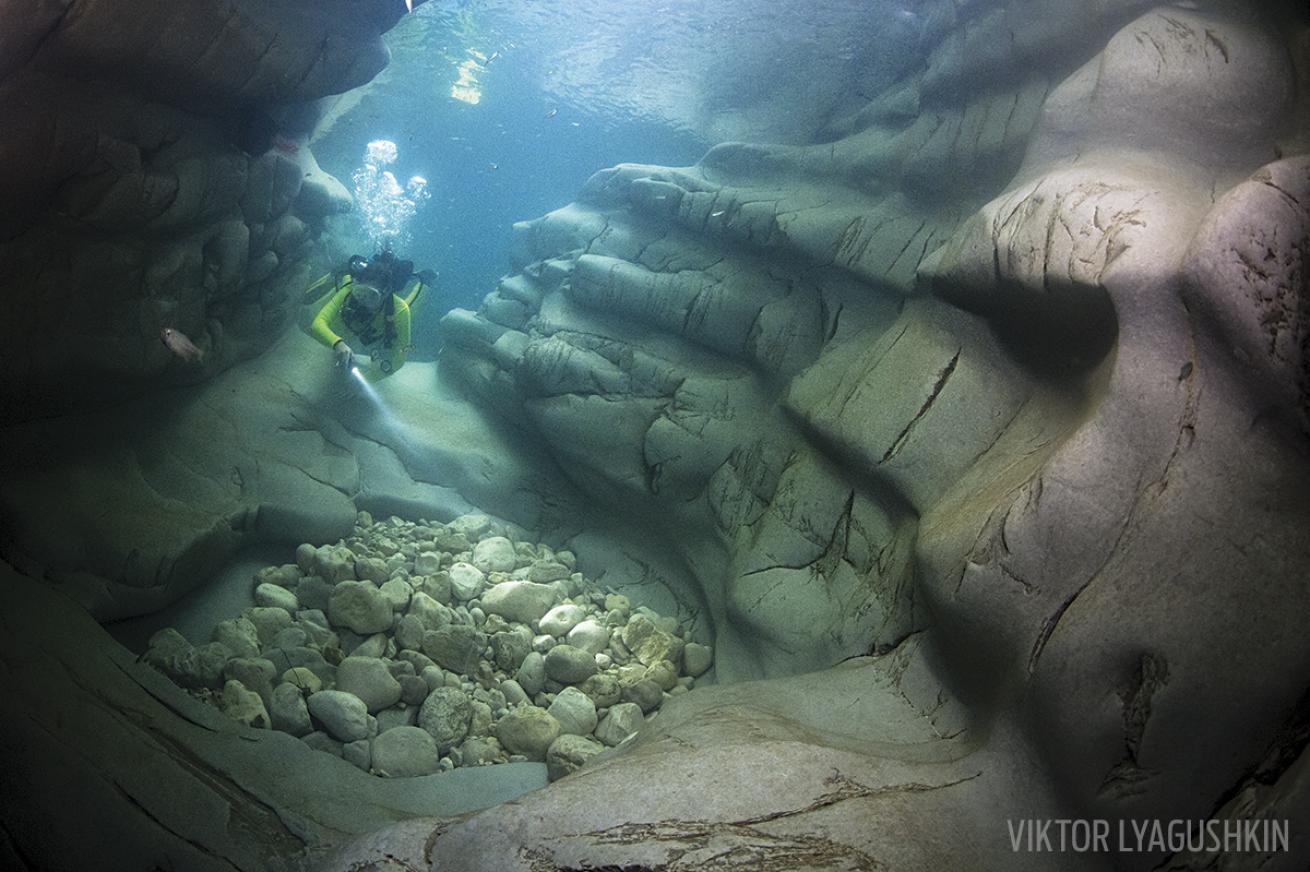 Martvili Canyon offers a fast drift past water-sculpted rock.

Viktor Lyagushin
The ancient land of Georgia stretches between the Black Sea and the Caucasus Mountains. Here, there are caves and canyons so impregnable that not even a satellite can see inside. Water is the greatest sculptor, and at Martvili Canyon — a gorge carved out by the Abasha River — it was at its best. Take care getting in, but this place seemed like an illustration in one of J.R.R. Tolkien's books, a place where the elves dwell. It features clear waterfalls that fall down from steep, fern-covered cliffs draped with hanging ivy branches that resemble festive lights. Everything is insanely beautiful.
WHEN TO GO Warmest water temps in the Abasha River range from high 70s F to 80 ̊F
DIVE NOW [email protected]
FRANCE, MEDITERRANEAN SEA
LOCATION Le Chaouen, Bay of Marseille
PHOTOGRAPHER Damien Mauric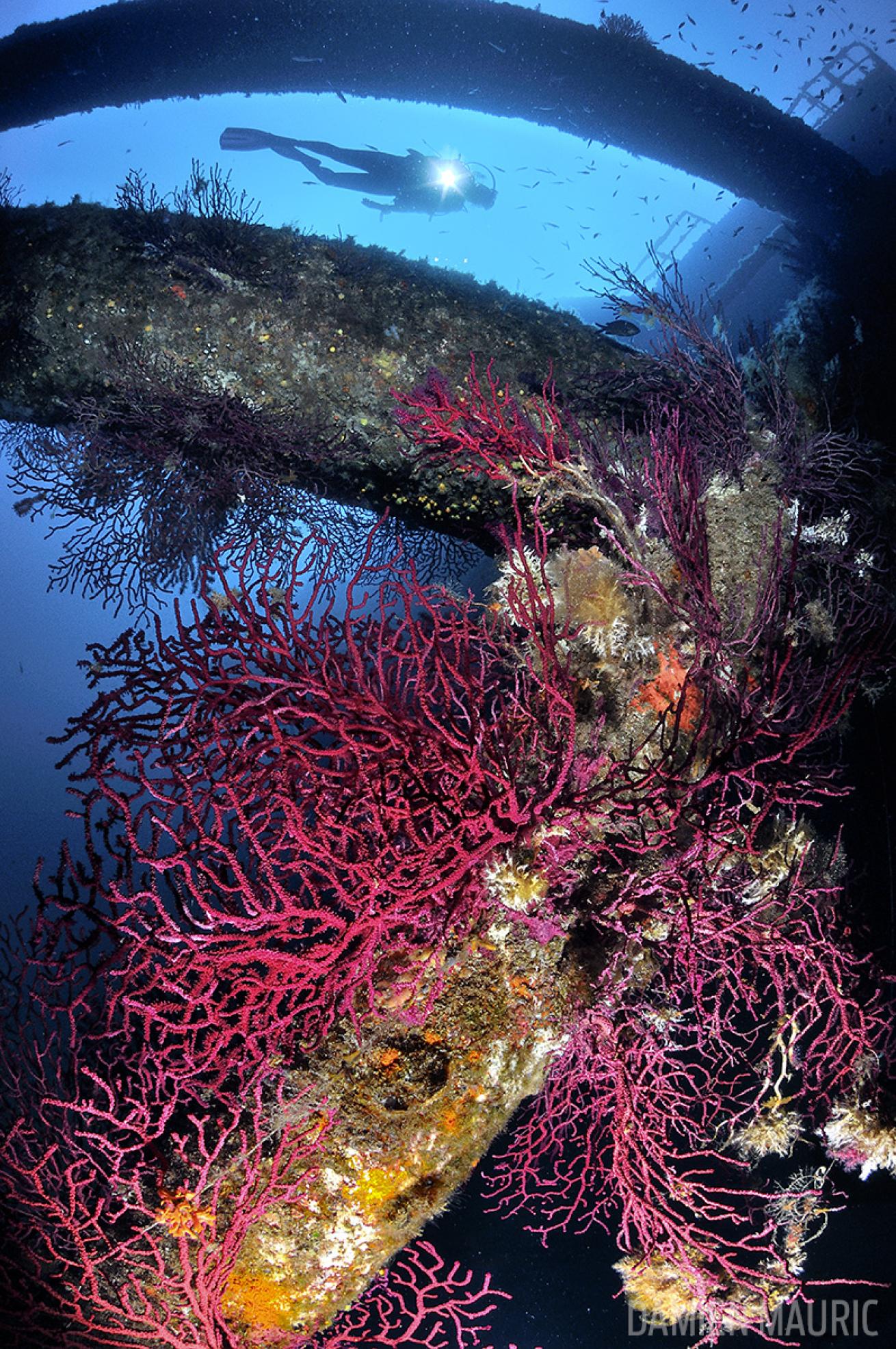 Fifteen years after hitting a shoal, portions of Le Chaouen were still above water. Storms eventually resulted in the ship submerging entirely.

Damien Mauric
One of the most iconic wrecks in the Bay of Marseille, this 300-foot Moroccan cargo boat was carrying a load of oranges when it sank in February 1970 after striking Planier Island's rocky reefs. Lying on its port side, Chaouen's bow is at 15 feet and the propellers are on the sandy bottom at 90 feet. The stern, props and mast — which are still intact — are entirely covered in red gorgonians (Paramuricea clavata), which are typical to the Mediterranean Sea. Only 100 feet away from the Chaouen lies a Messerschmitt Bf 109, a relic from WWII.
WHEN TO GO June to October — water temps peak at 78 ̊F in August; in winter, temps drop to high 50s F.
DIVE NOW dune-marseille.com
---