8 Breathtaking Underwater Images from Scuba Diving Magazine's 2023 Photo Contest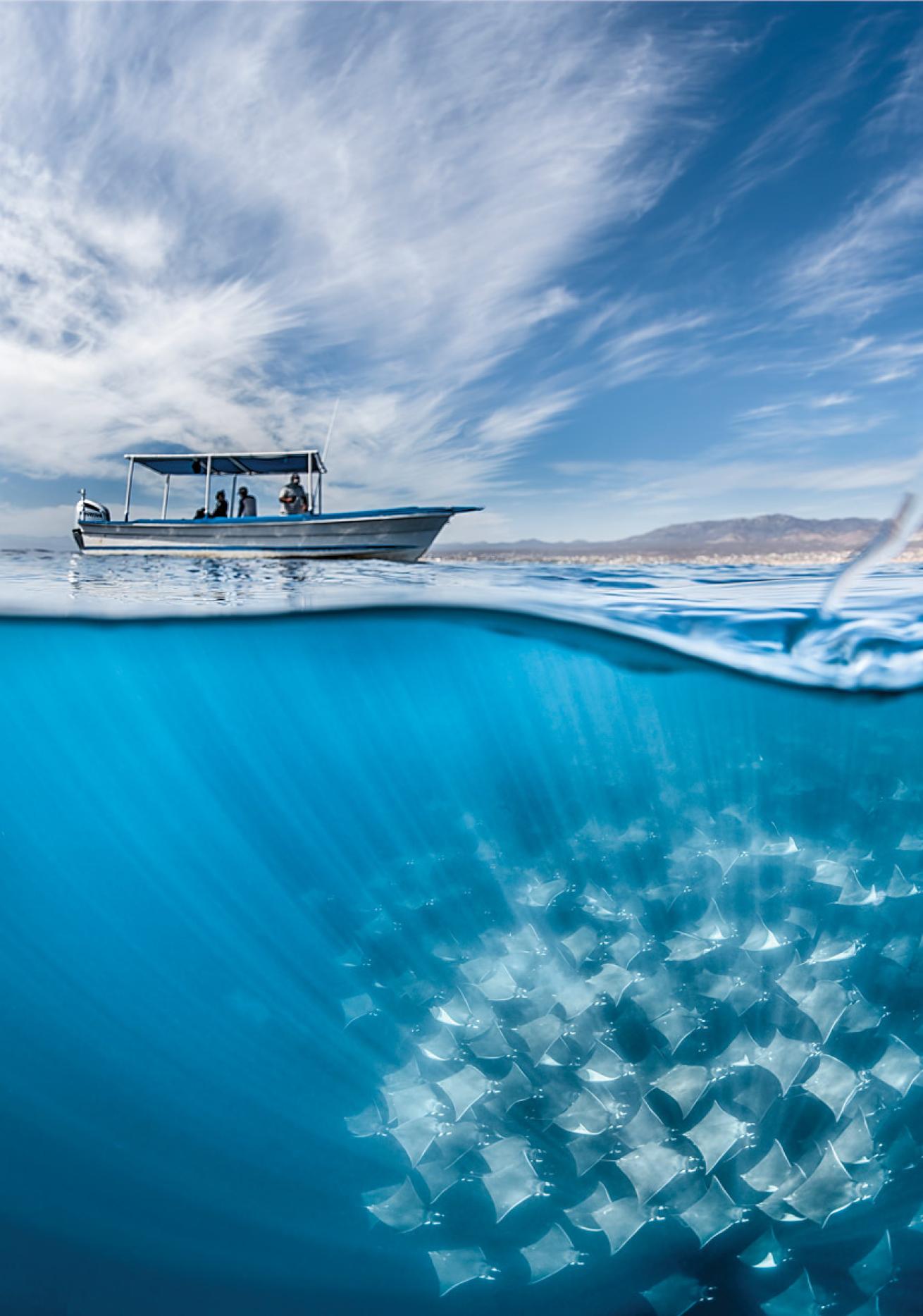 Location: Baja California, Mexico

Martin Broen
Behind the shot I wanted to capture the size of the mobula ray fever and the fascinating dynamic pattern of shapes and textures it generated while providing a reference point for it. That led me to try a split-shot that included the photographers' boat. Luckily the water was calm enough and the light conditions were good.
Camera gear Sony a1 with a 15mm lens in a Nauticam housing
Settings f/9; 1/125; ISO 100
Related Reading: How This Award-winning Underwater Photographer Got His Start by Volunteering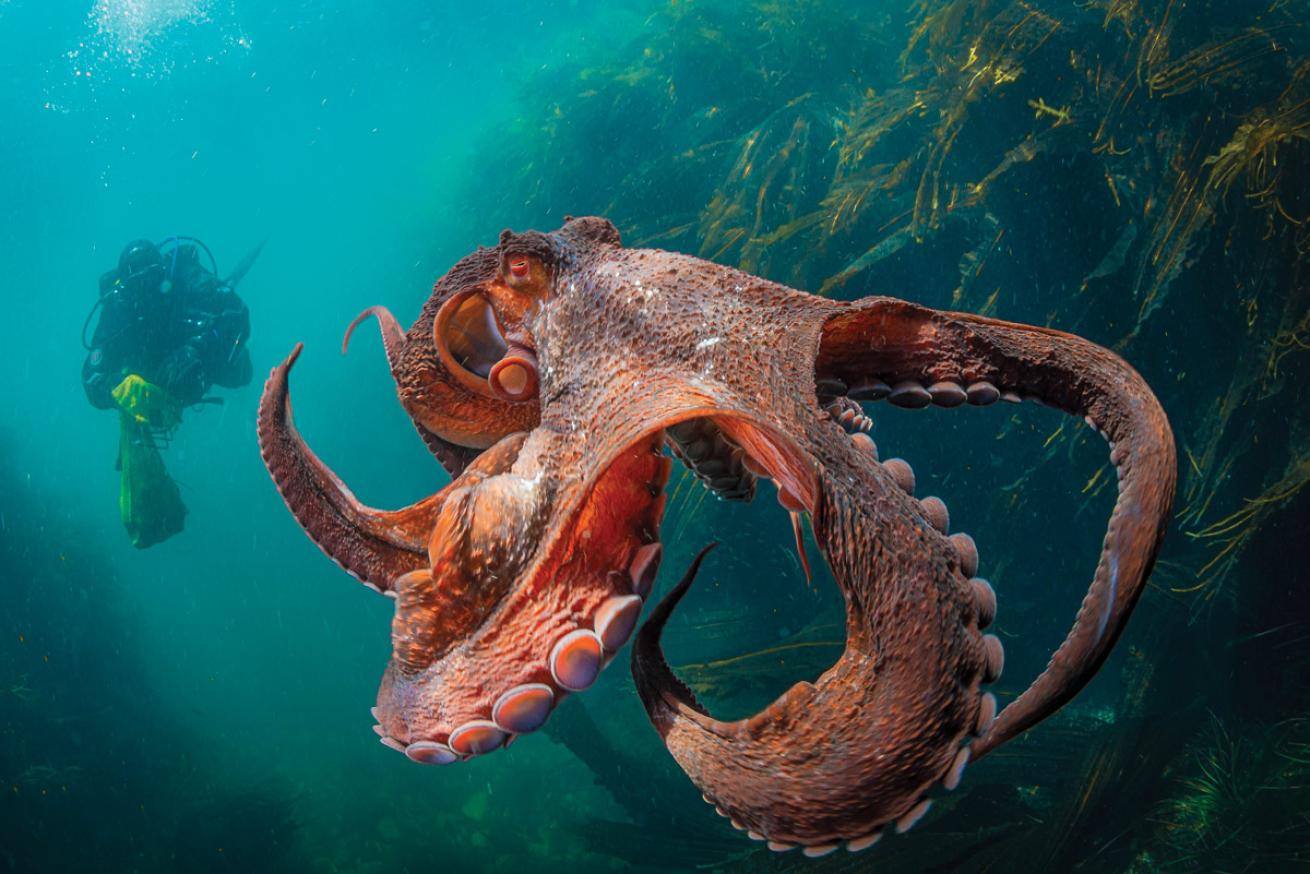 Location: Sea of Japan, Russia

Andrey Shpatak
Behind the shot I love shooting giant Pacific octopuses. In our area, the water is almost always cold, and the chances of meeting an octopus near the surface are very high. A friend of mine was cultivating a gray sea urchin when I discovered this octopus. The octopus decided to swim away from the wall, and it was at that moment that this picture was taken.
Camera gear Nikon D800 with a Nikkor 8-15mm lens
Settings f/15; 1/60; ISO 400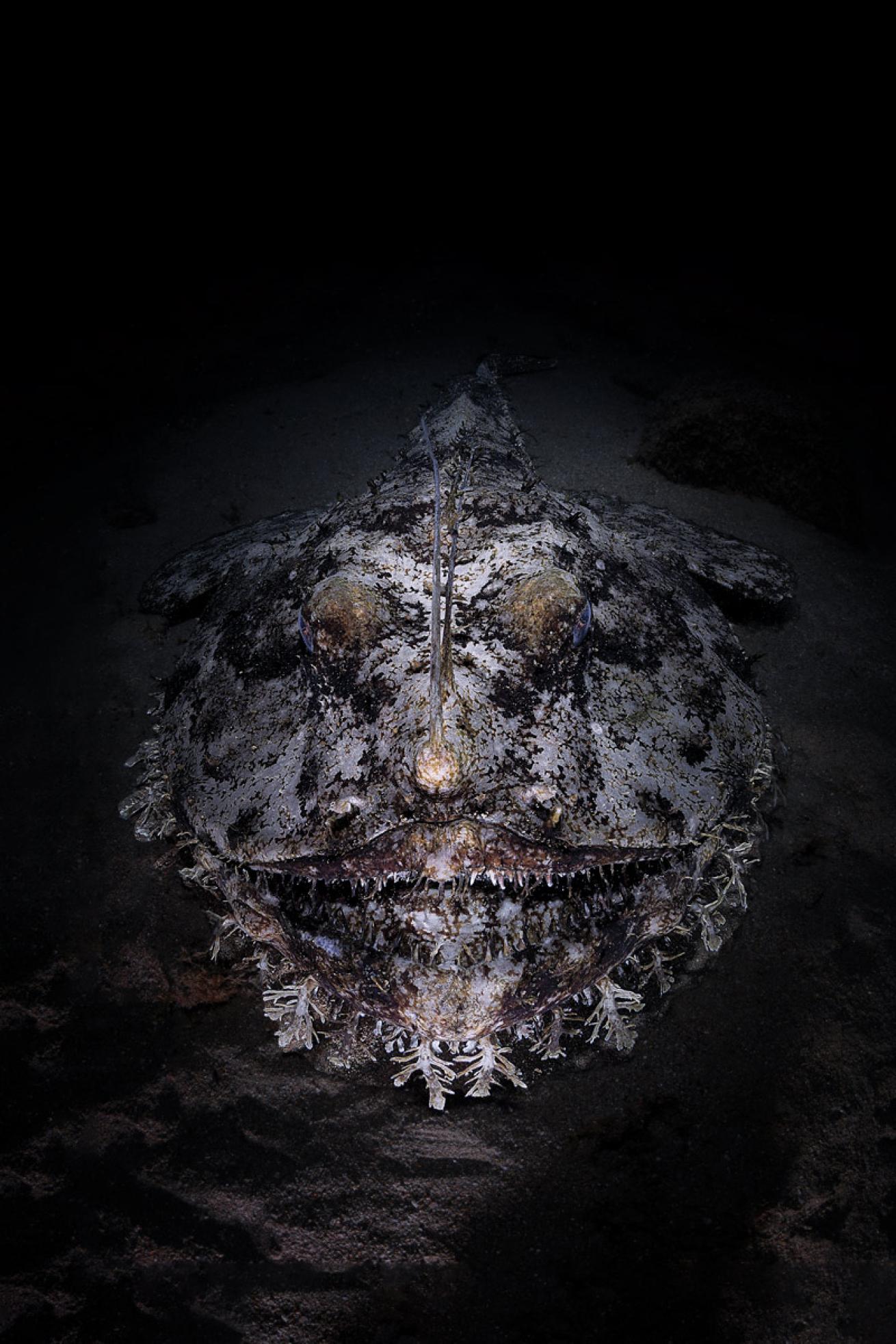 Elisa Grandi
Behind the shot My friends and I spent the weekend looking for this creature off the coast of the village of Noli, but only on the very last dive did we find it. It's really hard to see it as it disguises itself quite well. In fact, it looks like a stone. I took quite a few shots of this guy. In the end, I thought to simply put the camera in a vertical position, and that's how the shot came out.
Camera gear Canon R6 with an 8-15mm fisheye lens; Isotta housing with an 8-inch dome; dual Z-240 strobes
Settings f/13; 1/160; ISO 200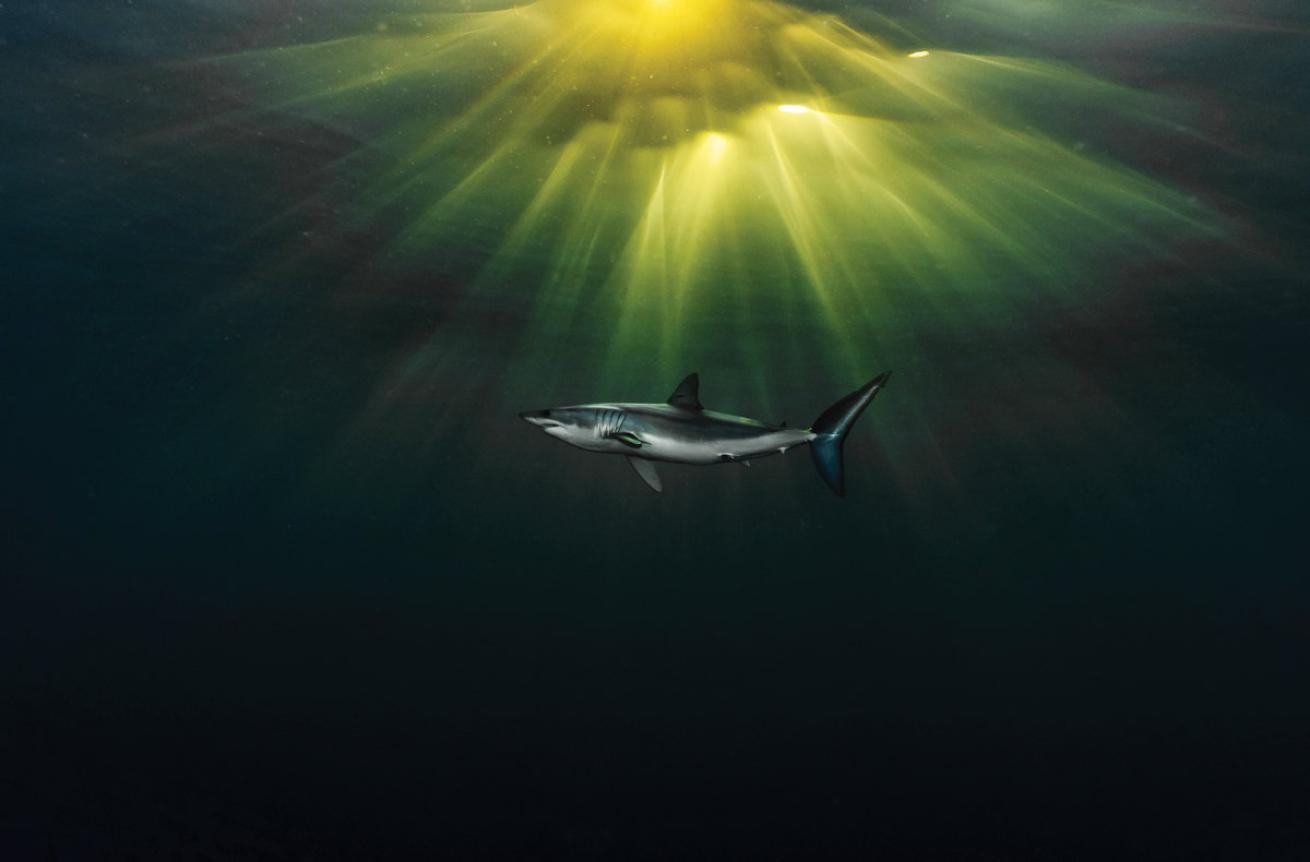 Location: Cabo San Lucas, Mexico

Niklas Manger
Behind the shot After an unsuccessful afternoon chumming, we spotted a small pod of bottlenose dolphins. Among them, one fin stood out—a shark. Quick to react, we readied our chumming equipment, enticing the mako shark with a fish head. In seconds, it approached the boat. The sun was about to set, and the water was a little greenish but clear. The last rays of light and a single strobe revealed a breathtaking display of colors.
Camera gear Sony Alpha 6400 with a 10-18mm wide-angle lens in an Ikelite housing; Sea&Sea YS-D2J strobe
Settings f/6.3; 1/160; ISO 320
Related Reading: 17 Incredible Underwater Images from Scuba Diving Magazine's Photo Contest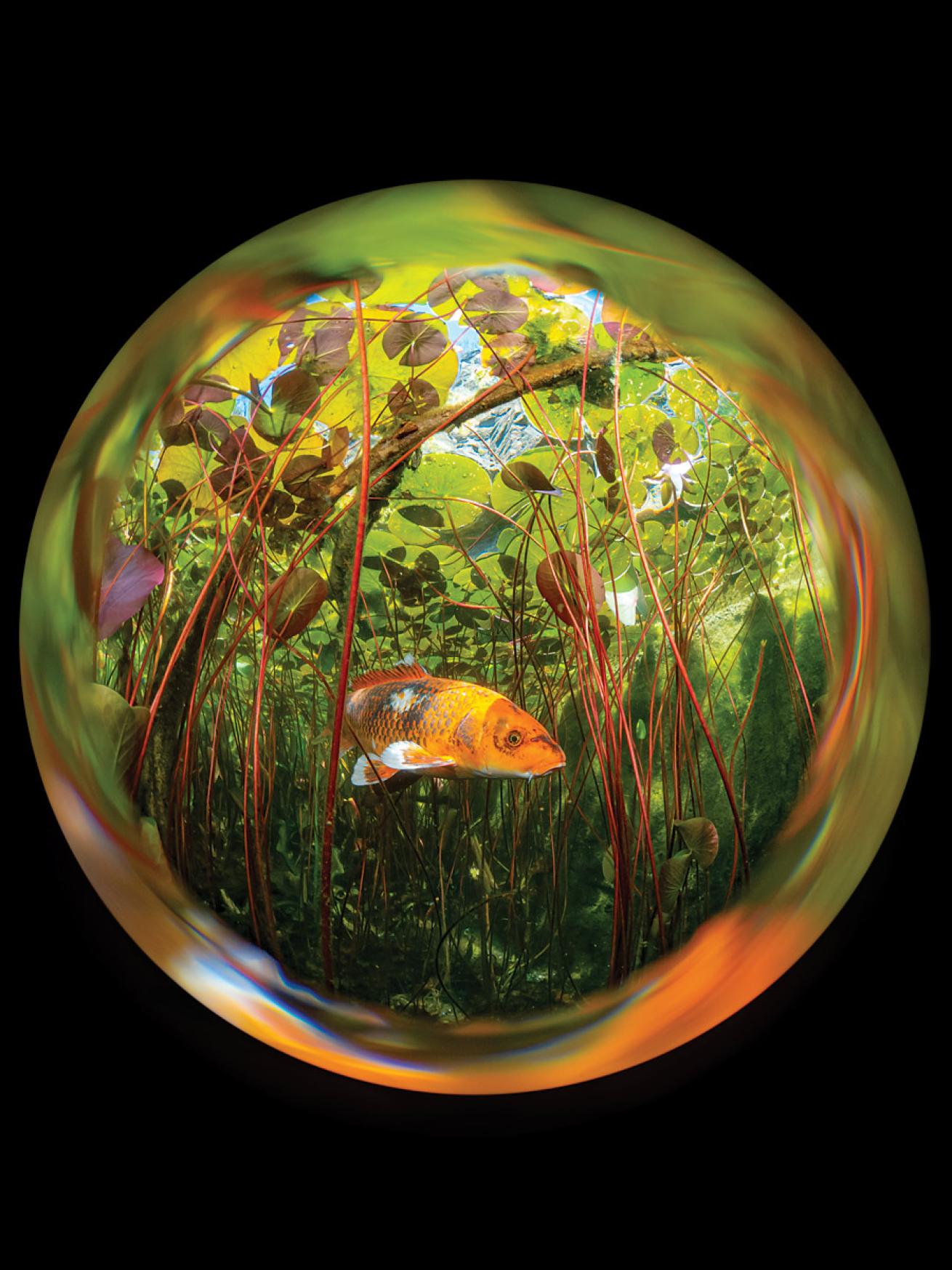 Location: Brandis, Germany

Enrico Somogyi
Behind the shot There is a quarry near my hometown called Westbruch. Koi carp live in this area, along with many other types of fish. For this photo I used a Raynox circular fisheye lens behind a 4-inch dome that I adapted to a Fantasea housing. The colorful reflection comes from a reflection tube that I placed inside the Raynox lens. The green, red and orange colors together with the reflections give it a dreamy look that I like a lot.
Camera gear Sony RX100 VI with a Raynox circular fisheye lens; Fantasea housing; two Retra Flash Pro strobes
Settings f/5; 1/100; ISO 200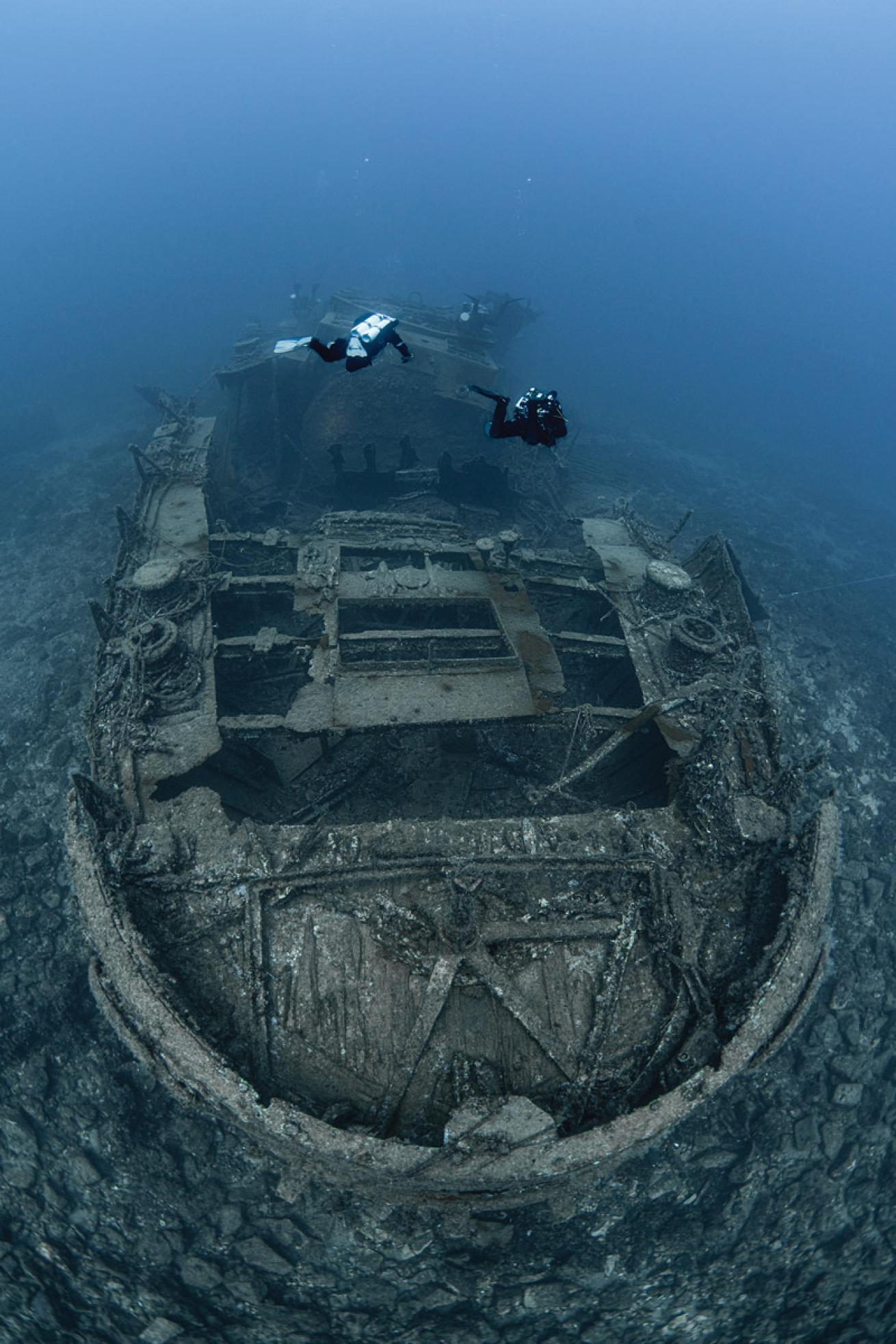 Kurt Storms
Behind the shot This photo was taken on a trip to Malta for the Rebreather Forum 4. It shows the wreck of the HMS Hellespont, where we conducted a check dive before moving on to the deeper wrecks. In the image you can see my buddies Willem Verreycken and Jan Van Den Bergh at the end of the dive. Conditions at the site were great, with good visibility.
Camera gear Sony A7R IV; Canon 8-15mm fisheye lens with Sigma adaptor; Marelux housing
Settings f/6.7; 1/90; ISO 400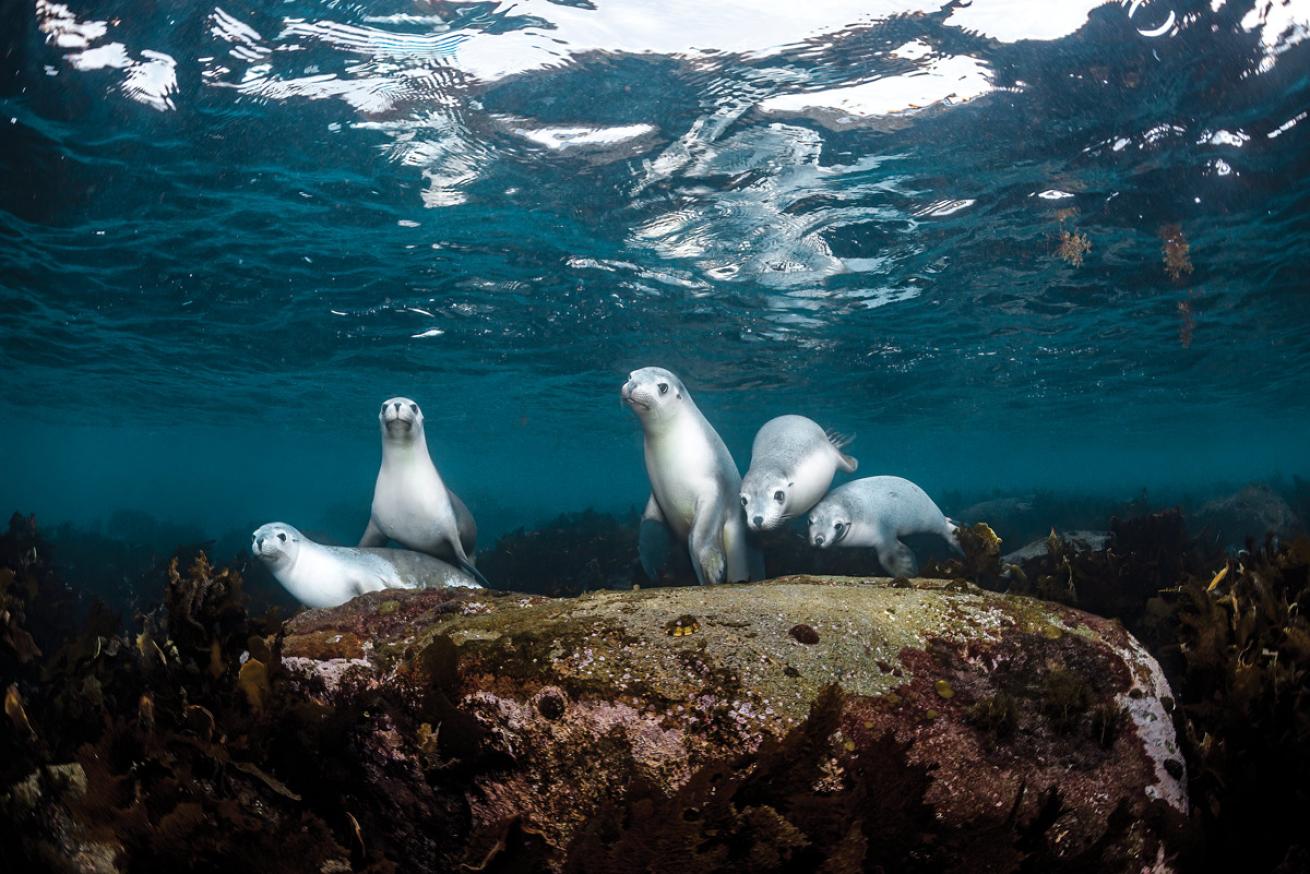 Location: Grindal Island, South Australia

Angelina Pilarinos
Behind the shot We were scuba diving with these Australian sea lions for almost an hour. In the beginning, they were so excited and swimming all around us, but toward the end of the dive they started to calm down and assemble on this rock. I waited for the sea lions to approach and took this shot. The funny thing is I thought the photo would come out poorly. I had one broken strobe, so I could only use a single strobe for this shot instead of two, and it was a dark, cloudy day. But by bumping up my ISO I made the shot work.
Camera gear Nikon D810 with a Sigma 15mm fisheye lens in a Nauticam housing; one Ikelite DS160 strobe
Settings f/8; 1/250; ISO 800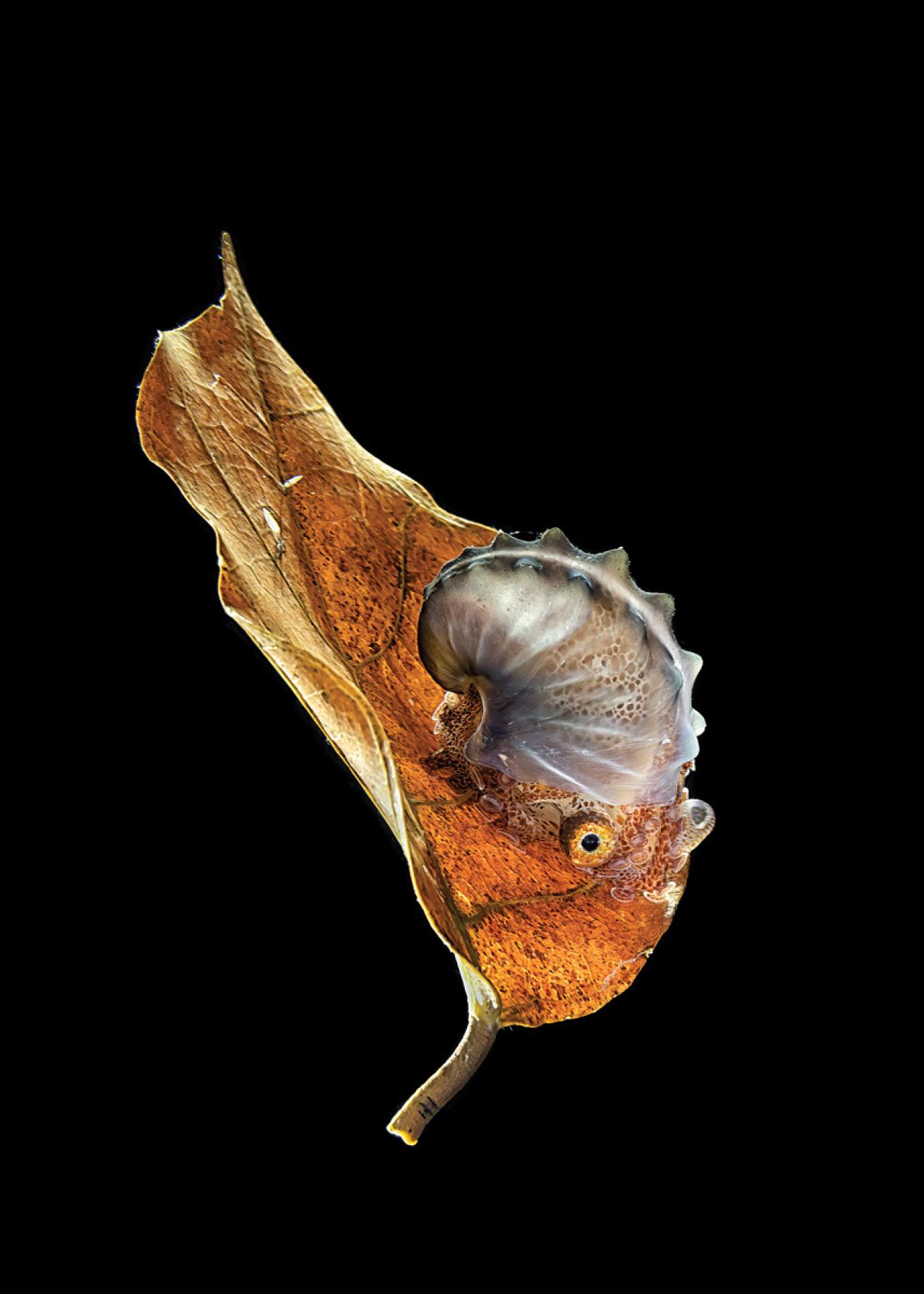 Location: Anilao, Philippines

Ken Keong Chong
Behind the shot Argonauta hians, also known as the argonaut or paper nautilus, was on my wish list. I saw many of them either riding or hitchhiking on something over the course of four blackwater dives in Anilao last April. My dive guide spotted this argonaut riding on a leaf. After snapping a few shots of it, I repositioned myself and adjusted my camera angle to get the argonaut's body to align with the shape of the leaf.
Camera gear Canon R6 with a 100mm lens; Ikelite housing; Inon Z-240 strobe
Settings f/13; 1/200; ISO 500
---