How This Award-winning Underwater Photographer Got His Start by Volunteering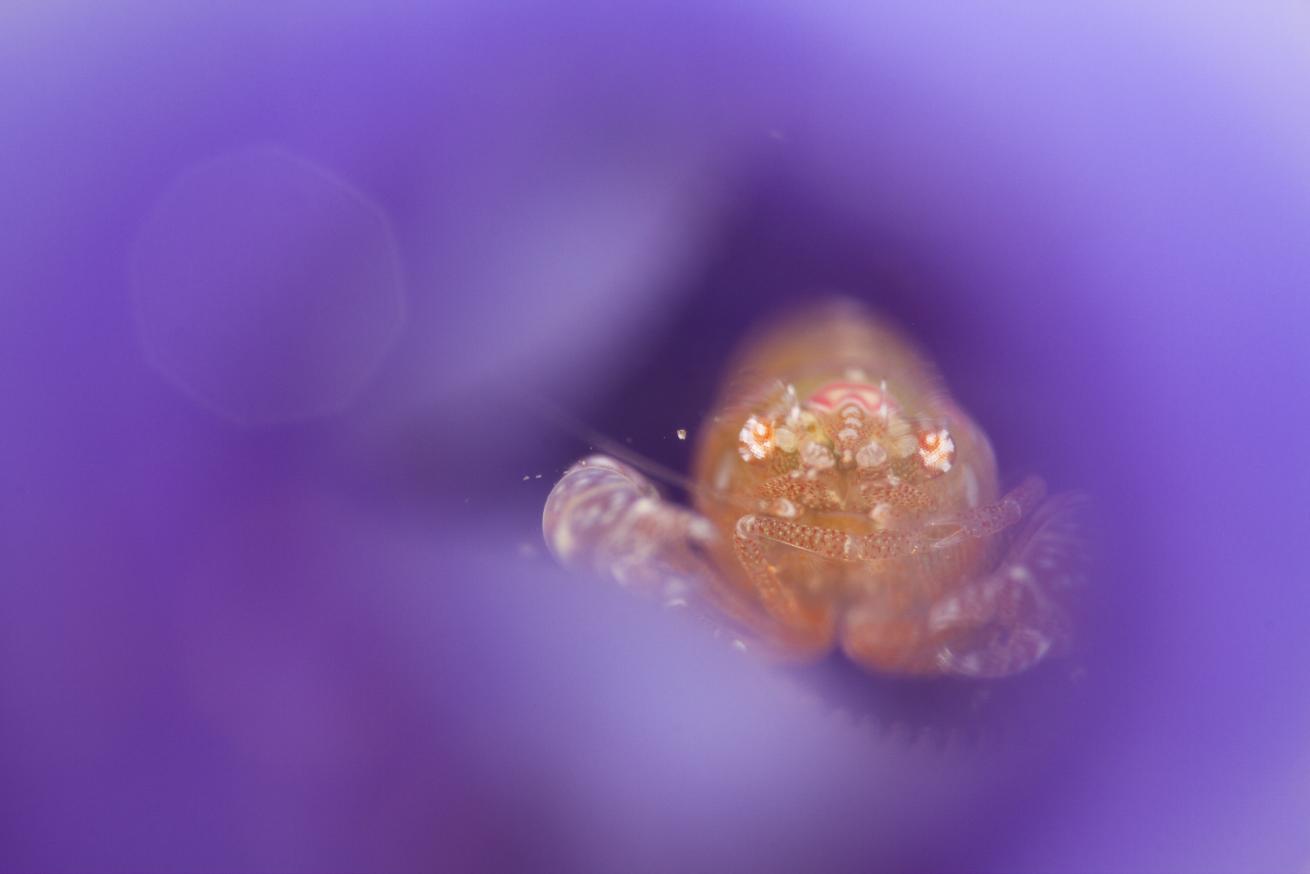 Tunicate shrimp. Wide aperture shot of a half-centimeter shrimp in the base of a filter-feeding tunicate in Ambon Bay, Indonesia.

Joe Daniels
His 'Tunicate Shrimp' photo won Our World Underwater's macro category; his whale shark image is the poster for Jane Goodall's campaign against shark finning; and his underwater images are now published worldwide, yet Joe Daniels says, "I've never been on a photography course. Sometimes, I struggle to really like my pictures, and my first underwater photography experience was with a plastic bag."
I first met Joe in Seychelles, barefooted and head down, inspecting an O-ring connection. He was working as a dive operator on the same volunteer conservation project he joined at age 18 after attending a Dive Show talk.
Fifteen years later, he talks humbly about what drove him to the ocean, his first published picture and the power of underwater photography.
Related Reading: How to Take Underwater Photos in the Maldives
Always Obsessed with Marine Life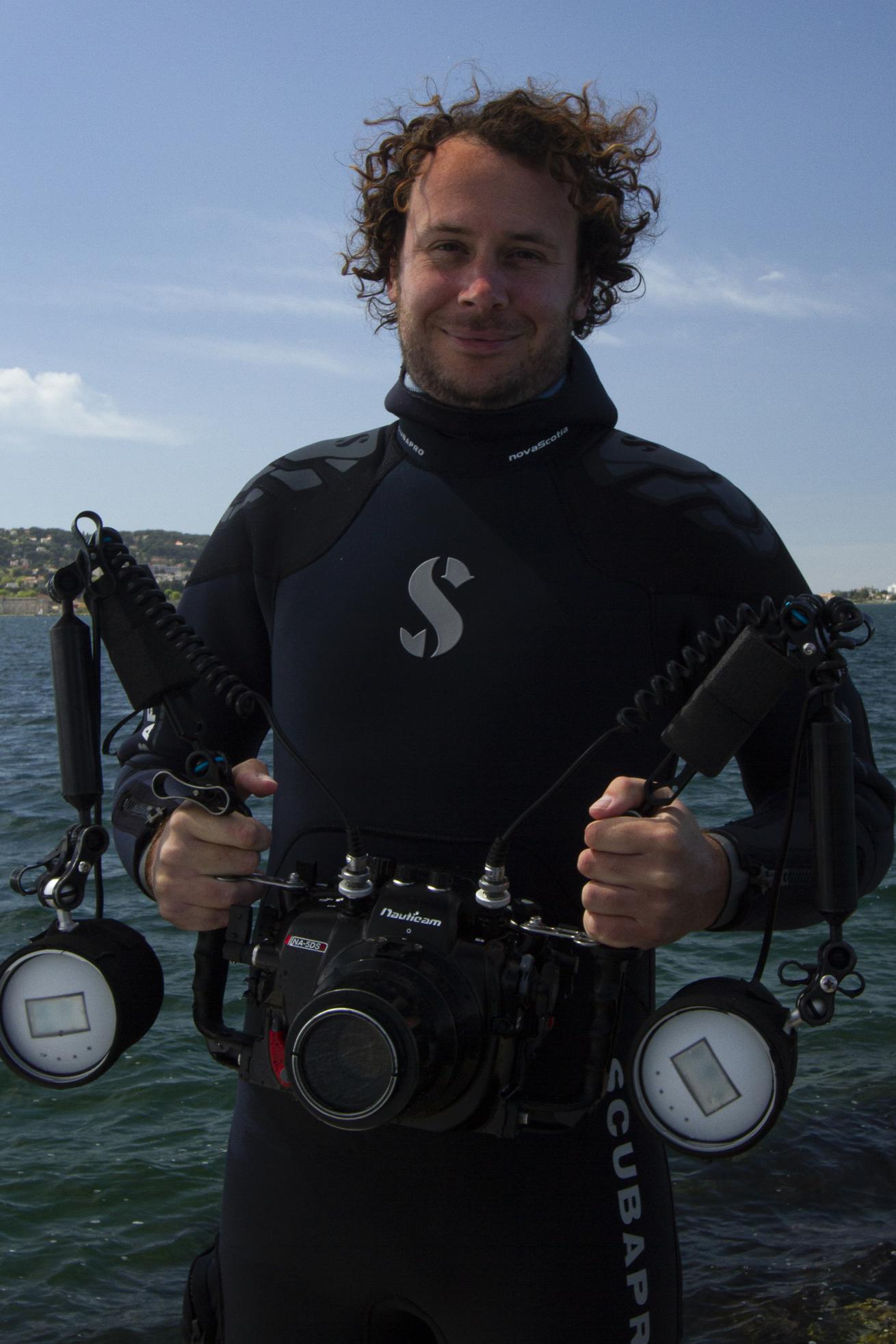 Courtesy Joe Daniels
Joe originally came to the Seychelles to see whale sharks through a volunteer trip with GVI. It was during this experience that he learned how to survey marine life and struck a friendship with fellow volunteer Mark Tilly. Together, they snorkeled in the shallows for hours with point-and-shoot cameras. Mark, now also a professional underwater photographer, lent Joe his "plastic bag" housing for his waterproof Pentax. "It just sealed with a plastic clip, like a heavy-duty zip lock bag," Joe laughs. He could only take it down to 13 feet, but it was enough to ignite his "obsession."
"I remember how I caught some light on the electric blue of an angel fish. I was so excited to go back to the group and share my image," remembers Joe.
Related Reading: What Underwater Photographers Should Know About Raja Ampat
From Seychelles to Australia, From Point and Shoot to Manual
After Seychelles, Joe headed to Ningaloo Reef, Western Australia, to work as a divemaster for two years. Here, he took the first picture he was proud of with an old Canon G9 in an Ikelite housing.
"The ocean was glass calm, and I framed a whale shark just beneath the water line while capturing its mirror image on the surface. I couldn't wait to send it in to a competition."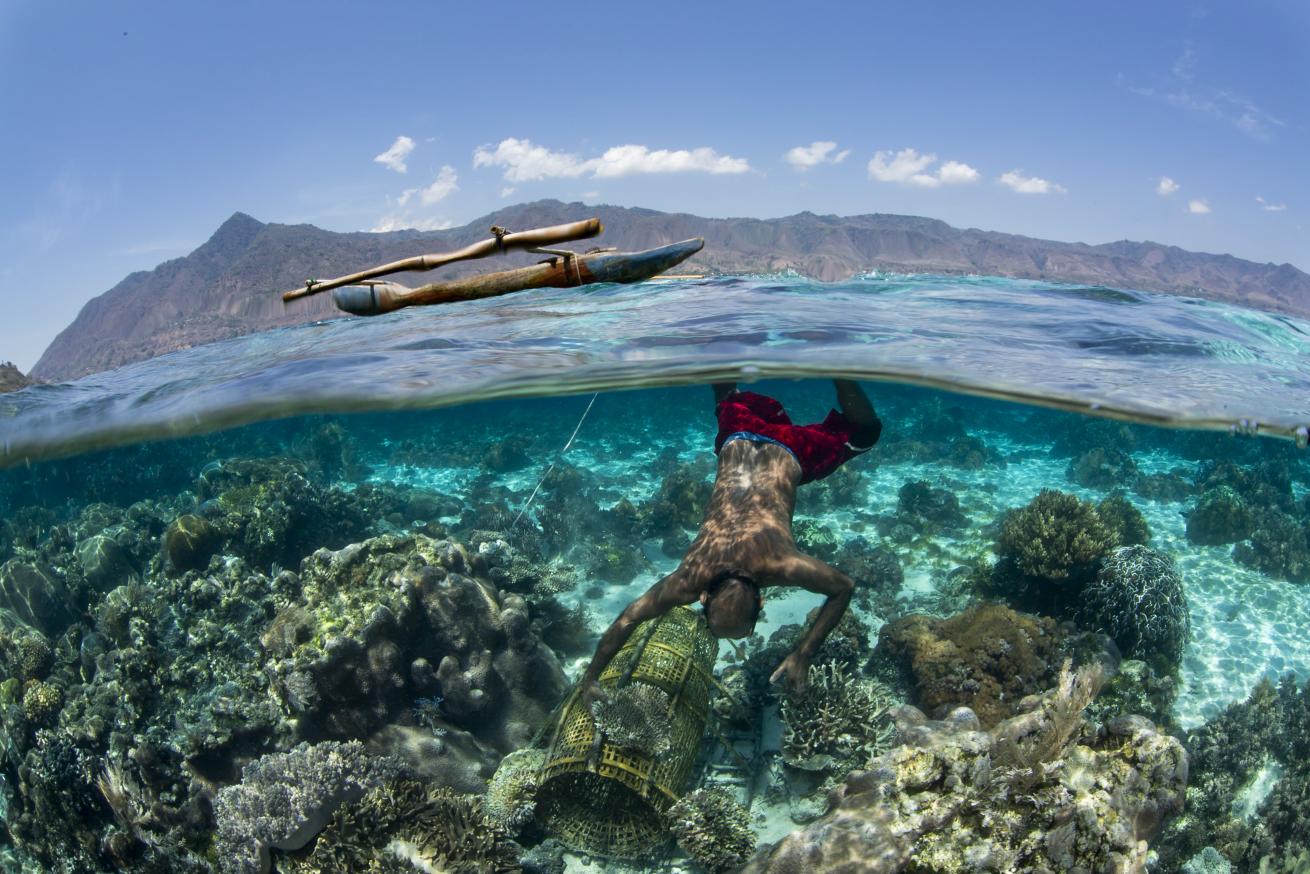 Fisherman and his outrigger - a local fisherman checking his fish trap on a shallow reef in Alor, Indonesia.

Joe Daniels
Discovering Macro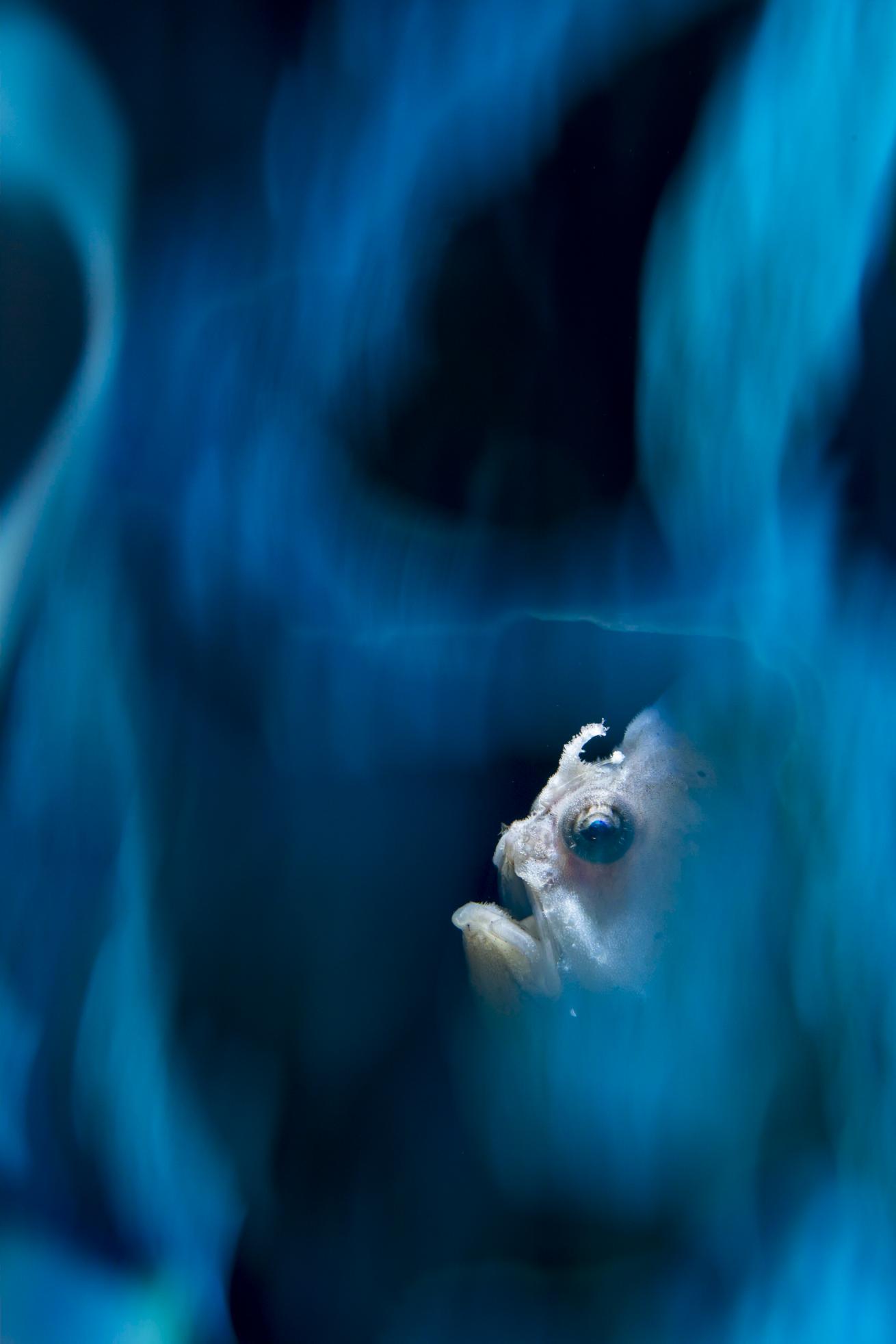 Blue Smoke - A frogfish waits for prey among blue sponges in Indonesia. Lit using a snoot and slow shutter speed for background.

Joe Daniels
After completing his instructor development course in South Africa, Joe, and his now wife Emily, moved to Ambon, Indonesia, to run Maluku Divers, a resort specializing in underwater photography. Famous for muck diving, its sandy rubble slopes and abundance of critters, Joe discovered his love for macro shooting in Ambon.
"I started finding smaller marine life and playing with a slower shutter speed to create blurred backgrounds or a larger aperture to create patterns."
Joe attributes much of his success to other professional photographers visiting Ambon. He sat in on workshops and talks, one of which was with Martin Edge.
"It was game-changing. Martin simply talked about starting every dive by taking a test shot picture of the blue, with no subject, to get the exposure right. This is my routine now before I start playing with any strobes, flash or composition. If the light changes, I do the test shot again."
Related Reading: The Future of AI Editing and Underwater Photography
An Image Never Forgotten
Joe's global travels may bring envy to many. Yet one image stands out as a reminder for our fragile ocean ecosystem. While diving in the Red Sea, Joe came across an oceanic whitetip shark with a scuba regulator ring around its neck. It was the image that won him third place in Conservation Photographer of the Year, but more importantly, the shark has since been found and freed of the regulator.
Joe's accomplishments include speaking at dive shows, placing twice in Outdoor Photographer of the Year, being a guest on The Underwater Tribe and publishing a book on Seychelles marine life.
Related Reading: Stunning Summer Scuba Vacations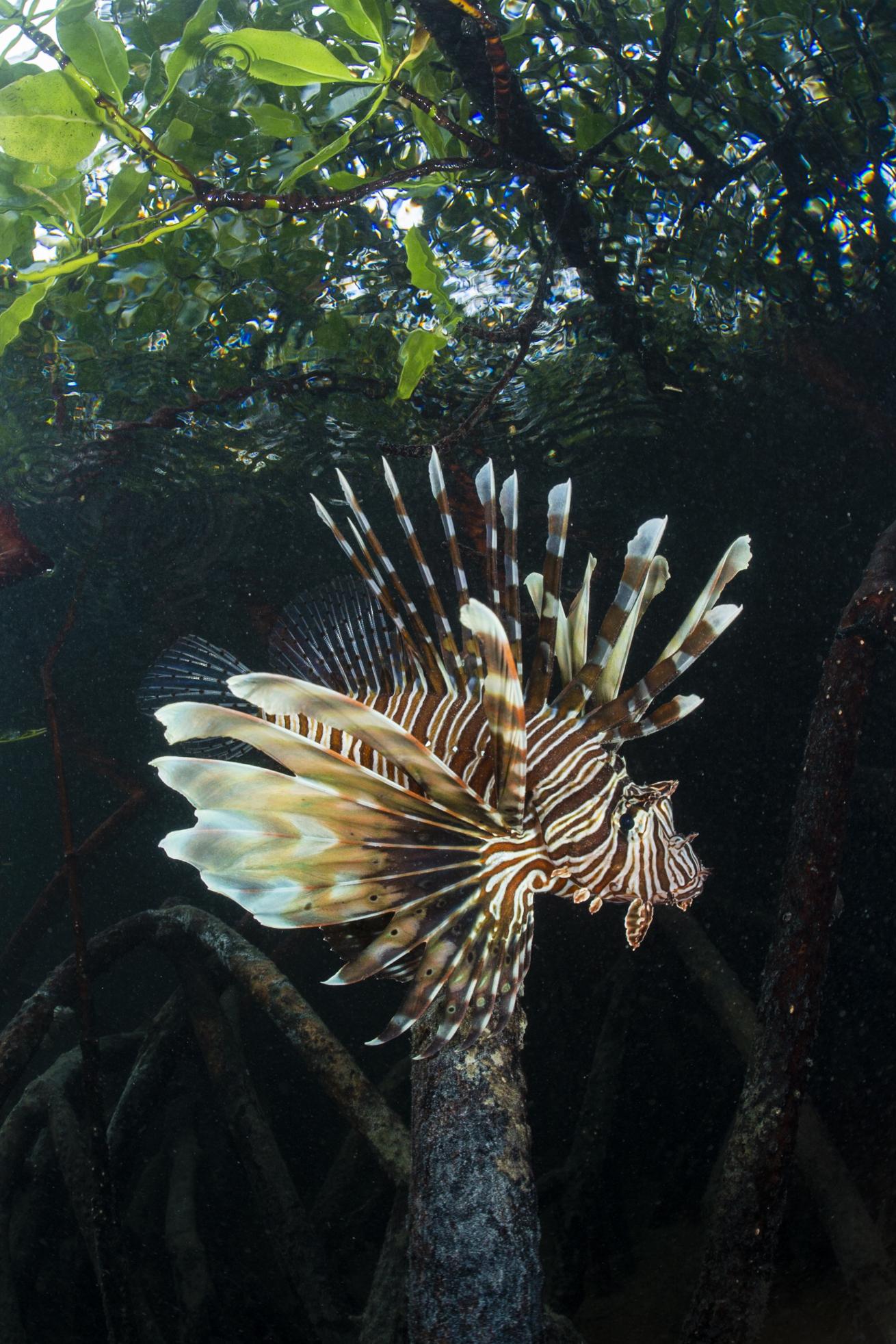 Mangrove lionfish - lionfish makes its way through tangled roots of a dense mangrove system to hunt juvenile fish in Mauritius.

Joe Daniels
He now uses a Canon 5D MKIII with Nauticam housing and Retra strobes. He always shoots manually and has his camera set on F13 with a shutter speed of 1/125th and ISO 200, ready for any eventuality.
Joe's advice for getting into underwater photography:
Get to know your equipment: "Try to use it a lot on land first. You only get limited time underwater; you don't want to be working out what button does what."
Find what interests you: "If you're not bothered about what's in front of you, it comes across in the pictures."
Spend time in the shallows: "Incorporating the surface in images, such as overhanging trees or clouds, can create imaginative split-level images."
Meet and talk to more experienced photographers: "You will always learn something."
---