The Benefits of Scuba Diving via Liveaboard
Dawn is breaking as we ­begin our dive at Cara a Cara on the south side of Roatan. We've just reached 65 feet when dive instructor Matt Crawford begins to squeal in excitement — a scalloped hammerhead passes right overhead, its ­iconic shape perfectly ­silhouetted against the early-morning sun. By the time we return our attention to the seafloor, the reef sharks have arrived.
"They're real friendly," instructor Jonathan Staber had promised during our briefing. True to his word, the sharks, which range from 5 to 9 feet, are busy weaving in between divers, often just out of arm's reach. It's easy to see why this site is named Cara a Cara, Spanish for "face to face."
We return to the boat ­after 55 glorious shark-filled ­minutes. The group is still ­riding a shark high as we dig into our French toast.
"The dive was nice," diver Dennis Alba says, "but whenever I tried to take a picture of the grouper, those big gray fish kept getting in the way!" After a moment's pause, his grin betrays him and we all laugh. "Can we do it again?"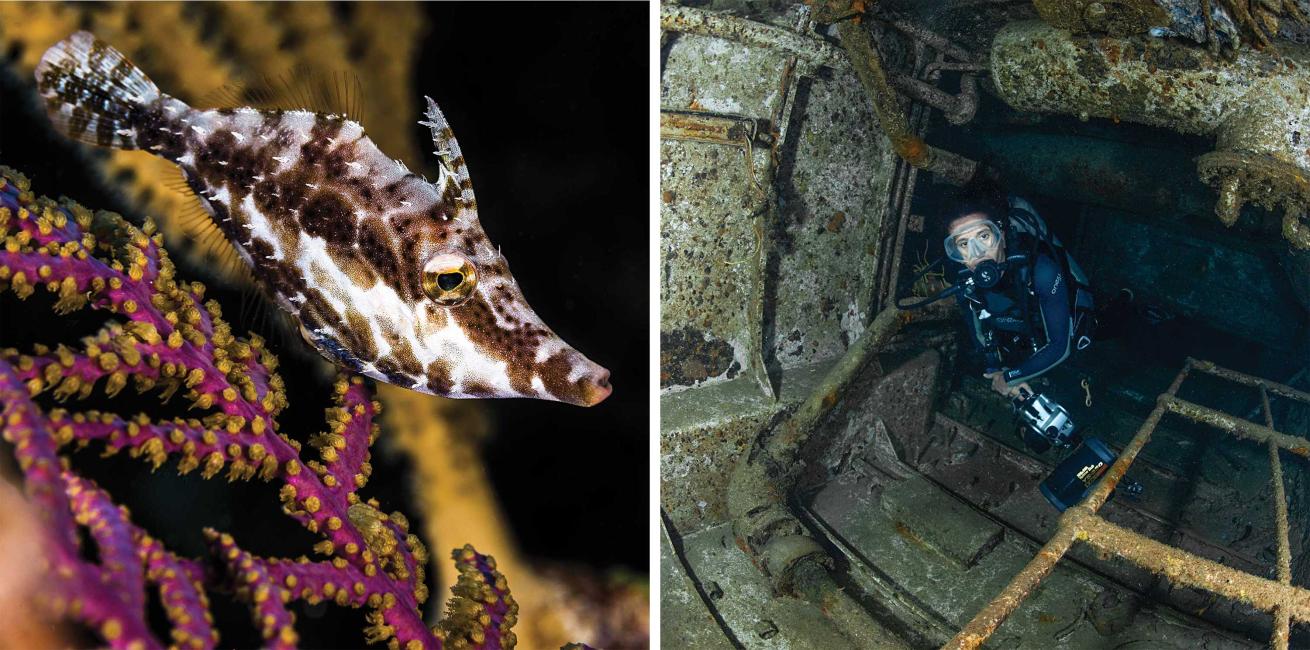 A slender filefish (left); a diver inside Roatan's El Aguila wreck, purpose-sunk in 1998.

Greg Lecoeur; Felipe Barrio/Ultima Frontera
Even though I've been ­giant-striding off boats since I was certified, I was nervous about taking my ­first-ever liveaboard trip. Not quite sure what to expect, I came aboard Roatan Aggressor to put my sea legs to the test. After spending a week exploring the ­breathtaking reefs of the Bay Islands, I found that liveaboard diving is about more than a big ­fancy yacht — although ­Aggressor's recent overhaul and refurbishing has made it one souped-up ride.
We begin our week with a swim at Mr. Bud's. While the main attraction is the ­65-foot shrimping ­vessel — covered in purple ­polka dots thanks to the nesting ­sergeant ­majors — the ­surrounding area is a sampler of ­underwater ­attractions. After poking around the wreck you can hunt for brooding ­yellowhead jawfish, squat lobsters and mantis shrimp in the sand and explore the ­coral-encrusted reef and wall.
During a night dive on Mr. Bud, we discover ­myriad ­nocturnal critters, ­including channel crabs, spiny ­lobsters and the eyes of night shrimp shining in the darkness. A splash of turquoise comes from the pilothouse as a ­Caribbean reef octopus envelops its prey. The webbing between its arms billows out as the copper-green skin is mottled with brown. My buddy, Suzanne, and I remain on the wreck to watch the eight-armed wonder as it gracefully moves along the railings of the ship, as if they were sea monkey bars on a playground.
We mournfully return to the boat when we notice the other divers have started to exit the water. But ending a great dive isn't so bad when you're greeted with a warm towel and hot chocolate upon surfacing — especially when the cocoa is spiced with a splash of Caribbean rum.
Half Moon Bay Wall (left), off Roatan's West End, is a beautiful mini wall stuffed with fish and coral life; There are 300-plus identified species of fish in the Bay Islands, including big ones such as Nassau grouper and reef sharks.

Francesca Diaco; Kadu Pinheiro
The next morning, we set out for Cayos Cocinos and Utila. The seas are choppy during our 25-mile journey south. The early risers assembled in the salon share a laugh when a large swell causes our cups of coffee to slide across the table — we manage to catch them in time.
"The crossing can be a ­little rough," Staber tells me. "The first week we set up this amazing breakfast — plates and silverware all set, bowls of fruit, glasses filled with juice." I can only imagine the ensuing mess. "We learned our lesson," he adds, laughing.
­The rocky ride and ­delayed breakfast is a small price to pay for two ­fantastic drift dives along the seamount within Cayos Cochinos ­National Marine Monument. The whole undersea mountain — its peaks are around 45 feet deep — is teeming with life. Schools of ­rainbow ­runners, creole ­wrasses and black ­triggerfish swim above a plethora of sea fans, ­corals and sponges that covers the massive structure. We encounter roving pairs of French angels, large Nassau grouper, a few lone barracuda and a beautiful scrawled filefish.
The way these ­finely detailed little weirdos flap their mouths open while their eyes ­swivel makes them look like some sort of ­microscopic Muppet.
Our group is especially ­animated as we gear up for a dive at nearby Toon Town. This site somehow ­manages to pack in even more corals than the seamount, including some large elkhorn ­coral. In the shallow regions, all of the colors of the rainbow are present. Leafy green algae, waving purple sea fans, yellow mustard coral, red sponges, orange fire coral and ­beautiful bouquets of blue bell ­tunicates all add to the rich tapestry of the reef. That doesn't even take into account the cast of colorful characters, ­including fairy basslets, spotted drums, ­honeycomb cowfish, ­trumpetfish, spiny puffers, spotted eels, swarming butterflyfish and a yellow stingray.
Weather worsens over the course of the afternoon, and at one point a sudden squall blows in right before a dive, forcing us to delay. Had this been a dayboat, we'd likely all be crammed in a tiny cabin, or worse — heading home. But we're quite ­comfortable in the 120-foot Aggressor's salon. To pass the time, two of my shipmates, Denise and Suzanne — dive buddies for years — pull out their phones and begin comparing photos of their grandchildren and their dogs, respectively, ­trying to outdo each other like Quint and Hooper from Jaws comparing scars.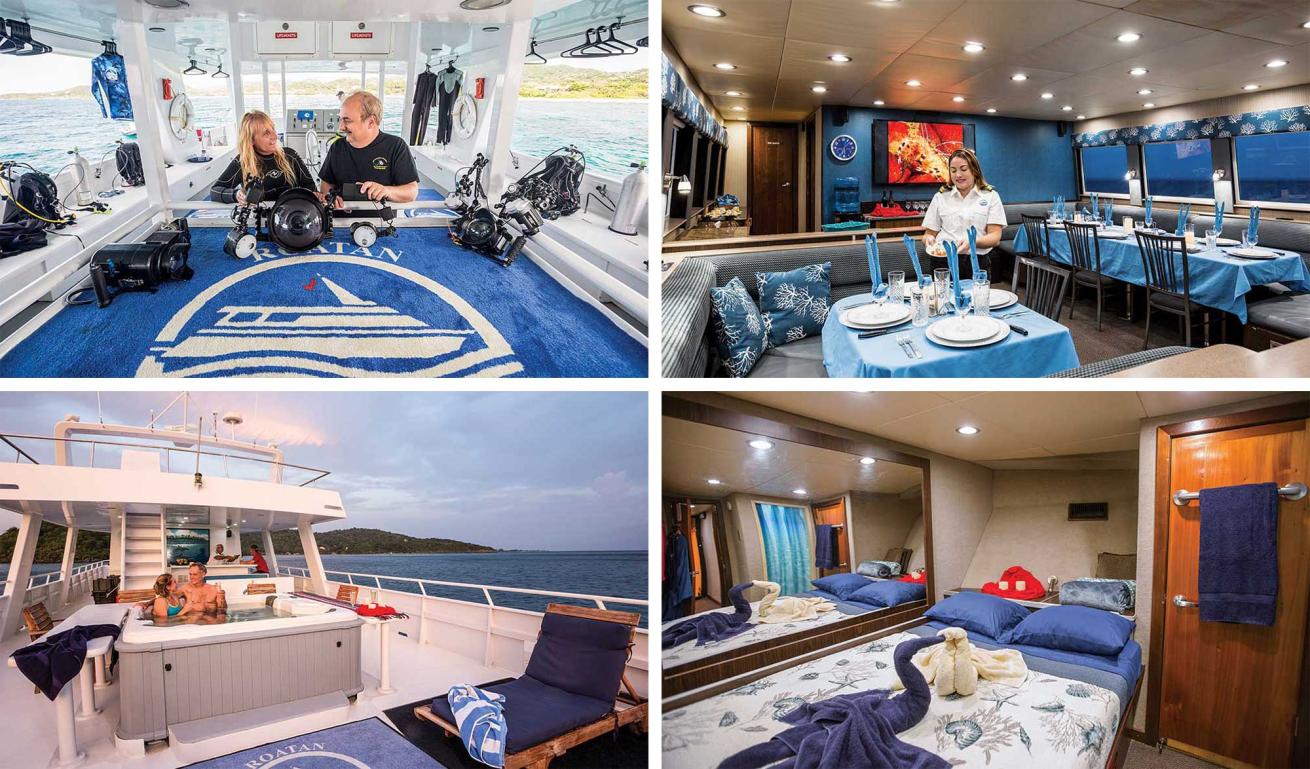 Top: Roatan Aggressor's dive-deck camera table and salon. Bottom: The hot tub and living quarters.

Aggressor
The next day we spend what time we can at Utila before an approaching storm sends us packing. We squeeze in ­plenty of dives, including a double dip at Jack Neal's Point. ­Although the site drops to 80 feet, I am drawn to the 15-foot shallows, where I find my Zen among the widely spaced ­coral outcroppings. On the second dive, I don't even leave sight of the boat. After multiple days of multiple dives — and knowing there are more ahead — I am content to take it easy and let the ­gentle surge rock me back and forth as I take in this beautiful ­underwater ­garden. We forgo our daily night dive and return to Roatan's leeward side in the evening. Any ­disappointment over the ­nocturnal outing is soon ­forgotten thanks to another fabulous dinner — ­complete with crème brûlée.
The next morning, we awake to glassy seas in Roatan's West Bay, where I am introduced to one of the island's most iconic wrecks, El Aguila. The broken-up freighter spans 230 feet and provides a number of sections to explore, including a few swim-throughs. On an adjacent reef we spot a huge, free-swimming green moray eel and a spotted eagle ray.
Despite all the ground to cover, I'm content spiraling up the sponge-coated mast and playing I Spy with neck crabs, slender filefish and bearded fireworms. My favorite ­pint-size critters are three secretary blennies. I watch, transfixed, as they waggle their heads out of their holes. I've never seen fish this small before, and my mind can't quite comprehend what I'm looking at. The way these ­finely detailed and beautifully ornamented little weirdos flap their mouths open while their eyes swivel in all directions makes them look like some sort of microscopic Muppet. I fall in love with them instantly.
Blennies aren't the only things for which I have a newfound affection by the time we return to French ­Harbor. The liveaboard life has made a lasting impression on me — after a week with my new friends and shipmates, Roatan Aggressor has begun to feel like home.
---
When to Go: Diving is year-round, with the best time being between mid-January and October. Historically, whale shark sightings have been most frequent February through April and August through October, but these days, sightings are more sporadic, perhaps in part due to climate change.
Traveler's Tips: Don't bother packing a lot of clothes; you'll be in your swimsuit 90 percent of the time — 100 percent if you feel like sleeping in it. Just bring multiple suits so you can swap out between dives and allow your previous suits to dry fully before getting in them again.
If you're worried about staying in touch with folks back home during your trip, you're in luck. Roatan Aggressor is never too far from shore and is often close enough to pick up cell service. In West Bay, I could even reach a ­local beach bar's Wi-Fi — if only we knew the password!
Dive Conditions: Water temperatures average around 82 degrees F in the summer and 78 in the winter. Most divers will find a shorty or 1 to 3 mm suit to be sufficient most of the year. Visibility can range between 50 and 100 feet, depending on the site and conditions. All diving is done directly off Roatan Aggressor.
Operator: Roatan Aggressor is the latest addition to the Aggressor Fleet (aggressor.com). With a length of 120 feet and a 22-foot beam, this yacht has plenty of space for up to 18 guests in its one master bedroom and eight deluxe staterooms (seven with double and single berths and one with two twin beds), each with a private bathroom and shower, and individual climate controls. It also features a hot tub and ­shaded wet bar on the top deck.
Price Tag: Deluxe cabins start at $2,995 for a seven-day cruise.