The Best Destinations for Diving Caves, Caverns and Grottoes
1st Place Winner: Caribbean and Atlantic
1. Mexico
With a name like Jailhouse, it's hard to know what to expect from this site in Tulum, part of the Riviera Maya region. In the upper level of the cave, which requires that divers first attain the proper training to enter overhead environments, the walls are orange. Dark. This color painted itself into the stalactites and stalagmites due to minerals in the water that dripped down as this stretch of cave formed.
Pro Dive International offers an eight-day cave diving course at several locations, teaching students the skills necessary to enter this and other similarly challenging caves.
Those not looking to commit to the full course can take advantage of daily cenote tours run by many dive operators in the area, where only an Open Water Diver certification, along with decent buoyancy, is required.
| Readers Picks | |
| --- | --- |
| Resorts | Casa Del Mar, Cozumel, Mexico |
| | Cozumel Hotel & Resort by Wyndham, Mexico |
| | Melia, Cozumel, Mexico |
| | Palace Resort, Cozumel, Mexico |
| | Presidente Intercontinental, Cozumel, Mexico |
| | Scuba Club Cozumel, Mexico |
| Operators | Cave Training Mexico, Riviera Maya |
| | Dive with Martin, Cozumel, Mexico |
| | Pro Dive International, Cozumel and Riviera Maya, Mexico |
| | Scuba Du, Cozumel, Mexico |
2. Hawaii
On Maui, divers flock to the site known as Five Caves mainly for the wildlife. Part of the Makena Landing area known as Turtle Town, the site's nearly a sure thing for green turtles, which nestle within the lava walls alongside whitetip sharks.
Each of the five caves, formed by long-ago lava flows, offers a slightly different experience. The Bubble Cave allows divers to surface and remove their mask and regulator to peer around the air-pocket room. One of the more entertaining rooms is Toilet Bowl. Divers can enter it only when the surge allows. "It can be a real kick because it can flush you out," says Jessica Pickering, owner of Maui Diving Scuba Center.
A more typical cavern dive is found off the island of Lanai, and is offered as a day trip from Maui. Open to divers of all levels, Lanai Cathedrals starts at 70 feet. It's unique for the natural skylights that usher in dramatic spotlights of sun into the otherwise dark room. "It's a good place to get a taste of what cave and cavern diving are like," says Pickering.
| Readers Picks | |
| --- | --- |
| Operators | Big Island Divers, Hawaii |
| | Dive Maui, Hawaii |
| | Dive Oahu, Hawaii |
| | Jack's Diving Locker, Hawaii |
| | Kona Diving Company, Hawaii |
| | Kona Honu Divers, Hawaii |
| | Kona Diving Company, Hawaii |
| | Maui Dive Shop, Hawaii |
| | Maui Diving Scuba Center, Hawaii |
| | Maui Dreams Dive Co., Hawaii |
| | Maui Diving Scuba Center, Hawaii |
| | Seasport Divers, Kauai, Hawaii |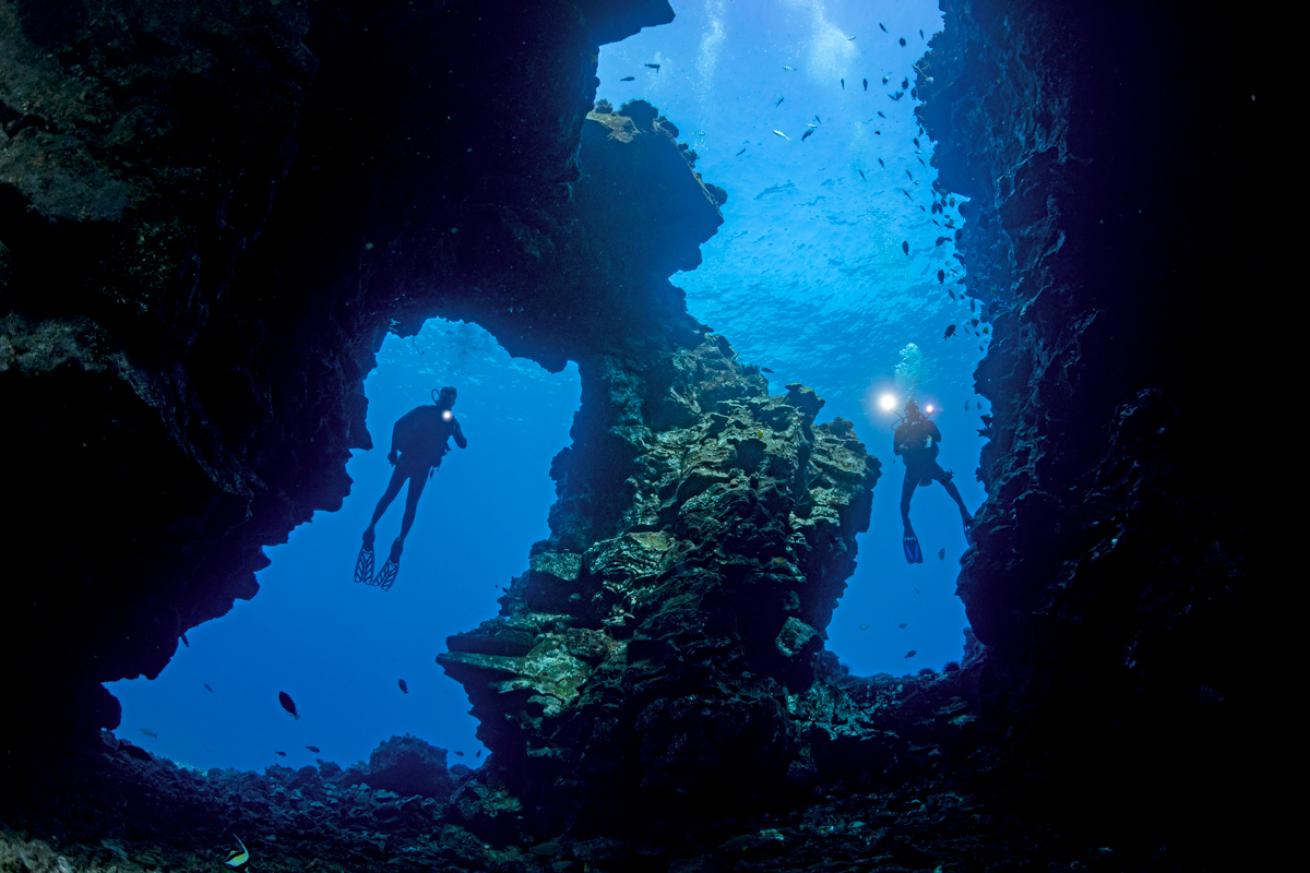 Hawaii's Lanai Cathedrals is a favorite cavern dive among divers of all skill levels.

David Fleetham
3. Belize
Most divers who have been to Belize likely don't know the Central American destination offers cave and cavern diving—including a system that starts in the deeper stretches of the Great Blue Hole, the country's most iconic site.
For open-water-certified divers working toward an advanced open water certification, the better option is Love Tunnel, just off the coast of San Pedro on Ambergris Caye. The site is so named for its long, cave-like swim-through.
"There's only a brief second where you can't see light coming in from the other side," says Doug McLain, PADI Master Scuba Diver Trainer and owner of Elite Adventures, located on the island.
"You end up in 90 feet of water near a finger canyon where you'll often find turtles," he says.
Those who have proper cave training and are looking for something more can head to Caye Caulker, 23 miles north of Belize City. Here lies a newly discovered cave rife with opportunity. "New places are discovered almost every time someone goes in there," he says.
One such find: a room with walls of white, as if covered in a just-fallen snow. "It's absolutely stunning," says McLain.
| Readers Picks | |
| --- | --- |
| Resorts | Blackbird Caye Dive Resort, Turneffe Atoll, Belize |
| | Turneffe Island Resort, Turneffe Atoll, Belize |
| Liveaboards | Belize Aggressor III |
| | Belize Aggressor IV |
1st Place Winner: U.S. and Canada
4. Florida
Rarely are divers—or dive instructors—excited about sand. But at Vortex Spring, a training site located an hour's drive north of Destin, that's the feature that most excites Jonathan Bush, lead instructor of Scuba Tech dive center, as it facilitates his teaching of the PADI Cavern Diver two-day specialty course.
After teaching the special fin kick relied upon in caves, Bush gives the students ample time to practice. "Then all I have to do is look back," he says. "If there are huge clouds, we go back and practice some more."
The reward comes on day two as divers dip into Morrison Springs, part of a county park. It's a whole different site compared to the commercial operation that is Vortex. The result is a more natural experience. The highlight, says Bush, comes as divers enter the lower cavern. "Even if the water isn't clear up top, it will be in the lower room, allowing sunlight to illuminate its entirety—and it's undeniably pretty."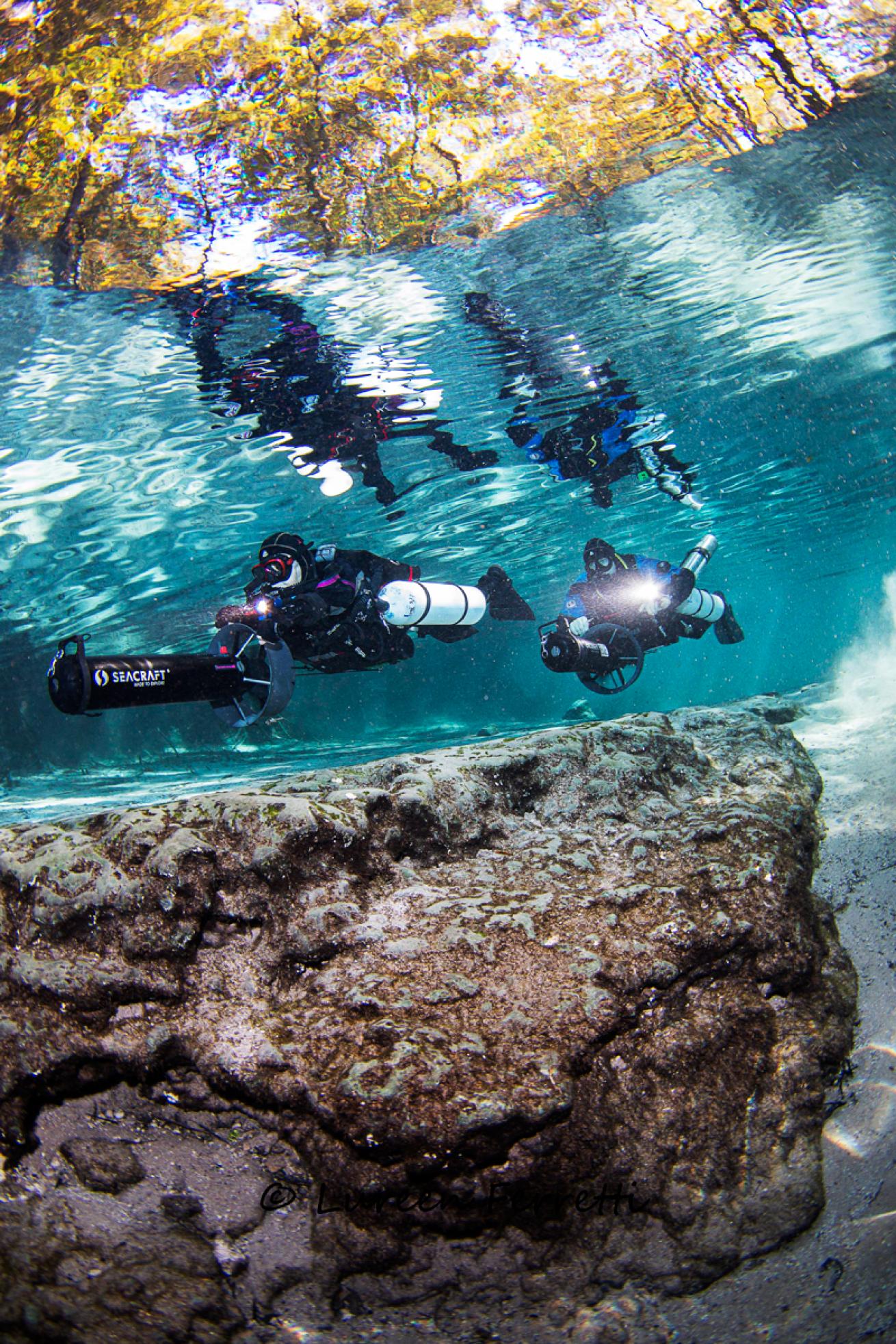 Florida's Ginnie Springs is home to a system of caves and caverns.

Lureen Ferretti
1st Place Winner: Pacific and Indian
5. Palau
Chandelier Cave is the one that everybody knows. "What surprises most people about it is its accessibility," says Marc Bauman, vice president of Sam's Tours, a dive center and eco-adventure tour company on Palau's main island of Koror. The famous site sits in a nondescript area just three minutes outside Koror City's main harbor. The entrance, at just 12 feet deep, is approachable. The tunnel then leads to four consecutive chambers, each with an air pocket that allows a group of divers to surface and look around. "The thing that gets people is how glittering the stalactites are—that's why the site is called Chandelier Cave," says Bauman. "People are mesmerized by formations like this, which most folks haven't seen underwater before."
The cave is a welcoming site for most thanks to its layout: Divers needn't descend deeper than 20 feet to gain the full experience. Plus, each room is just behind the other, much like the rooms of a railroad compartment. "What gives them a sense of calm is that, as long as the sun is shining, the entrance is visible," he says. A bonus is all the macro life at the cave's entrance, including leagues of mandarinfish that have grown accustomed to divers, readily making darting appearances to show off their colorful patterns, highly decorated in electric blue, bright orange, turquoise and pops of green and yellow—every bit as beautiful as the cave's chandeliers.
| Readers Picks | |
| --- | --- |
| Resorts | Manta Ray Bay Resort, Yap, Micronesia, Palau |
| | Palau Pacific Resort |
| Operators | Fish 'n Fins, Palau |
| | Sam's Tours, Palau |
| Liveaboards | Ocean Hunter I and II |
| | Palau Palau Aggressor II |
| | Rock Islands Aggressor, Palau |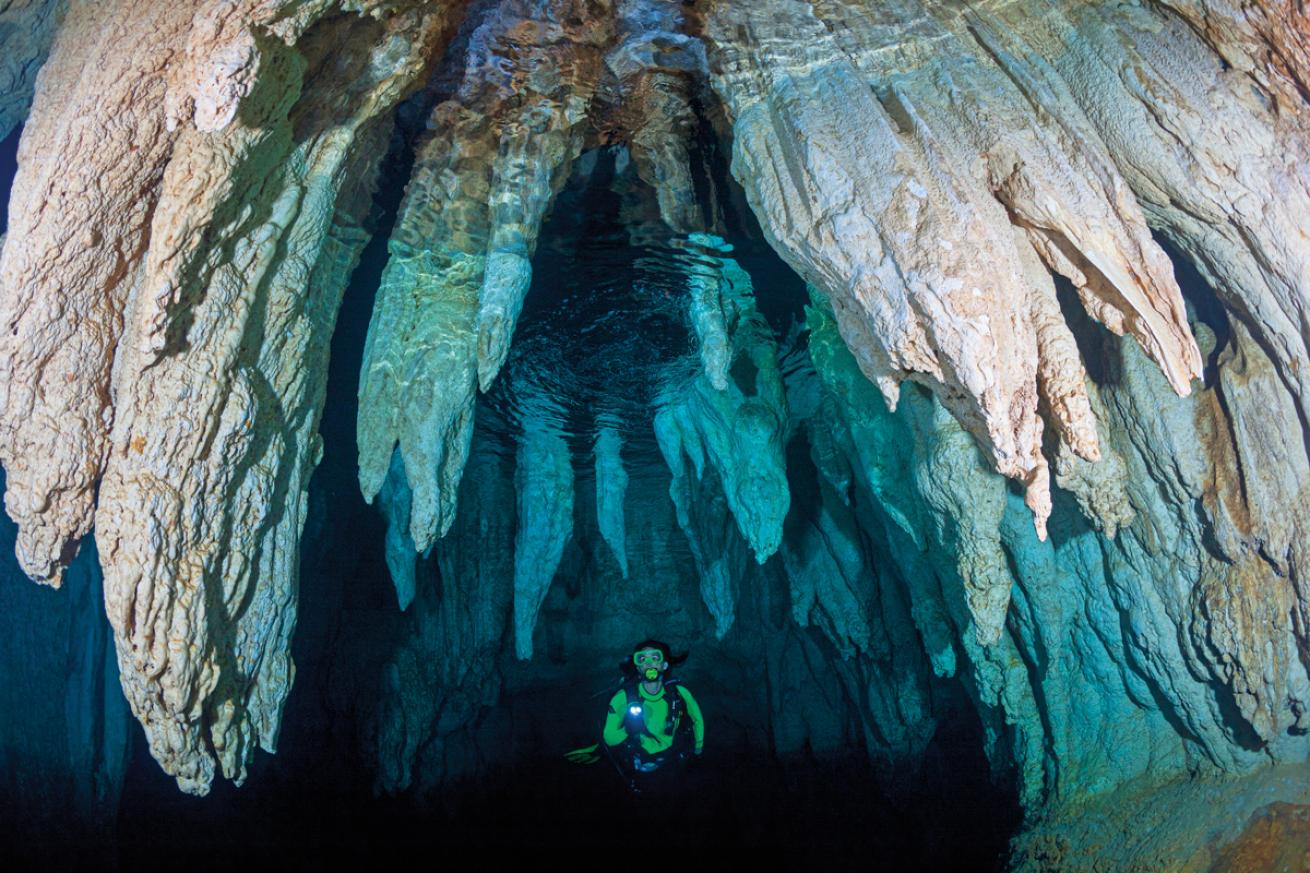 Palau's Chandelier Cave is renowned for its unique beauty and underwater formations.

Brandon Cole
6. Japan
Famous for the columns of sunlight that pour into its massive main room, Okinawa's Blue Cave, with a max depth of 20 feet, serves as an excellent introductory or instruction dive for those looking to add cavern experience to their skills.
The most curious feature of the cave is the lower entrance found at the bottom of one of the cavern walls. Sunlight spills in, and because this opening is much lower than the main room, it appears as if the light is coming from a deeper, mysterious source. And the chalky white floor of the cave reflects the light, creating an enticing passageway leading to the interior.
The phenomenon is best experienced at sunrise, when the elements line up for a most impressive effect.
---
View Complete Readers Choice Awards
---
Caribbean and Atlantic
Mexico
Bahamas
Bay Islands
Cayman Islands
Cuba
British Virgin Islands
Belize
U.S. Virgin Islands
Turks and Caicos
Curaçao
Pacific and Indian
Palau
Hawaii
Japan
Guam
Australia
Thailand
Galapagos
Fiji
Red Sea
Maldives
United States and Canada
Florida
Great Lakes
Ontario
Florida Keys
California
What Is Readers Choice?
More than 5,000 readers chose their favorite destinations, resorts, operators, liveaboards and more for our 2022 awards. Here we highlight some of the top vote-getters for each category, and point out the winning resorts, operators and liveaboards that operate in that area, listed in order of votes received.