Best Underwater Museums You Can Dive
Hidden beneath the world's oceans are a constantly increasing number of sculpture parks and archaeological sites offering fascinating diving opportunities. It has become a popular method of sustainable eco-tourism helping to regenerate coral reefs and marine environments. Much of the impetus has come from the work of British sculptor Jason deCaires Taylor, who has created over 1,000 concrete statues for use in these underwater sculpture parks, seeking to highlight the problems of marine life, commenting; 'below the surface is a fragile, finely-balanced ecosystem – one which has been continuously degraded and polluted over the years by human activity.'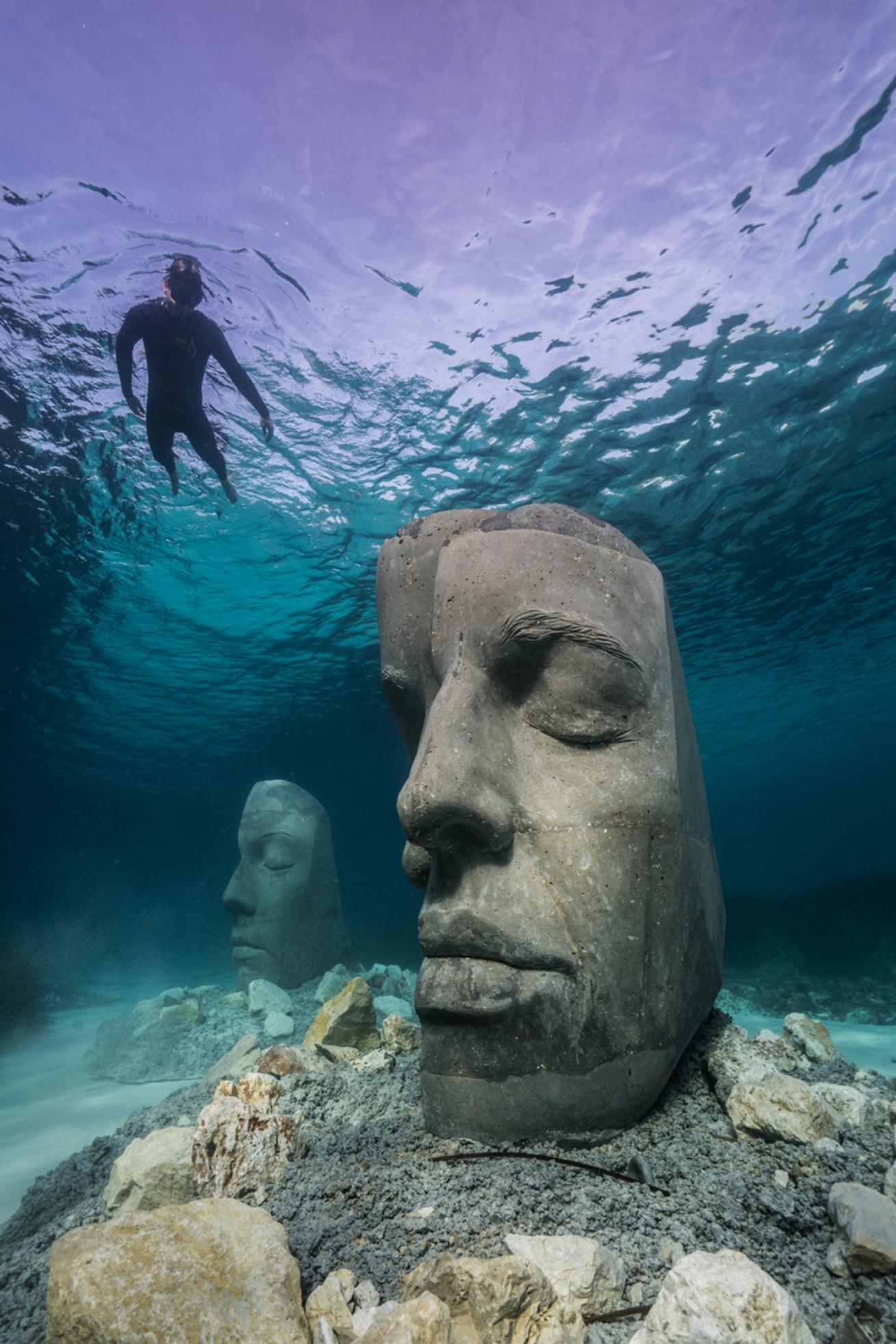 British artist Jason deCaires Taylor's most recent installment in Cannes, France.

Courtesy Jason deCaires Taylor
CANNES, FRANCE
Opened in 2021, it is located near the island of Sainte-Marguerite and contains six gigantic faces, modeled on local people. The sculptures rest on white sand between areas of Posidonia seagrass meadows, at a depth of between 6 to 10 feet. Each face has been sliced in half, as a symbol of the ocean's strength and fragility.
PARTHENON OF SHIPWRECKS, GREECE
Set at a depth of approximately 50 feet, it focuses on the story of a fifth-century BC Athenian merchant vessel that sank carrying a massive cargo of wine. Over 4,000 amphorae are scattered off the coast of Alonissos. Greece is planning to create up to four more diving sites involving ancient shipwrecks.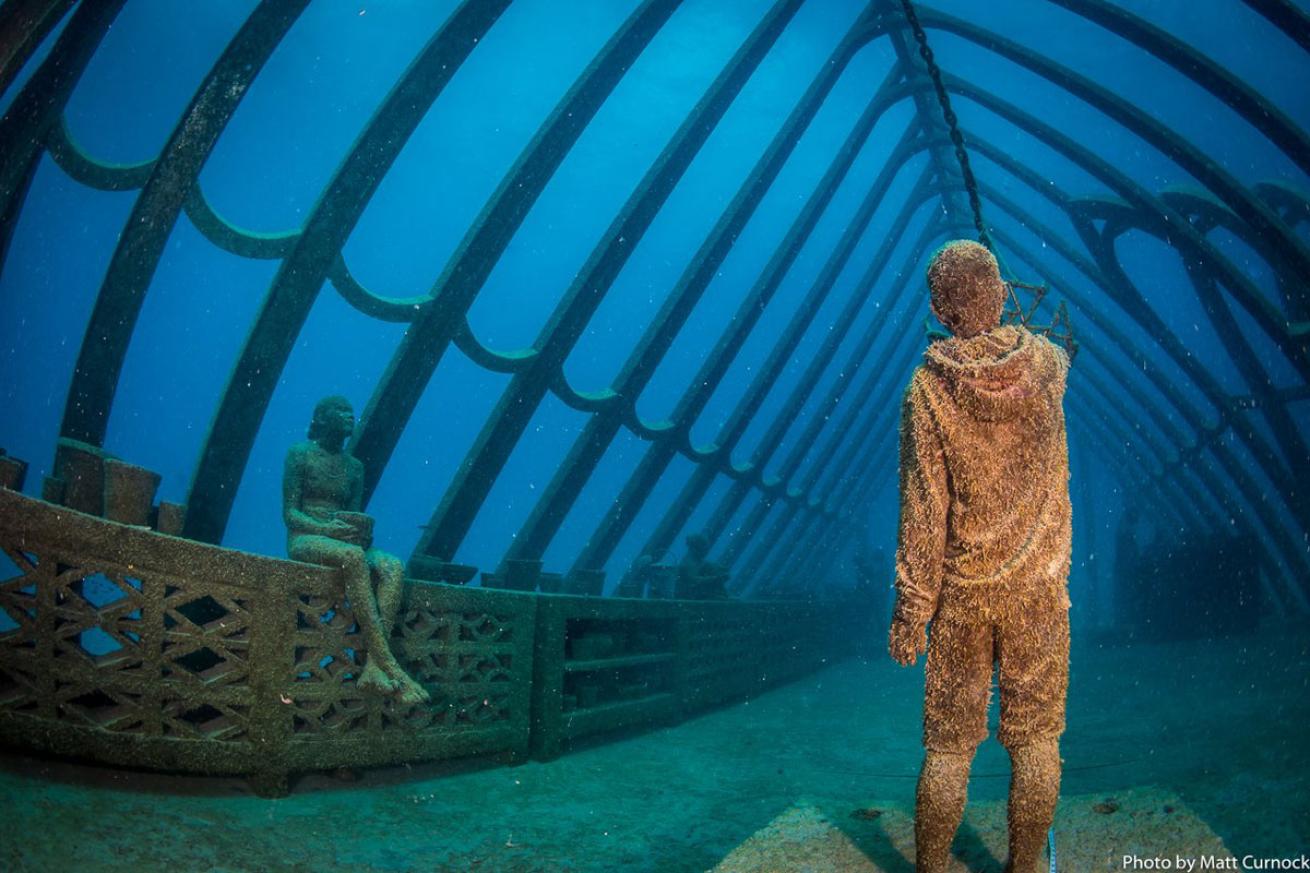 The Coral Greenhouse | Townsville North Queensland

Courtesy of Townsville Enterprise/Matt Curnock
MUSEUM OF UNDERWATER ART (MOUA) AUSTRALIA
Located near the Great Barrier Reef off the coast of Queensland, it contains 20 reef garden sculptures that are fully or partially submerged such as the Ocean Siren designed to change color with the temperature of the water. Visiting this site involves dives of up to 59 feet deep.
BASK GILLI MENO INDONESIA
This site contains 48 life-size embracing couples, circling other figures curled up on the seafloor, at a depth of around 13 feet. The installation is between Bali and Lombok.
SIRRU FEN FUSHI, MALDIVES
Another work by deCaires Taylor can be explored at Sirru Fen Fushi in the Maldives. This semi-submerged metallic series of sculptures within a lagoon seeks to combine sky and sea. An unusual feature of the installation is the use of embossed dead coral, creating the appearance of bones.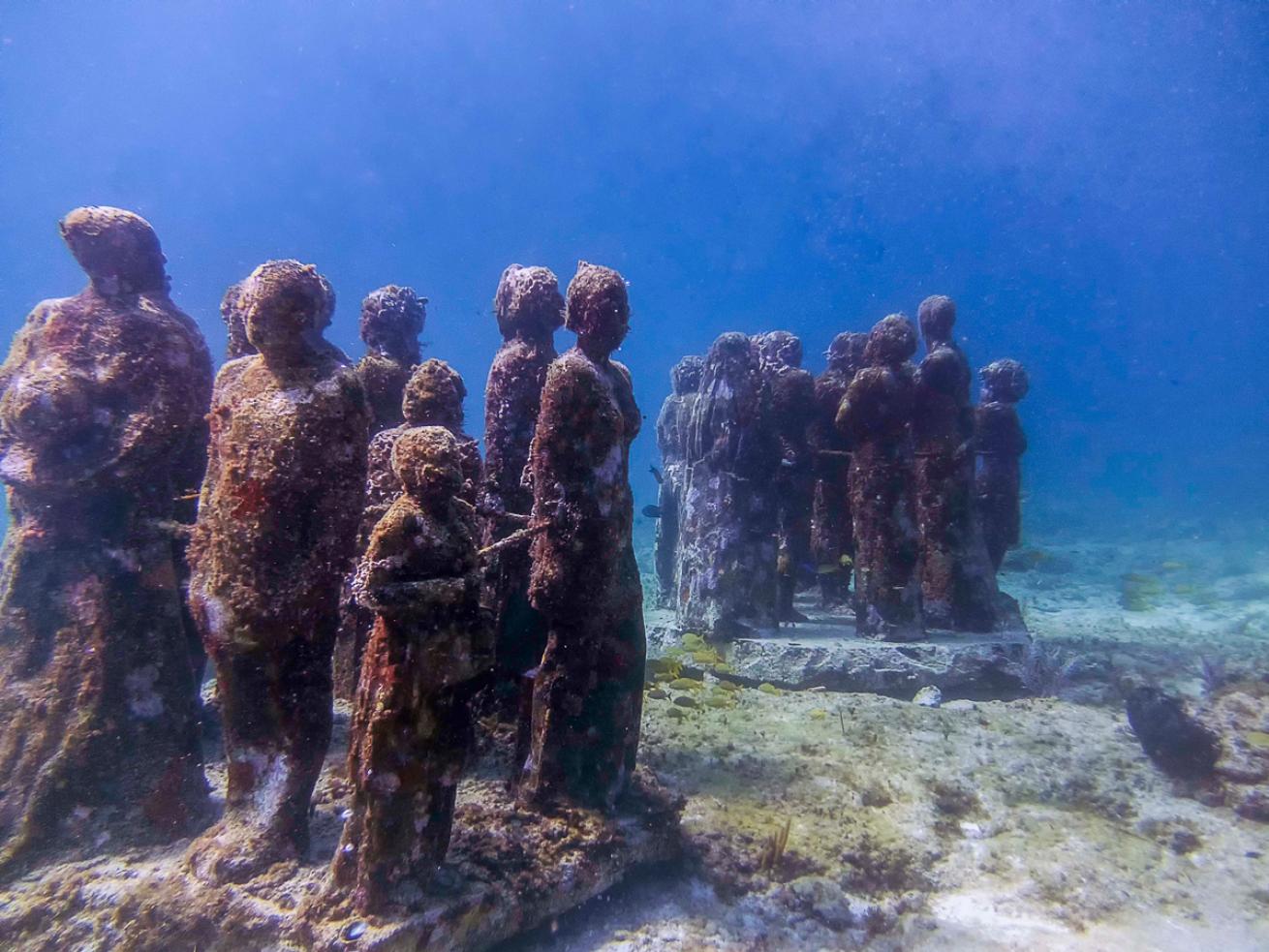 The Museum of Underwater Art in Isla Mujeres near Cancun in Mexico

Rob Atherton/Shutterstock
MUSEO SUBACUATICO DE ARTS (MUSA) CANCUN
This is the biggest of all underwater museums, with over 500 sculptures by six artists. Sited at depths between 13 -26 feet, it contains life-size statues such as a group of meditating seated figures.
CAESAREA, ISRAEL
The Roman city of Caesarea was built during the reign of Herod the Great in honor of Caesar Augustus. Divers can follow four marked trails covering over 36 signposted sites exploring the construction methods used to build the port. There are ruins of breakwaters, docks, warehouses along with broken statues, columns, giant anchors and shipwrecks.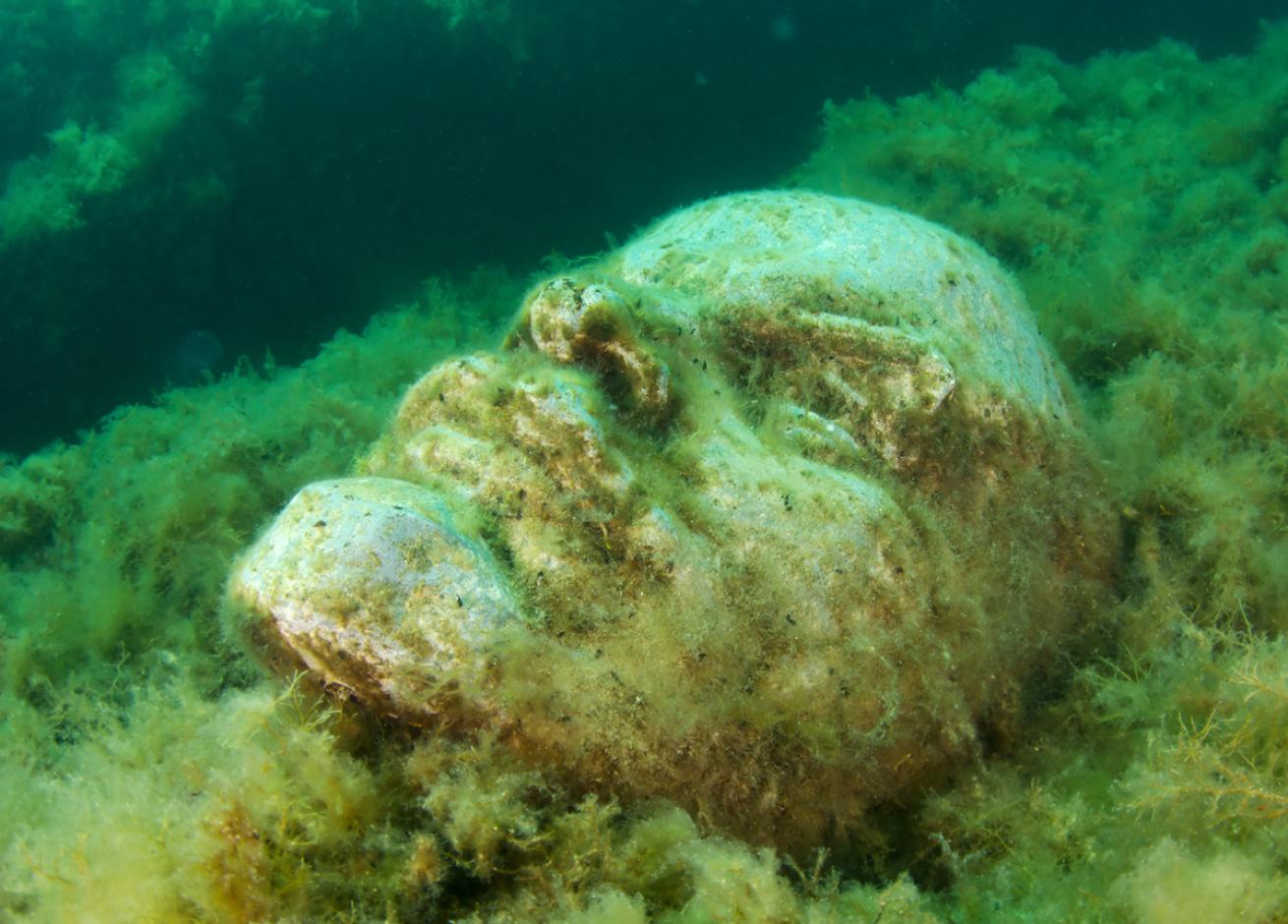 Bust of Lenin in underwater museum, Tarkhankut Black sea.

serg_dibrova/Shutterstock
CAPE TARKHANUT, CRIMEA
Created by Ukrainian scuba diver Vladimir Broumensky in 1992, it set to recycle statues and busts being destroyed in the aftermath of the fall of the USSR. Set at depths of up to 39 ft, the Alley of Leaders now contains 50 massive sculptures including busts of Lenin, Marx and Stalin. Also on site are underwater replicas of famous tourist attractions such as the Eiffel Tower and London Bridge.
BAIA UNDERWATER PARK, ITALY
Head for the Gulf of Naples where an ancient Roman town is located up to 42 feet underwater. Five sites can be dived comprising Emperor Claudius' Nymphaeum, Portus Julius, Pisoni's Villa, Smoky Reef and the Villa a Protiro with its spectacular mosaic floor.
SJØHOLMEN SANDIVKSVEIN, NORWAY
Just off the coast of Oslo, deCaires Taylor has sunk 12 sculptures six feet deep into the fjord, all of which are children of different nationalities in varying poses including swimming. On the jetty nearby stand the statues of a man and a child looking out to sea.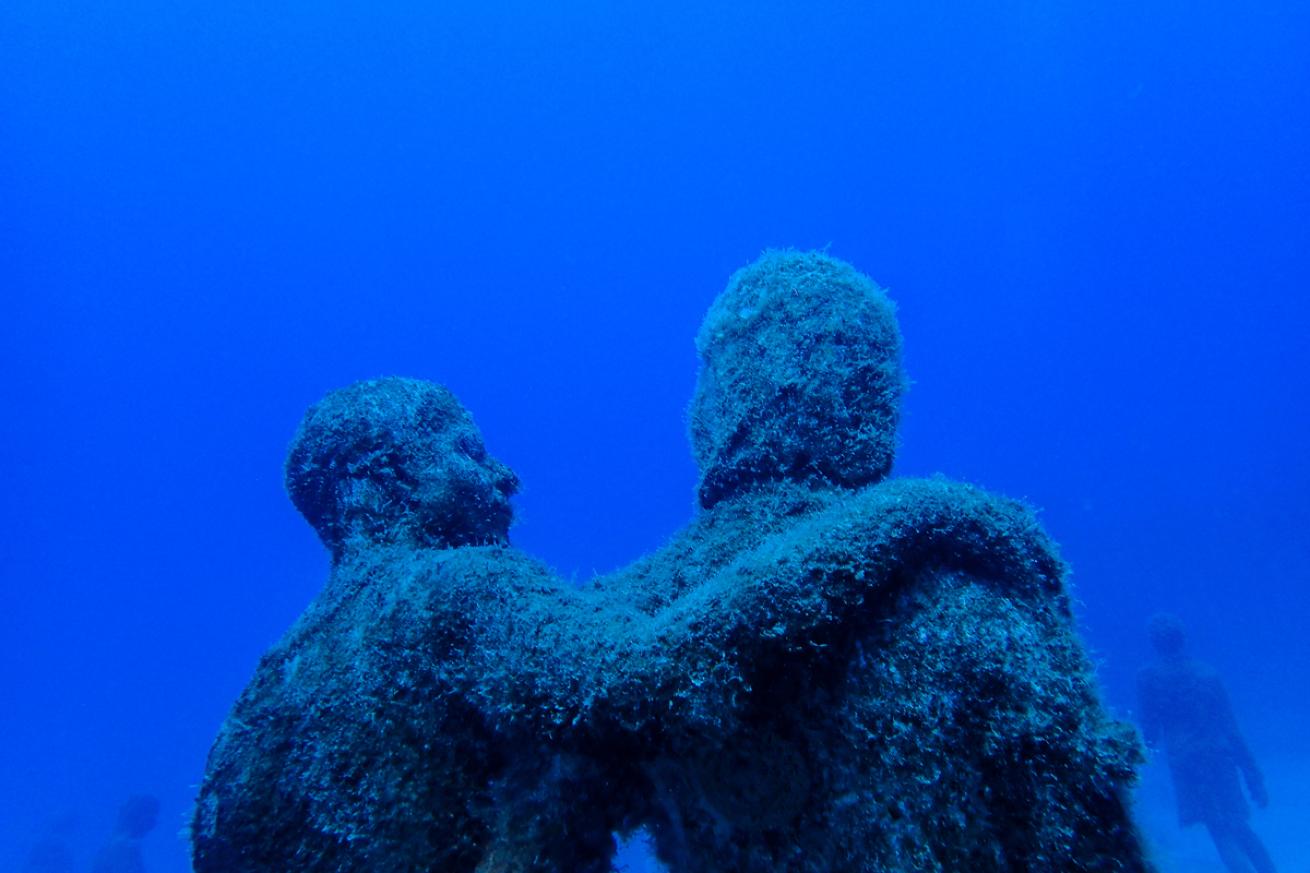 Lanzarote's people at Museo Atlantic, Lanzarote, Islas Canarias.

Carmen Agullo/Shutterstock
MUSEO ALTANTICO LANZAROTE
Located nearly 45 ft deep are 300 sculptures designed by deCaires Taylor in shallow waters just off the Playa Blanca. Most spectacular is the Raft of the Lampedusa, relating to the arrival of refugees on the island.
SIR NICOLAS NUTTAL'S UNDERWATER SCULPTURE GARDEN, NASSAU
Sixteen feet down, Ocean Åtlas is the largest single sculpture ever placed underwater. Weighing over 60 tons, it shows a Bahamian girl carrying the weight of the ocean on her shoulders. Also on site is an artificial reef trail and sculptures by local artists Willicey Tynes and Åndret John.
PENSACOLA, FLORIDA
The Florida Panhandle Shipwreck trail contains 12 vessels sited at depths varying between 25 -100 ft. It includes tugboats, oilfield supply vessels, WW2 minesweepers, coal barges, freighters and the USS Oriskany aircraft carrier.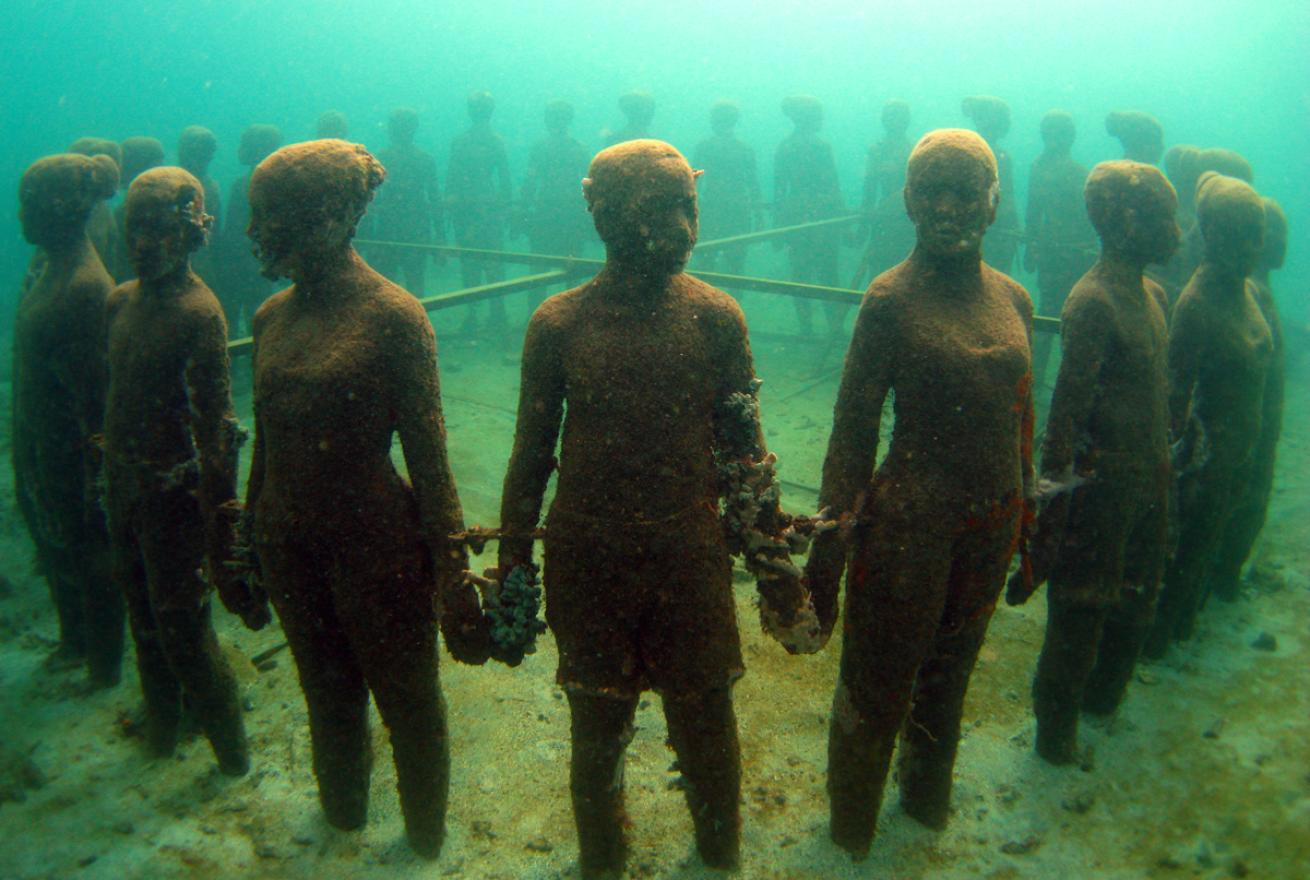 Sculptures of children holding hands in a circle.

R Gombarik/Shutterstock
MOLINIERE, GRENADA
Waiting to be discovered are 70 underwater sculptures at depths of 14 feet. These include Lost Correspondent (a man working at typewriter on a desk) and Vicissitudes (children holding hands in a circle).
MONTERROSO UNDERWATER MUSEUM, HONDURAS
Located off the coast of Roatan, this museum enables divers to explore Mayan era monuments, replicas of Spanish galleons, sundials and canoes.
---