Conservation Couture: Fashions that Drive Change for the Ocean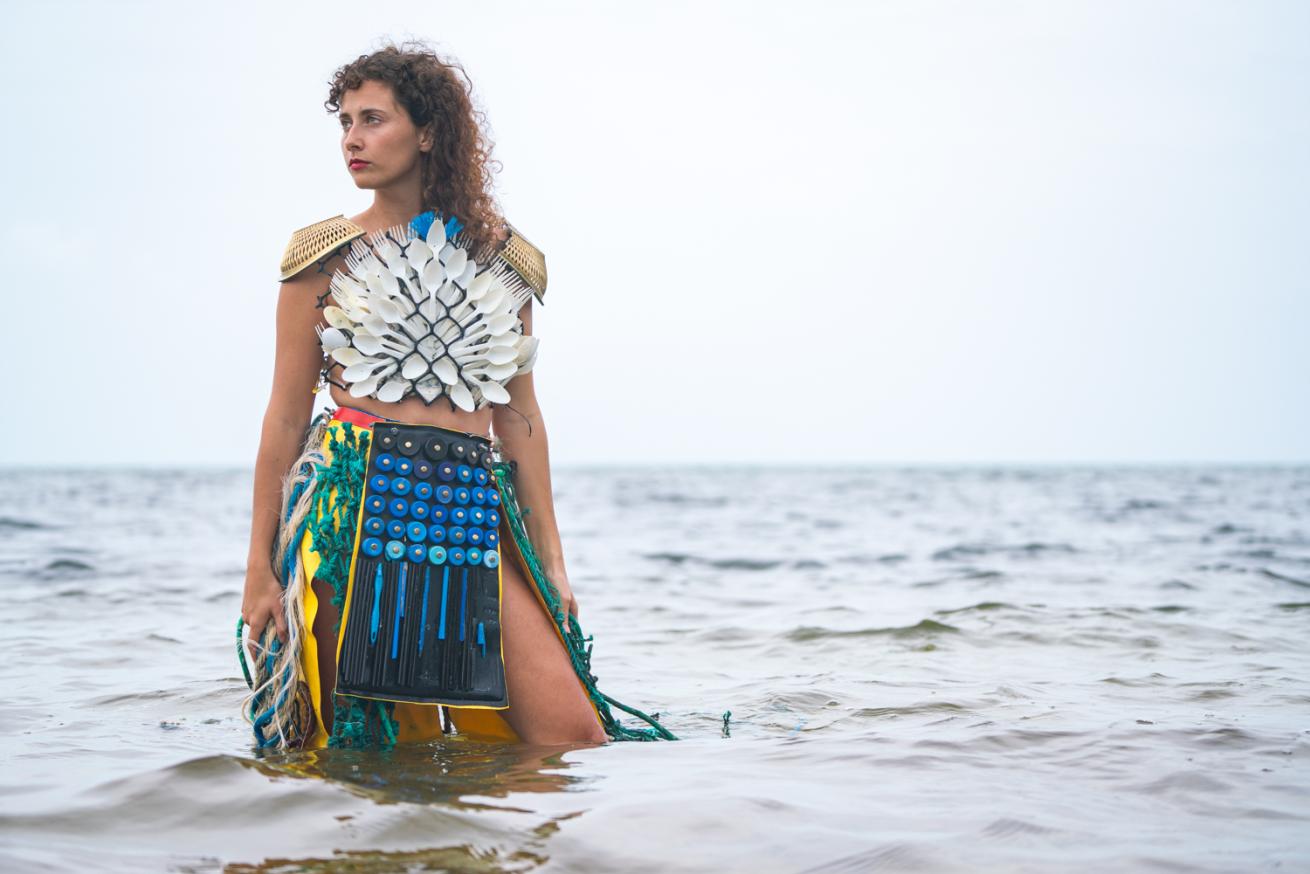 Victoria Cassar wore her "Plastic Marine Debris Warrior" armor to a city commission meeting in support of a ban on certain single-use plastics.

Ian Wilson-Navarro
In haute couture and culture, New York Fashion Week is the event to scope out what's new and exciting. Beyond fashion, what we see on the runway can represent who we are, where we're heading and what matters to us. On the (high) heels of this year's NYFW, we're featuring divers, designers and conservationists whose latest looks leave a lasting impact. Check out some of our favorites and the causes they champion.
Moving Beyond Microplastics
"Fashion is the one choice we make every day," said Addy White, founder and artist at Ocean Plastics, a company fashioning chic accessories out of recovered marine microplastics. Paraphrasing this favorite Project Runway quote, she emphasized that our daily decisions give us the power to make a difference. "If we can make our everyday choices a little more sustainable, that would make a huge difference," she said. "For example, wear sustainable clothes or use sustainable products."
For nearly four years, White has been collecting colorful (and dangerous) microplastics off Florida's beaches, and turning them into earrings, bracelets and more. She wants to change how we think of and treat microplastics.
"There's a lot of talk about how plastics can be reused in creative ways, but not microplastics," White said. "I like to look at microplastics as a resource we haven't figured out yet instead of as a really depressing thing. I like to look at them as a problem we can solve together really creatively if we put our minds to it."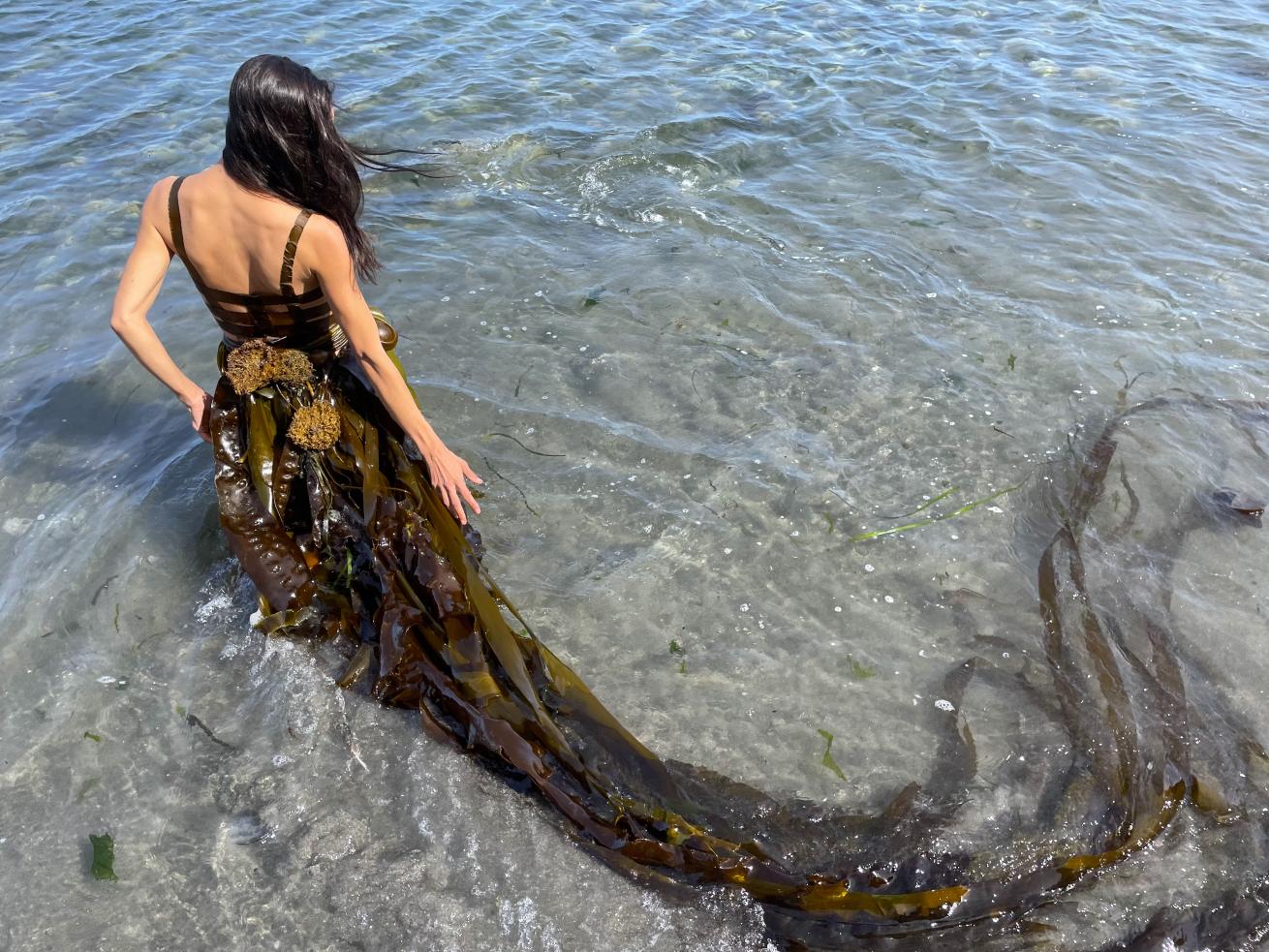 Artist Jeanne Simmons weaves bull kelp into a seaweed gown fit for any being that feels one with the ocean.

Jeanne Simmons
Art as Action
Just as Fashion Week has been used to elevate important social issues, ocean artists can use their art to create consciousness and inspire action.
For example, conservation artist Victoria Cassar of Trové Jewelry makes jewelry, installation pieces, armors and costumes from fishing rope, netting and single-use plastics she finds tangled up in mangroves and along shorelines. "Did you know that making art with byproducts and end-of-life materials is a solution to the waste crisis?" Cassar asked on an Instagram reel showcasing her creations.
Cleaning and sorting marine debris for years, the colors and textures of the pollution itself inspired Cassar. "I always find the pieces first, and then the design comes to me," she said. "For example, with the 'Gill Net Gown' [made from upcycled commercial fishing gear] I saw this gill net sticking out of a dumpster and just could not get over how beautiful that seafoam color and satin texture was." Similarly, Cassar's "Plastic Marine Debris Warrior" was inspired by the movement against petroleum-based plastics, corporate greed and the oil industry. Just as its composite pieces were found deep in the root systems of mangroves, so too there's no "away" for plastics and marine debris, Cassar said. She wore the art piece to a city commissioner's hearing to advocate for a ban on certain single-use plastics.
"What prompted these specific designs is a frustration with our society, throw-away culture, capitalism, and the patriarchy—all of which are intertwined and hurt our planet."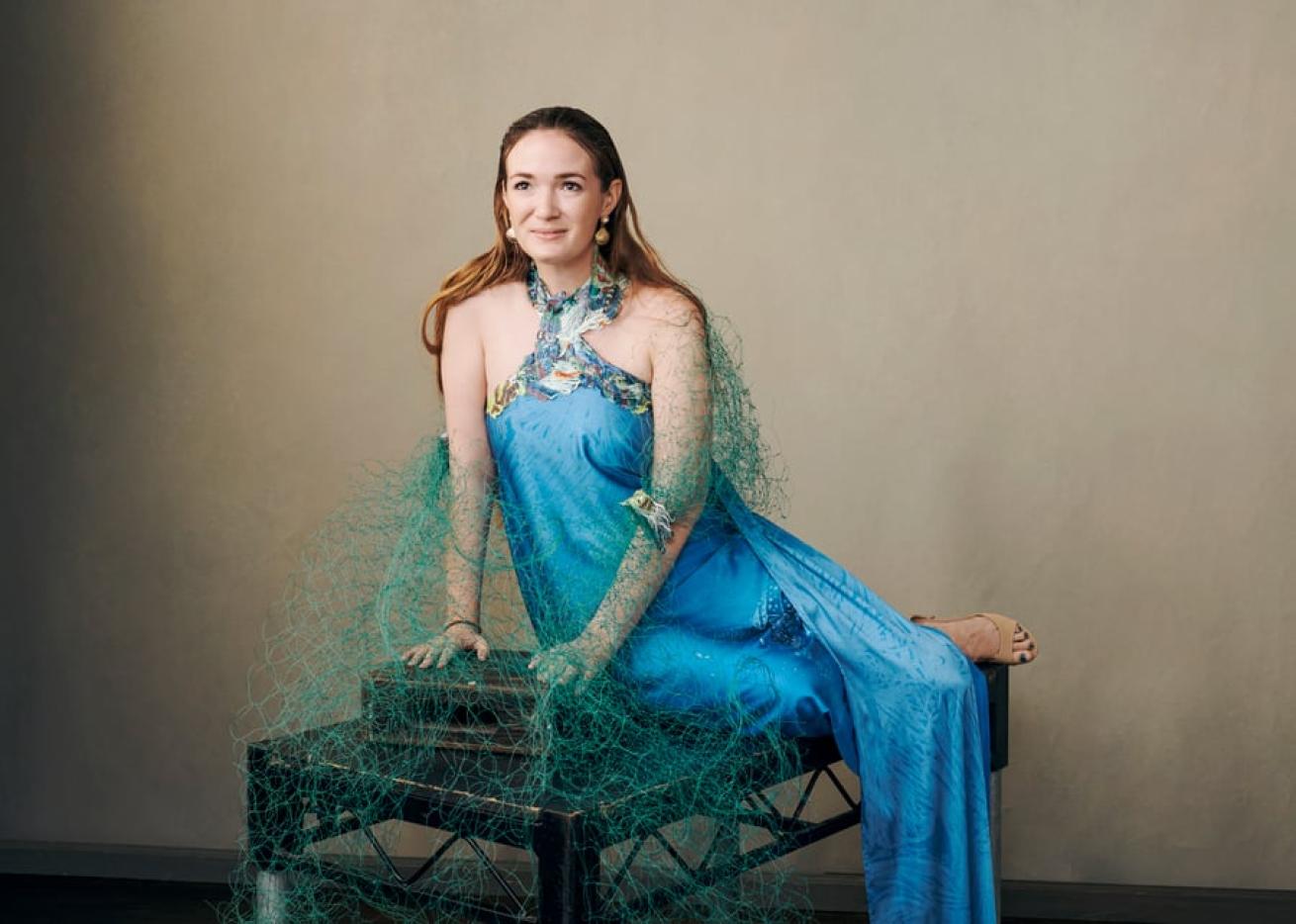 Conservation biologist Callie Veelenturf wears a gown made with an actual gillnet to bring attention to the dangers of bycatch to her beloved sea turtles.

Felix Kunze
Spotlighting Endangered Species
Conservation biologist Callie Veelenturf of The Leatherback Project has dedicated her career to studying sea turtles, fighting for healthier oceans and advancing the Rights of Nature. For a conservation gala, Veelenturf tasked Panamanian designer Tony Vergara with upcycling an artisanal gillnet she'd found on a sea turtle nesting beach in Panama into a wearable work of art. He delivered a beautiful aqua gown with patterns of endangered leatherback sea turtles swimming on the fabric behind the net, which wrapped around Veelenturf.
"I wanted to wear something that has a purpose, that makes a statement for conservation, said Veelenturf. "Fisheries bycatch is arguably the greatest threat facing sea turtle populations around the globe and, thanks to this gillnet dress, I had the chance to spark conversations about this issue."
Related Reading: How Scuba Divers Are Helping to Save the Critically Endangered Angel Shark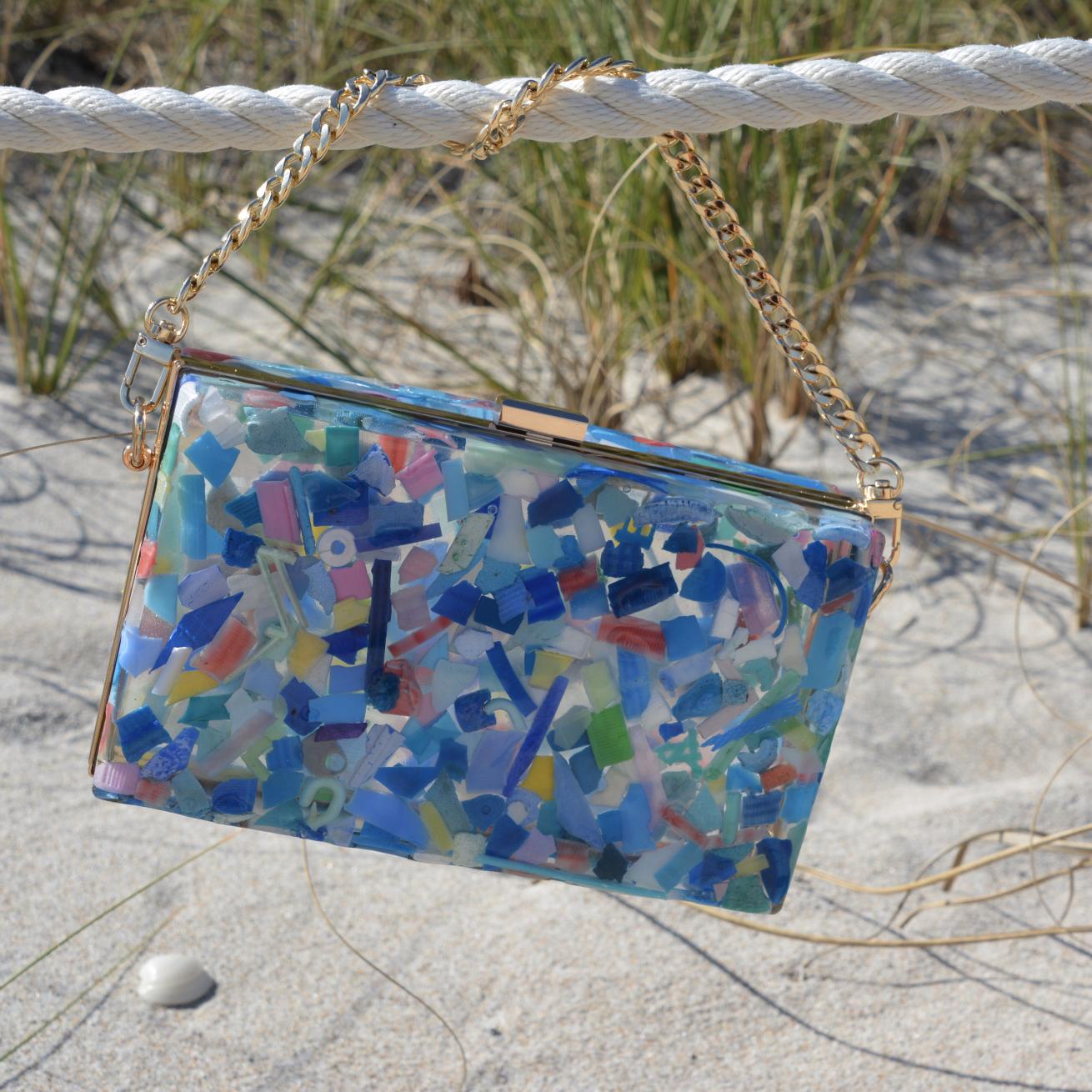 Addy White turns microplastics into fashion forward discussion pieces, like this clutch.

Addy White/Ocean Plastics
Interwoven with Nature
Rather than use human-made materials and marine debris, artist Jeanne Simmons relies on natural elements like grasses, roots, bark and flowers. "I enjoy merging humans into the landscape, often by clothing them in natural materials that I organize and manipulate in some way," she said. This process allows her "to convey, in visual terms, my core belief, which is that we are part of nature," she said. "There can be no 'us' without 'it.'"
Two summers ago, storms flushed literal tons of bull kelp onto the beaches of Puget Sound, where Simmons lives. She realized the seaweed had all the components necessary to construct a beautiful gown and began dreaming up "a creature who has arisen from, and is one with, the sea."
Related Reading: Scuba Diving Fashion Wows at the Tacoma Arts Show
Using the long, thin kelp ribbons, the billowy swaths, the "almost floral" root clusters and the bulbous floats, Simmons created "Katrina"—an elegant kelp gown worn at the water's edge. Fans describe her creation as a mermaid, a selkie, and—Simmons' favorite—a sea witch.
Fashioning a New Future
The artists and conservationists hope their blue-inspired styles will drive tangible change for our planet. Cassar knows that creativity is contagious and hopes her art will inspire people "to dream up and create the future they want to see."
White is inviting everyone to take an active part in this process: Anyone can send microplastics to the microplastics artist and she'll send back a free art piece as her way of thanking them for cleaning up the ocean. "I want my work to produce happiness first," she said. "The idea of so much trash and plastic in the ocean often leads to hopelessness, to the fear of, 'How can we fix this?' I want this to be a small thing where we can help."
Simmons wants to create a shift in how we relate to the natural world, by inspiring viewers to experience the natural world more closely, more attentively and with more reverence. "With my work, I attempt to describe a connection between us and the natural world that seems to be waning and failing. I hope to rekindle and reawaken a yearning for this connection in others."
---